I imagine if I were to make the claim that every photographer secretly wants to spend some time as a cinematographer, very few people would disagree with me. We've all had that tremendous, visceral feeling of sitting in a theater, watching a movie, and it's just so damn beautiful – and I don't mean pretty – we cannot breathe. I'm not talking about plot, action or characters. I'm not talking about car chases or romance. I'm talking about the simple beauty of the image in front of us. There is something huge about an image that is huge. When it's done well, we fall into it and perceive almost instantly it's intended effect as well as its borders and nuances.
---
"Byways" by Roger A Deakins
Published by Damiani Editore, 2021
review by W. Scott Olsen
---
Still photographers and cinematographers do very different work but share a foundation. One aesthetic clearly informs the other. And while you would think it would happen more often, it's actually somewhat rare to find someone working in both fields. The scope and pace and, frankly, the budget don't allow for much crossover. But that doesn't mean it doesn't happen. We are all trying to create a visual experience that opens some heart-chord or mind-race.
I have on my desk a new book I treasure. Byways, by Sir Roger A Deakins is a book of black and white still images from the man whose visual imagination and talent have been thrilling us for decades. IMDb lists 88 credits for Deakins as Cinematographer. His work includes the films 1917, Blade Runner 2049, Skyfall, No Country for Old Men, A Beautiful Mind, O Brother, Where Art Thou?, The Big Lebowski, Fargo, and so many more. He won Academy Awards for Best Achievement in Cinematography for 1917 and Blade Runner 2049. He's done music videos for Eric Clapton, Herbie Hancock, Marvin Gaye, and others. Add to this the BAFTA awards, the 20/20 Awards, and all the others.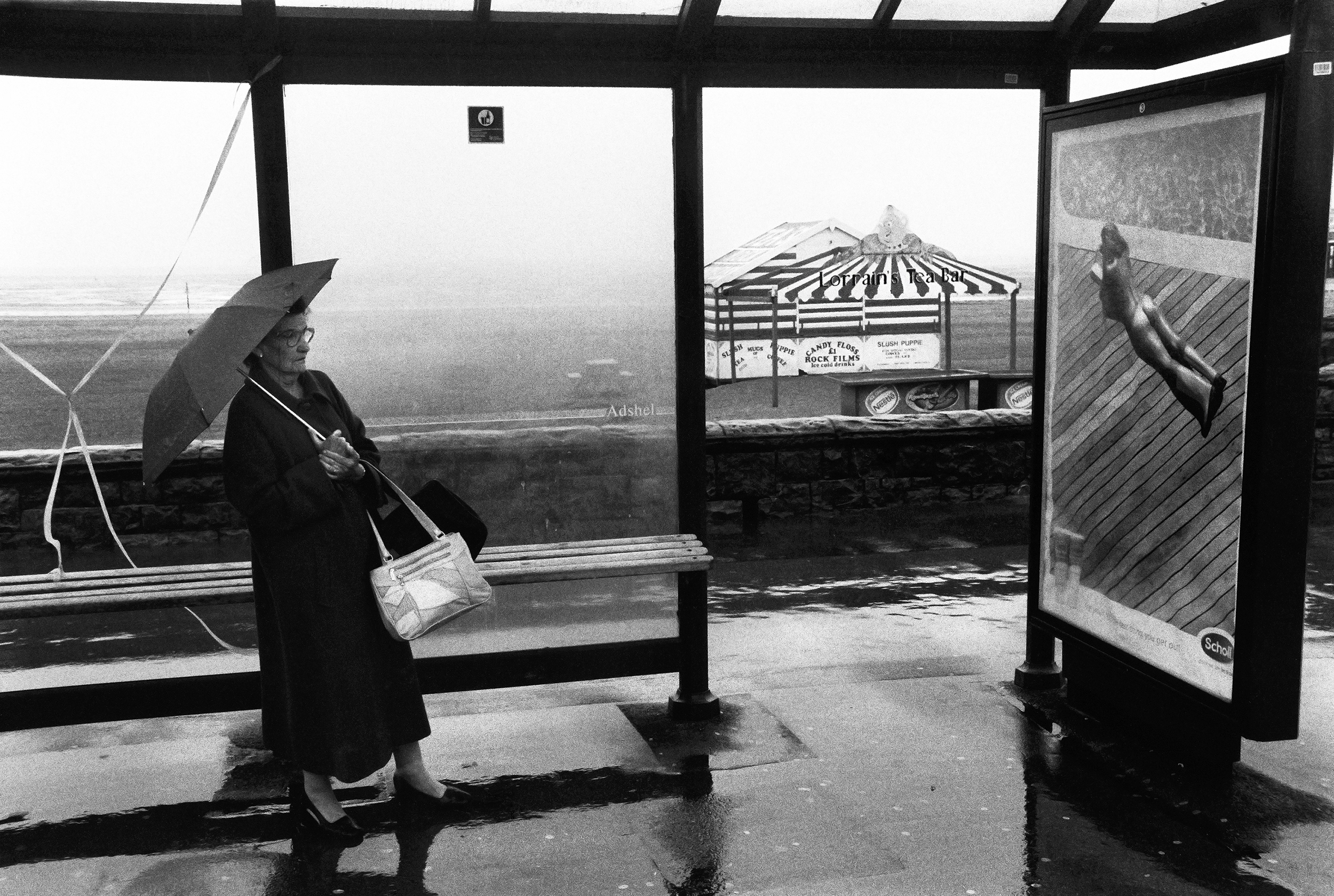 Byways is not a collection of production stills, though. Although there are a couple images that have some connection to the films (one is a shot of James Bond's iconic Aston Martin db5 sitting on a Skyfall location in Scotland, parked next to a folding chair that says "Artist" and pair of black high heels – Judy Dench's?) and there are a few images from a documentary film when Deakins was aboard a sailboat taking part in the Whitebread around the world race, this is not a series of outtakes or test shots. This is the work of an artist picking up a slightly different camera and working in a slightly different genre. The result is often profound and illuminating.
This book is all documentary photography. There isn't the element of a made-scene. No lights. No expensive construction budget. There is, however, a keen sense of light and line and how a scene can go beyond its simple components to become resonant.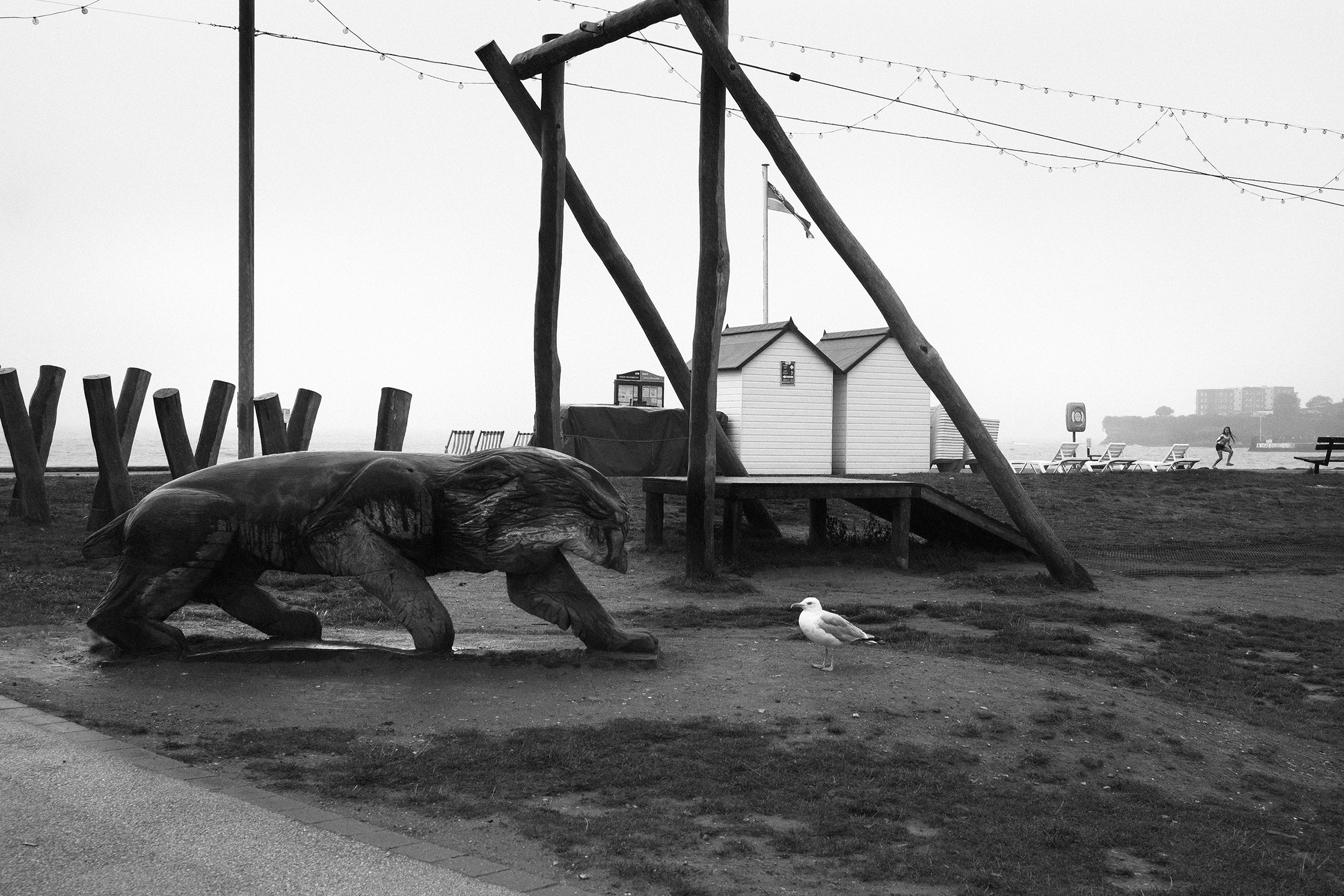 There is a fine sense of narrative and complexity in these images. The people are always in motion, always have something to do. And they are set in environments which hint at subplot or history. A woman swims away from a pier, framed by a railing, a wisp of something left behind. A replica of Michelangelo's David stands in a recess at the end of a forlorn alley, above some trash cans. A stern-faced older couple walk through an amusement park. A man peers through an opening in what appears to be a construction site wall. These are not portraits, but contextualized fragments of larger stories.
In some ways, the book is a retrospective. There is what Deakins claims to be his very first picture, from Bournemouth in 1969, and there are pictures from the last few years. But this book is not meant to be a collected works. This is, as the title says, Byways. Byways are the scenic routes, the slow routes where dust kicks up behind the car, the ones where you stop often and get out, just to be present in the scene and moment, and all you can think about is how you wish the trip would never end.
In the introduction to the book, Deakins says, "I am not a still photographer and I won't pretend to be one at this stage in my career. I have spent almost half a century enjoying my life as a cinematographer, during which time I have photographed both documentaries and something like seventy feature films." Having said that, though, he admits his first career inclination was toward still photography. It was only a chance conversation that led him toward motion pictures. One of his first jobs was as a still photographer for the Beaford Arts Centre in North Devon, England. However, he says, "In the early days of my career as a cinematographer, my focus was exclusively on my film work and I rarely carried a still camera."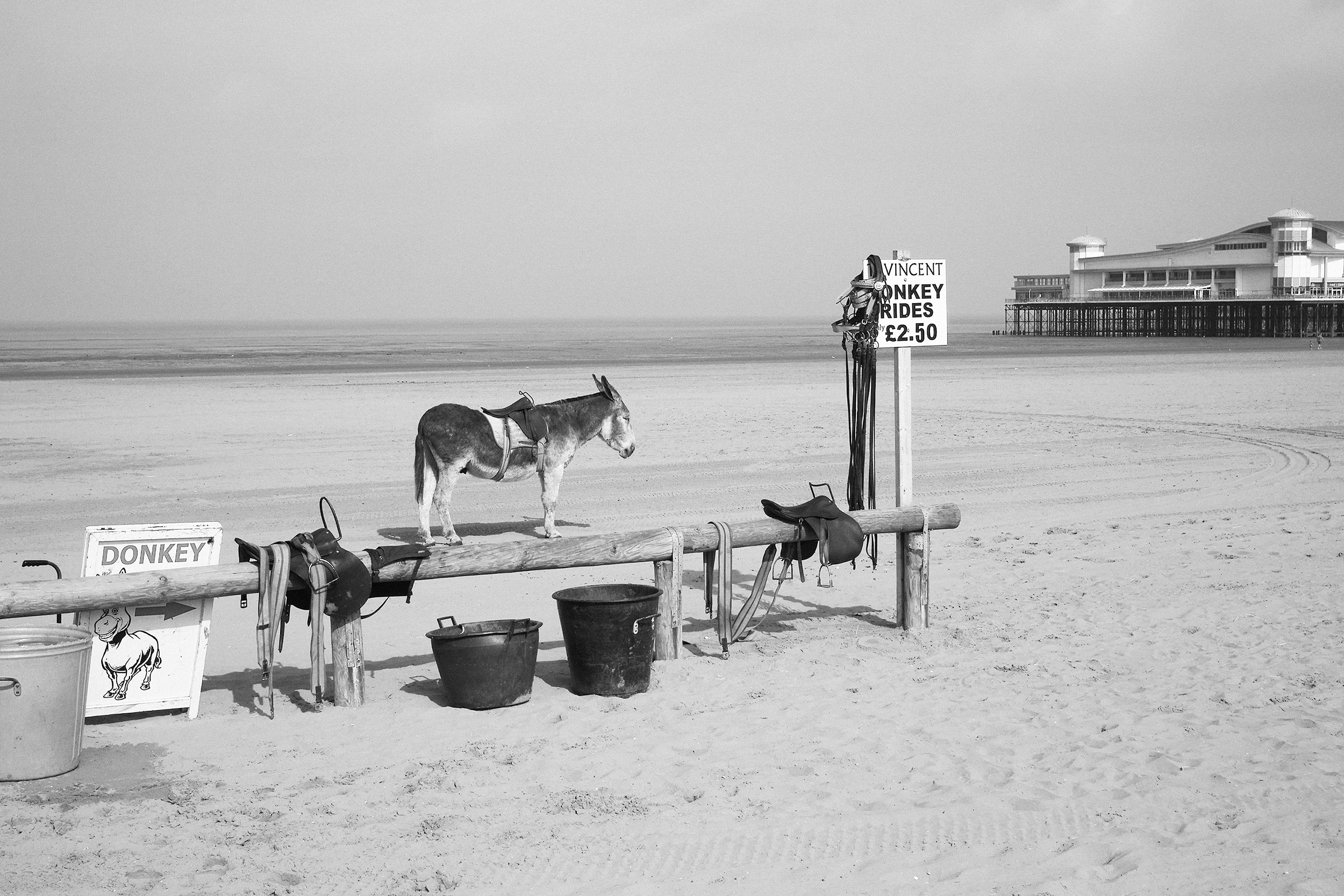 Nonetheless, he says, "Although photography has remained one of my few hobbies, more often is an excuse to spend many hours just walking, by camera over my shoulder and with no particular purpose but to observe… After we had wrapped our shooting day on Sicario in New Mexico, I would often spend the last of the light looking for another shot, but this time with my still camera. Sometimes, I would drive at the same location and wait for a late day thunderstorm to produce the shot I'd pictured in my mind such as that of the lightning bolt."
He continues, writing, "The choice of when to take a picture in which of the resultant images has a future reveals something of us as individuals. Each of us see differently. We are drawn to subjects that resonate with those personally and our interpretations differ through our choice of camera angle and composition."
There is very little text in the book. The individual images on their pages have no captions or explanation, although there is a list of locations and dates in the back of the book, in an index. The book is broken once or twice by bits of text to give some contextualization but not very often. The result, of course, is a focus on the image itself and the story it may be unveiling.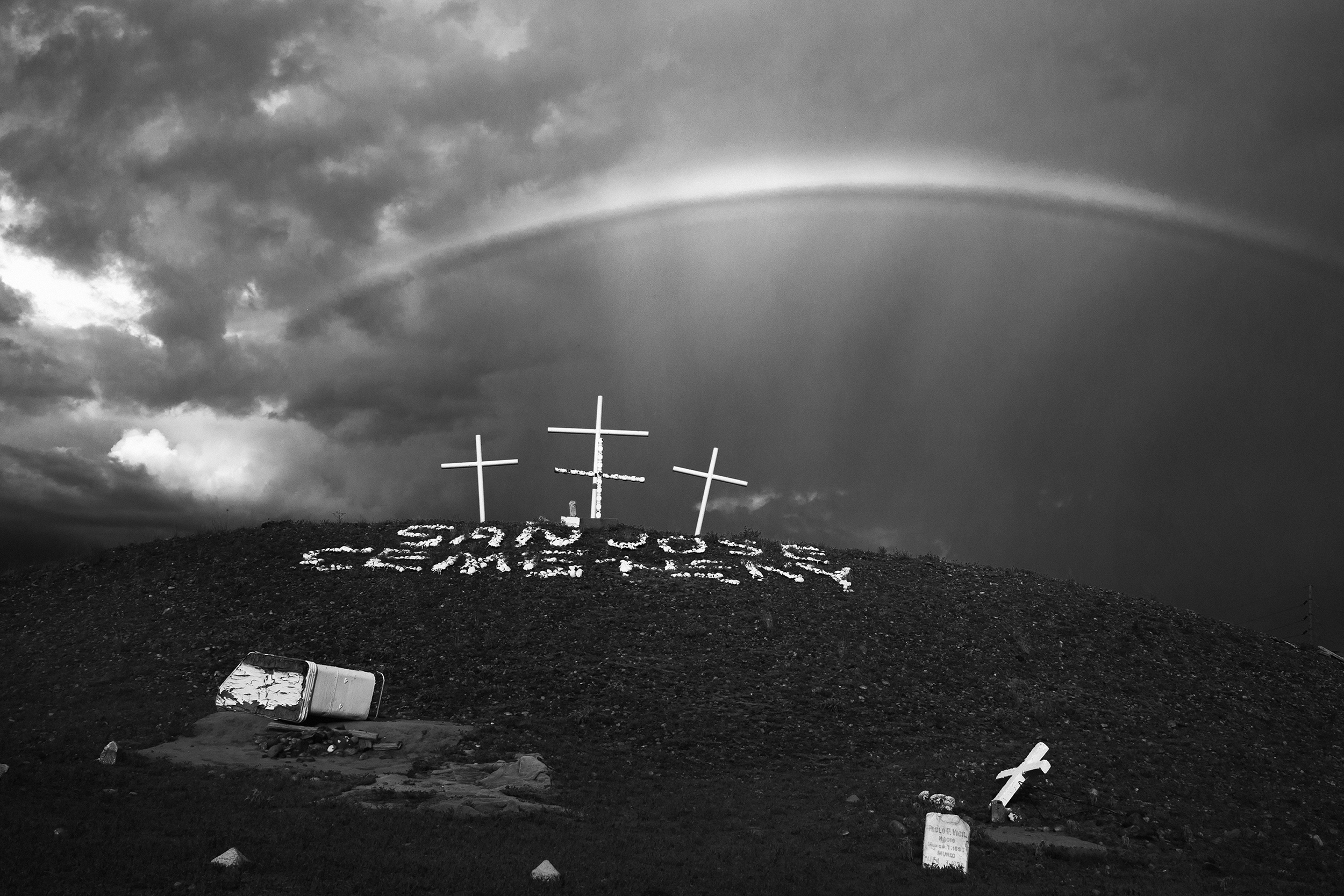 Over the course of his career, Deakins' films have included both documentaries as well as spectacles, but in all of them there is the understanding that composition, the interplay of light and shadow, the way people move through whatever event, holds as much content as dialog and plot. In this book, the interplay with people and their environment creates a narrative in nearly every image. The landscape images, without people, are invitations.
I would like to say this book provokes a sense of wonder, but that would not be quite right. There is no confusion. Instead, these images provoke a sense of appreciation. A documentarian can approach the work with anger or sarcasm or irony, as well as love or compassion. These images, I think, are special in that they resist overtones of argument. Here is the world I have seen, the book says.
Byways is the kind of book I find myself picking up almost absentmindedly when I have some time and want to go exploring. It's also the kind of book I pick up intentionally, to revel in the images and learn something about photography. Both types of moments ask me to appreciate the people in the image, the settings in the images, and the ability of a still photograph to be evocative.
This is the book of quiet moments by someone who has the ability to capture scenes that make my heart rush.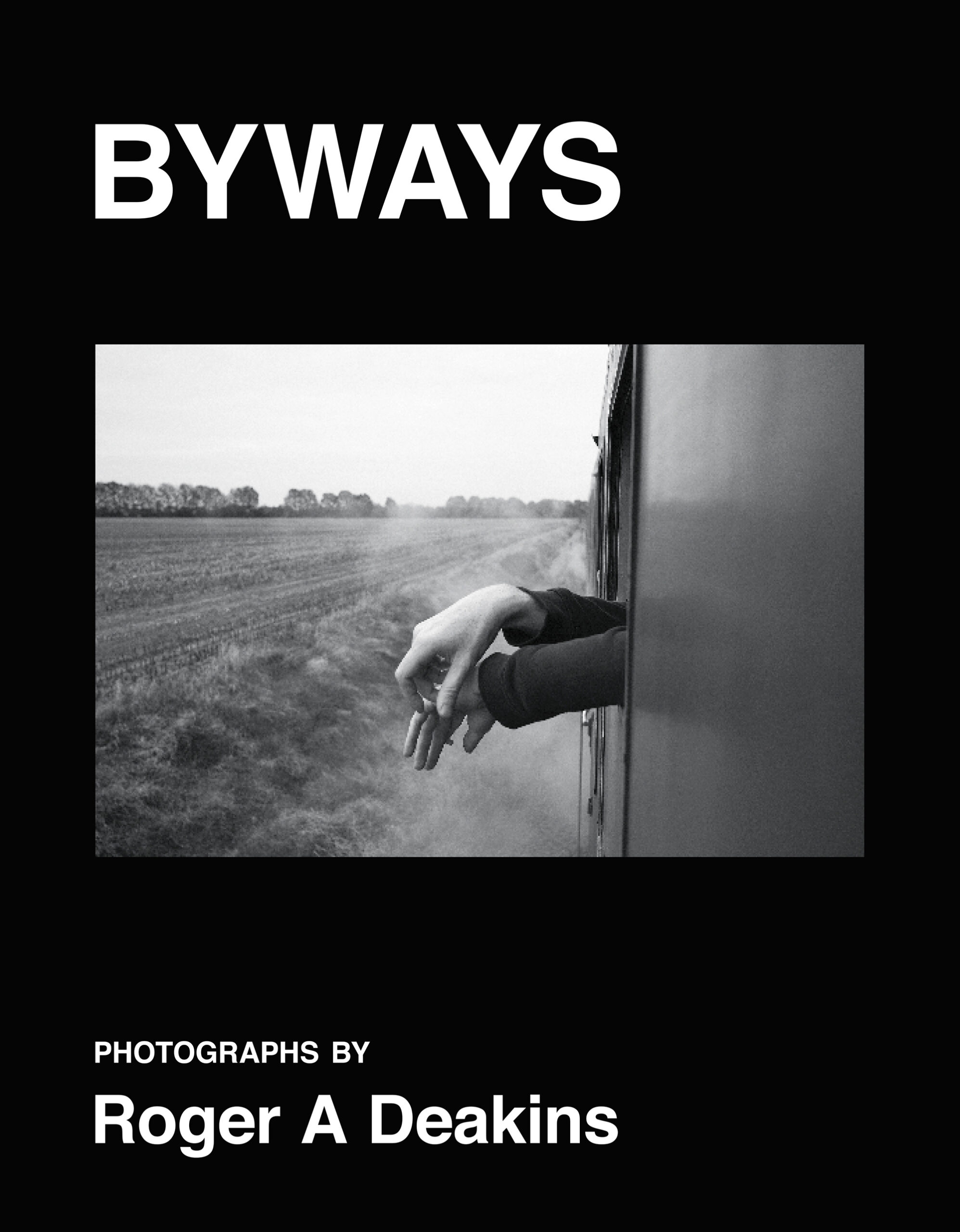 A note from FRAMES: if you have a forthcoming or recently published book of photography, please let us know.
---
FRAMES Magazine
Every year we release four quarterly printed editions of FRAMES Magazine. Each issue contains 112 pages printed on the highest quality 140g uncoated paper. You receive the magazine delivered straight to your doorstep. We feature both established and emerging photographers of different genres. We pay very close attention to new, visually striking, thought-provoking imagery, while respecting the long-lasting tradition of photography in its purest incarnation.
Learn more >>>
---