FRAMES Artist-in-Residence October 2021: Paul Sanders
PART 1 – OCTOBER 5, 2021
Tomasz Trzebiatowski in conversation with Paul Sanders, introducing our first Artist-in-Residence, talking about his approach to photography in general and about ideas for this particular photography project.
Leave your questions to Paul in the comment section below and he will do his best to answer them all.
---
PART 2 – OCTOBER 10,2021
Let me say that when Tomasz asked me to do this I was instantly excited by the idea – but now in the cold light of day as I write this first piece I am terrified.
I never take commissions to photograph anything, I find the pressure unbelievable and that stops me seeing in an authentic way – I try to imagine what the client wants, in this case Tomasz.
So I have decided to ignore that I have been asked to do this and just go with the flow.
If I make an image that works then great but if I don't, that is ok too – this is my philosophy throughout my work.
As someone who approaches their subjects and photography with a mindful perspective I like to spend time watching and feeling what I photograph. I look for gesture mostly or suggestion in the subjects that present themselves to me.
Having not flown in 18 months – I used to do around 40-50 flights a year I suddenly found myself heading off to Scotland to co-lead a workshop.
Currently I am in the Hebrides off the west coast of Scotland about to start a photography retreat that I am co-leading with Margaret Soraya. We will be here until the middle of next week – I will then head to Devon in the south west of the UK for another workshop – but more about that next time.
The week up to now has been odd, in fact I haven't photographed anything properly! What a great start to my time with you.
I've done four talks this week – two at The Park Cameras imaging festival – for Fujifilm and one to a camera club.
Also I have done a couple of online workshops – one for the mental health charity West Kent Mind. I co-present these with WKM trustee and friend Steve Sunnucks – himself a very fine photographer.
These online sessions for WKM are incredible I get so much pleasure out of helping and encouraging the clients, what I really love is how they relate the images to their story at the time of releasing the shutter, they have now interest in the technical side purely the expression and interpretation of they brief. By encouraging them and empowering them to have confidence in their uniqueness they have used photography to start to integrate with society again. Honestly these people bring me to tears some weeks.
I'm also in talks with the Dover based charity 'Positive View' about doing something with them to support young people with mental health challenges or life disadvantages – this type of work is so important, we all need to learn to support others rather than look at the personal gain from our photography.
I think realistically my life is about 90% presenting talks, leading workshops and admin with the last 10% being actually photographing things.
So down to business, I photographed a thistle a few weeks ago, very simply in my mini studio. I have a deep love of still life despite being known as a landscape photographer, I think still life is my first love. I don't use flash – I don't understand it. I like the continuous light of a light box. I have three in my set up one at each side and one behind I then use black card to eliminate light or shape it – I'll share the behind the scenes set up when I get home.
I chose the thistle because at the time my head felt like it was full of fluff – I suffer with fibromyalgia which causes chronic pain throughout my body, exhaustion and brain fog. The thistle seemed to suggest the pain and fog in one to me.
I really enjoy it when subjects keep developing and offering new perspectives on themselves and me, the power of equivalence in a subject can be incredible.
Equivalence is basically using the subject as a metaphor for how you feel about something – not necessarily the subject itself. I use this all the time, it allows me to express how I really feel about things without having to say how I feel.
If you look at the work of Minor White, Steiglitz, Harry Callaghan etc you'll see plenty of examples – this style of photography as for me it also takes the emphasis off the gear and technical side which I really like.
Anyway having left the thistle in situ – to behest I really just forgot to tidy up! I returned to my studio before flying yesterday and noticed how much the little chap had changed. I just love how the thistle has exploded with seeds, I never thought it would happen or that there would be so many.
Once I see something in a subject I like to let it rest, and just keep coming back to it sometimes a few days other times a few hours later. For me it is important to have a period of contemplation, understanding and space with the subject.
So the thistle and its seeds are possibly going to be one of the images I hope to present at the end of this – whether it works or not.
I think it is important not to delete or ignore the images that don't work because they help you learn more about yourself and more about the subject. I'll often return to unsuccessful images reflecting on why I misinterpreted the moment or misunderstood the subject.
One thing I never do is blame the subject for not being good enough, or myself, the key is if things don't work out it is usually misunderstanding why I was photographing something or trying to make it say something that it doesn't want to say.
So that's the start of my residency I hope you have enjoyed a look inside my head. Please feel free to ask questions or comment – but please be nice.
PART 3 – OCTOBER 17,2021
PART 4 – OCTOBER 23,2021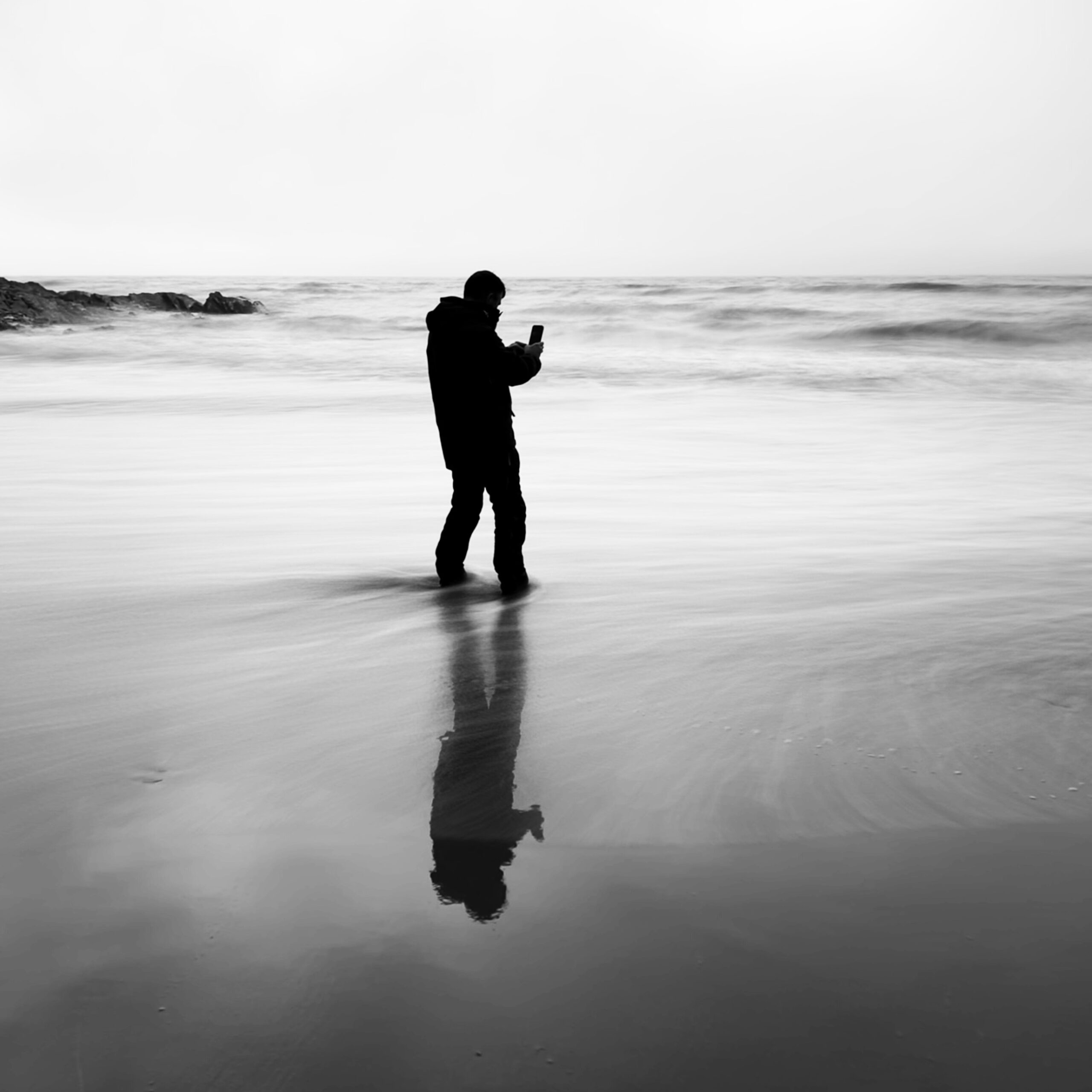 I'm not sure if it is just me but this Artist-in-Residence is flying by!
Over the last couple of weeks I have been away in Scotland as you saw from the video I did last week. This week I have just returned from working with photographer and Photoshop guru Adrian Beasley in Devon, in the southwest of the UK.
Workshops are where I make my living, there is very little money in selling prints for many photographers – myself included – unless you are Michael Kenna that business plan is unfeasible.
The Devon workshop was purely phone photography, four days of learning to see, sketching, editing and printing all using phones. The freedom that gives creatively is incredible. Freedom is something that we all need to use as a way of unleashing our spirit into our work and you can only do that by a daily practice of seeing in awareness.
I personally enjoy supporting clients as they learn to see in their own way, listening to their own creative voice instead of their inner critic. Watching people play with their creative expression, the childlike joy on their faces and exclamations of delight at hither-too untried ideas is inspiring for me. As a creative I find inspiration in the creativity of others. Nothing is more powerful than witnessing someone else success and sharing that joy for and with them rather than being bitter, jealous or trying to outdo them.
People often say it's not real photography if you use a phone – which is a bit like saying to Leonardo Da Vinci that his sketchbooks aren't worthy of attention.
I sketch ideas with my phone, it is truly one of the most important aspects of my creative life, to play, to experiment and I do it all on my phone. The more I play with the ideas on my phone the easier it is to see when I approach something with my other equipment.
I like being frivolous with my seeing, taking joy in the simple things which is something we should all do more of.
Last week I watched in true wonder at the way everyone embraced the sessions and locations in different ways, rather than interlocking tripods people felt free to try things which was empowering, I saw the confidence of clients grow, not only in their vision but also in their personality.
Rather than being inhibited by the kit, free yourself, that's what I do – in fact that is really all I do.
Take these trees I noticed them as we pulled into the car park and to be honest I could have spent the whole time we at Valley of Rocks near Lynton just with them.
However when you are with a group you have to put their needs before your own so we experimented with sea scapes, rock textures and various other ideas but the trees were calling to me. One of the clients mentioned the trees to me as we approached the car park saying how wonderful they looked. So we started exploring them, playing with the texture, the shape and looking at the story of four trees who had grow embedded in a stone wall, shaped by the prevailing wind, hunkered down behind each other. Their constant battle against the elements revealed in their broken branches, ripped bark and twisted grace.
Very soon the whole group started getting involved exploring the trees in our own way, there was room as none of us had tripods, we lay down, stood on tiptoes, wedged the phones into tight gaps, what an amazing celebration of visual freedom.
Details are a wonderful gift to us all and you don't have to travel far to find, I love just enjoying the way things sit together or are shaped and corroded by the elements, I don't try to make them into anything, I am happy to let them just be and reveal their own beauty.
Of course weather plays a huge part in photography, personally I love the mist and rain but weather can cause huge problems with using bigger kit, rain on lenses, weatherproofing, rain on filters, wind shaking the camera or blowing over the tripod. With a phone it is so much calmer – literally no stress about kit, just wear a good coat with pockets and you can photograph without any weather angst or annoyance –  in fact it becomes fun!
Because I like simplicity phones are a wonderful way to sketch out ideas for long exposures too – no filters, no exposure calculations just compose point and shoot – certainly that is the case with my iPhone. I use the "live' mode to create the feel of long exposure which to be honest does a great job. But for me – someone who doesn't shoot intentional camera movement I love giving myself permission to step outside of my normal work to play with the subjects and movement.
So why am I telling you all of this? Well basically don't take your photography so seriously that you forget to enjoy it. By sitting permanently in the same place you won't grow or experience ideas that help you evolve as an artist.
Learn to have fun, learn to play, learn from your children and grandchildren, a childlike sense of wonder at the world around is the key to creative growth. All images taken using an iPhone 12 Pro shot in silvertone on the native camera or processed in Snapseed.