FRAMES Artist-in-Residence June 2022: Robin Hudson
PART 1 – PART 2 – PART 3 – PART 4
PART 1 – JUNE 3, 2022
W. Scott Olsen in conversation with Robin Hudson, introducing our next Artist-in-Residence, talking about his approach to landscape photography and his plans for this particular FRAMES AiR series.
Leave your questions to Robin in the comment section below and he will do his best to answer them all.
---
PART 2 – JUNE 10, 2022
Why landscape photography?
During the interview in the first part of my tenure as Frames Artist in Residence, Scott asked why my preferred genre is landscapes as opposed to weddings, street photography or something else. I'm not sure I was as succinct as I could have been but by coincidence, shortly after the interview, I was looking through my copy of "Nature's Chaos" by Eliot Porter. In the first paragraph of his foreword Porter states:
"My sense of wonder was first aroused by the physical and biological mysteries of science, and when I became interested photography the subjects that occupied my attention were those primarily connected with the natural scene. Nature became intimately associated with my perception of beauty".
I think this sums up perfectly what I was trying to say.
Today, I don't exclusively shoot landscapes – I've done a little wildlife work and played around with architectural details, abstracts of old cars and even some images which include people. In truth, if I have the opportunity and necessary skills, I'll try to make an image of anything that fascinates me. Landscapes are simply my photography home ground.
Why did I wait so long to take photography seriously?
Looking back, I now realise there were three events that combined to kick-start my journey into landscape photography when I was approaching fifty.
(1) A road trip to the National Parks of the Southwest USA.
The first was a two-week tour of California, Nevada, and Arizona in 1997. My primary destination was Yosemite which I had wanted to visit for many years. Seeing Yosemite for the first time from Tunnel View left me speechless. Myself and my travelling companion spent three days exploring as much of the valley as we could. I shot several rolls of 35mm colour film as I tried to record the splendour of the mountains, waterfalls, streams, woodlands, and lakes.
Of course, it's impossible to visit Yosemite without also coming across the work of Ansel Adams which I admired and envied in equal measure.
On my return home I eagerly awaited my prints but as usual, they were disappointing to say the least (made worse by the fact that I now had Adams' images to compare them with).
Photography stayed on the "to-do…at some point", list.
(2) The advent of digital cameras.
The mid-1990's also witnessed the launch of the first digital cameras onto the consumer market and being a gadget freak I couldn't resist buying a Sony DSC-1. It was small, relatively light, and easy to use. It seemed like magic to me to be able press the shutter button, review the result on an LCD screen and just try again if it was a failure. Even better, I wasn't wasting money on film or prints!
Whilst the low resolution and other limitations of early digital cameras made them unsuitable for serious photography, it was obvious that the technology would continue to evolve and eventually become mainstream.
(3) Tipping point.
Fast forward to the summer of 2009 when I was fortunate enough to be able to take an extended break from work. I was asked by my colleagues what I would like as a leaving present and apparently, I suggested a book on landscape photography (it seems my aspirations of 12 years earlier had begun to resurface now that digital technology was coming of age).
On my last day at work, I was duly presented with a copy of "The Making of Landscape Photographs" by the English photographer Charlie Waite. I wasn't familiar with his work but as I flicked through the pages of his book later that evening, I could feel the excitement starting to build – maybe landscape photography was something I could do?
Shortly after, I bought Canon EOS 5D Mk II body with an EF24-105mm lens and booked myself on a beginner's landscape photography workshop.
An inauspicious start.
That first workshop did not go well. It was only three days long and the weather was for the most part dull and wet. We took a few images anyway and then spent some time dipping our toes into a very early version of Lightroom. I wasn't pleased with any of the results and hadn't really learned much about how to use my camera (yes, I'm impatient, what did I expect in three days?).
Undaunted, I booked a second workshop at the end of October. For very different reasons this trip was also disappointing, but I did come away with one image that I thought looked OK on the camera. It was taken just before dawn in a secluded valley called Littondale in the Yorkshire Dales National Park. In hindsight I suspect that if I didn't have this one "straw to clutch at", I might have given up on photography altogether.
In the following short video clip, I've tried to explain what I liked and what I didn't like about that image, and how I think I would have composed and processed it had I taken it today. I'm not suggesting it's a great photograph, but I do regard it as the first milestone in my photographic journey.
By now, I realised that landscape photography was not something I was going to find easy. I found the plethora of technical camera settings confusing, many of my images were blurred due to camera shake or incorrect focussing and I struggled with composition (especially at wider angles).
In spite of this I decided to keep trying and booked to go on a third workshop in November 2009 (once again in the Yorkshire Dales). This was a completely different experience. The patience, encouragement and wonderful photography of the workshop leader inspired me to keep trying. At the end of the workshop, I felt that landscape photography was worth pursuing.
Since then, I have been lucky enough to attend workshops in New England, Canada, Iceland, Colorado & Utah, and various parts of the UK. Most of my better images have been created during workshops. Yes, I do get out one my own occasionally, but I'm certainly not a prolific photographer.
Before moving on to the question of why my back catalogue contains relatively few wide-angle landscapes, here are four examples of those that are: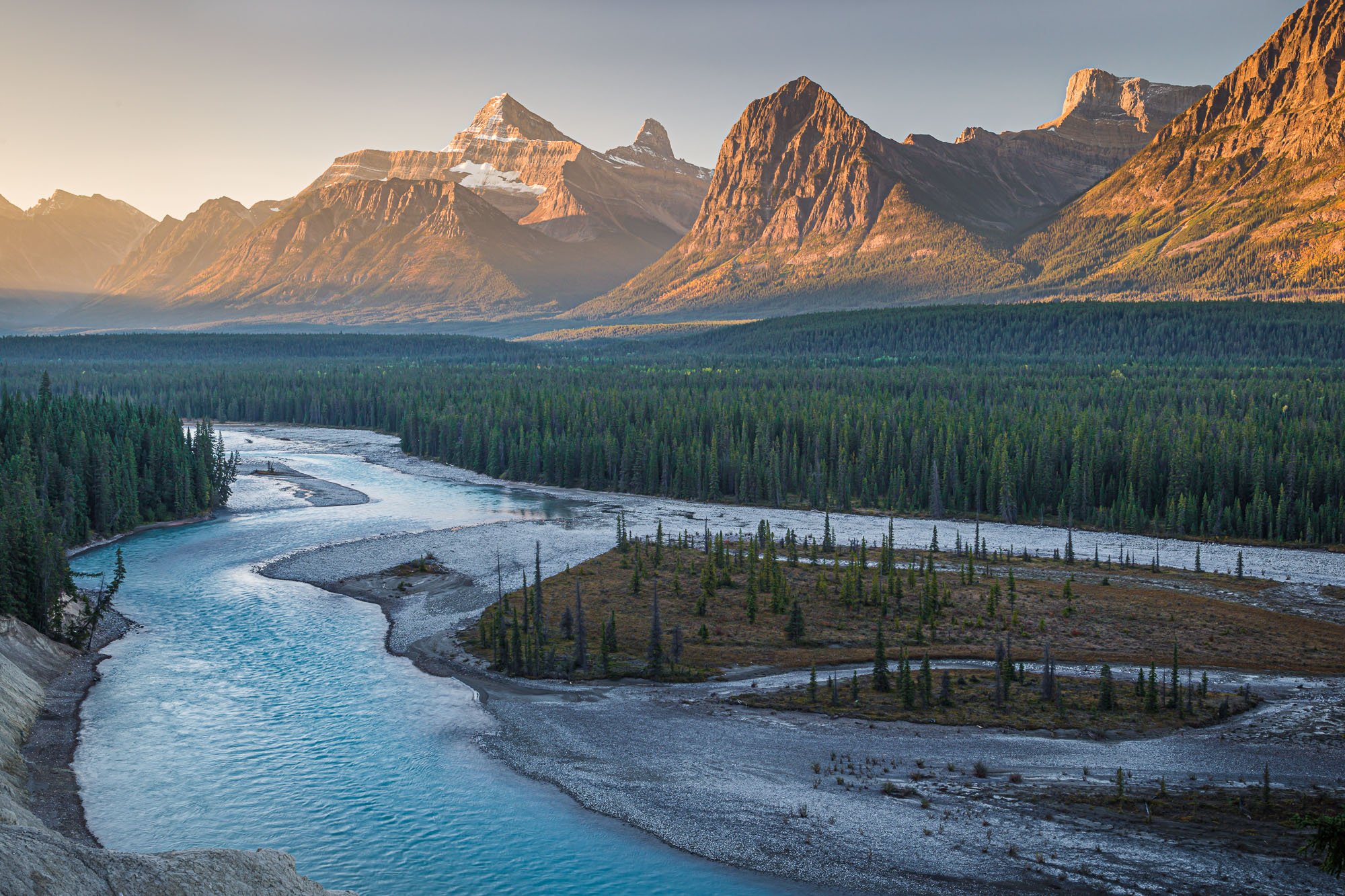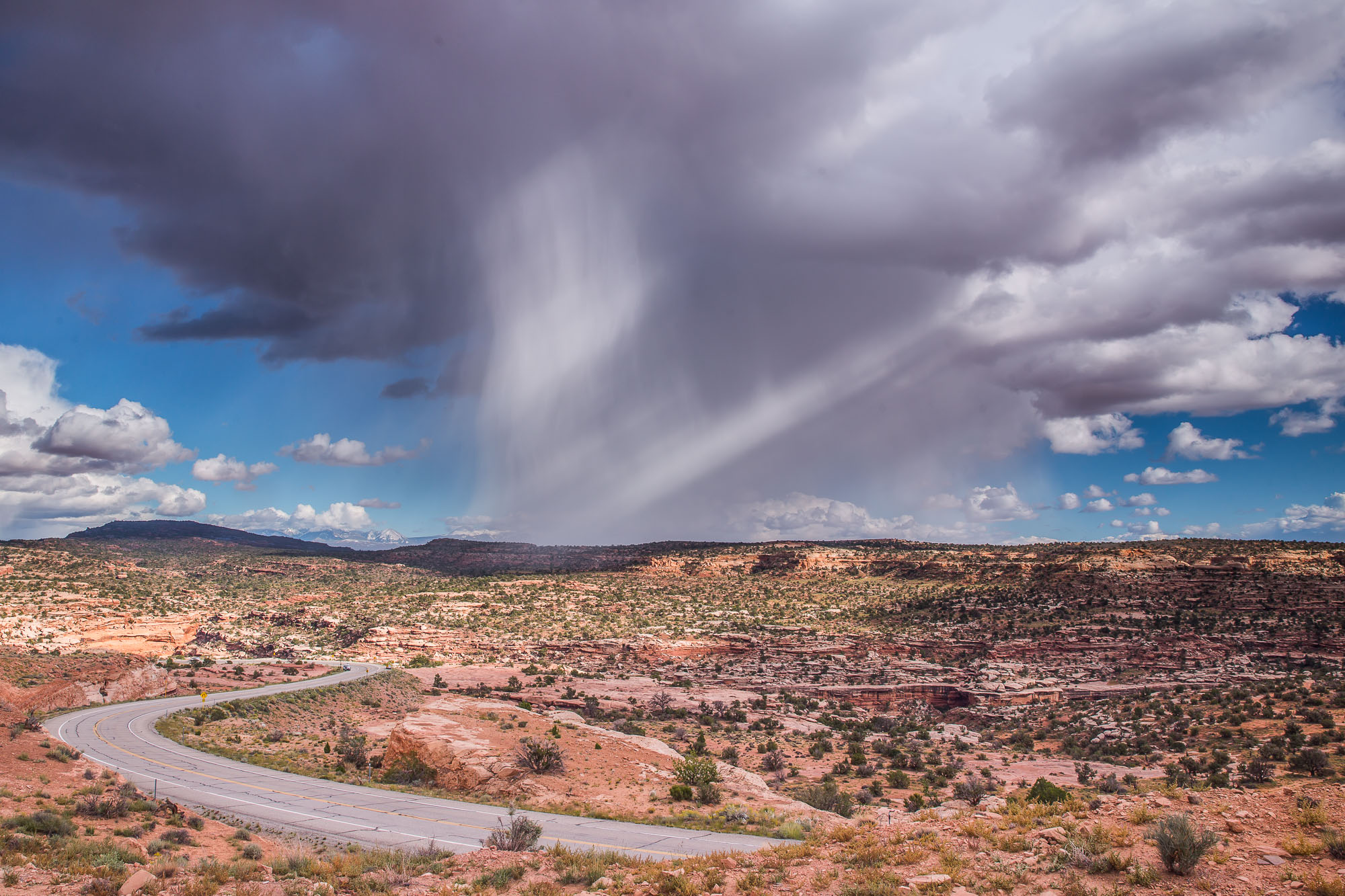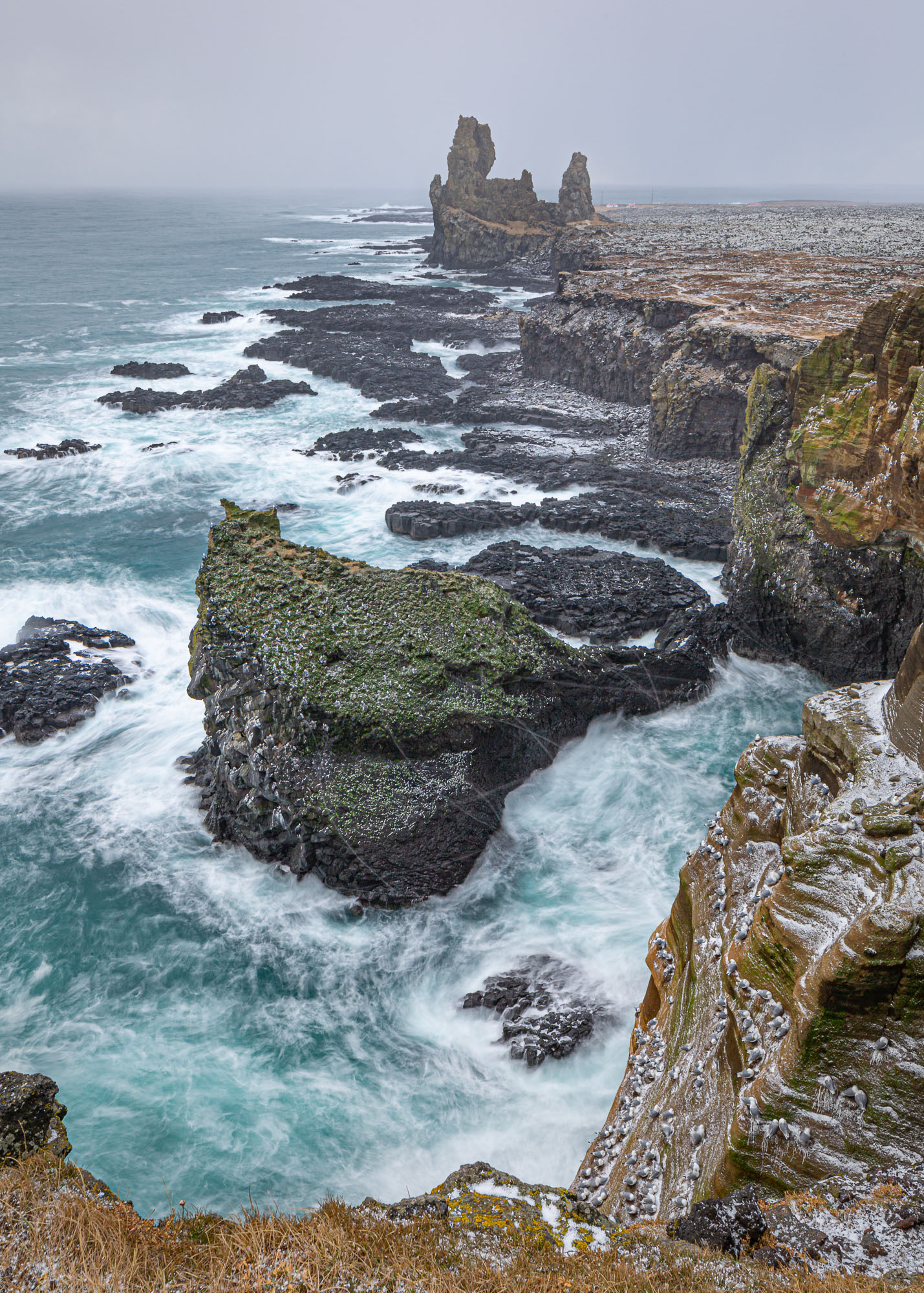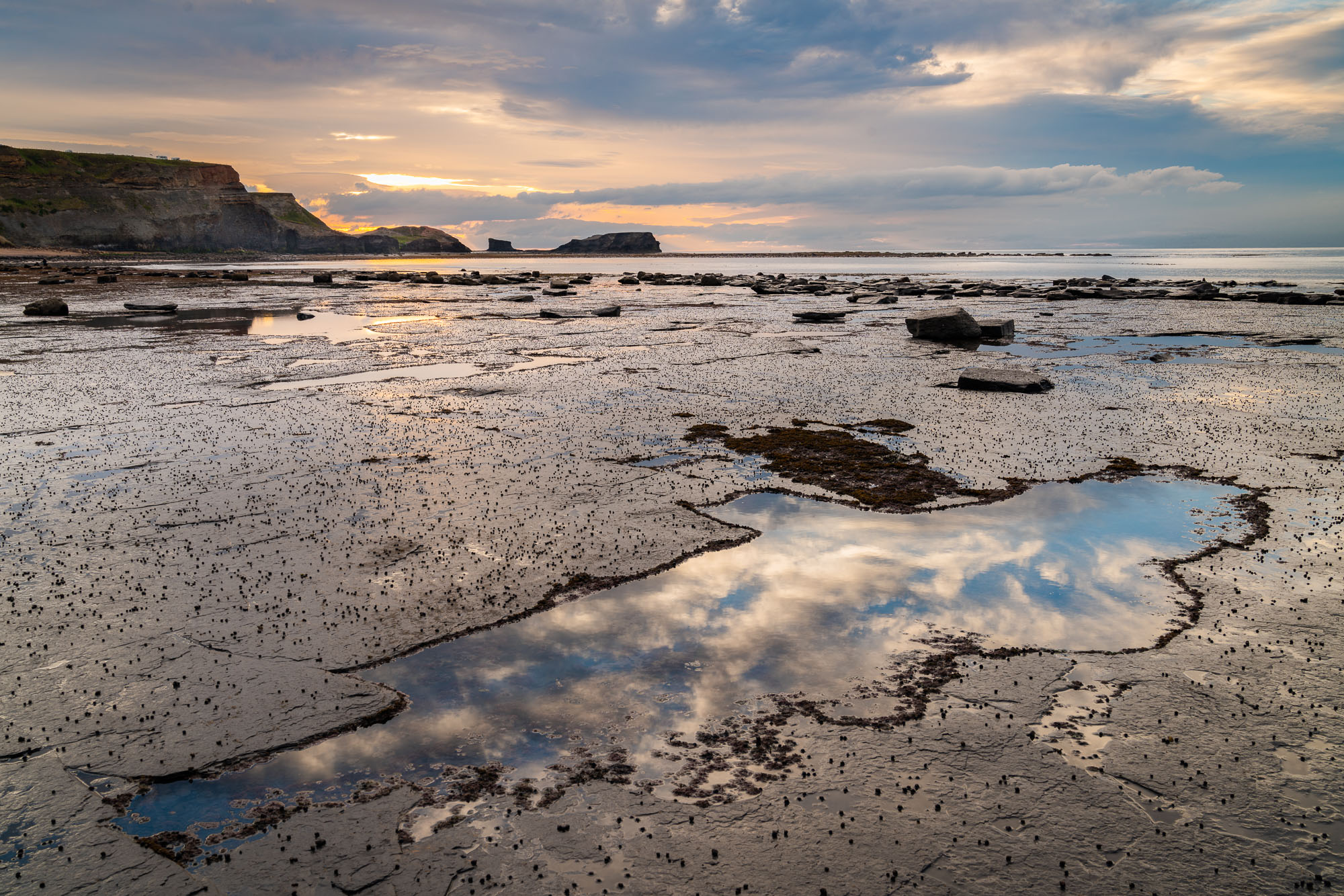 Terminology.
Even today, in the broadest sense I see myself primarily as a landscape photographer, but a lot of my images could be described as being intimate landscapes or in some cases, abstracts. As I explained in the interview with Scott, I tend to refer to images of this type as "cameos" and for clarity, I'll use the term "vista" in the following text to describe wide-angle landscapes.
Why Cameos?
So how did I get to the point where there are significantly more cameos in my portfolio than the vistas that I so longed to master?
One obvious reason is that as a beginner attending workshops, you are encouraged go out whatever the weather, to try and make images. When conditions aren't conducive to making vistas, workshop leaders often suggest that participants look around for smaller subjects to work with such as lichens, ice patterns, flowing water etc. It wasn't long before I'd had a lot of practice at this and actually, I began to enjoy the quiet contemplation of my immediate surroundings.
The following image resulted from just such a situation. It was taken on the way back to our minibus after attempting to photograph Maroon Bells at dawn. I say attempting – there must have been a two hundred or more photographers lined up elbow to elbow along the lakeside!
It was still early morning and a lingering frost remained on the vegetation near the car park. I spotted an area of grass that had been partially flattened and I couldn't resist the frost crystals coating on the gently curving fronds.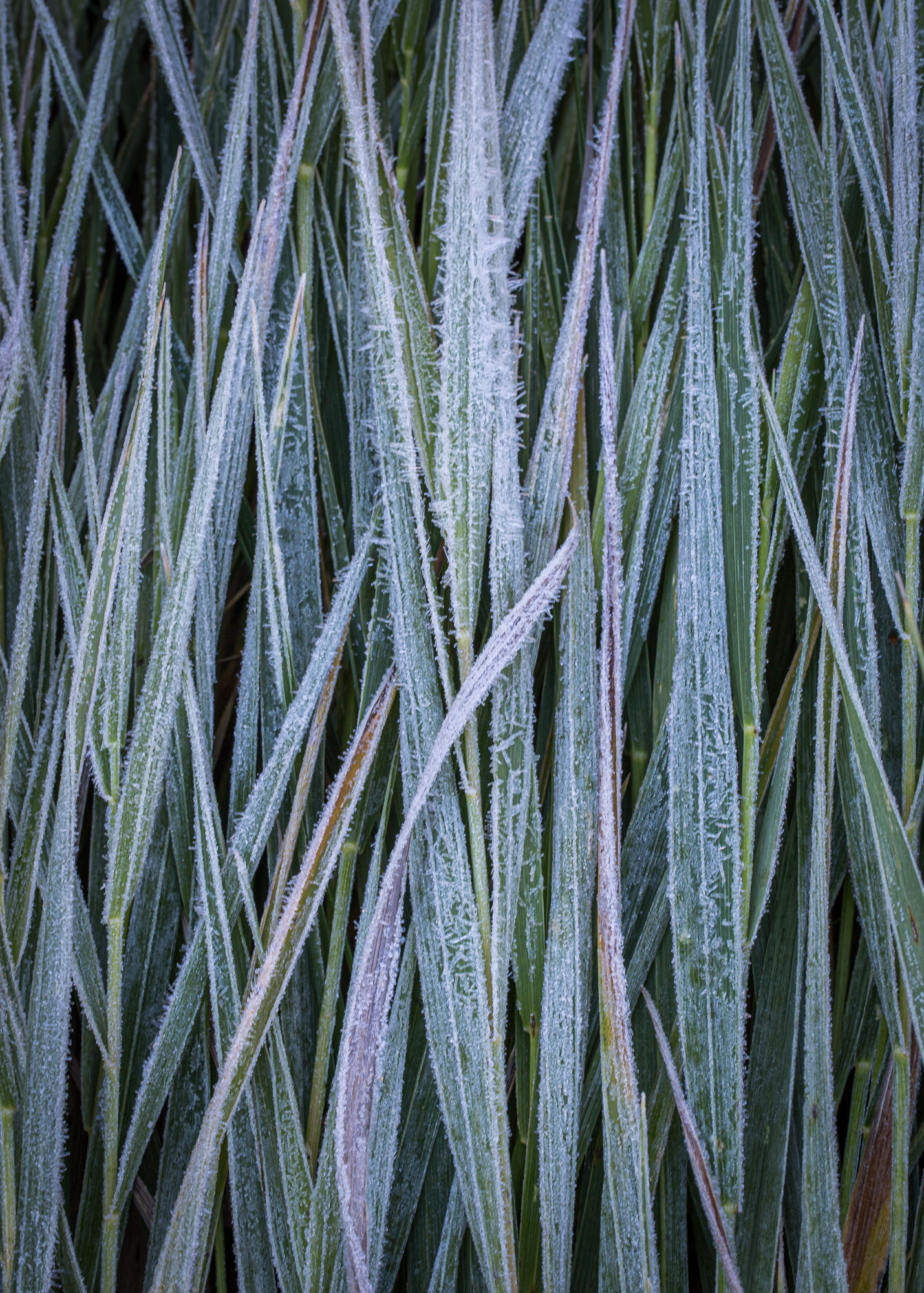 A second important factor that fuelled my propensity for cameos is simply that I've had more practice. That in turn gave me more confidence in my ability to find (what to me), were interesting subjects and to make them work as an image.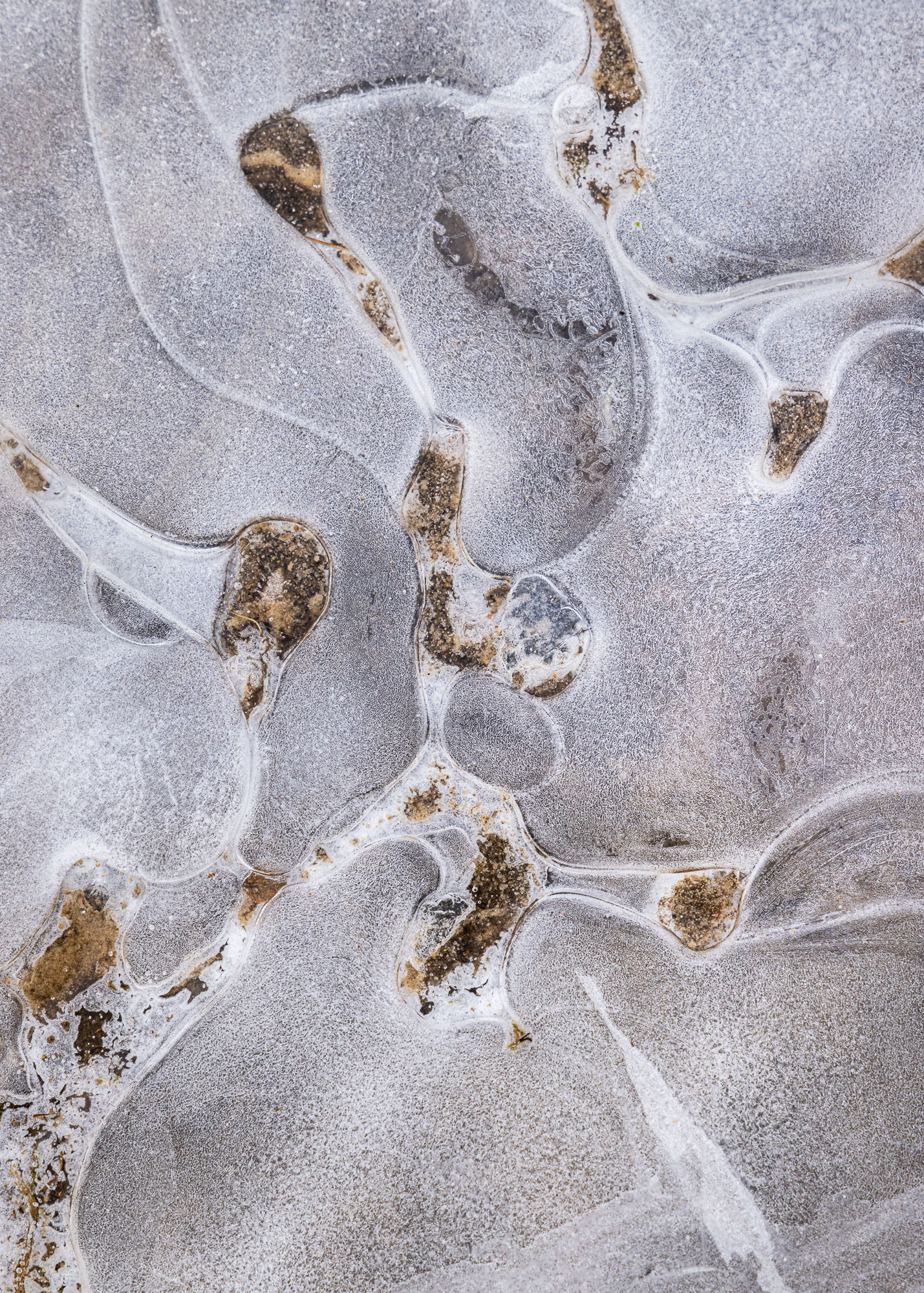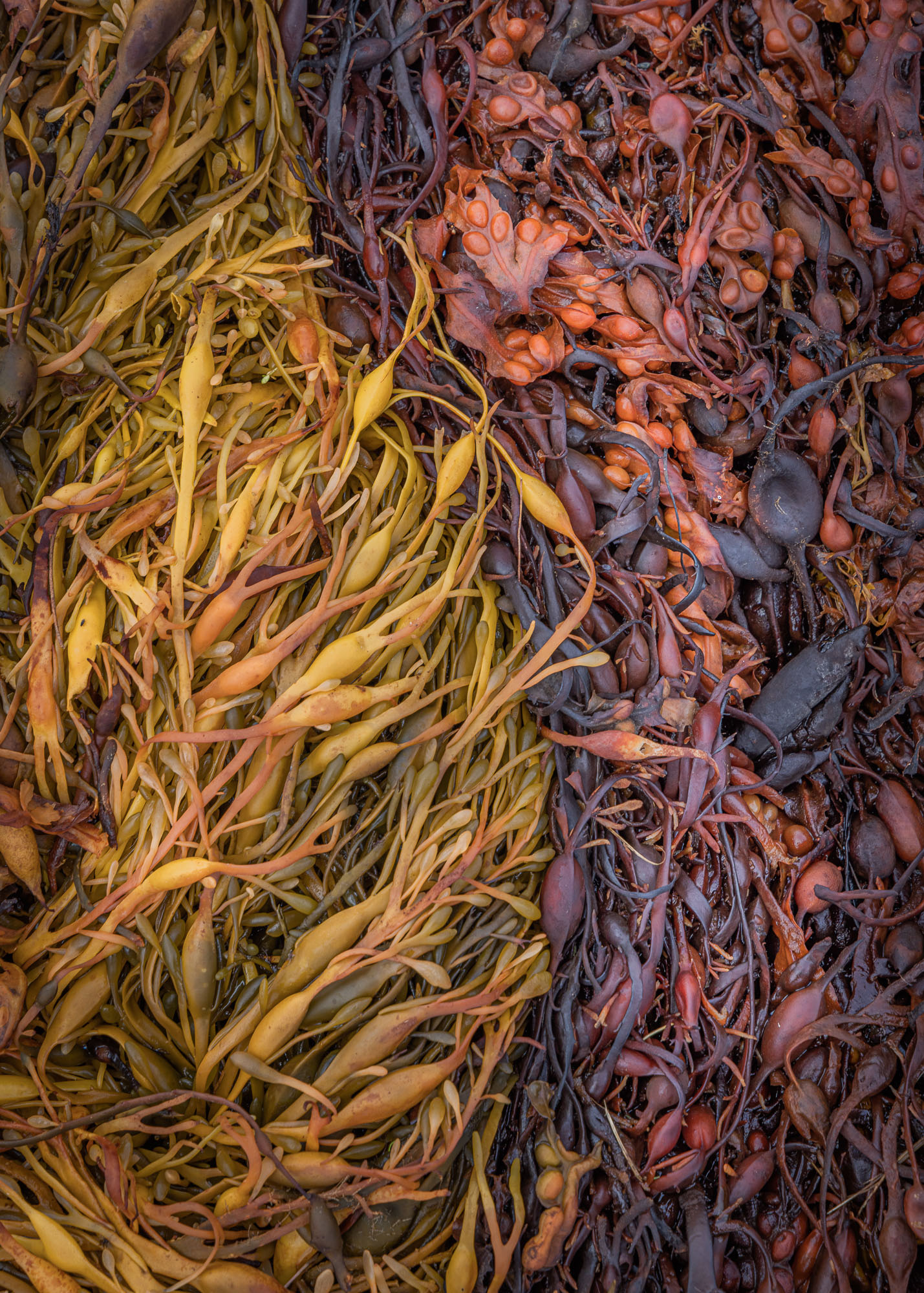 But there's another important factor that I've begun to understand only by virtue of having to examine my photography for the purposes of writing this article. That is to do with the way I see.
Some photographers say they see colour, others that they see tonality, and some say they see in black and white. I'm definitely a colour photographer but that's not to say I'm experienced enough to use colour deliberately my images. My use of colour is instinctive rather than considered.
Secondly, I seem to find it much easier to "see" at longer focal lengths (50mm or above). Looking back through my archives I have realised that most of my successful vistas are taken at such values. This next image, which is clearly a vista, was taken at full zoom on my EF70-200mm lens.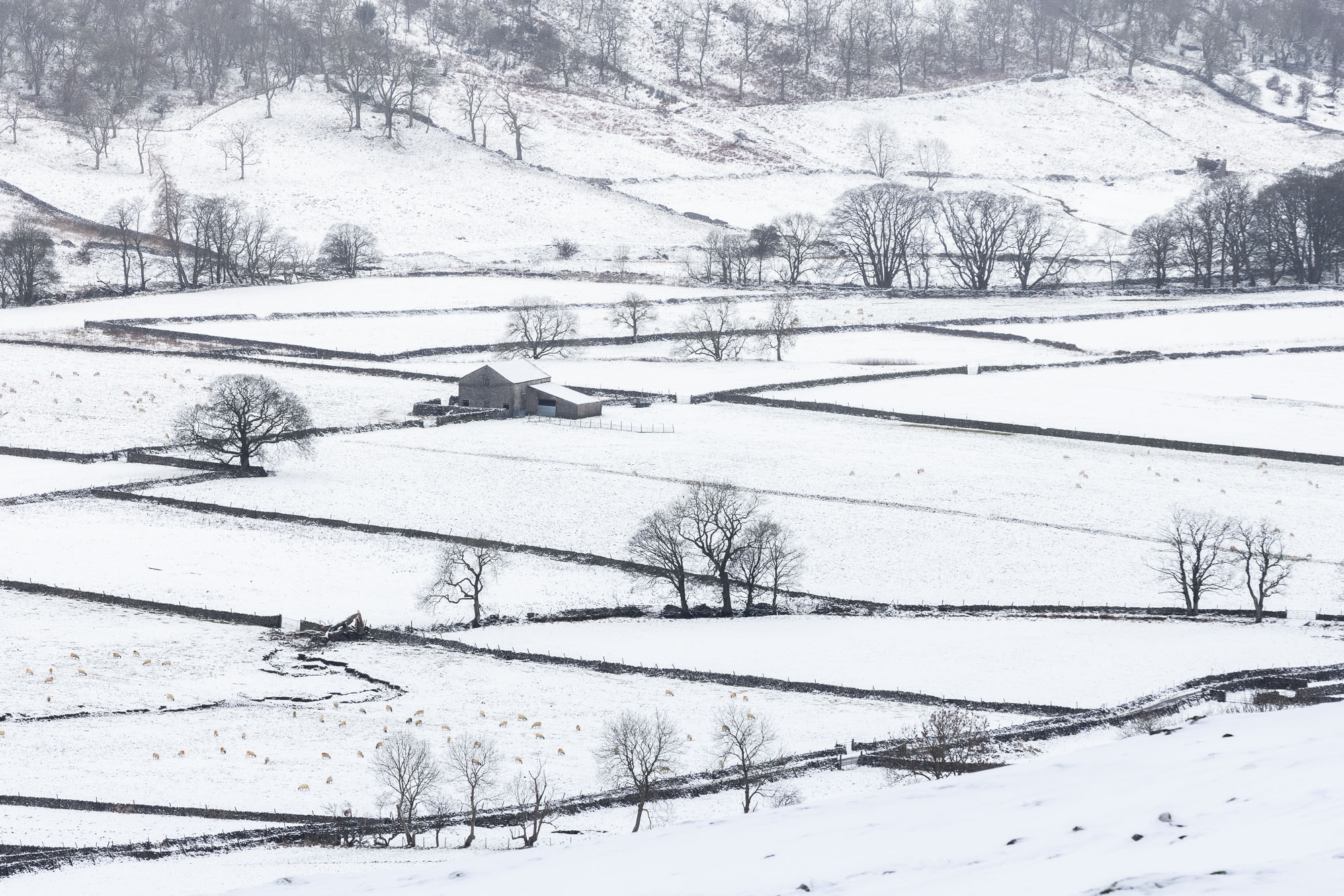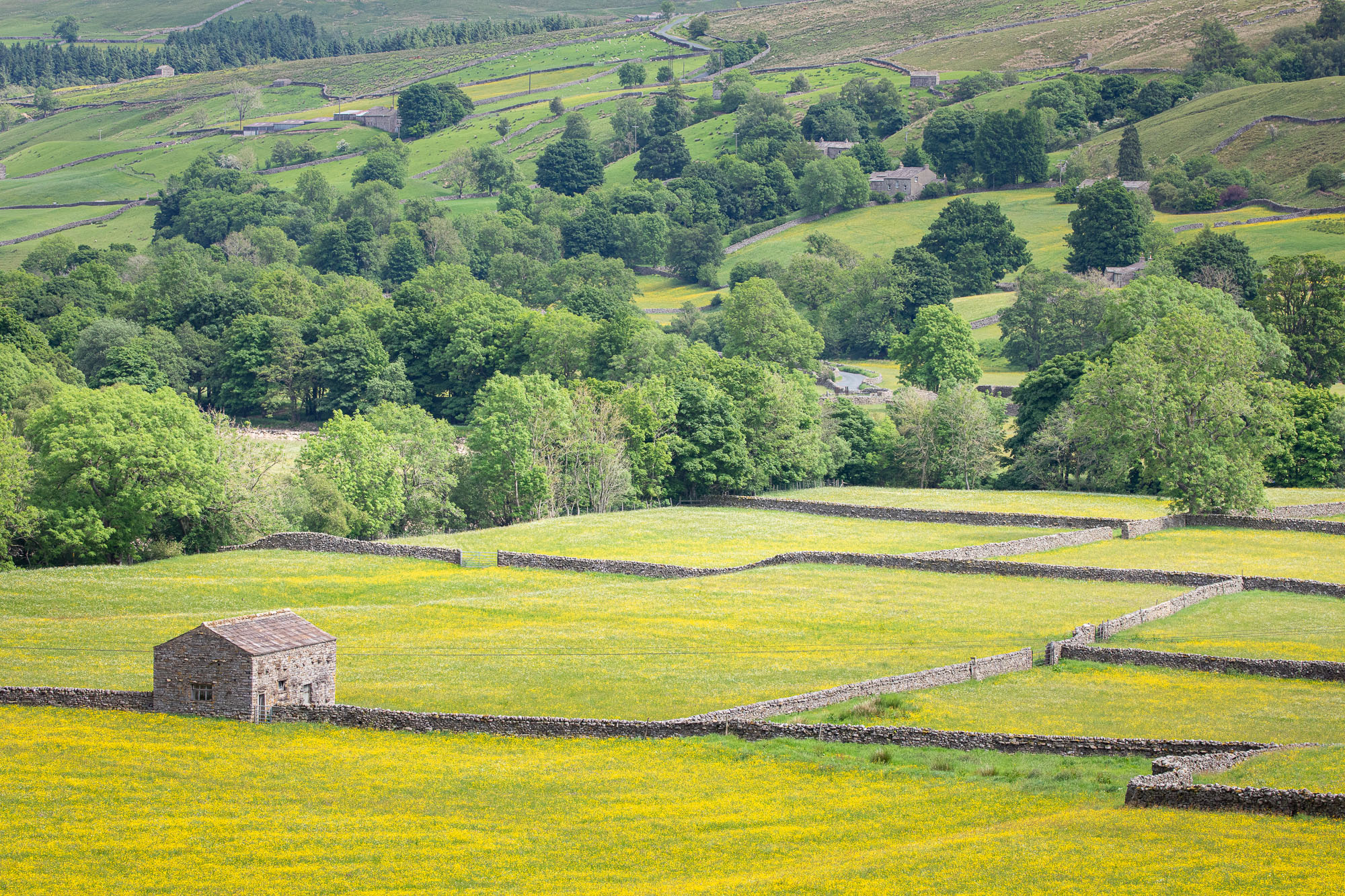 Even today I find it difficult to compose wide-angle images that work to my satisfaction. I struggle to get the various elements with the frame in the right proportions.
Conclusion.
I think the simple fact is that I like making landscape cameos because I've had more practice and therefore find them easier to do. I'll certainly continue my goal of mastering wide-angle landscapes and might even take on the challenge of only going out with a fixed lens, possibly 35mm.
One last thought. I would urge anyone new to landscape photography to practice photographing the smaller details around them as often as possible, even if the subject matter is unlikely to make an appealing image. I've found it to be a great way to learn about composition.
Next time.
As I write this, I have a trip planned to Northumberland shortly where I'd like to find some more interesting geology. If that doesn't go according to plan, the area has lots of other potential and if I come back empty handed (which is always a possibility), I'm might just select a couple of my existing rock abstracts and discuss them in more detail.
I hope you have enjoyed this article.
Please feel free to ask any questions or correct any technical errors I may have made!
Thank you!
Robin
Leave your questions to Robin in the comment section below and he will do his best to answer them all.
PART 3 – JUNE 18, 2022
Northumberland Trip Report – Part 1
The Northumberland coast is one of my favourite places to visit for landscape photography, particularly the 30 mile stretch from Berwick-upon-Tweed running south down to Longhoughton. There's an amazing mix of long sandy beaches, grassy dunes, rugged cliffs, interesting geology, quiet harbours and, last but not least, the famous castles at Bamburgh, Dunstan and Lindisfarne (Holy Island).
I've just returned from a three-day trip to revisit some of my familiar haunts in the hope of finding some new material for my remaining two Frames AiR sessions, specifically rock abstracts, or other cameos. The weather forecast looked favourable with light cloud for most of the visit. I prefer slightly overcast or shaded conditions when I'm out looking for this type of image.
Starting in the north and moving south, the specific locations that I know from experience are worth visiting are:
Spittal beach – well known for its' colourful and weather worn sandstone outcrops.
Cocklawburn beach – rock abstracts, fossils, and other beach details.
Budle Bay – landscapes and beach details when the tide is out.
Bamburgh beach – famous for Bamburgh Castle, great at sunrise and sunset (I prefer it when the tide is low).
Low Newton by the Sea – at low tide it's great for beach details, sand patterns etc. There are long distance views to Dunstanburgh Castle but if the castle is what you want to photograph, I think you need to be quite a bit closer to Dunstan Steads.
Dunstan Steads – the 'boulder beach' is a well-known viewpoint for views of Dunstanburgh Castle. Also good for wildflowers and grasses in the dunes.
Cullernose Point – landscapes, rock abstracts, beach details and seaweed.
Rumbling Kern – landscapes and rock abstracts.
The whole coast is also good for wildlife, particularly sea birds.
I couldn't hope to cover all these locations in three days but as rock abstracts were a priority, my first port of call was Cocklawburn Beach. As it happened, a friend of mine (also a landscape photographer), had been staying in the area over the weekend before I arrived, so we arranged to meet up there for a couple of hours.
It was overcast but not too dull and we both made our way to a location at the base of some low cliffs at the northern end of the beach. There are some superbly patterned rock formations here and several of the images I have posted previously in the Frames group were made within an area of a few square metres.
I was a little concerned that having already made images on a least three previous occasions that I might have exhausted the possibilities. Luckily, time and tide had worked in our favour, and it wasn't long before we spotted a section of beautifully patterned stone which neither of us had seen before. It was remarkably clean and can have only been revealed recently by the action of the tides. I'll be showing some of the resulting images from there in Part 4 of my Frames AiR sessions.
For this session I'll be concentrating on my exploration of Spittal beach, Rumbling Kern and Bamburgh beach. I'll be sharing both successes and failures.
Spittal Beach.
Spittal is a small seaside village just south of Berwick-upon-Tweed. The beach there is well known amongst landscape photographers because of the colourful sandstone outcrops that are sometimes visible on the beach. I say sometimes, because depending on the time of year, weather conditions and tides, the outcrops maybe partially or completely covered by sand.
Unfortunately, on this occasion it looked like there were only a few small sections visible, so to begin with I decided to venture further down the beach while the tide was still falling. I could then come back to the main beach later to continue exploring before high tide.
I didn't really know what to expect as I hadn't explored this area before, but my friend said he had been there the day before and had seen some very unusual (but not particularly photogenic), green rock. When I found it, even having been warned, I couldn't believe how strong the colour was – malachite green streaked through with some other gold-coloured mineral. Despite there being a lack of structure with which I could compose an interesting image, I decided to make one anyway.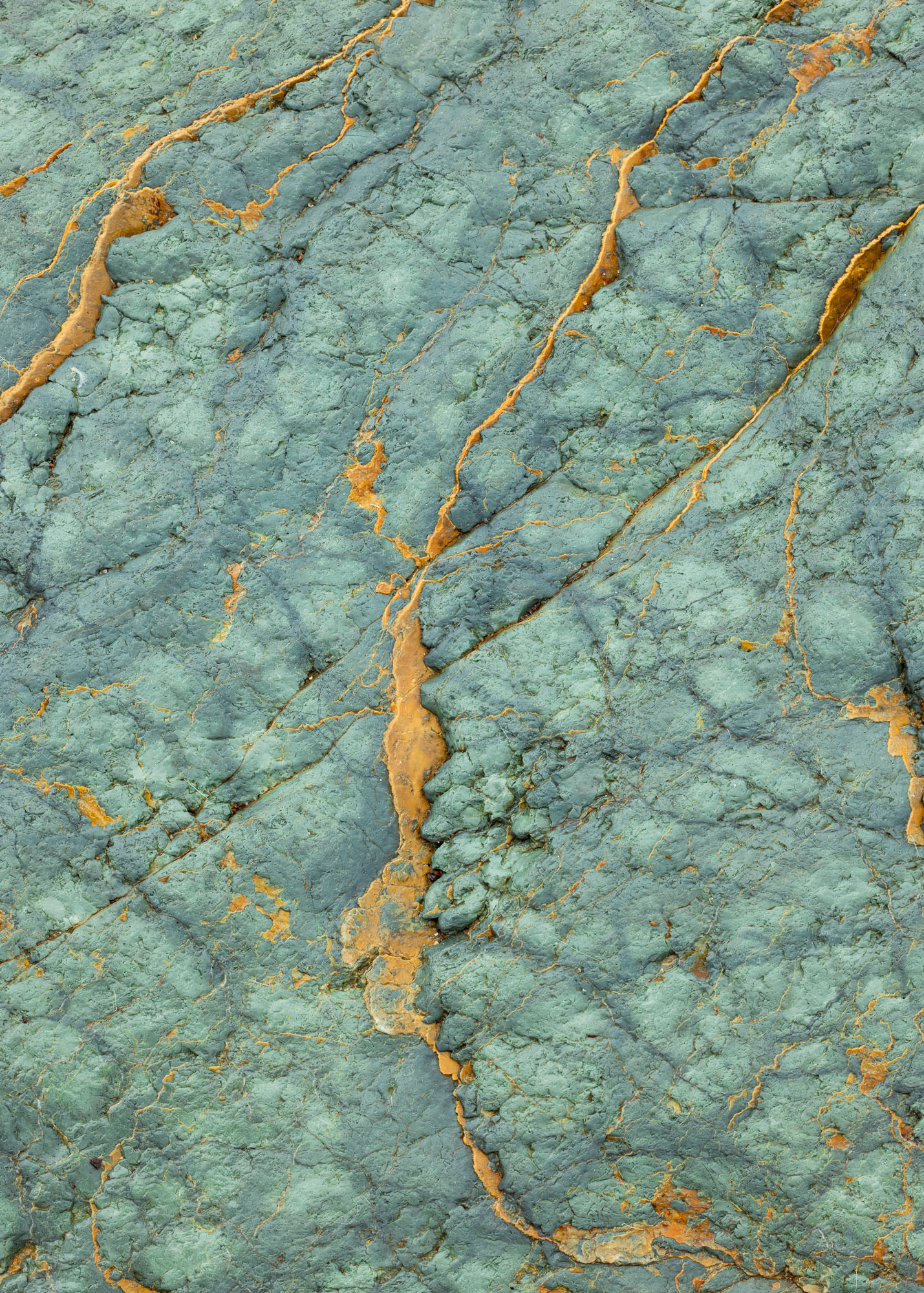 At this point I had gone as far down the beach as I wanted to and started working my way back taking care to keep my eyes open for any interesting details. As I walked along near the high tide line, there was a long, sloping miniature escarpment of yellow/orange eroded and cracked rock. It was largely free of seaweed but was home to a mixture of small barnacles and limpets.
The contrast between the warm colours of the rock and the cool, almost blueish tinge created by the barnacles caught my eye so I worked my way along until I spotted a section that I felt might work as an image.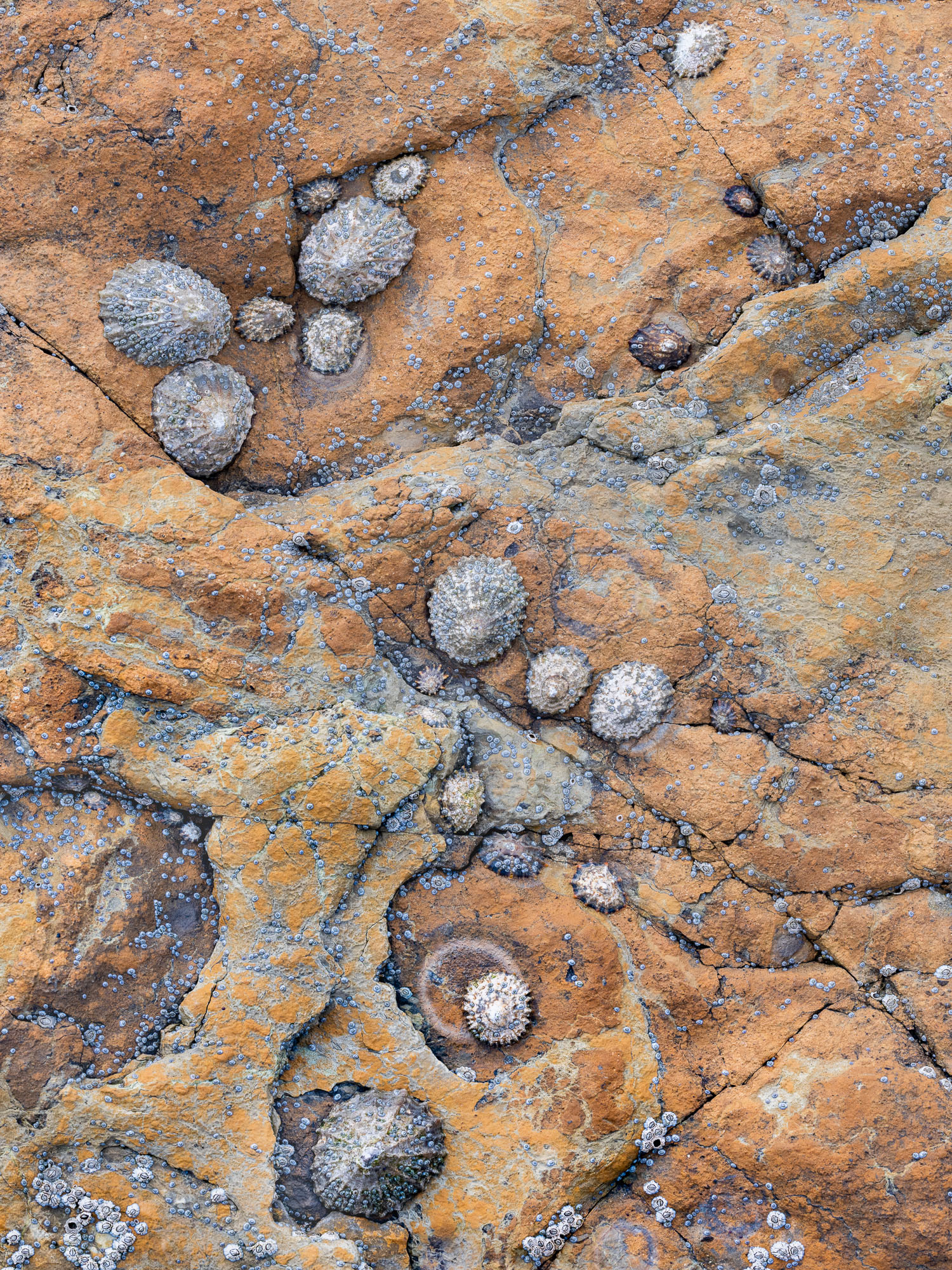 Quite often, a few days after I have processed an image, I start to question whether I actually like it that much but this one has continued to grow on me.
On the way back to the main beach there were plenty of other opportunities to make images – more rock, seaweed, pieces of driftwood and pebbles, but I was keen to get back to the sandstone outcrops before high tide. Then I spotted a flash of orange off to my left and went to investigate. At first, I was disappointed to find that it was just a patch of sea foam that had been stained bright orange by the iron content of the water in a small stream that flows out from a hole in base of the cliff nearby. I made a couple of 'fun' iPhone images and whilst looking at it in more detail I decided to take some pictures on my 'proper' camera, a Canon EOS R5. Ironically, having been unable to find any actual seaweed worth photographing, the patterns in this foam looked to me a bit like orange seaweed anyway.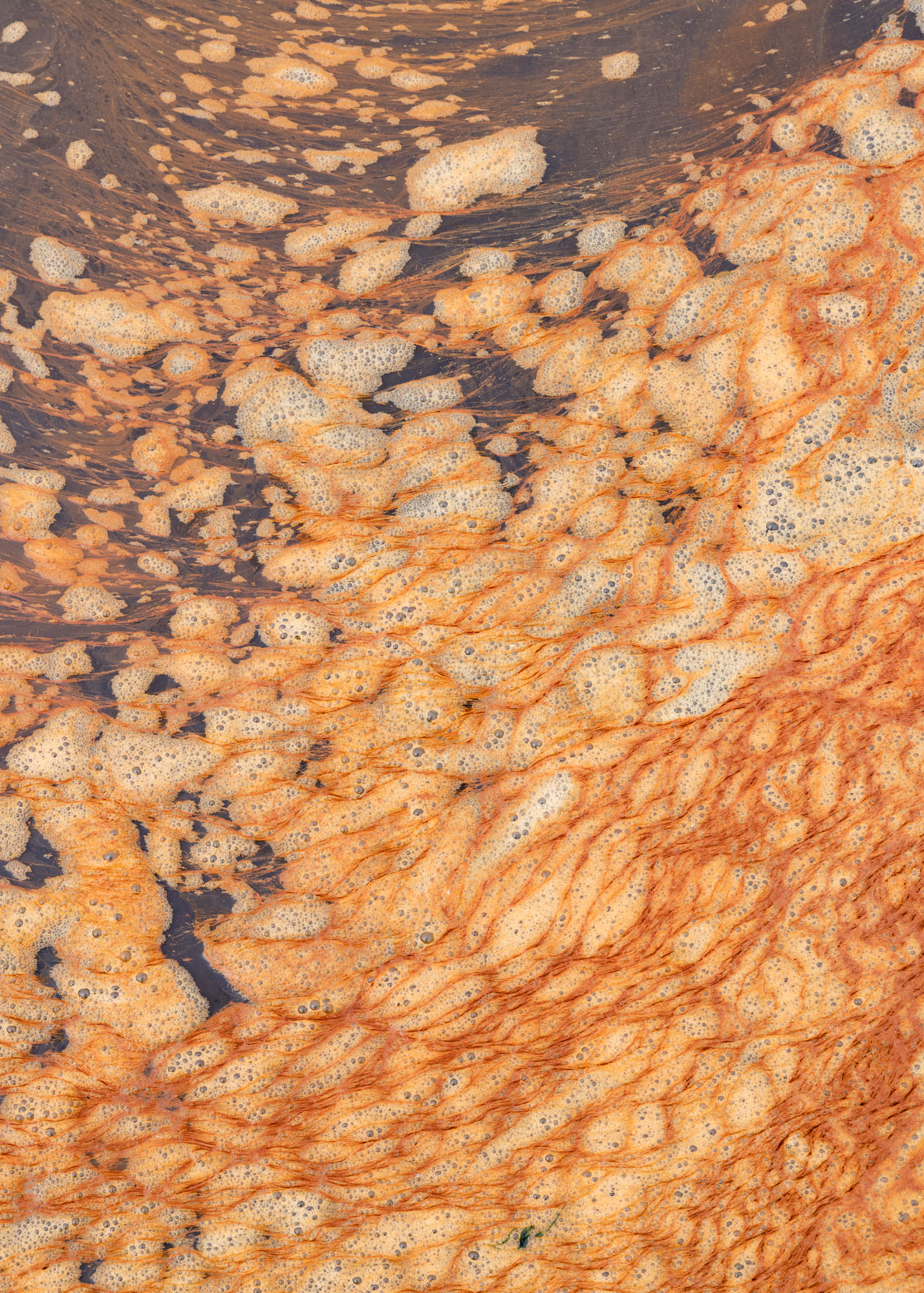 By now, I was almost back to the outcrops but wasn't particularly hopeful of finding much to photograph as there appeared to be too much sand. However, I continued to explore and was rewarded with one section that looked promising. I tried a several of different compositions that didn't work out for one reason or another but settled on this one that seemed to work.
The first image below is 'as shot'. As you can see, it's quite dull and flat and the histogram does indeed show that it is a little underexposed though not enough to lose any shadow detail. Also, the colour temperature is far too warm.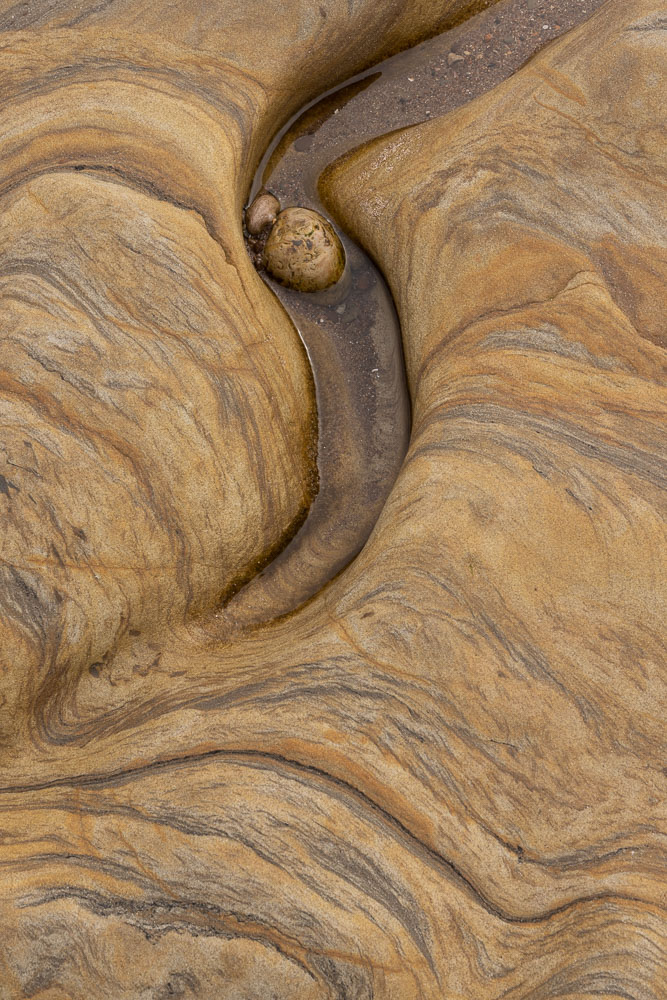 The following version is after processing. It's a focus stack of four images (done in Photoshop). Back in Lightroom I first cropped it to 5 x 7 but finally settled on 4 x 3 format. I also reduced the colour temperature, brightened it up a little and brought out the details by adding a little contrast and a touch of clarity. There were a few distracting bits of grit which I cloned out.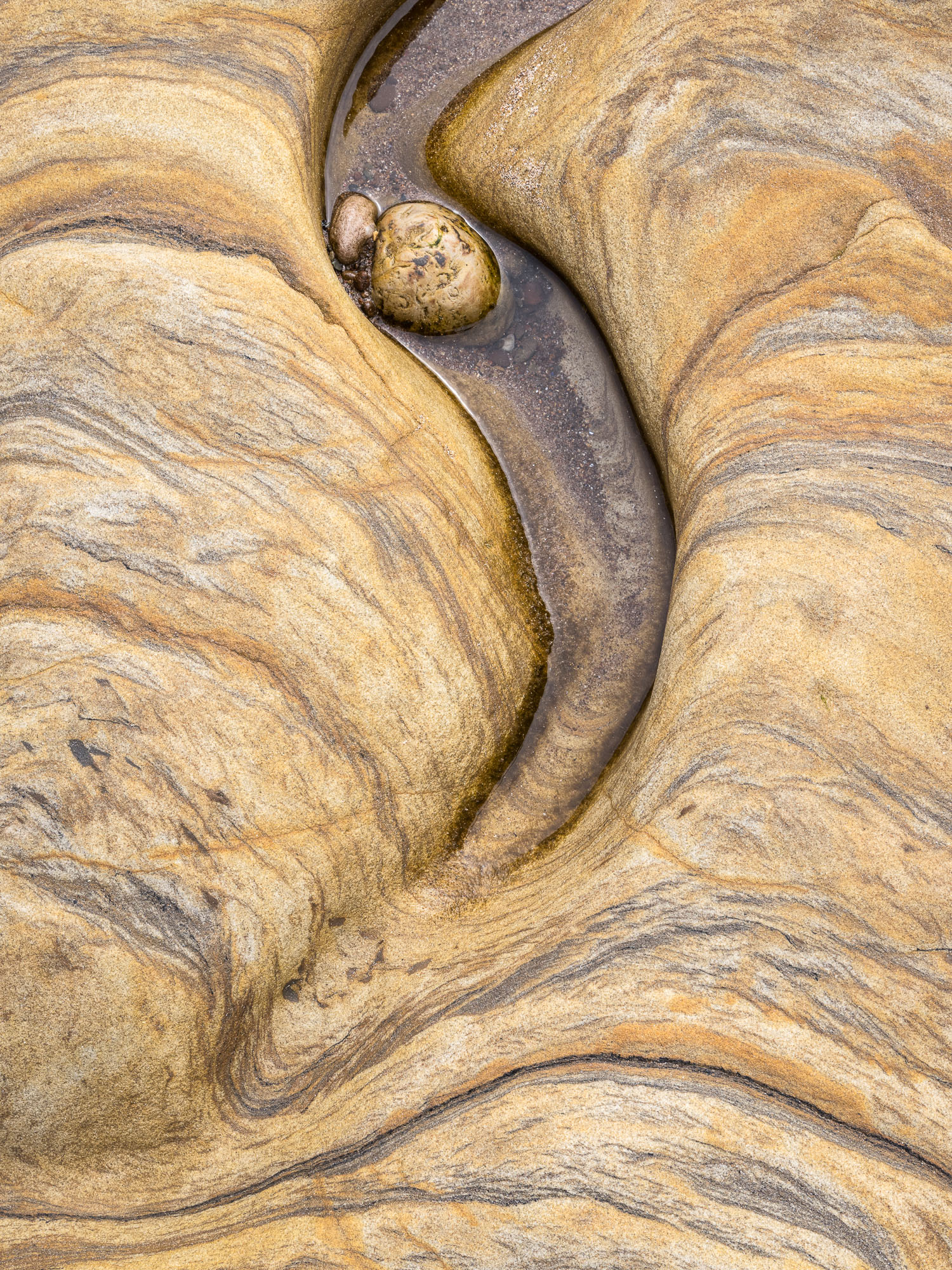 It's not as compelling an image as some I've made at Spittal (I think the light was a little too flat), but I'm not unhappy with it and think it would work well as part of a set.
The next image from the same section of rock demonstrates two mistakes that I make all too often… rushing and trying to include too much in the frame!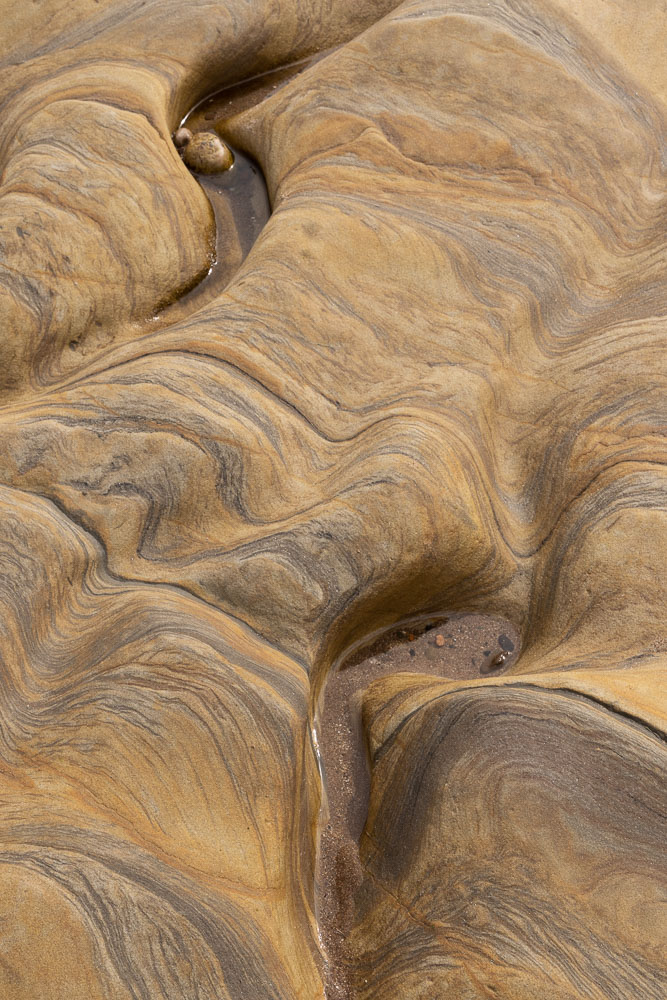 I wanted to include both of the erosion channels and whilst I had a feeling that something wasn't quite right, I went ahead anyway. Looking at it back on the computer I now realise that the top right quadrant is a little empty and there's too much separation between the two channels.
If I had slowed down and studied the area more closely, I should have noticed that the most interesting part of the image is the bottom two thirds as shown below. This results in a more pleasing composition but it still far from perfect, particularly the bottom edge which is cropped too close to the main feature (and that's not something I can fix in post processing!).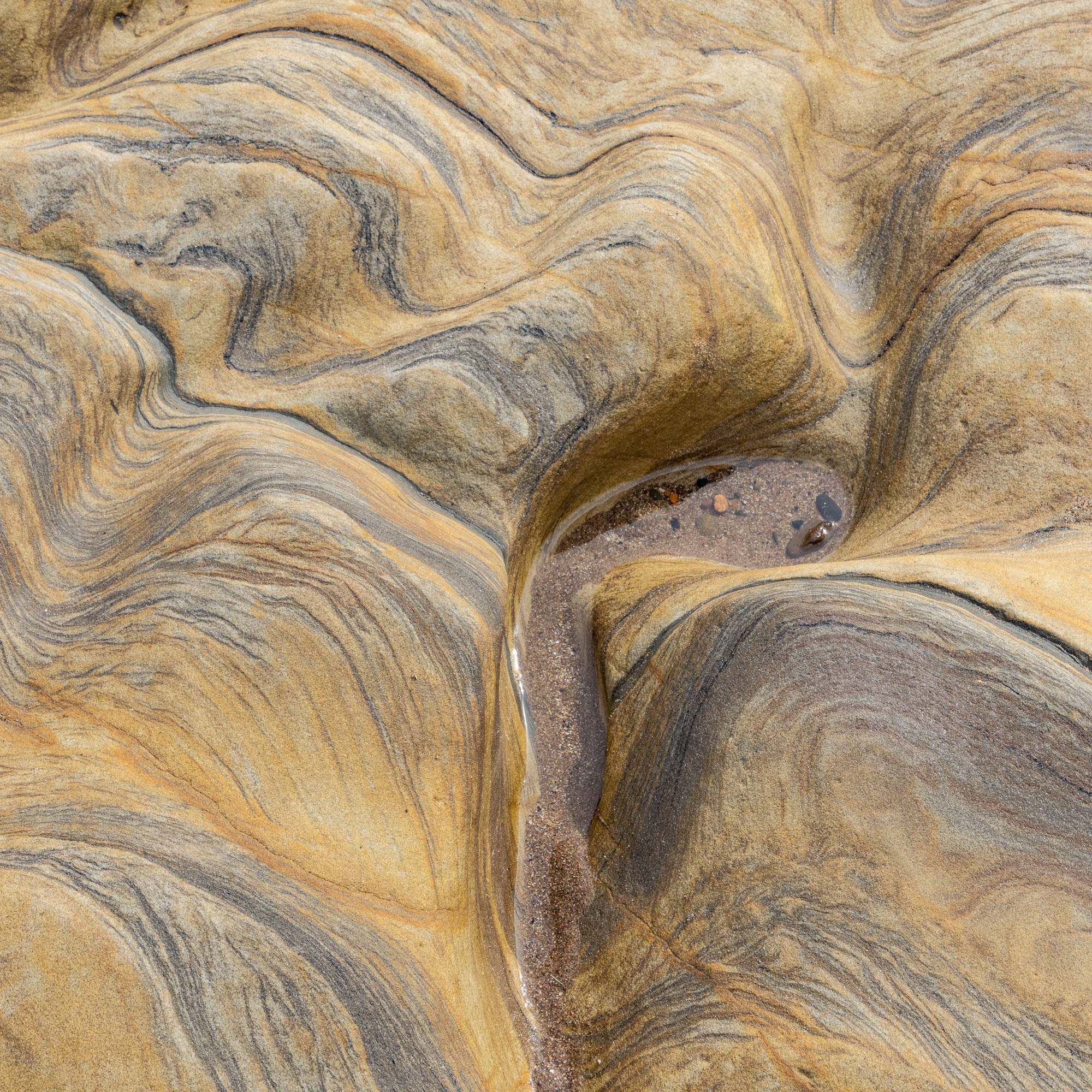 Now I know where this section is I should be able to do it justice next time (if it ever sees the light of day again!).
I left Spittal a little disappointed that more of the rock outcrops hadn't been visible but pleased that at least I'd found something a little different with "Limpets".
Rumbling Kern.
This is the name (according to the Ordnance Survey map of the area), given to a rocky outcrop near Howick which is about as far south down the coast as I normally venture.
The area is well known for the Victorian Bath House perched at the edge of the land overlooking the North Sea (it is now a holiday cottage). When facing out to sea, the area in front and to the right of the cottage, is rough sandstone which has been eroded by the sea and the wind into weird and sometimes wonderful forms.
The tide was still quite high, so I decided to venture a little further afield and followed the coastal path down about half a mile to the south toward Howick Haven.
As the low cliffs gave way to a gentle sloping beach strewn with seaweed in between rough, rocky platforms, I explored an area of sandstone that was just being exposed by the falling tide and came across one section that I thought might be productive. I decided to come back to it later when it was no longer being washed by the waves. When I returned and cleaned away some remaining sand, I made a couple of images like the one below on the iPhone but for various reasons decided they didn't really work.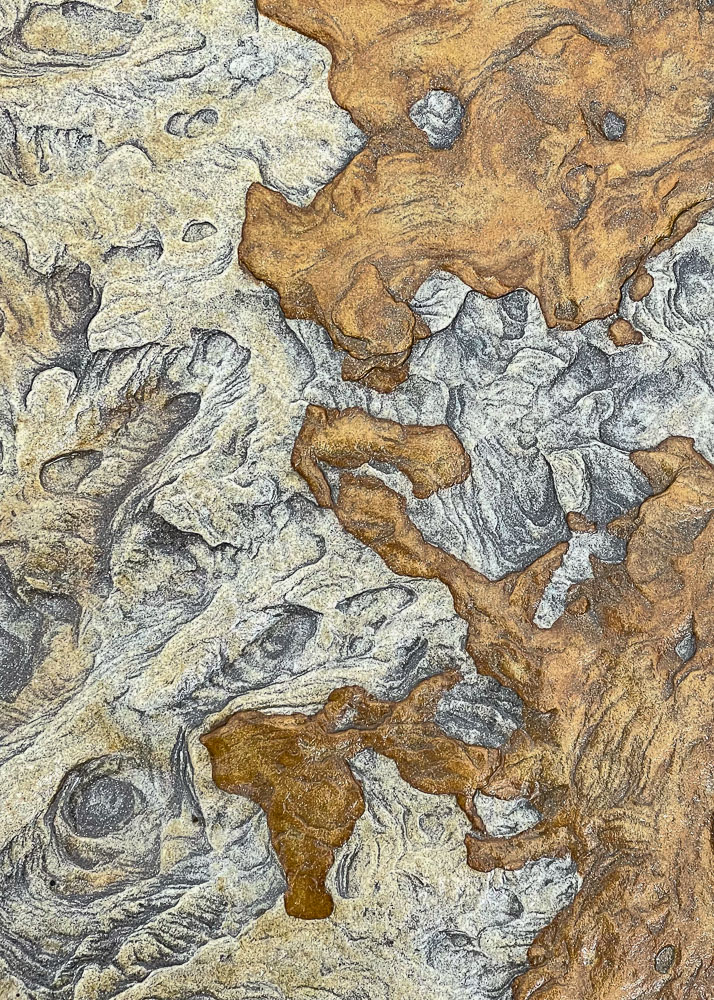 I do find the iPhone really useful as a viewfinder to see if I can isolate viable compositions. Making an image and then spending a little time looking on the screen afterwards makes it easier to analyse the composition and decide (a) whether it's going to work at all and (b) how it might be improved. Sometimes however, I make the mistake of dismissing an iPhone image only to realise later that it would have been worth reproducing on the R5.
So, after a couple of near misses I decided to head back to the main part of Rumbling Kern, and to be honest, I didn't really find a great deal there either. I made two images, neither of which I was particularly pleased with when I got home. This one is the better of the two – I quite liked the idea of the contrast between the soft muted pastel colours and curves underneath against the dark, sharp patterns that stand proud of the surface.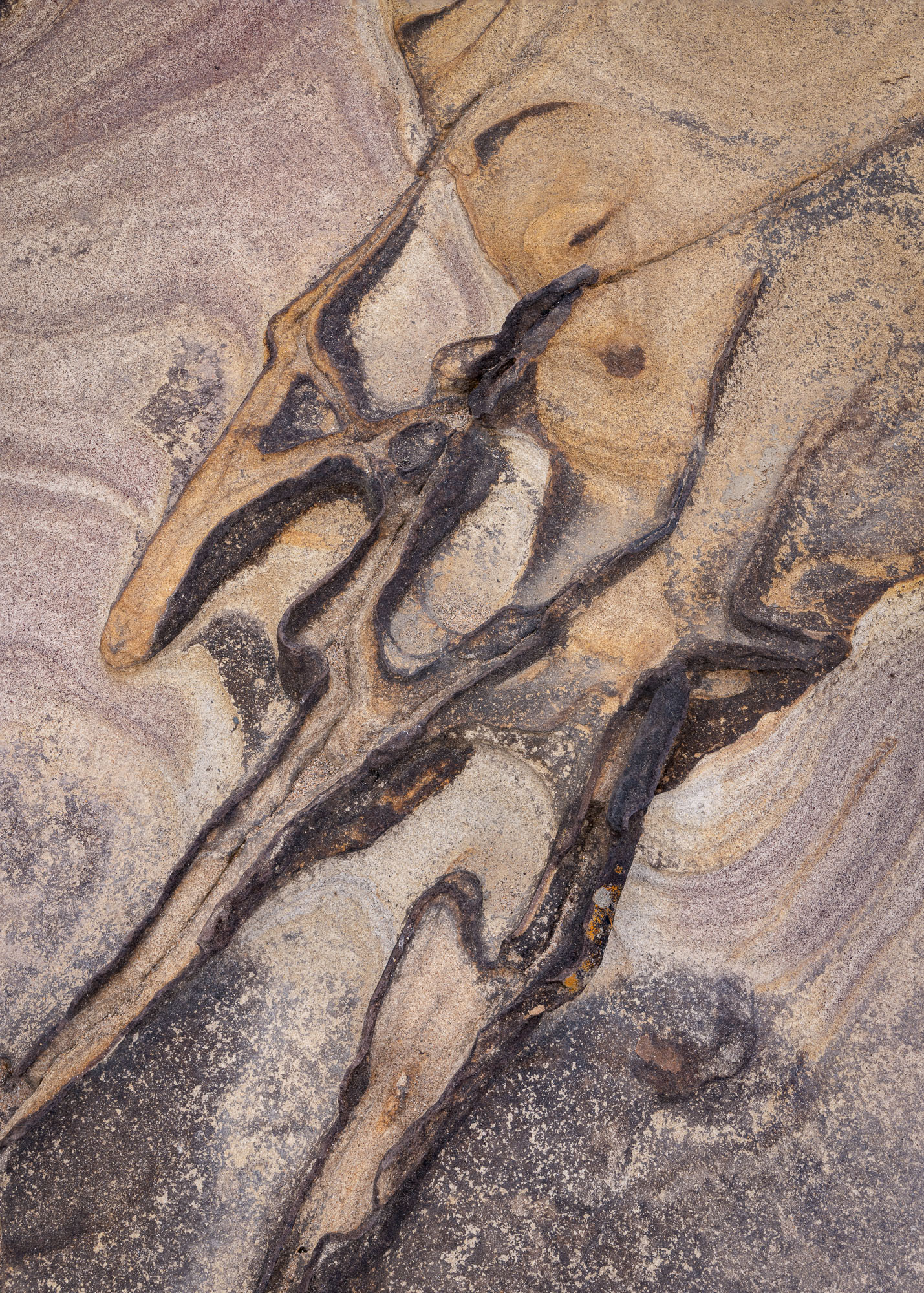 Unfortunately, it just doesn't seem to work the way I wanted but hopefully I can learn something from it.
There are also opportunities for wider landscapes here but not with the dull, grey conditions I had. Here's an example that I made on the iPhone just for reference.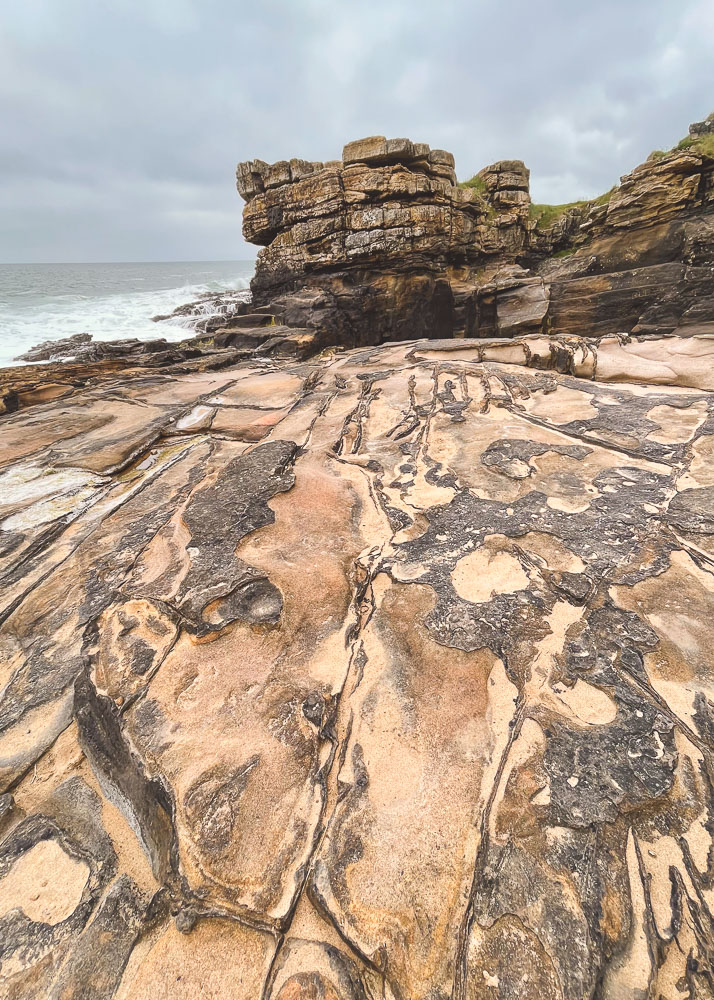 On this occasion I felt I hadn't really achieved much at Rumbling Kern but as my 'vision' continues to develop, I'll keep returning and I'm sure that next time I'll be more successful.
Bamburgh Beach.
I wasn't planning on visiting Bamburgh specifically on this trip as it's better for vistas than cameos. However, it's difficult to resist when I'm passing anyway and the beach to the north of the castle is easily accessible from "The Wynding" (a road), which leads up to the local golf club.
So, I did take the camera down onto the beach with me one late afternoon as I was on my way back from further south. The low cloud cover was interesting, and the sun kept breaking through which helped add contrast to the otherwise flat light. I found a composition I liked and made a few images, some in portrait and some in landscape format. None of them are particularly impressive but I quite like the following one which I thought I'd share it for those who aren't familiar with the area.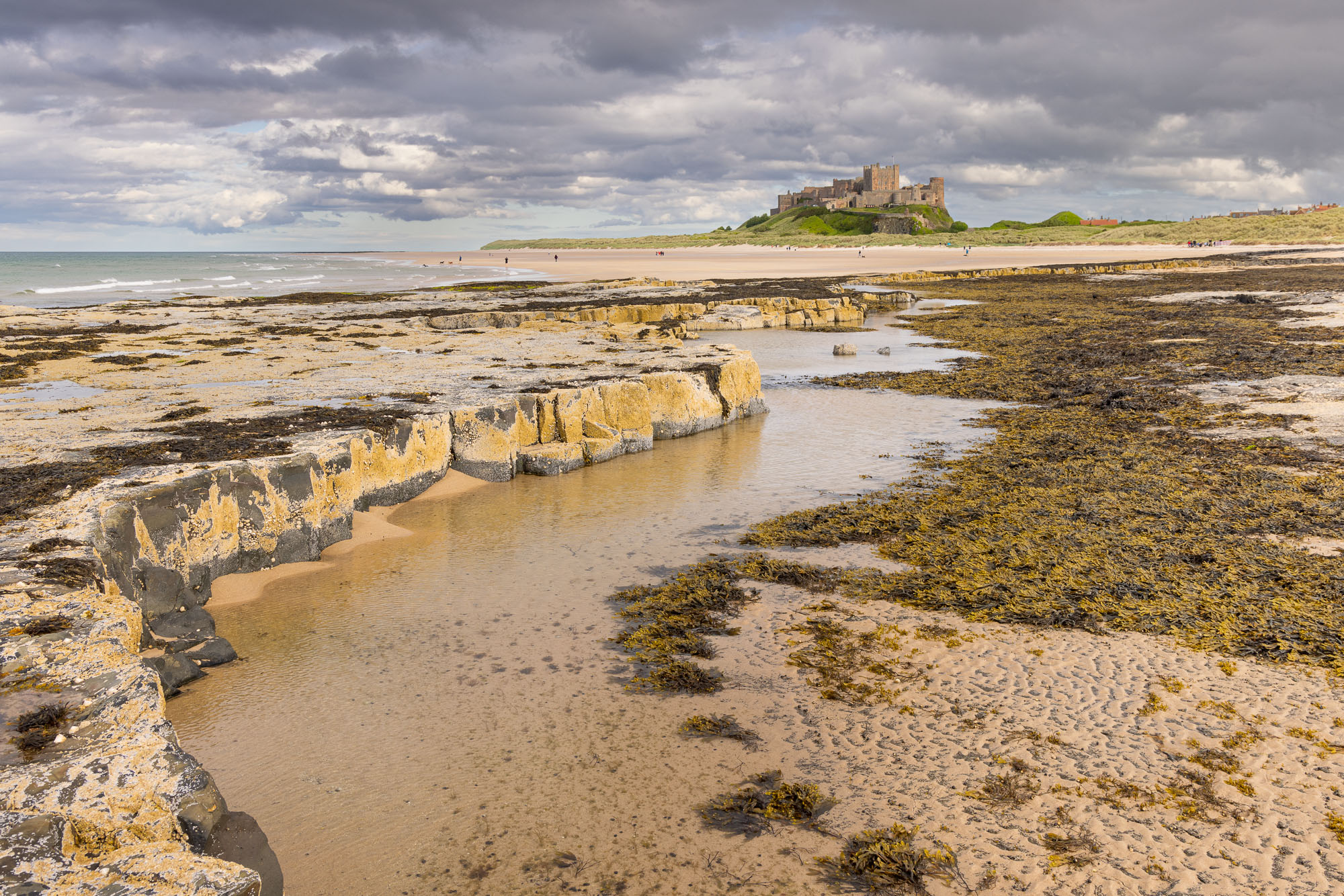 Next week.
I sincerely hope this 'episode' has been interesting and I apologise for the lack of video content. I did record some short clips on my phone, but the wind noise was excessive, so it wasn't worth sharing.
In the next session I be discussing my adventures at Dunstan Steads, Holy Island, Cullernose Point and Cocklawburn Beach.
Thank you all very much and please feel free to ask any questions.
Robin Hudson
Leave your questions to Robin in the comment section below and he will do his best to answer them all.
---
PART 4 – JUNE 26, 2022
Northumberland Trip Report – Part 2
Hello and welcome to my fourth and final session as Artist in Residence for FRAMES Magazine. In this part I'll be reporting on four more locations from my recent trip to Northumberland.
On the second day of the trip my plans were thrown into disarray by the weather, which instead of being dull and dry as forecast, turned out to be windy and rainy. I can't say I'm enthusiastic about being out with the camera in such conditions, so I decided to go to a location called Dunstan Steads and walk up to Dunstanburgh Castle as it's an area I haven't really explored much before. When I arrived, I decided not to take the camera with me as it was simply too wet.
The castle was built upon a promontory close to the sea and is visible from a long way in all directions. As you can see from the following iPhone snap, little remains of it but it's still a popular landmark to photograph, particularly from the north where there is a beach strewn with large, round boulders of various sizes.
I was hoping the weather would clear-up in which case I would have chosen to get my camera and try some landscape work, but it didn't, and I got thoroughly soaked!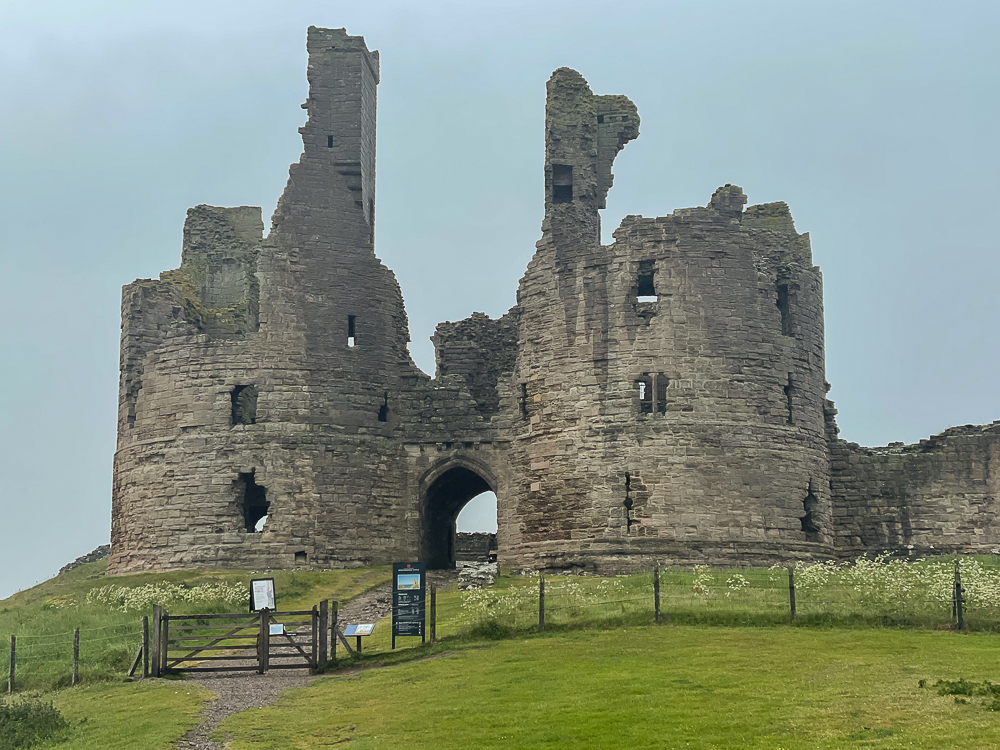 Holy Island (Lindisfarne)
Back at the car I had made up my mind to go back to my hotel but on the way, I decided to visit the Holy Island of Lindisfarne as the tide was low. The island is only accessible via a causeway that is flooded when the tide is high. Amongst other things, photographic opportunities include the remains of Lindisfarne Priory which was founded in 634AD by Saint Aiden, and Lindisfarne Castle which was built in 1550AD.
I arrived on the island with the idea of re-familiarising myself with what was there (it was some years since I had been). I left the camera in the car as it was still raining lightly but planned to make some iPhone images for the record.
The first image is purely for the benefit of those are not familiar with Lindisfarne Castle. I haven't yet been able to do any serious landscape photography on the island as conditions just haven't been suitable. This image was taken off the path on the approach to the castle.
I had no plans to go into the castle, so I slowly made my way back to the village for lunch and to look for any interesting details on the way. Here are a few of the cameos I made.
The last three images were all taken in the small harbour where a number of old boats have been cut in half and turned upside down to use as storage sheds. Most are old and very poor condition, but the paintwork, tarpaulins and other materials are great for abstract details.
I think that if I'd had my full camera kit with me I would probably have spent a little more time here and tried to make a series of related images.
Cullernose Point
Another day and the weather had improved. It was cloudy with sunny intervals, so I chose to visit Cullernose Point which is only about a mile north of Rumbling Kern (which I reported on in part 3).
Cullernose Point and the beach to the south is a good location for both vistas and cameos and on this occasion, it didn't fail to deliver. In the following video I'll show you some of the images I made there.
Cocklawburn Beach.
This beach, which is about a mile further south from Spittal is one of my favourites for rock details. There's a wide variety of eroded bedrock with interesting fossils, colours and patterns. I visited it three times during my time in Northumberland on this occasion.
Low Newton by the Sea.
One final location that I decided to visit on my way home was Low Newton by the Sea. This is a mile or so to the north of Dunstanburgh Castle. It's a long sandy beach and at low tide the beach can be very good for sand patterns, seaweed, rockpools etc. On this occasion there was little of interest so despite walking most of the way along the beach and back, I made only one image of some ripples in the sand (the few that hadn't been walked on).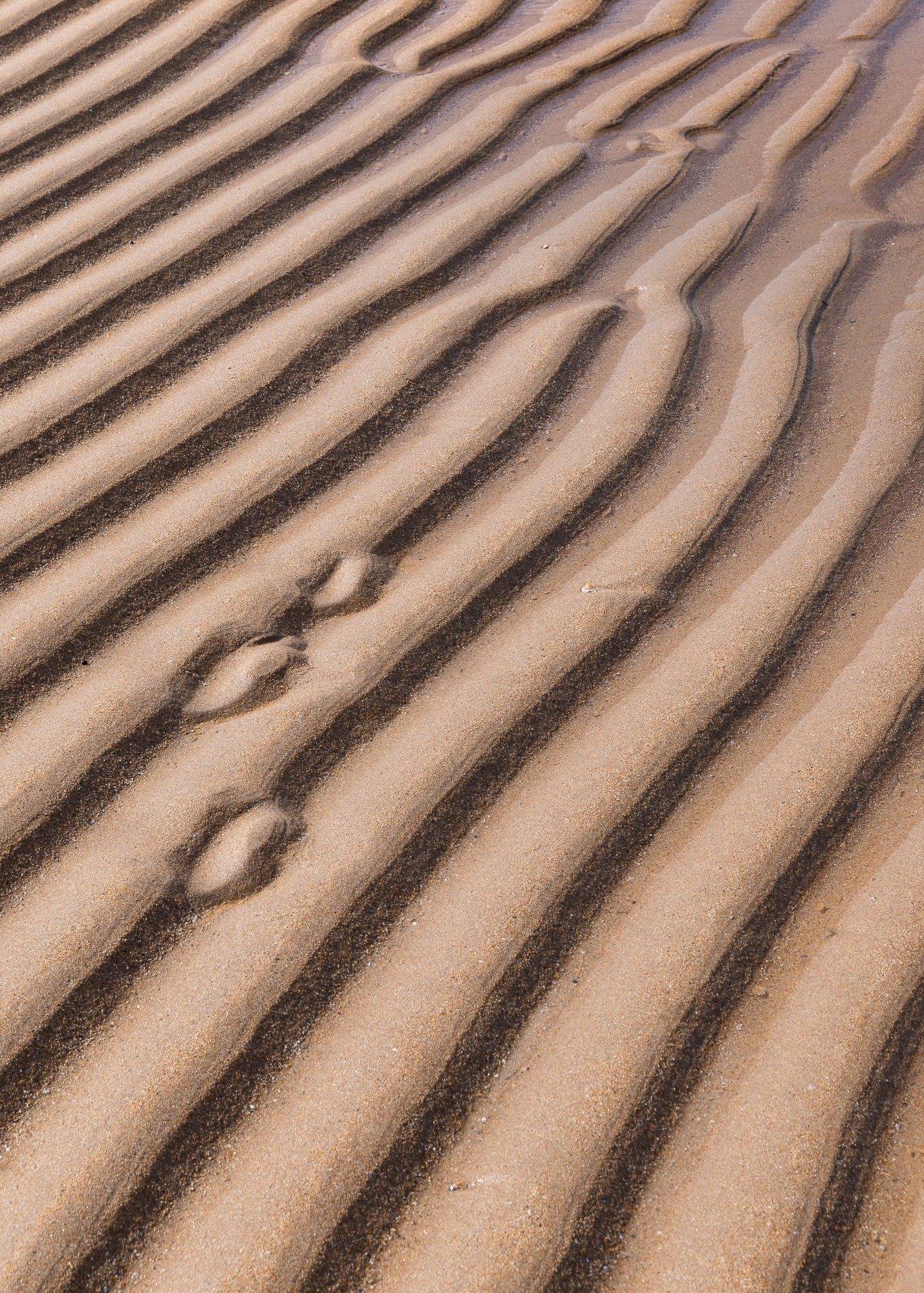 Here are some of my personal favourite images from the trip.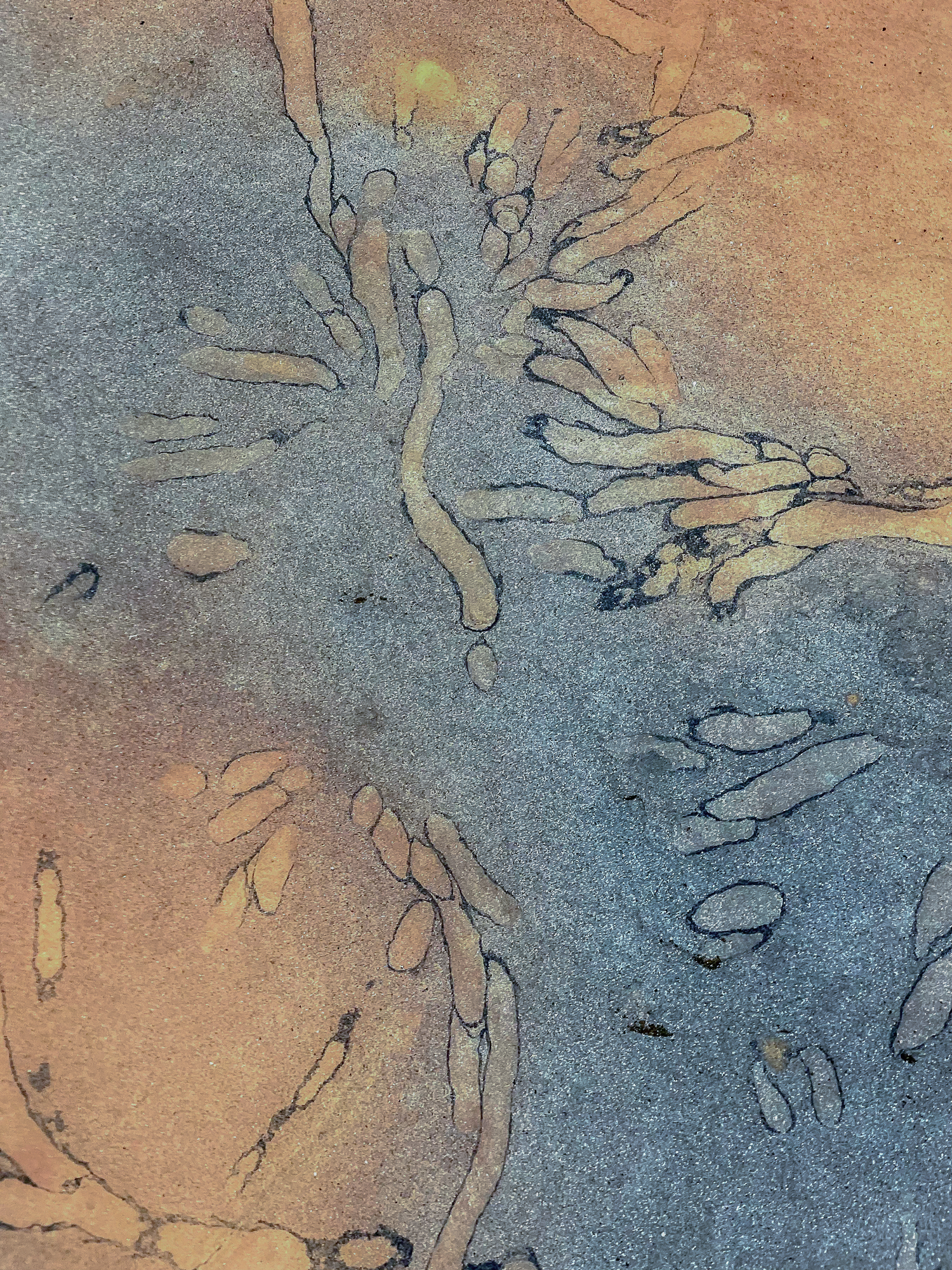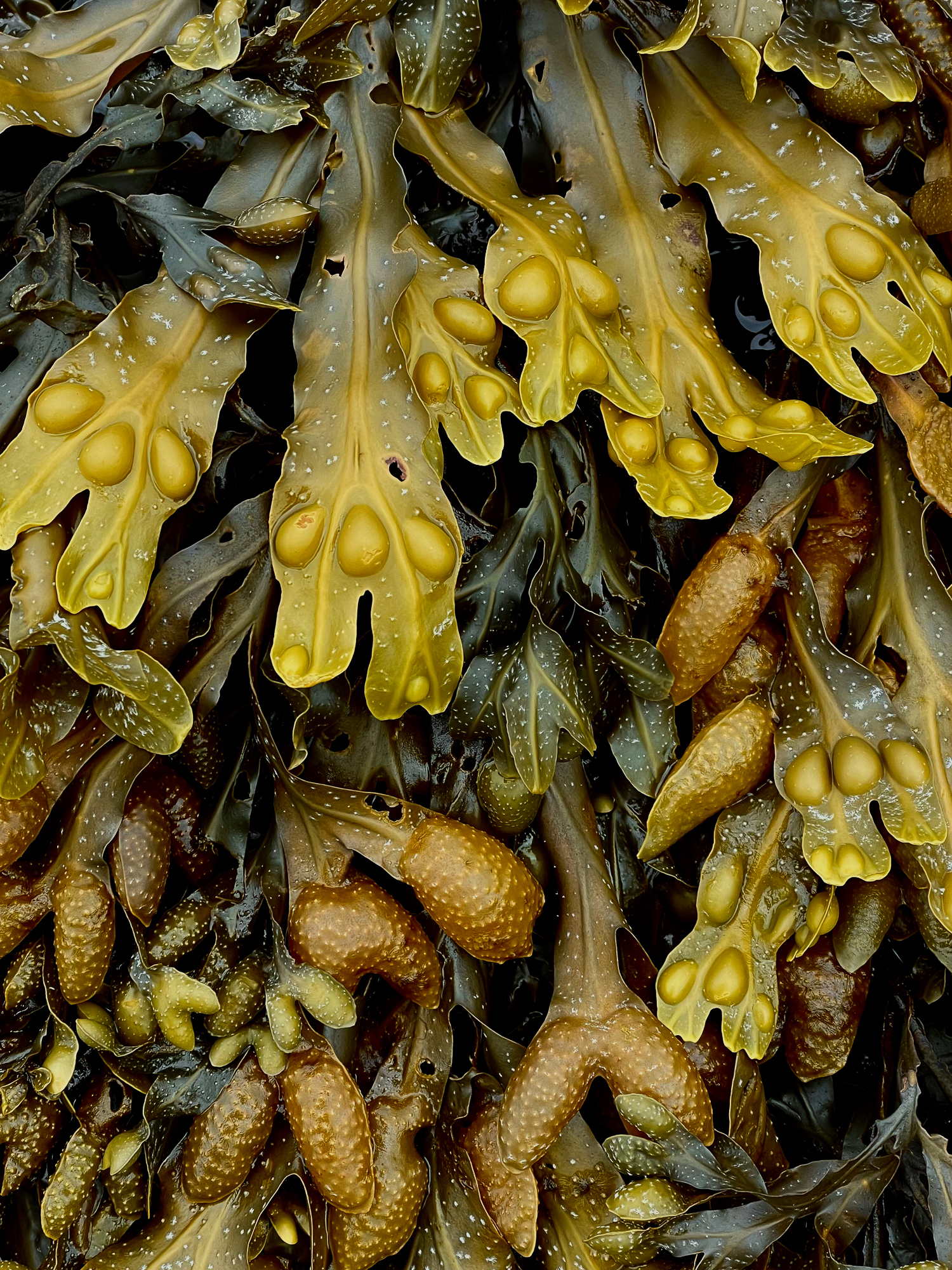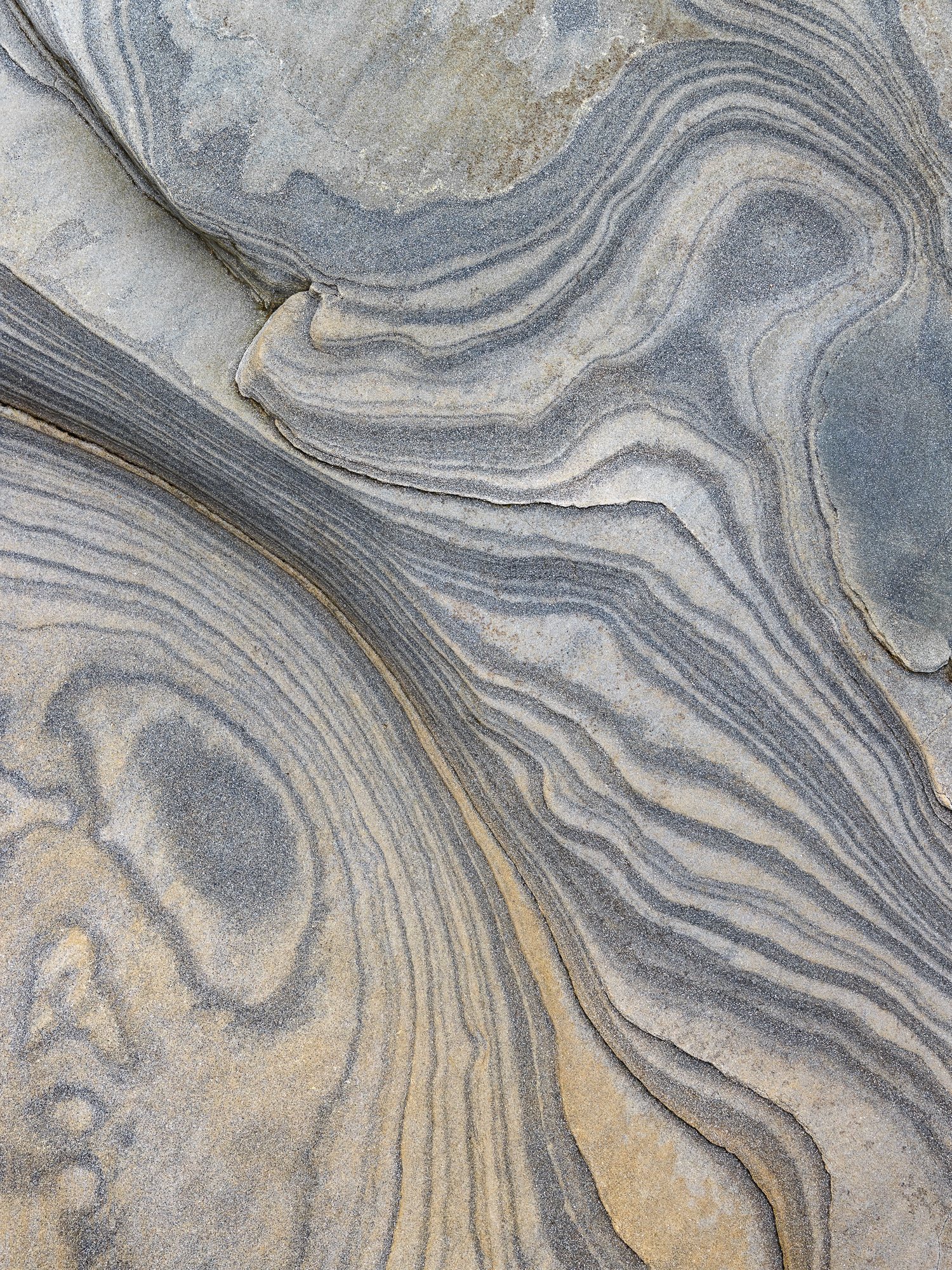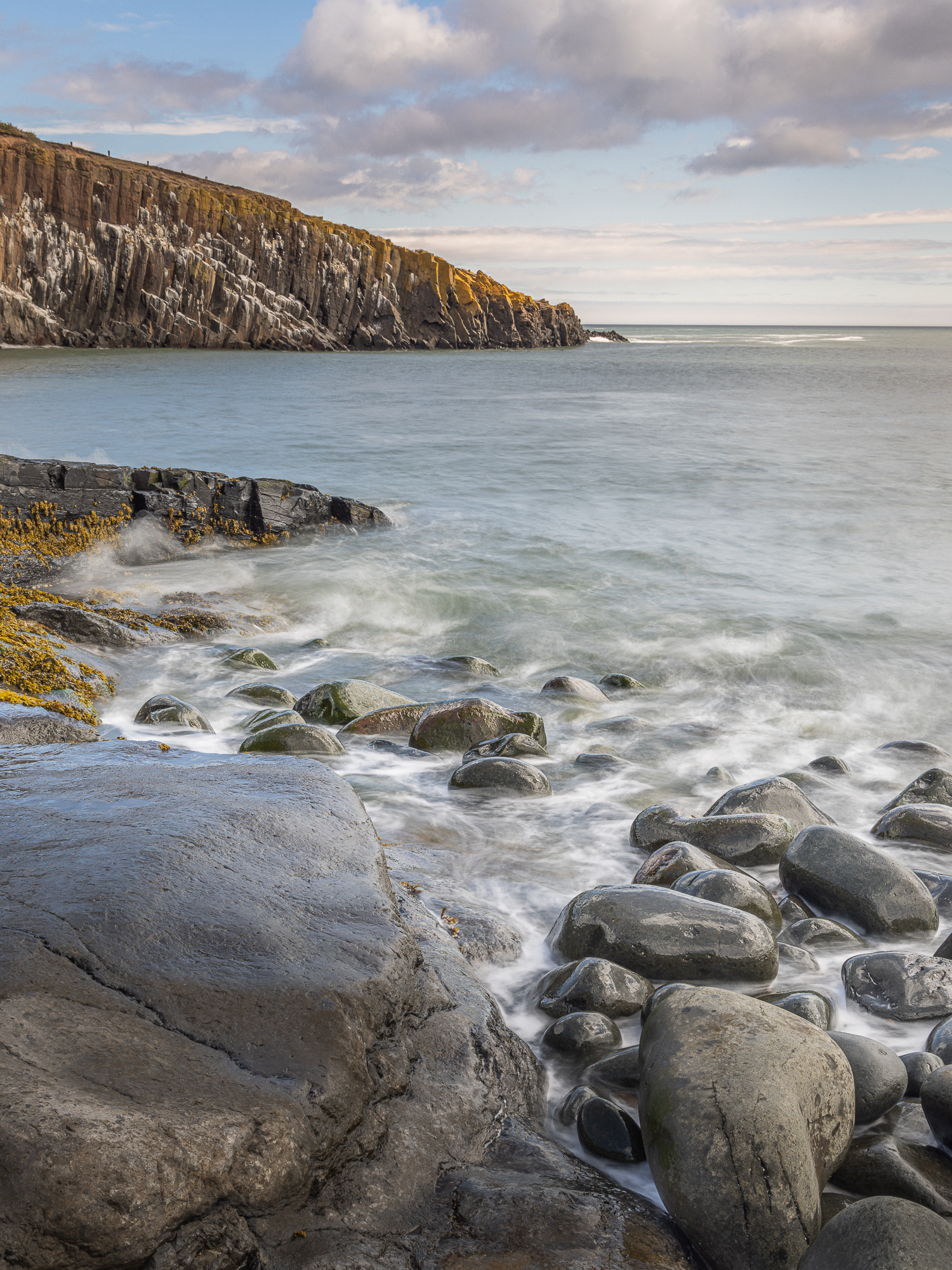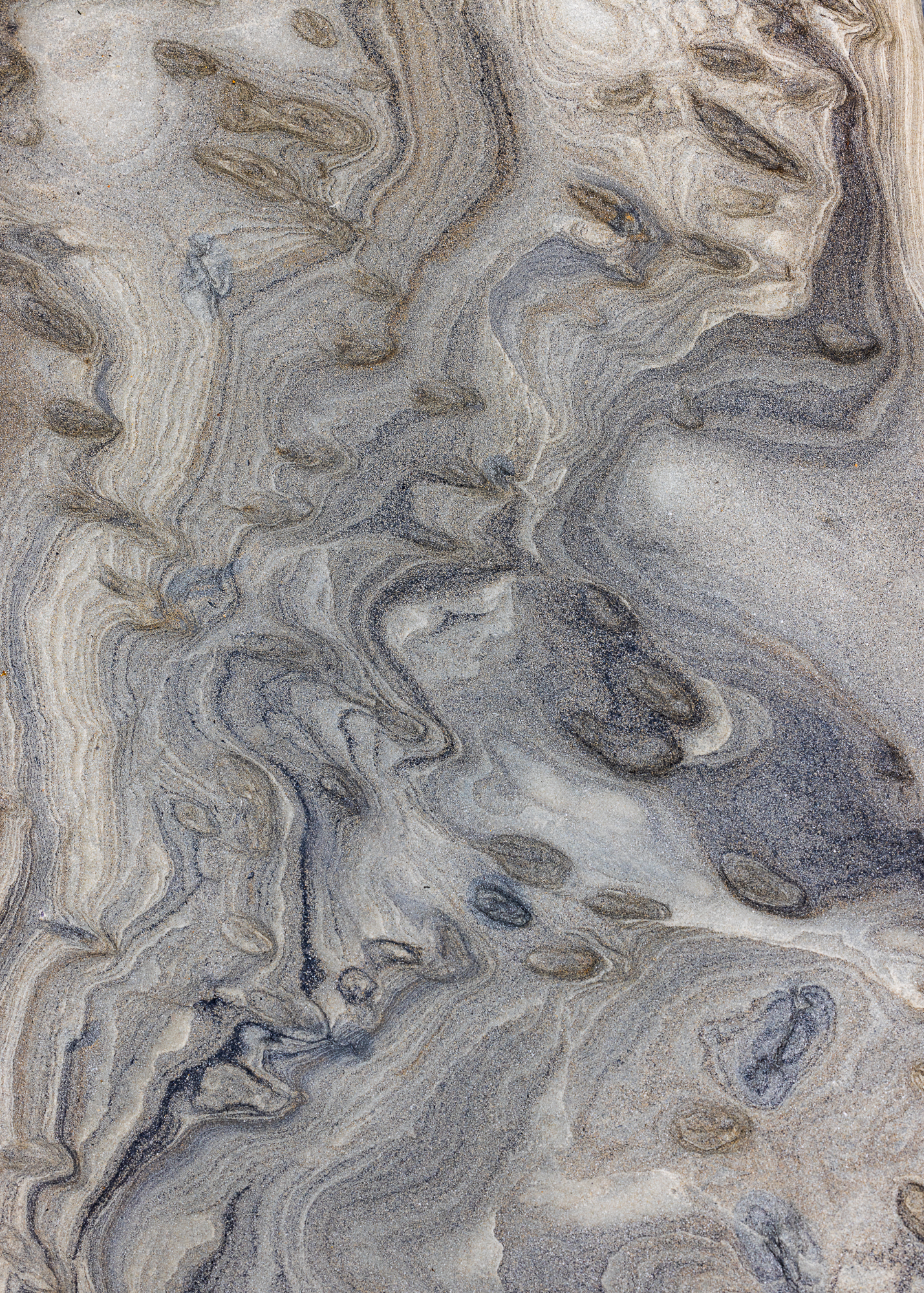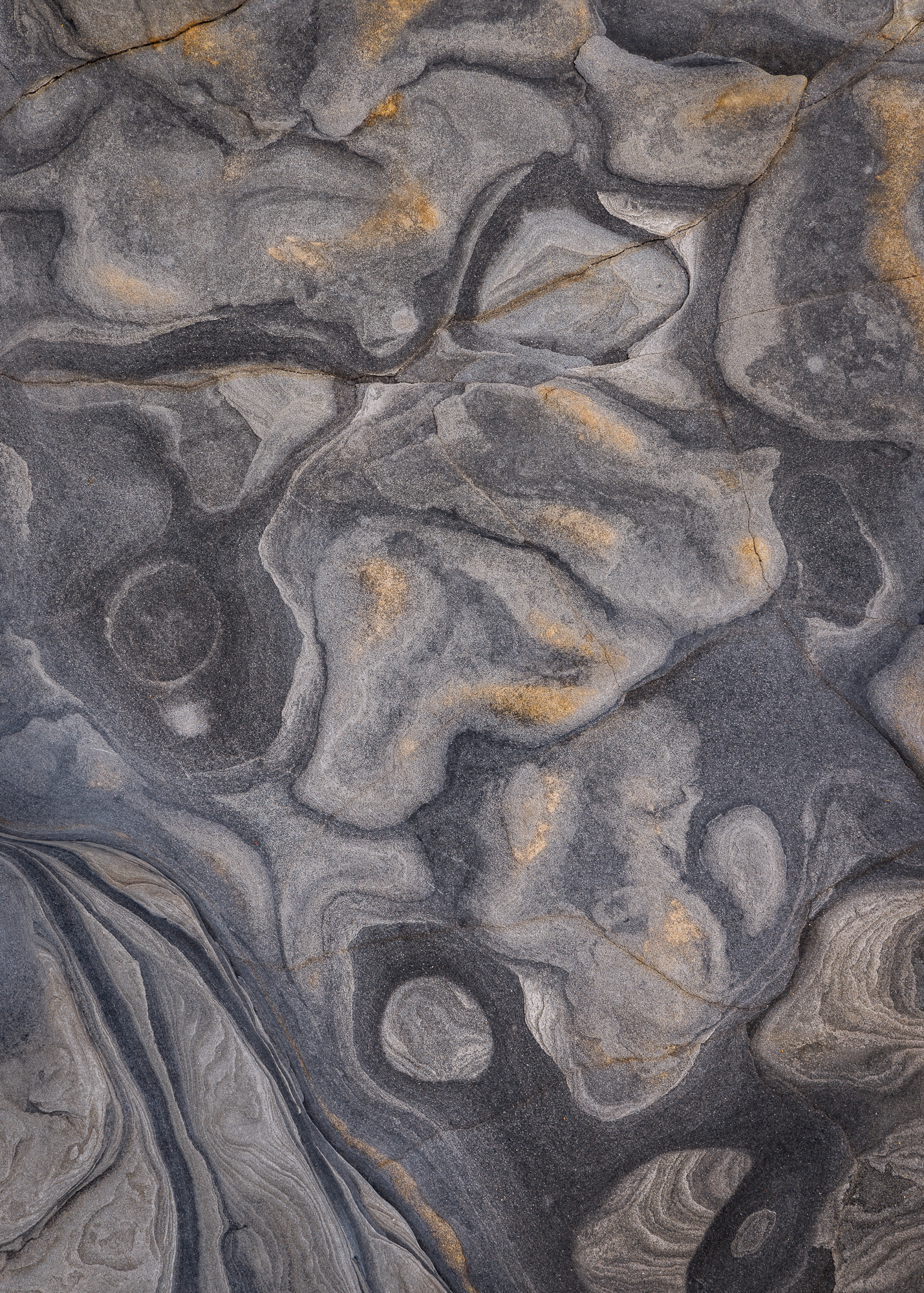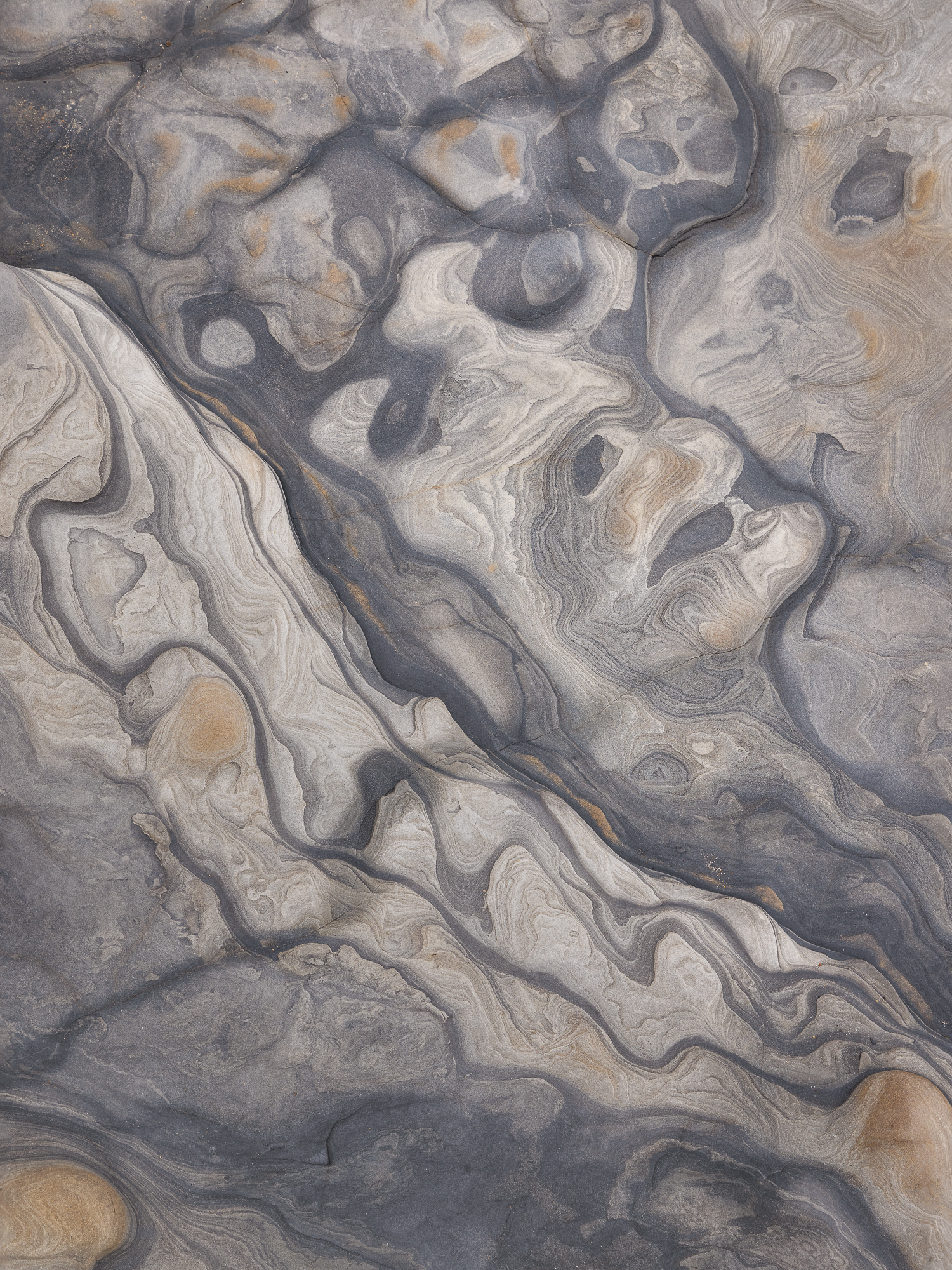 Thank you so much to those of you who have followed my FRAMES Magazine AiR sessions. Accepting the 'challenge', which is how it felt to me, has been a bit of a roller coaster to say the least. There were times when my mind went completely blank, and I had no idea what I might do next. The pressure of having to produce acceptable images for a deadline and share them in a very public (photography) arena, was a first for me. Thankfully, I managed to produce some work that I was happy with, and I learned a lot on the way. I hope some of you liked it too, but I appreciate that rocks or seaweed may not be to everyone's taste.
I'm now looking forward to the next FRAMES Artists-in-Residence and wish them all the best.
Robin Hudson
Leave your questions to Robin in the comment section below and he will do his best to answer them all.