Let me begin with a thought experiment. I sometimes ask my students, my first-year college students, to pretend they are space-alien archaeologists from the future and have happened upon their own dorm room, but for whatever reason the humans are gone. There is no person to explain any of the stuff. Just the stuff.
---
"Personal History" by Sarah Malakoff
Published by Kehrer Verlag Heidelberg, 2022
review by W. Scott Olsen
---
What would an archaeologist know about you, I ask? What have you brought from your other home, brought from your past, which may have little value as a material possession but a deep core value as a signifier of a narrative you hold dear? What toys or blankets have you brought from your youth? What trophies from high school? Is it possible to learn anything about the real you just by looking at your stuff, or is real you only implied by the material surfaces? If every object has a history and a narrative, how apparent are those histories and narratives in the things that remind us?
I am fascinated by a type of physical anthropology because I am fascinated by the things we keep and display. The books on the shelves of my office at work or in my study at home, for example. If you know what I have read, or intend to read, do you know anything true about me? Why do I have two small rocks on my desk at home? It would take a geologist to figure out that they came from the foot of Denali.  Have I been there?  Were they gifts? Likewise, two brass containers on my desk used to hold water from the Ganges. Why are they in western Minnesota?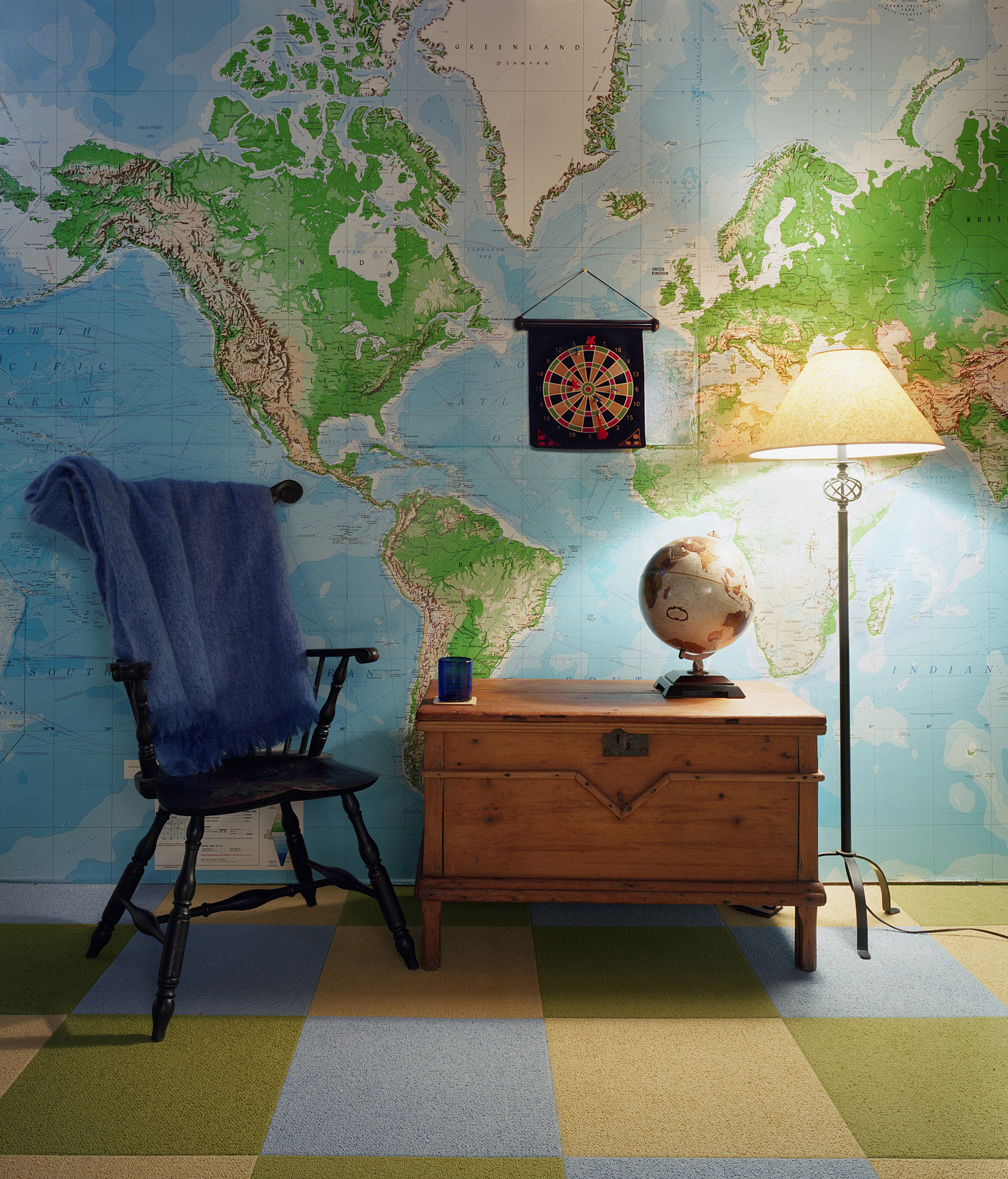 Personal History, by Sarah Malakoff is a remarkable, intriguing, curious book that asks questions like these and more. The premise is simple. Malakoff has taken images inside people's homes. There are no people. Just their stuff – the decorations, the wallpaper, the things left on the floor. And, by looking at every image, we are asked to consider: who were these people? Who are these people? What do these things, these artifacts, say about the inhabitants of the home?
To be clear, Personal History is not an accidental collection of images. The artifacts are not pedestrian or mundane. Malakoff has a keen eye for the unusual and the idiosyncratic but avoids the easy tropes of bad taste or spectacle. These are quiet images with depth. Sometimes deceptively quiet. Who, for example, owns a tapestry filled with hand grenades, a rocket propelled grenade launcher, helicopters and tanks? Who owns a home with an Egyptian sarcophagus as well as two Egyptian busts and a rope light running along the crown molding? Who owns the home with stained glass in the bathroom depicting a medieval scene?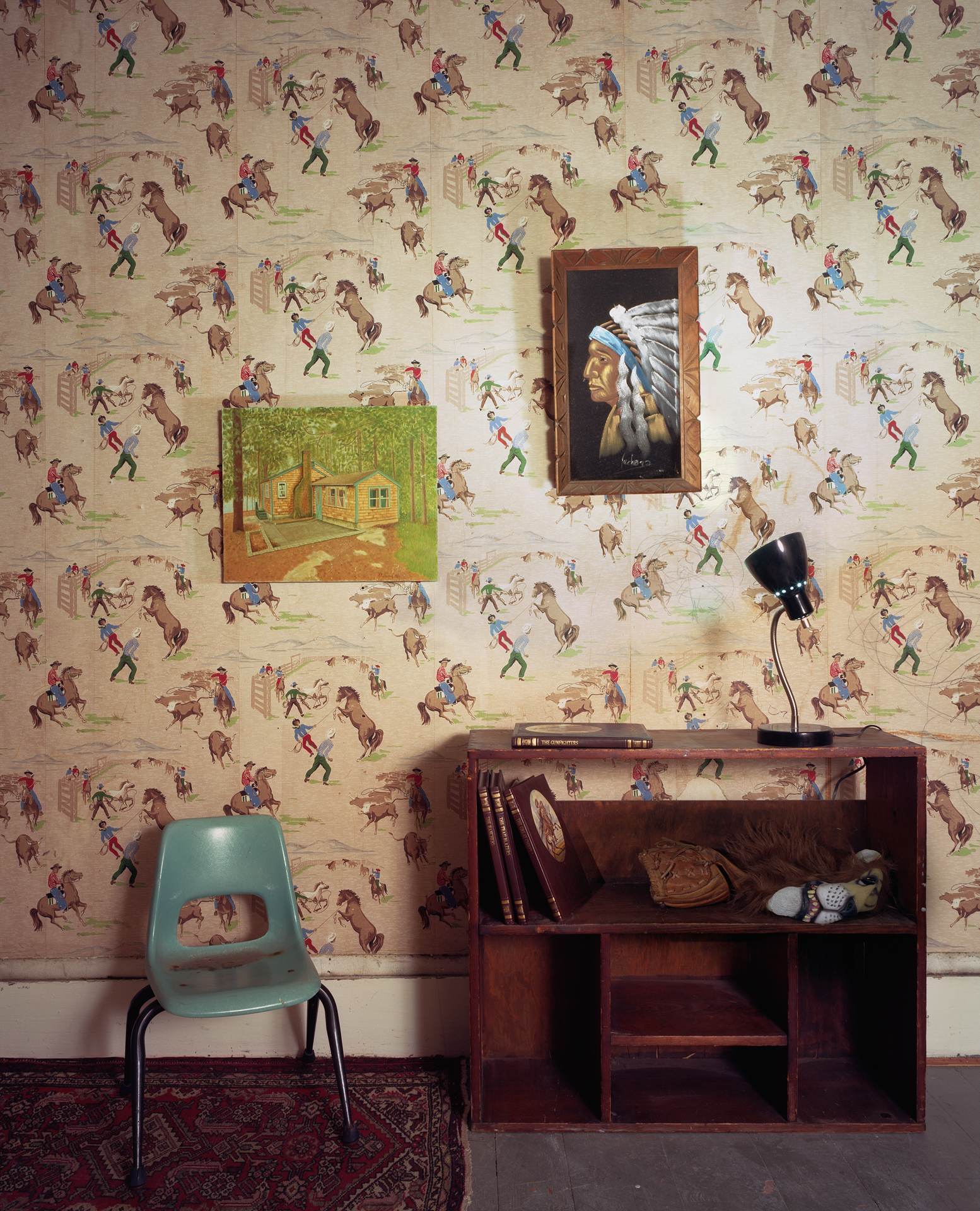 The images in this book our carefully composed, full color, and every one of them is just a portion of whatever room they are photographed in. More importantly, the arrangement of stuff within the room is Malakoff's. Items are repositioned to make a deeper statement or cause a deeper wonder. The result is not so much architectural photography (and certainly not interior-design photography), as it is the way we populate architecture. One photograph shows what is apparently a New England room with a colonial era portrait of a woman hanging on the wall. A beautiful dollhouse, illuminated from the inside, sits atop an antique chest of drawers. In the corner of the room, a large aquarium acts as a counterpoint to the dollhouse. The containment and fiction of the dollhouse resonates with the containment and fiction of the fish house. In another image, a pink wall is behind a couch with pillows whose fabric is 1970s era flowers. The couch is covered in books all dedicated to Jackie Onassis. A small shelf on the wall holds a Jackie plate, a picture of the First Family, and a Barbie size doll of Jacqueline as well. The stuff on the wall and the collection of books were brought into the same frame to show an interest, perhaps an obsession, perhaps a connection, perhaps something I have not imagined yet.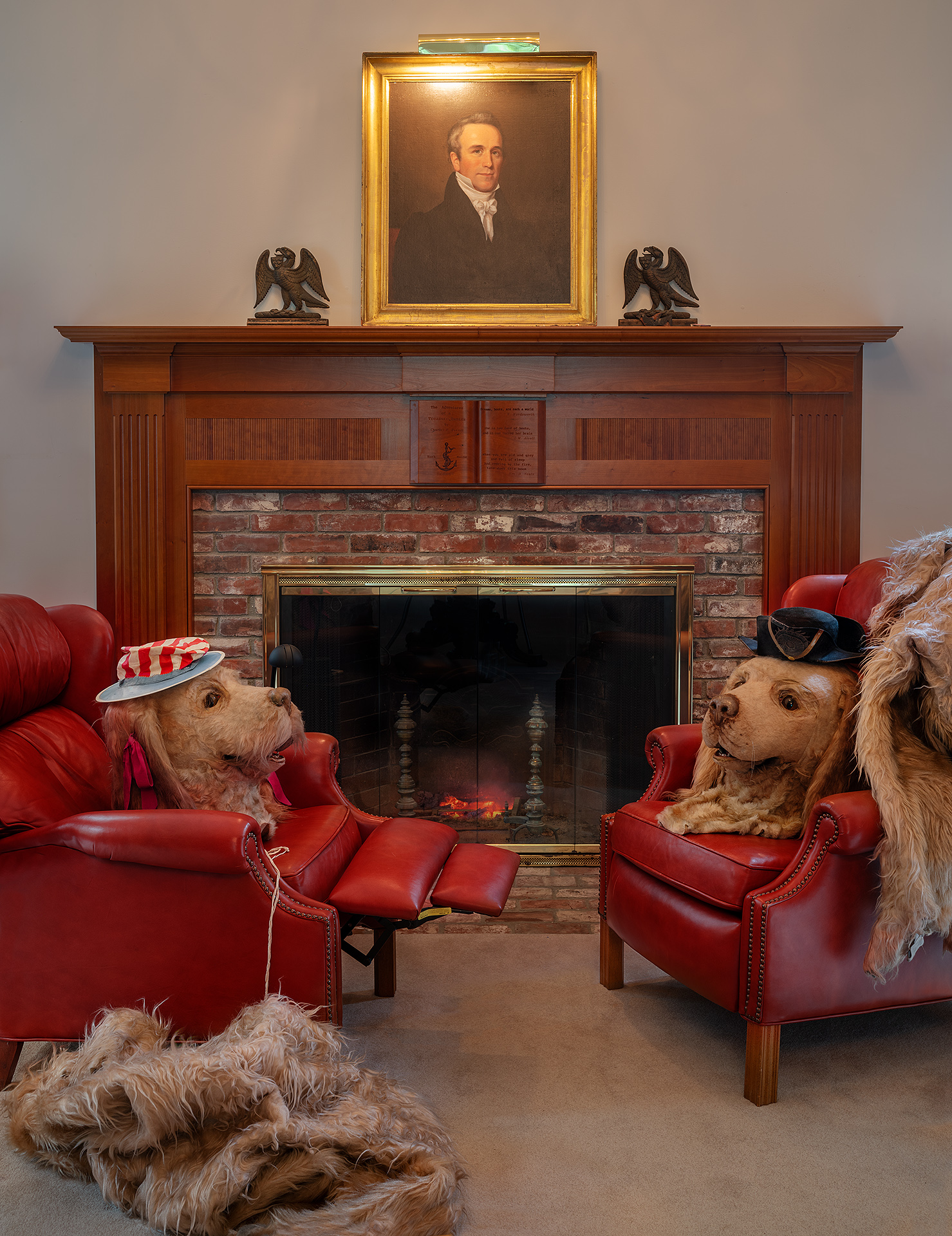 That's the wonderful thing about Personal History. I cannot tell you why there is a Stonehenge-like assembly in the yard outside a room with an ancient phonograph and cool wooden stairs leading up to an attic, but I can tell you I love wondering. I love the wry irony of looking at room with a Pompeii snow-globe sitting in a window while outside falling snow is covering the landscape.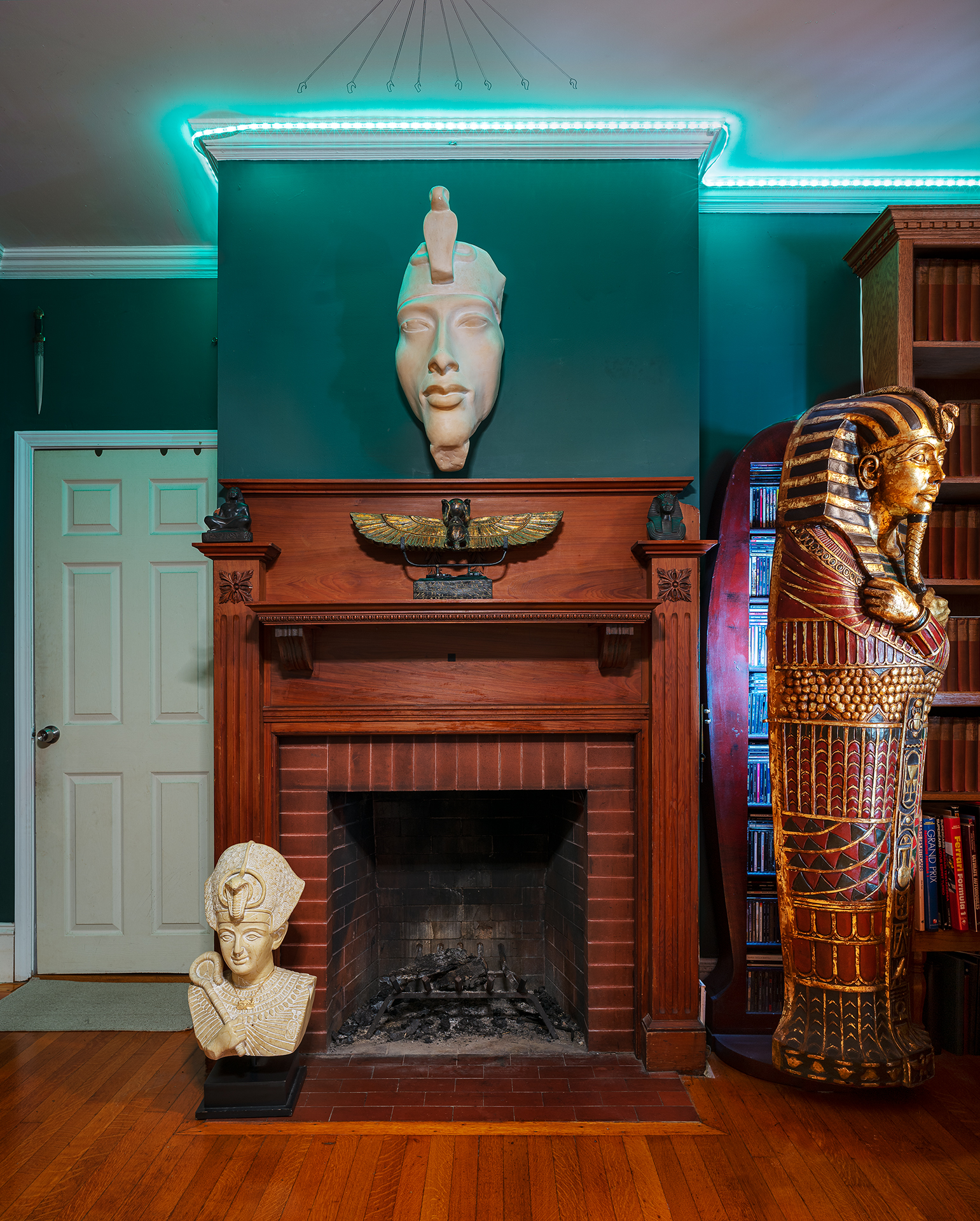 Personal History is graced by two short, clear essays that put the work in intellectual context. In the Forward by Lisa Crossman, Curator of American Art and Arts of the Americas at the Mead Art Museum at Amherst College, she writes, "Personal History is rife with portraits and collections of objects that may seem relatable or eccentric, humorous or cringeworthy. The photographs, as staged documents, may stir emotions or invite you to puzzle over the curated or haphazard way that objects and architecture become part of our lives and through which narratives take shape." Crossman then continues, "The owners, like the artist, are absent from view, invisible subjects embodied by the many other portraits, furnishings, and goods… As I consider the series, searching each photograph, I wonder, for myself, the artist, and the people whose homes are exposed: what is personal? How is history told through belongings and design choices in domestic space? What historical figures, cultures, and moments in history manifest in people's homes, defining shared stories about personal and national identities?"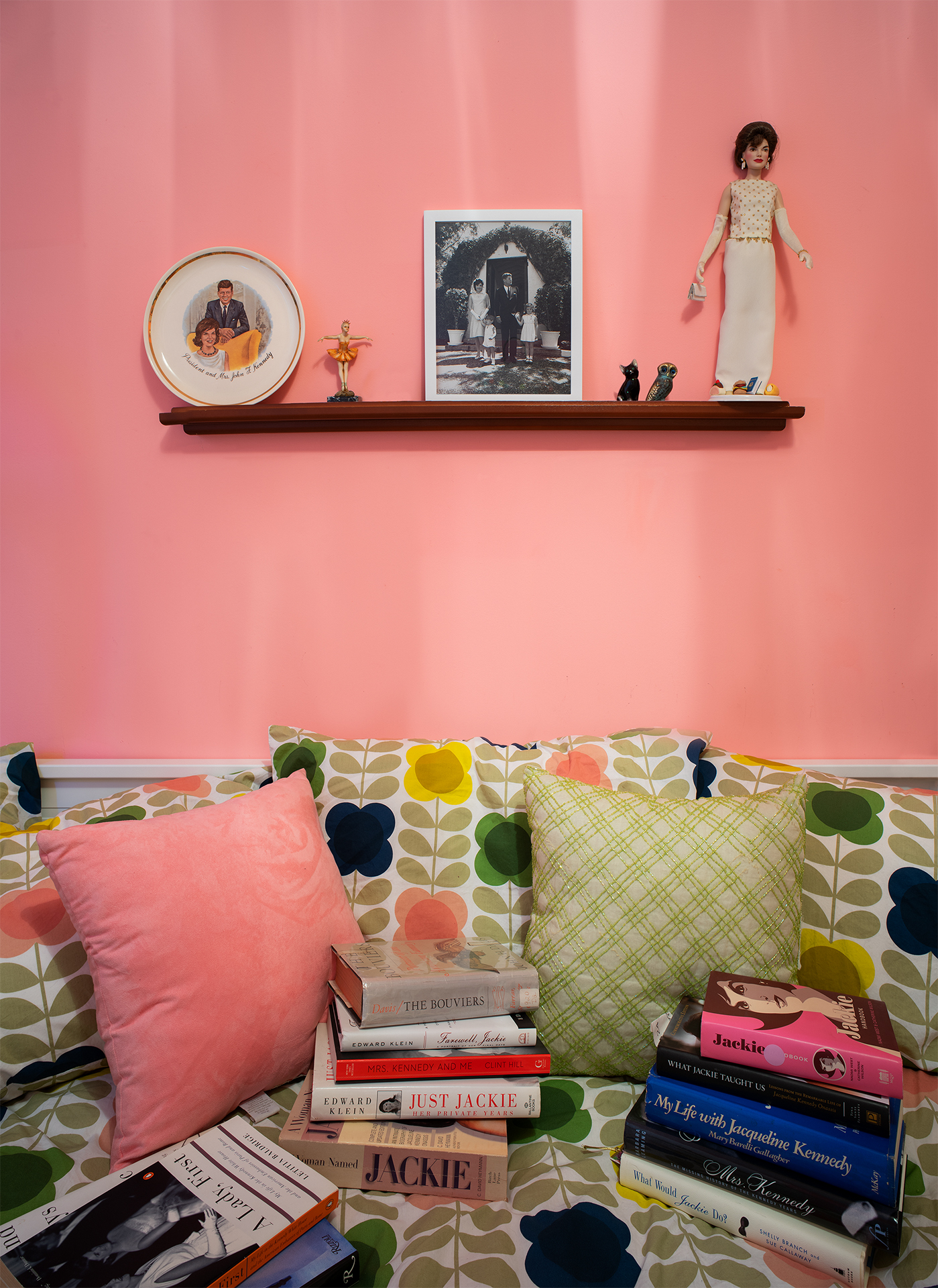 In the Conclusion by Jessica Roscio, Director and Curator at the Danforth Art Museum at Framingham State University in Massachusetts, she writes, "The history of material culture and display in American homes appears in different, yet intriguing ways in the images. There is little that one would call on-trend, although they certainly contain objects that were fashionable at some point in their history. They are tightly composed, perfectly framed, and saturated with color, in a way that the eye is immediately drawn into the space, absorbing what is both common and uncommon… The great enjoyment in viewing Personal History is that Malakoff finds spaces, and she finds objects, and then she brings them together in conversation. She sets the stage for the viewer to create a narrative for the occupants, and she likely reveals an aspect of them they had not previously seen. Once Malakoff has photographed a home, other places are recommended to her, a process akin to peeling back layers and finding the unexpected beneath, with one eclectic space opening doors to another period all of the objects she photographs are found in the home although at times there is creative staging…. Above all, Malakoff's works also remind us that most of the spaces we live in are not new, we are likely not the first occupants, and our domestic interiors have a past…Our personal histories will always be intertwined with our domestic spaces."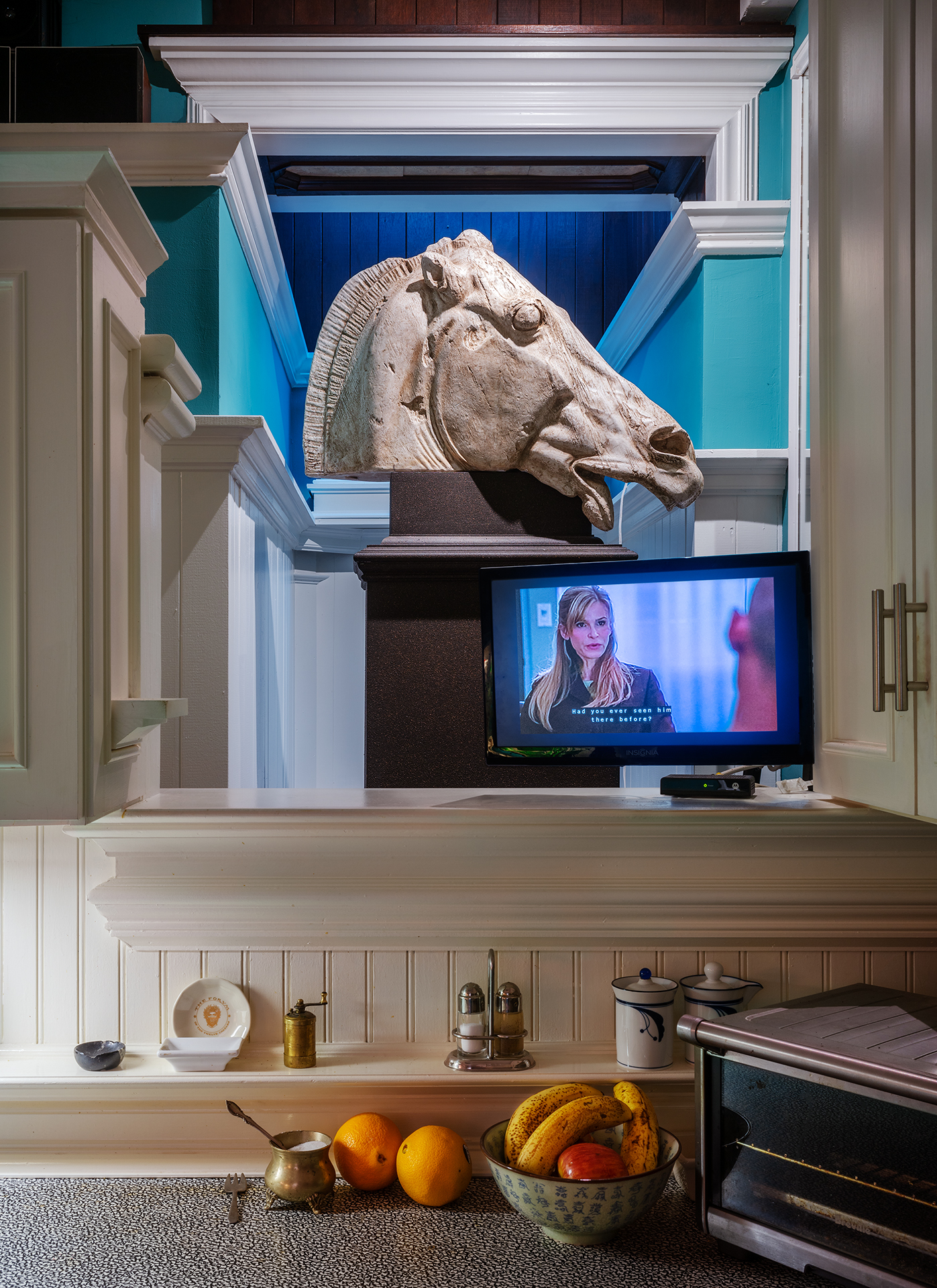 There is something breathtaking about walking into someone else's home for the first time. It is unlikely we would be in the home if we didn't know them (the current Verbo trend notwithstanding), and the objects of the home are a symphony of revelation. So much information, so much data, so much innuendo and implication and nuance. The signals fill out a background and provide prompts for questions, especially when there is choice involved, such as collections of mugs or a selections of wall art.
Sarah Malakoff's Personal History is the kind of photo book where you open to a page, stare at it, and find yourself in a completely different imaginative space. These images imply something deep which recedes from our ever knowing it in the act of asking the question.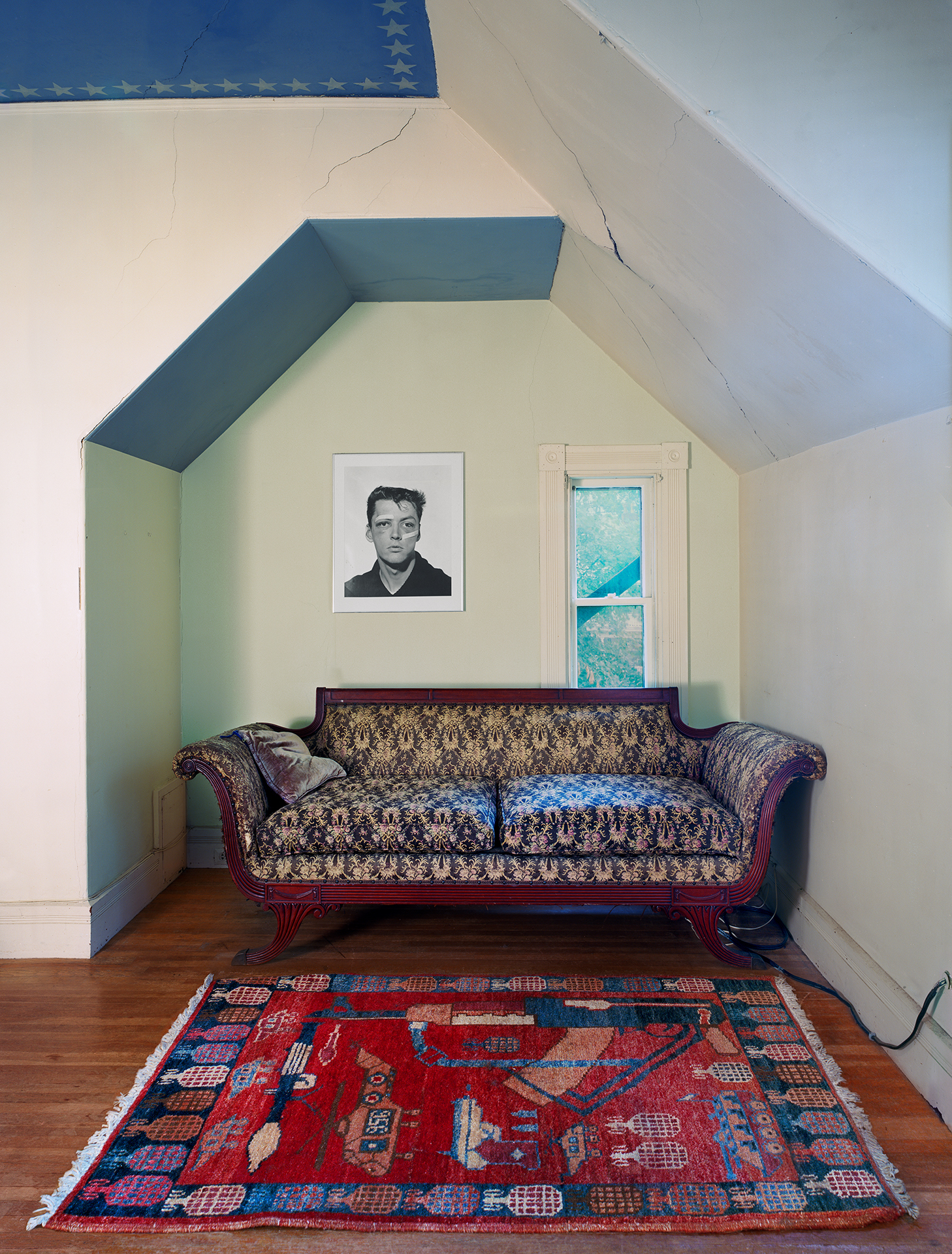 Sarah Malkoff is Associate Professor at the University of Massachusetts in Dartmouth. Her work has been in exhibitions at Howard Yezerski Gallery, the Garner Center for Photography, Camerawork Gallery, Vermont Center for Photography, Plane Space, and elsewhere. An earlier book, Sarah Malakoff: Second Nature, was published by Charta Art Books in 2013.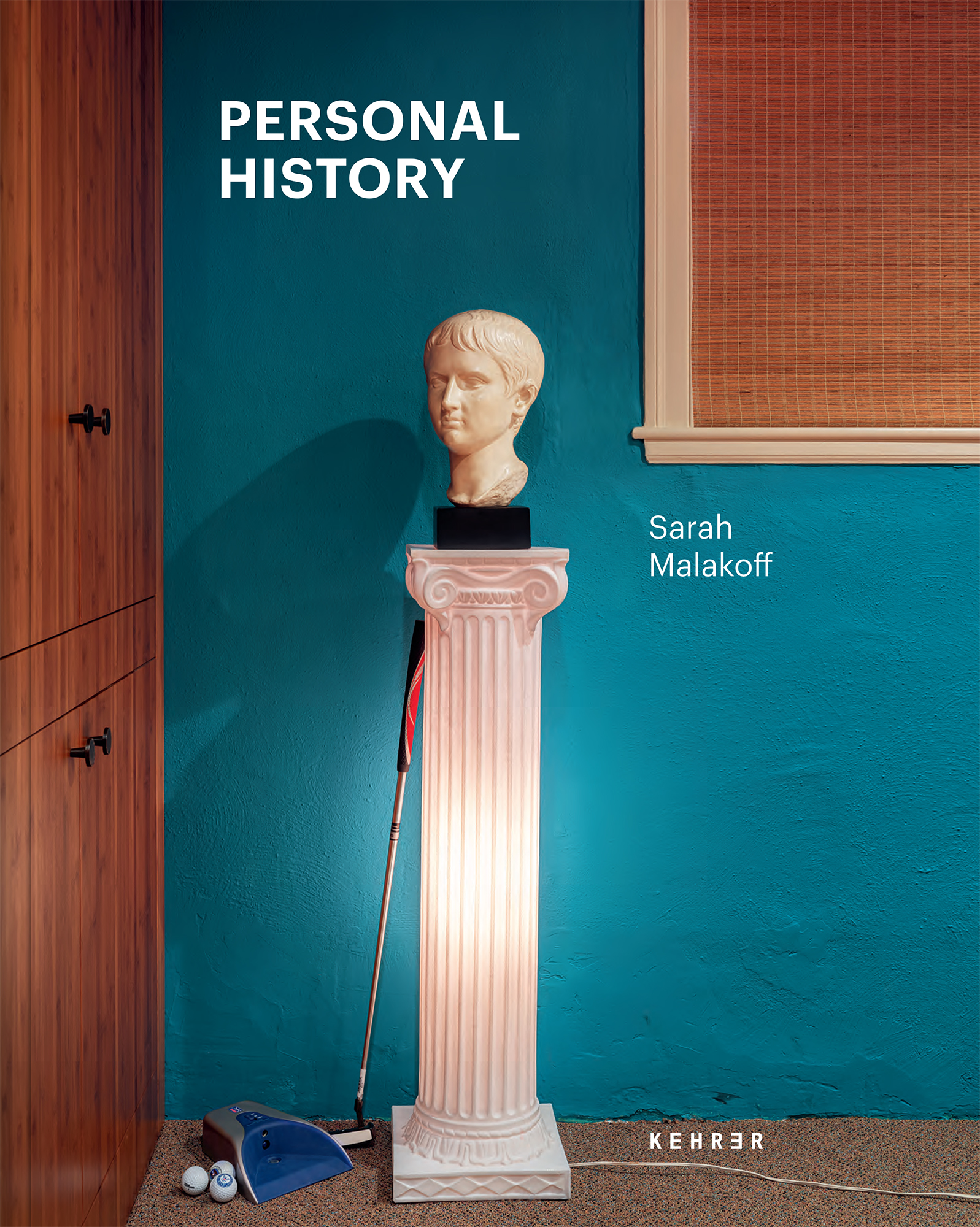 A note from FRAMES: if you have a forthcoming or recently published book of photography, please let us know.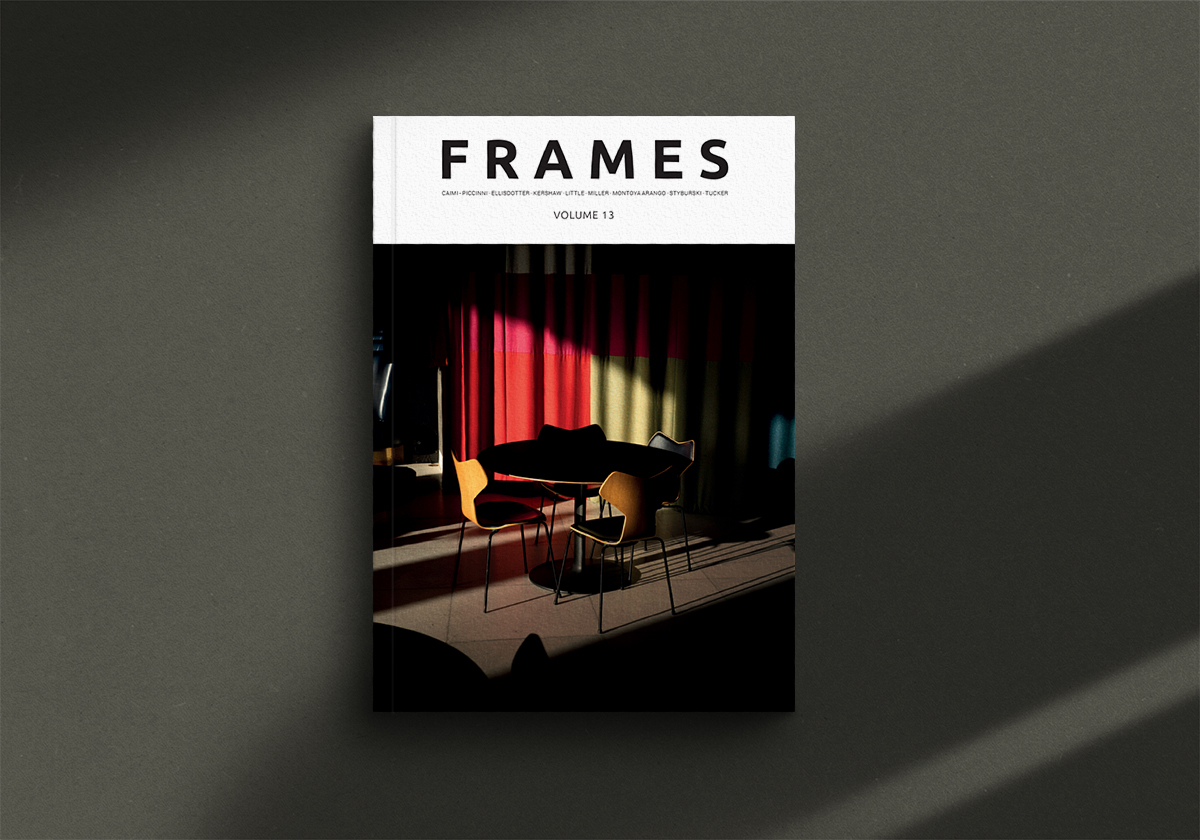 Every year we release four quarterly printed editions of FRAMES Magazine. Each issue contains 112 pages printed on the highest quality 140g uncoated paper. You receive the magazine delivered straight to your doorstep. We feature both established and emerging photographers of different genres. We pay very close attention to new, visually striking, thought-provoking imagery, while respecting the long-lasting tradition of photography in its purest incarnation. Learn more >>>
---