I primarily work in portraiture, often self portraits because the model is always available, always ready. I prefer using less modern techniques of photography as a personal choice because it provides me with tactile opportunities to express mood, emotion and soul.
The other reason is to add in an element of randomness and lack of control, as a juxtaposition to often controlling elements within our lives. To this end, I often work in long exposure as it adds to this randomness as light plays with the subject in unique ways. As I add complexity into each photo in terms of process, it multiplies this effect of randomness in ways that often result in failure, but on rare occasions can contribute to a successful piece that is greater than the sum of its parts.
I have been experimenting lately with utilizing silver gelatine prints as not just the end, but as the start of the image, applying various methods of destruction such as mardancage, ripping/cutting and combining multiple pieces into something cohesive. At times I have been using paint, ink and other media to augment the reality of the photograph, adding texture, mood or a missing quality.
I had set up the tripod to take two self portraits, one on direct positive silver gelatine and the other on normal silver gelatine to create both a positive and negative of a similar image. I had intended to combine them differently but when the images/paper dried, it became evident that this was the way to combine them. I tore the negative to create the cross and lined them up with the positive. Given this mix of negative and positive, there is a permanence in the positive image, while to me, there is a living element to the negative as it can be used further to make more images, or be adjusted to produce different representations of the same. Hence, both living and permanent.
What do you think are the TWO most impactful features that make your image a good photograph? Don't be shy!
I think it catches your eye in the right way. First because of the juxtaposing aspects of the tonality of the positive and negative images, and second because the light and shadow form this interesting cross both vertically and horizontally. This wasn't my intention when I started out, but works in ways I didn't originally imagine when I set out with the the base images.
If you would be able to make this photo once again, what would be the ONE thing you would like to do better or different?
I would have preferred on the negative image to have deeper blacks rather than the shade of gray in the back ground, but this would have required a bright white background and likely would have altered the "in face" effects of the light and tonality.
Jamie Marcellus shared this photograph in the FRAMES Facebook Group.
Photographer
Jamie Marcellus, Toronto, Canada
Equipment and settings
This was made using a 4×5 cambo monorail with a 10.5cm f3.5 Zeiss shutterless barrel lens. The base image was made with 4×5 Harmon Direct Positive, and the additional component was made with a sliver gelatine paper negative. I don't recall the f stop, or exposure time, but it was likely f4-f.56 with 5-10s of exposure for each image component.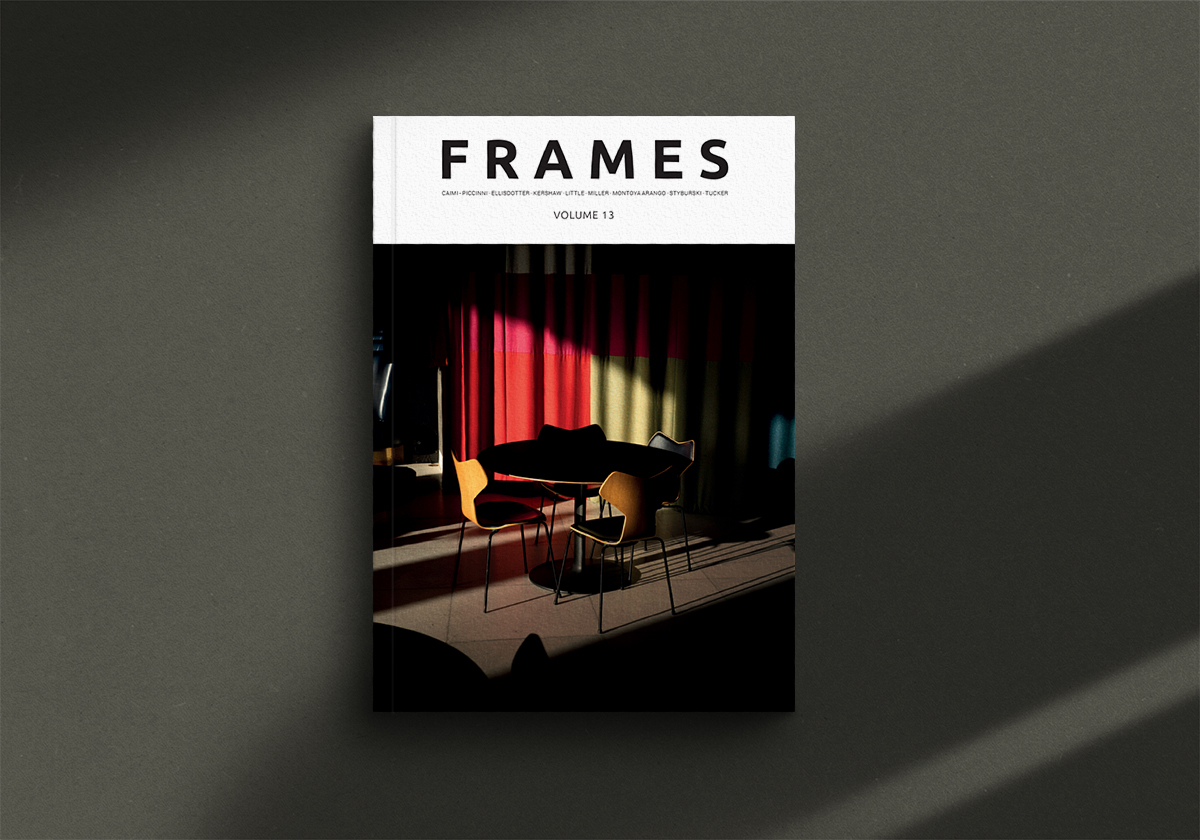 Every year we release four quarterly printed editions of FRAMES Magazine. Each issue contains 112 pages printed on the highest quality 140g uncoated paper. You receive the magazine delivered straight to your doorstep. We feature both established and emerging photographers of different genres. We pay very close attention to new, visually striking, thought-provoking imagery, while respecting the long-lasting tradition of photography in its purest incarnation. Learn more >>>
---