Reverence.
I think that's right.
Reverence, yes.
A slowing down to appreciate, to celebrate, to resist the rush, and not only see the moment but treasure it as well.
---
"Visual Memories and Hidden Places" by Paul Caponigro
Published by Veritas Editions, 2023
review by W. Scott Olsen
---
Paul Caponigro's new book, Visual Memories and Hidden Places, is on the desk in front of me, and it's clear I am looking at an act of reverence. This book is one of the special few—not only because of the images, the result of the well-established talent of Paul Caponigro, but because of the art of bookmaking, too. This is not a book to scan. This is a book to consider, to receive slowly, and to love.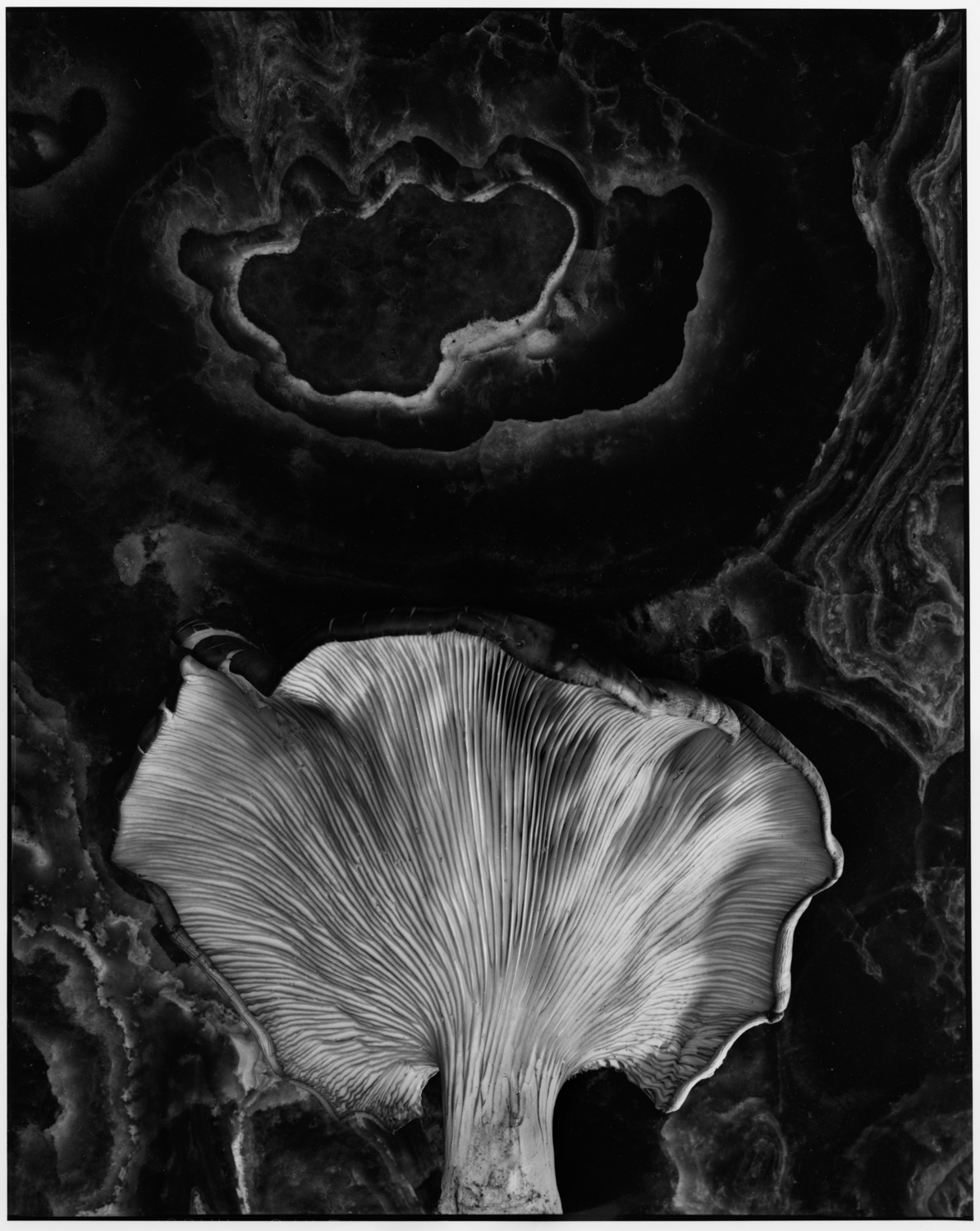 Caponigro is one of our time's most respected nature photographers, and the images in this book range from patterns on a frosted window in Revere, Massachusetts, in 1957 to two pears in a wooden bowl in Cushing, Maine, in 1999. The images in this collection pay homage to his interest in forms, shapes, and moods.
The collection includes: "Sand Beach, Revere, Massachusetts, 1958," "Hieri-San Temple, Kyoto, Japan, 1976," "Inner Night Sky, Cushing, Maine, 1999" and others. As Andrew Smith says in an epigraph, "To see into a Paul Caponigro photograph is to look into the universe. The speed of time has slowed to a light winking on a pebble, drops of water revealing a granite contour, a blade of grass; feast in the joy of nature's bounty." Anyone familiar with Caponigro's work will recognize how these images slowly reveal themselves and invite an emotional exploration. While they are not complicated compositions, they are deeply complex subjects. The way tones move through the images seems ancient.
Every tritone image is on a right-hand page, beautifully set with wide margins. On every preceding, facing page – and this is the particular genius of this book's approach – there are two stories.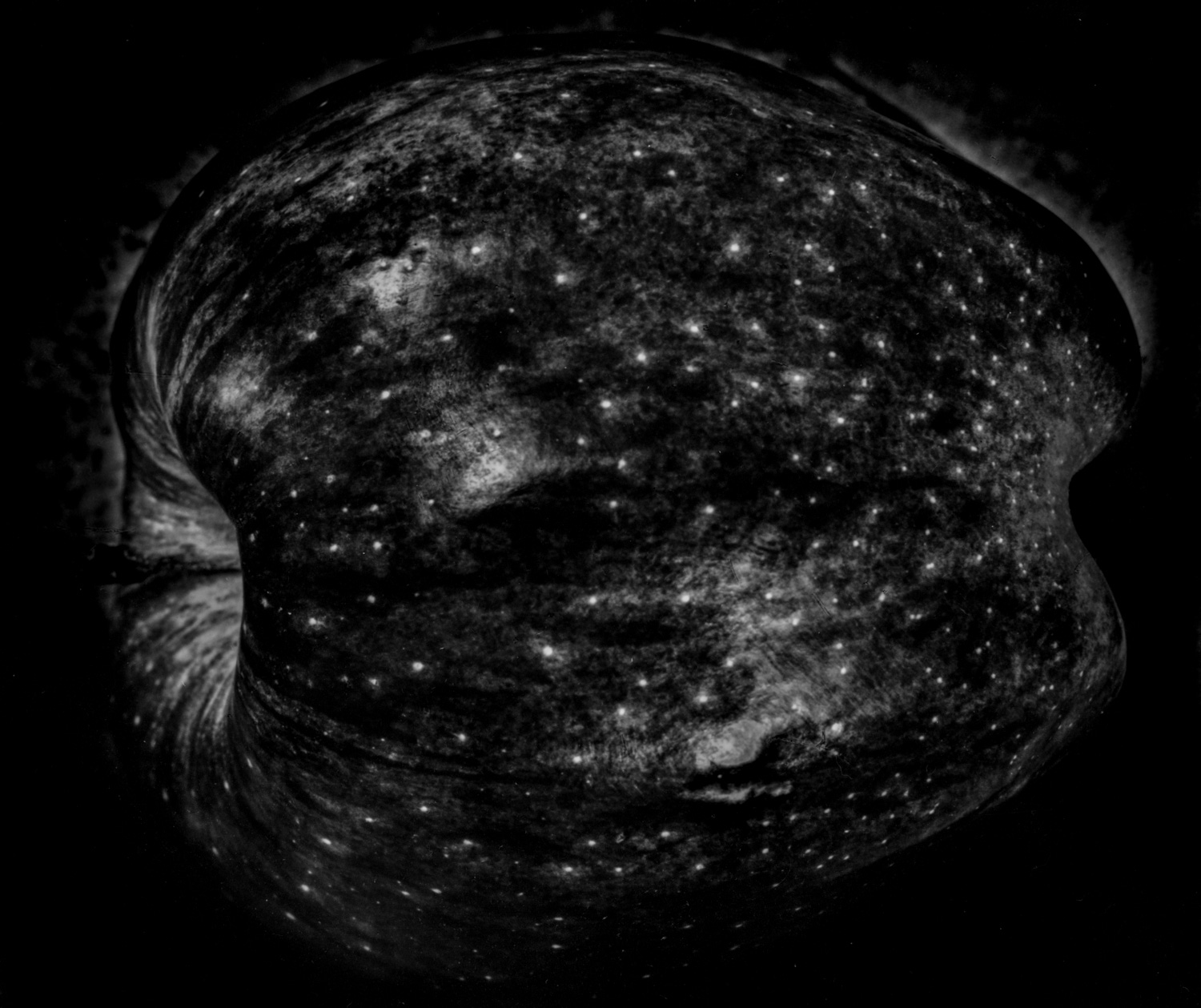 The first is by Caponigro, telling how the image came to be. For example, speaking about "Soaped Window, Boston, Massachusetts, 1959," he writes, in part, "In this case, soap had been vigorously applied to the window, and to my delight, I noticed how artistically the swirling forms of soap created a visual pattern and dwelled on the idea that the person who had applied the soap was unaware that a work of art had been created. To me, the window appeared like something from an ancient Chinese painting…."
The second story on the facing pages is by someone else, someone responding to the effects the image has on their hearts. For example, responding to "Dried Sunflower, Winthrop, Massachusetts, 1965," Kurt Markus writes, "A Caponigro print is a caress, a touch, a glance, shared no less with a subject not so lovely on the outside but somehow coaxed into a love affair, the tentacles reaching out to Paul's enticements of warmth and trust, a perfect union, a story told by a master storyteller, memorized and etched into our beings, forever."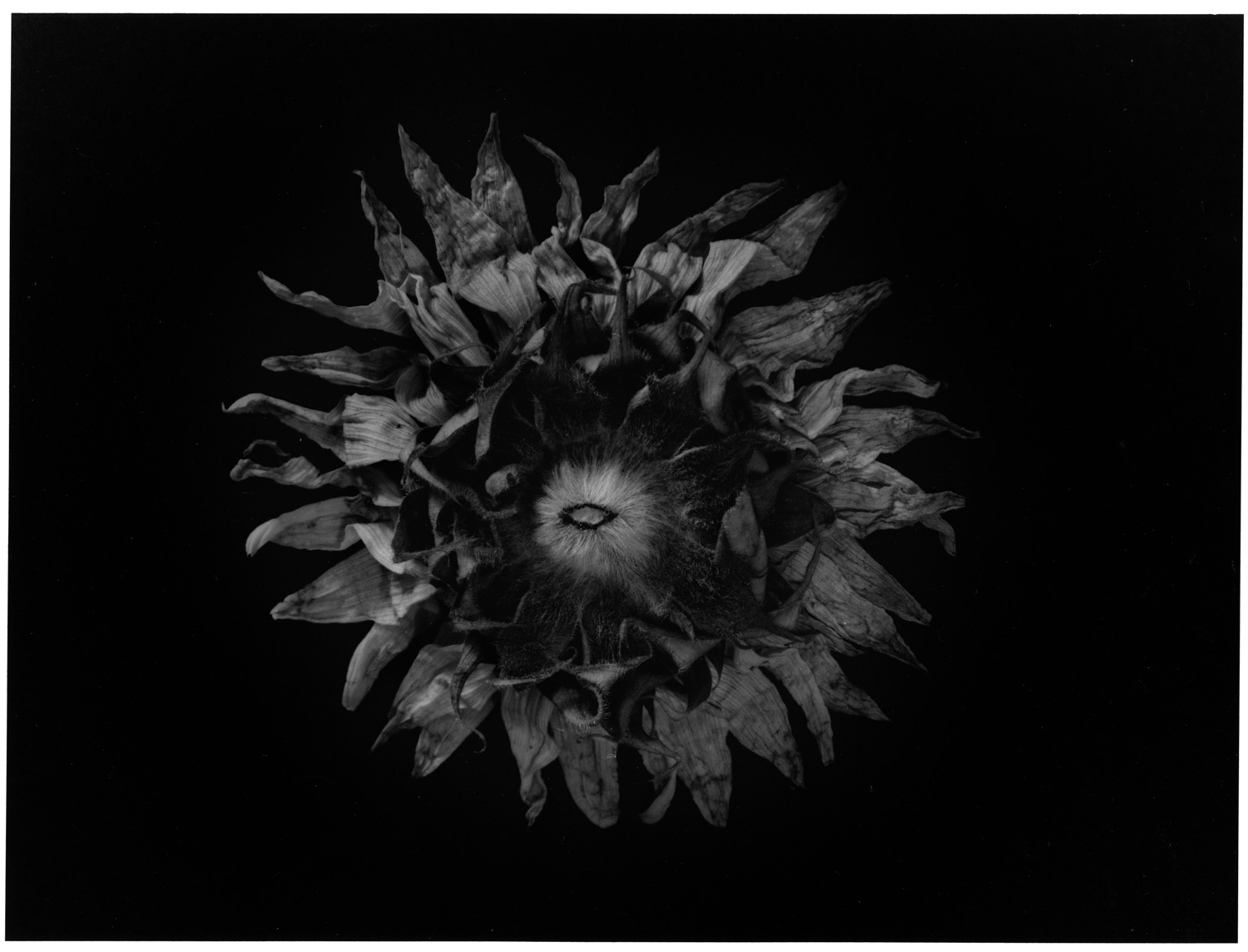 Photography has a particular relationship to book design. The book is its own type of gallery. And just as gallerists and curators spend a lot of time and thought toward designing the way art will hang on a wall or rest upon a table, designing lighting and going so far as to repaint walls or provide ambient sound that matches an installation, book designers can create a mood, a particular and unique way to encounter a collection of photographs. This book is the type of gallery every photographer desires.
Designed by Gregory Wakabayashi, Visual Memories and Hidden Places is published in two editions. There is a Fine Press Edition of only thirty-eight copies: letterpress printed on Flurry Cotton 318 gsm Cover on a KSBAZ 18×23 Heidelberg Cylinder Press. And then there is a facsimile edition (which is what I have) of 500 total copies printed on 200gsm Gardapat Kiara, according to the information in the back. Simply holding this book is a sophisticated pleasure.
Visual Memories and Hidden Places is a beautiful design, a perfect size for viewing while the book rests on a table or desk—12.5 x 16 inches. The pages are thick and heavy. Turning the pages seems almost formal, not something to do quickly or without aesthetic care. The custom Suminagashi (oldest form of marbling) end sheets, perhaps a nod toward Caponigro's time in Japan, are fluid and nature-evoking. Small touches, like the use of color on the inside title page like the choice of font and spacing, are elegant. There is a feeling of reverence for this book – the design is an act of serious gallery-making for the talent and vision of the photographs.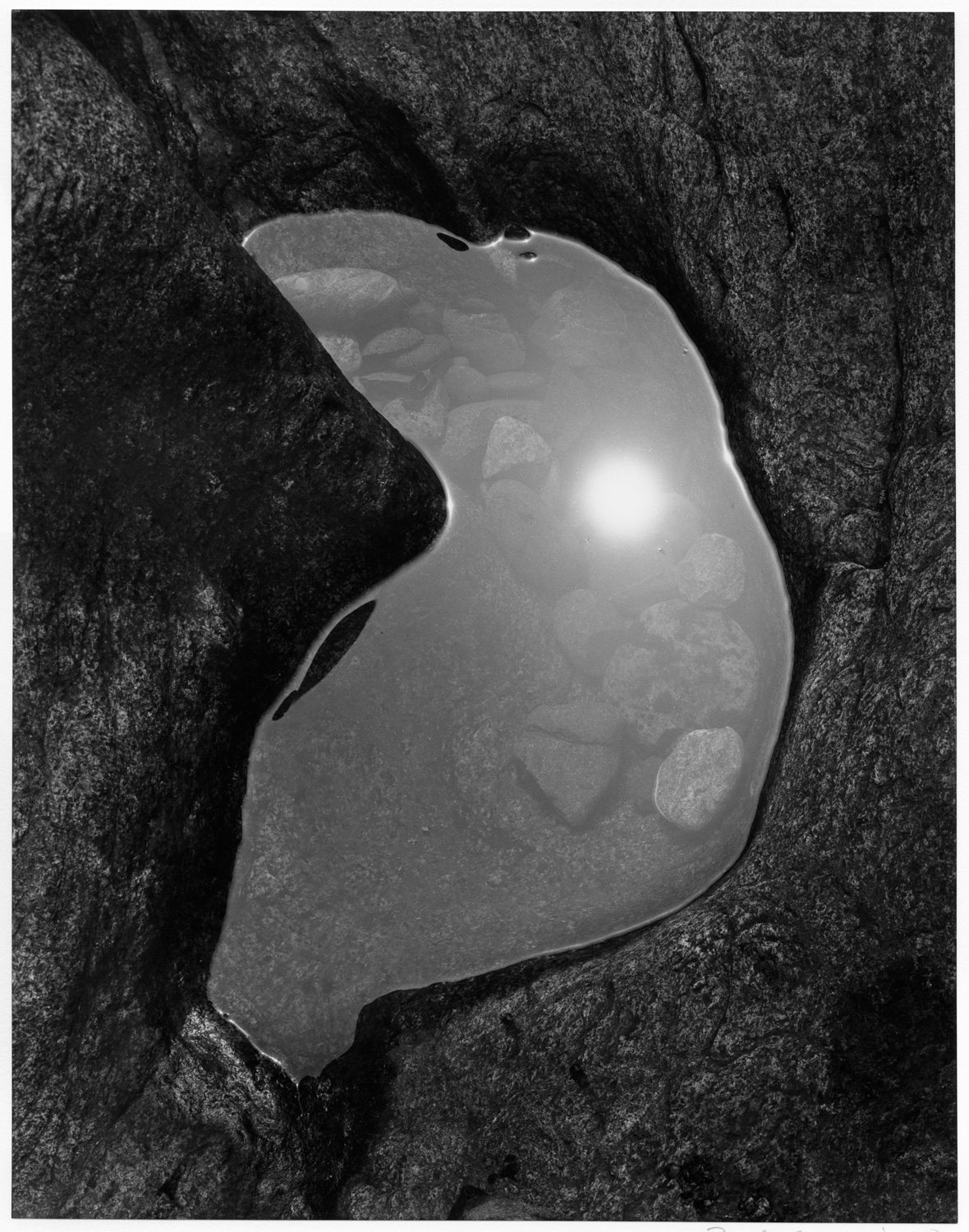 While there are only 15 images bound into the book, another three images are included in a separate folio in an envelope glued to the book's inside back cover. I'm not sure why they are removed from the rest of the book, but I do know that by pulling the folio out and turning the pages, I felt like I was being included in something private and reserved. There was a deepening appreciation.
In an Introduction by Michael K. Komanecky, Chief Curator of the Farnsworth Art Museum, he writes, "Caponigro's thoughts and beliefs about such things as technique, influence, places that have attracted his attention, and subject matter in general, as well as more profound matters of spirituality and meaning, underlie his image making. They are all part of an intimately connected whole. Caponigro's photographs, one learns, are only just that, a part – though a compelling, insistent part – of his being, reflecting his lifelong quest to find his place in the word."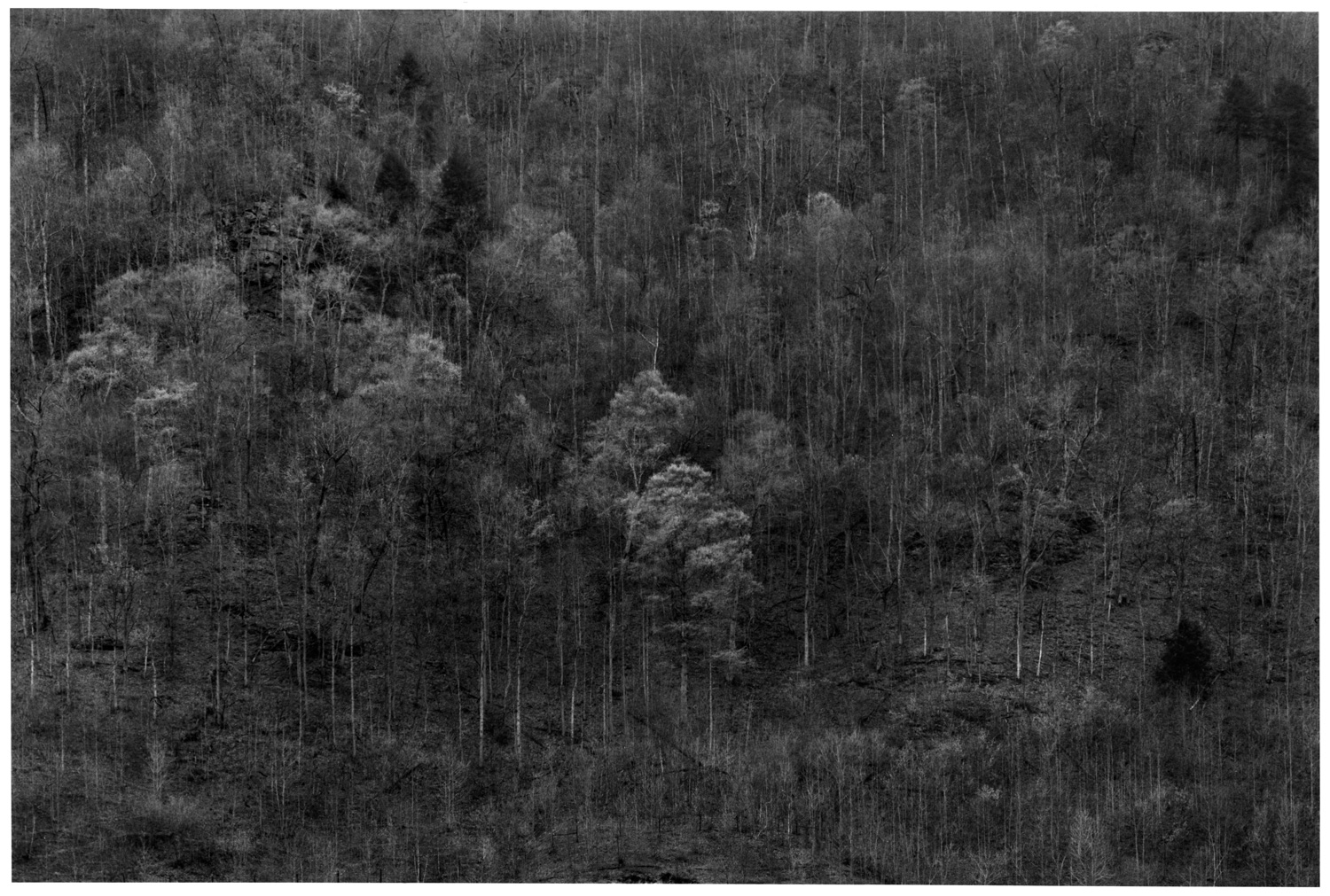 In a Preface written by Caponigro himself, the artist's voice is eloquent and profound. "To me," he writes, "the photographic image is a coming together of time, space, light, and viewpoint, and to this, I would add my emotional stance. The black-and-white print displays composition, contrast, and a range of tones, and together, these separate elements could be seen as creating a surface of unified texture. Looking at the photographic print, many see only nature's surface features and suggested spatial relationships. The eye delights in these surface features, but one might also experience the hints of emotional overtones and echoes of universal pattern within and beneath the obvious surfaces, and I like to think of this phenomenon as being the texture of the intangibles."
The book concludes with a section called Perspectives. Here, twenty-three other voices continue the responses to the images. For example, speaking about "Kentucky Trees, 1965," David Heald writes, "A quiet tone poem that emanates subtle impressions of sound and silence, light and air in the natural landscape. Paul's profound listening and loving translation of the essences and rhythms of the natural world into the silver print is revelatory…"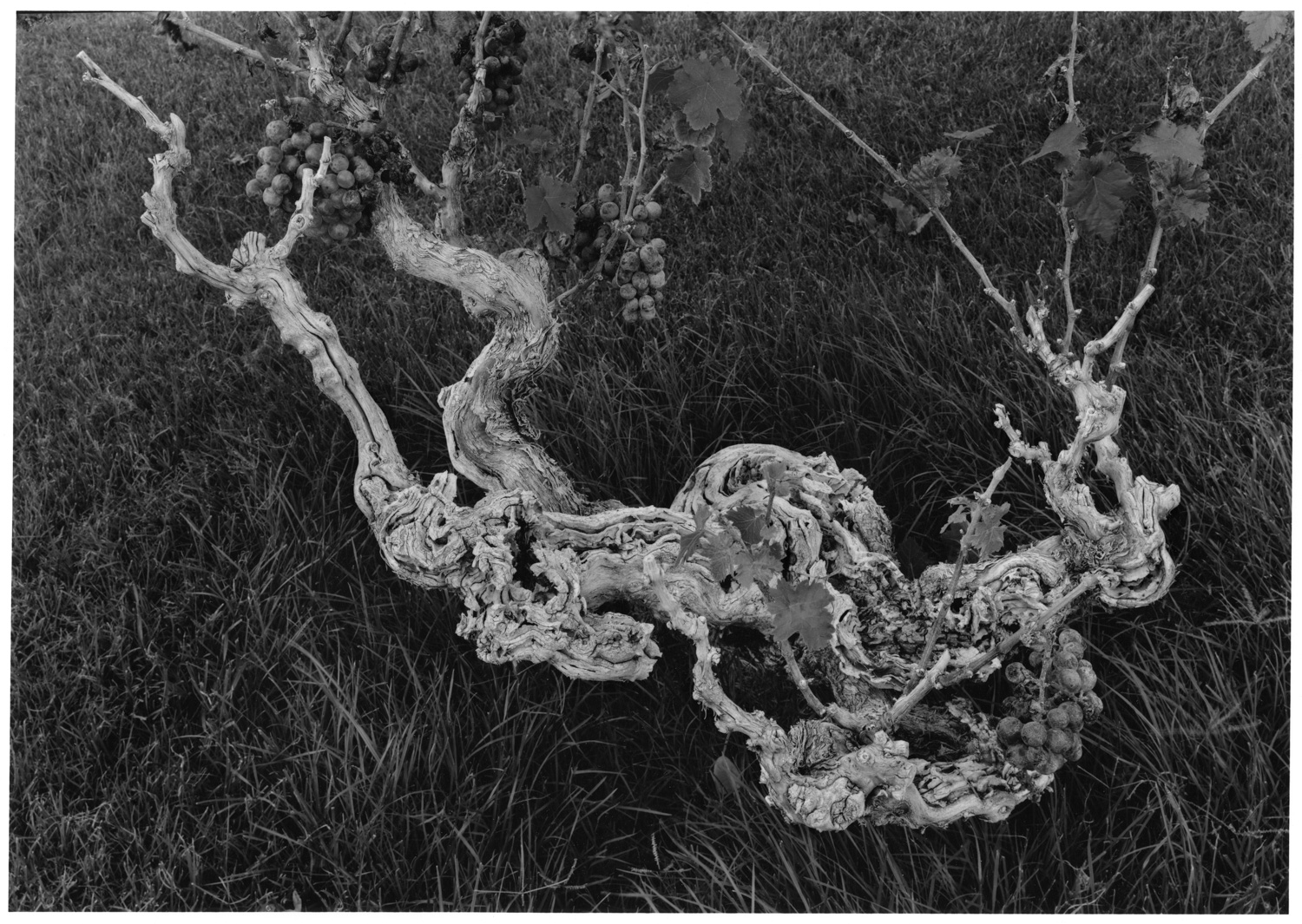 It's fitting that the Acknowledgements are followed by a signature page – artist and designer and printers of several sorts. They have put their signature on this book as an expression of their own art as well.
Visual Memories and Hidden Places is already a rare treasure. The images invite a mindful and soul-filled experience. The physical setting for those images here sets a pace and volume that allows the whispers to be heard.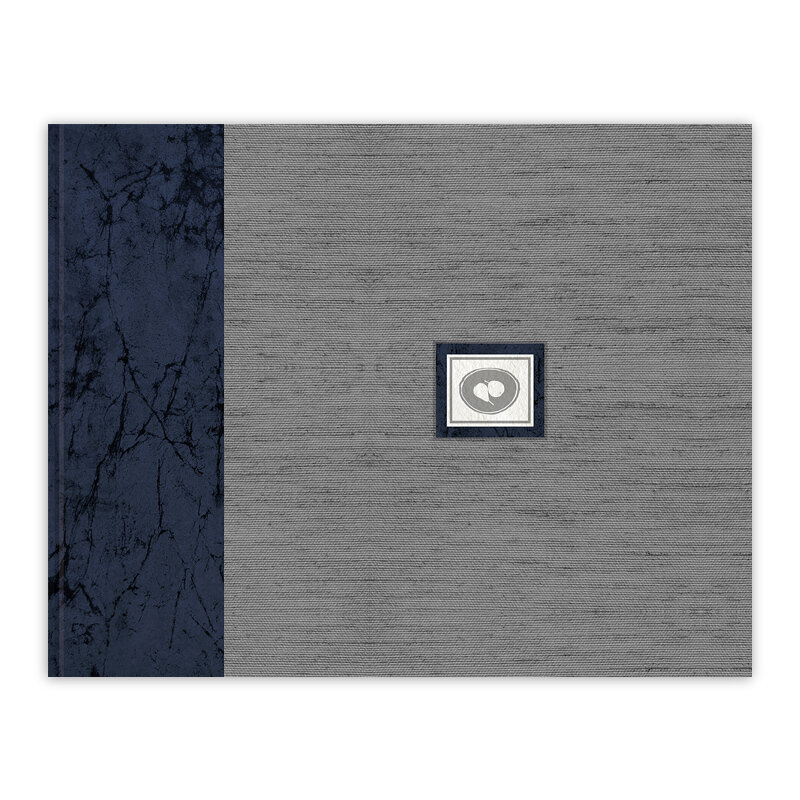 A note from FRAMES: Please let us know if you have a forthcoming or recently published photography book.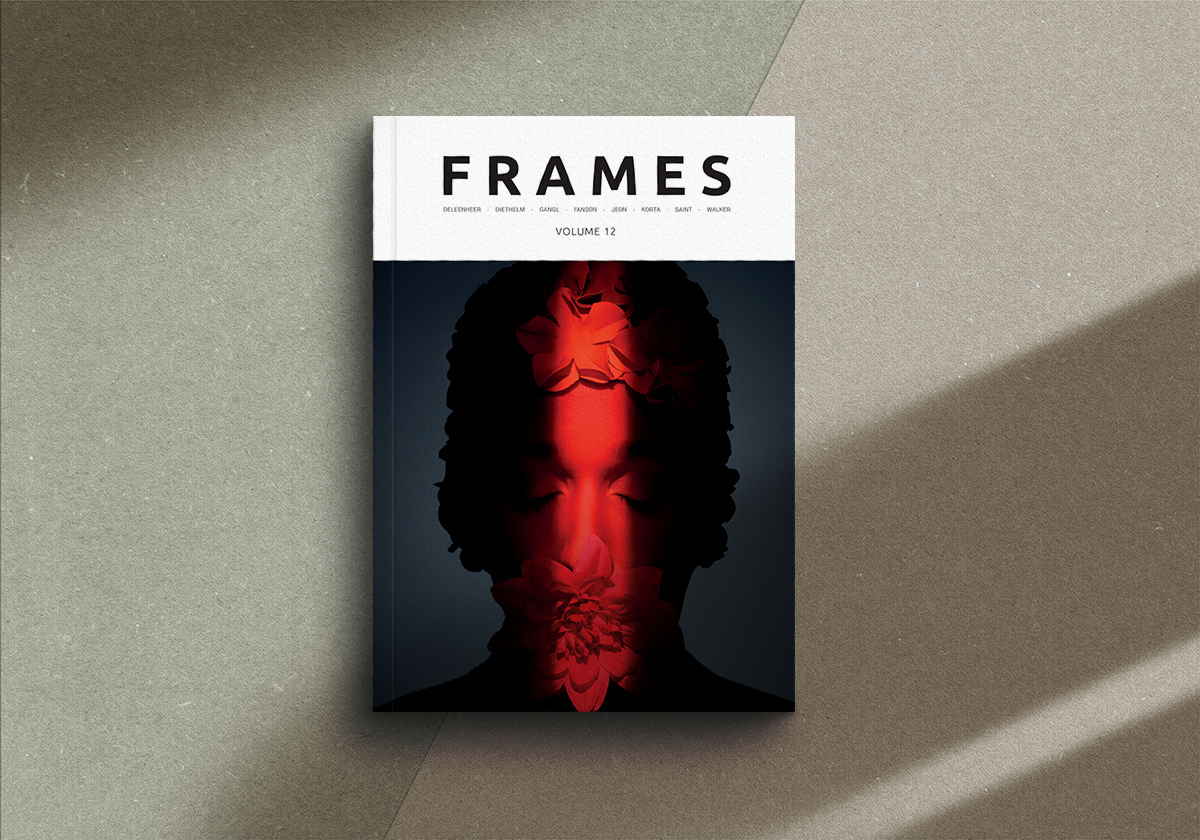 Every year we release four quarterly printed editions of FRAMES Magazine. Each issue contains 112 pages printed on the highest quality 140g uncoated paper. You receive the magazine delivered straight to your doorstep. We feature both established and emerging photographers of different genres. We pay very close attention to new, visually striking, thought-provoking imagery, while respecting the long-lasting tradition of photography in its purest incarnation. Learn more >>>
---