Perhaps the very best thing about art, in any genre, is its ability to expand our imagination. We read a poem, listen to a symphony, watch a play, and every bit of it is fresh. We never thought of it, whatever "it" may be, that way before. So we welcome it, even though it may be disturbing. Somehow, we know it's true. And thus our world becomes larger, more complex, more filled with wonder.
---
"Crossed Looks" by Namsa Leuba
Published by Damiani Editore, 2021
review by W. Scott Olsen
---
This holds for high-concept, fine art photography as well. The image is representational, to greater or lesser degree, but that's just a launching point. The photographer, the artist, has other goals in mind. The goal is to recreate the representation to make a point, to disturb a cliché, to provoke us into ideas and emotions we have not explored for ourselves.
In other words, to look at an image and say "I have no idea what to make of this" is sometimes a wonderful invitation.
Expanded Seeing, a new book by Namsa Leuba, was produced in conjunction with the exhibition Namsa Leuba: Crossed Looks organized by the Halsey Institute of Contemporary Art at the College of Charleston in Charleston, South Carolina, and curated by Joseph Gergel. The exhibition ran from August 27 until December 11 of 2021.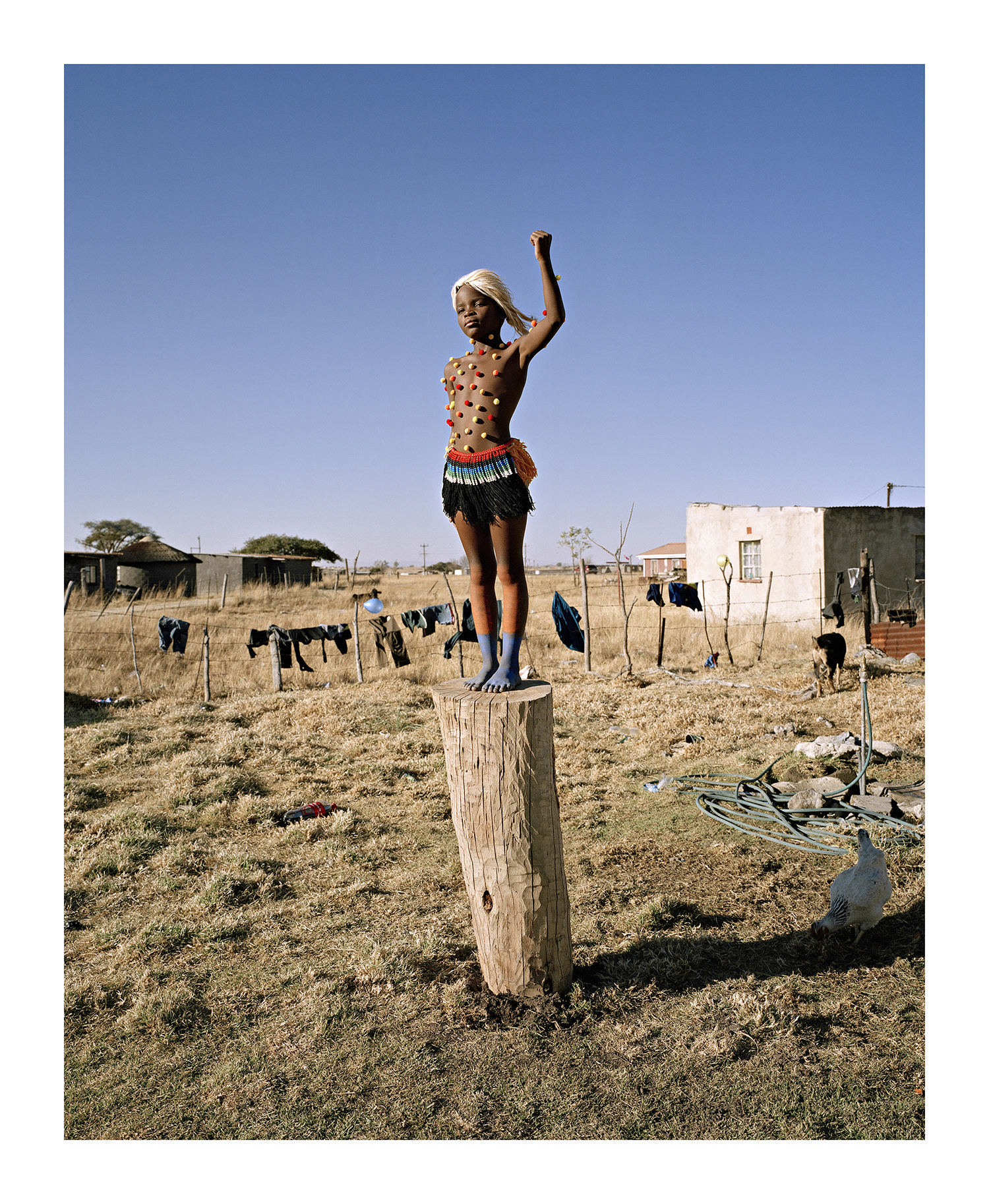 The book, however, is much more than a gallery accoutrement. Part retrospective, part overview and summation, the book is an exciting collection of work that seeks to challenge what a viewer brings to the experience of each image. Leuba's work begins with a critique of the viewer's assumptions and then tries to make them a part of the experience.
In the book's introduction, titled "Beyond Looking: Seeing Namsa Leuba's Photographs," by Katie Hirsch, Director of the Halsey Institute of Contemporary Art, and Brian Granger, Director of Exhibitions and Public Programs, they write:
Reorientation is always a challenge. Something about Leuba's challenge, however, is finding reception.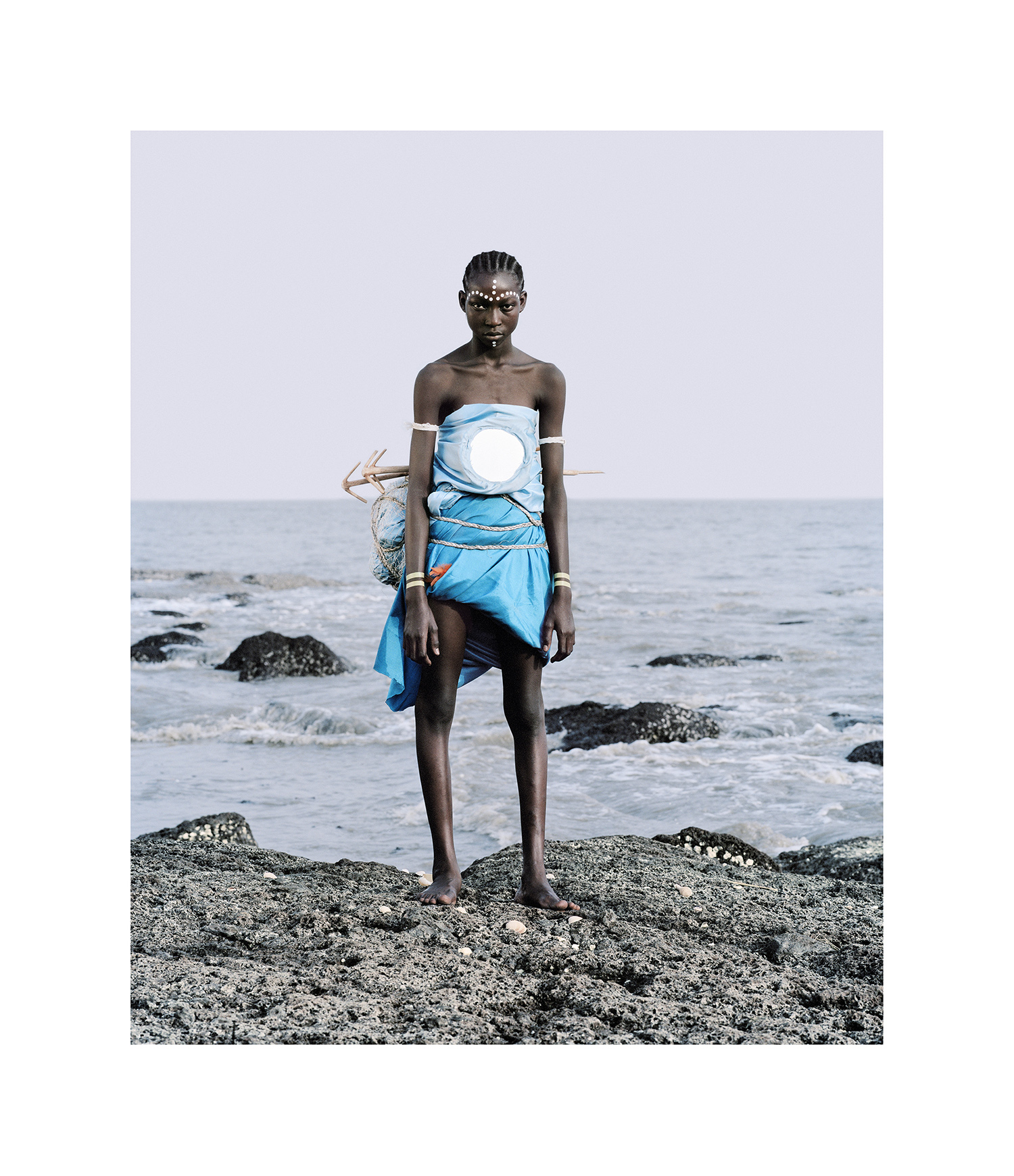 Crossed Looks is divided into chapters, each representing a different Leuba project. "Ya Kala Ben" is based on recreating ritual statues from animist ceremonies in Guinea. "Acrobats" is a series of portraits. For "Khoisan," according to the accompanying text, Leuba "created costumes using local materials that play with elements of concealment and disguise. These photographs are fictive in scope while mimicking the aesthetic of documentary photography."
Crossed Looks also contains "Isigqi," a book within a book: different paper, different size, bound in with the rest. Described as an artist's book, it is supposed to mirror the artists mode of physical representation on gallery walls where she collages images together to form groupings.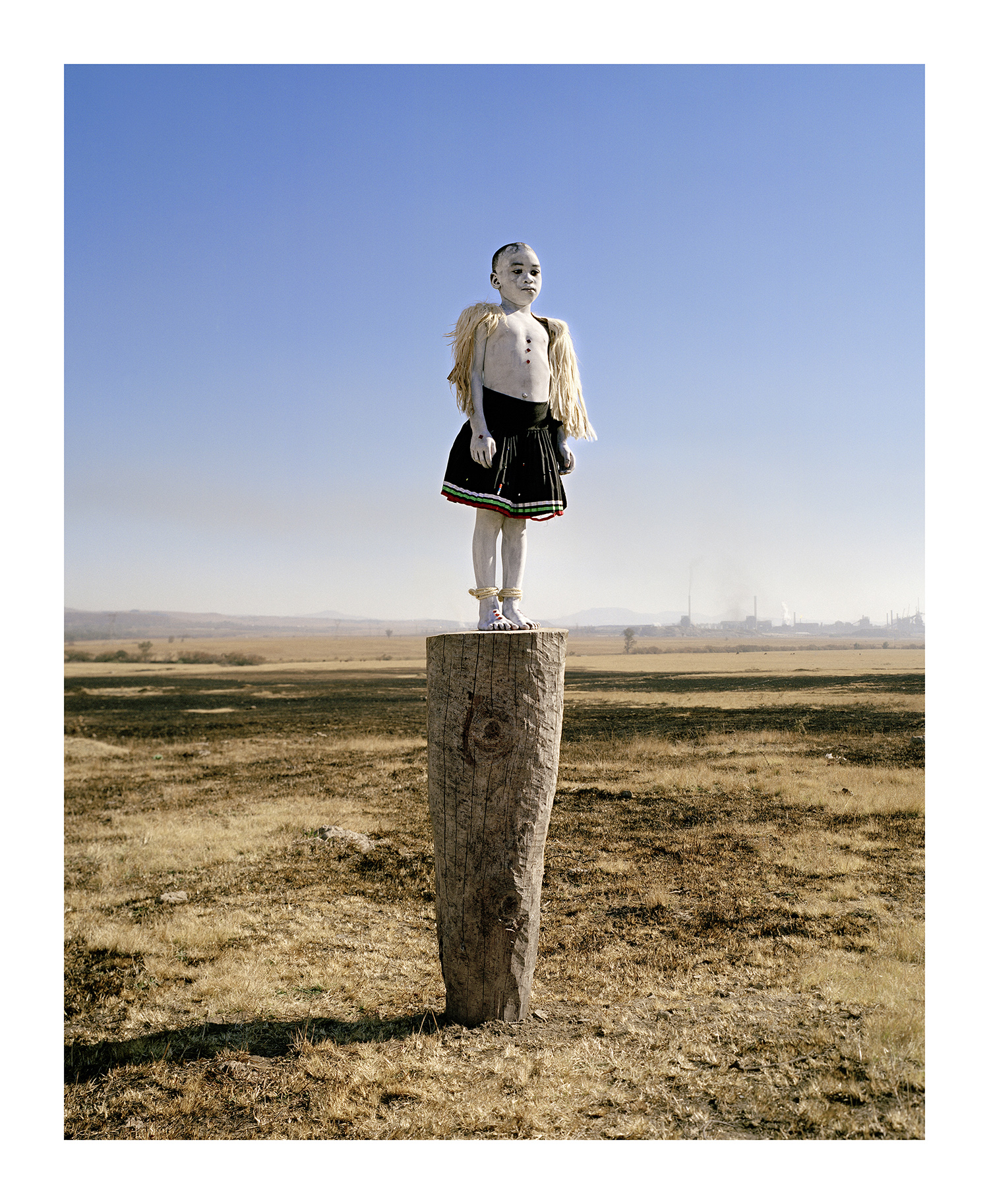 A chapter called "Plantes," which was an exhibition in Paris in 2010, holds images of plants seen through different colored filters. A chapter called "Weke," "imagines narratives that are inspired by the local animist traditions of the Vodun (Voodoo) religion."
Leuba's newest series, "Illusions," was inspired from living in Tahiti for two years and by the work of Paul Gauguin. The models are members of the local LGBTQI plus community.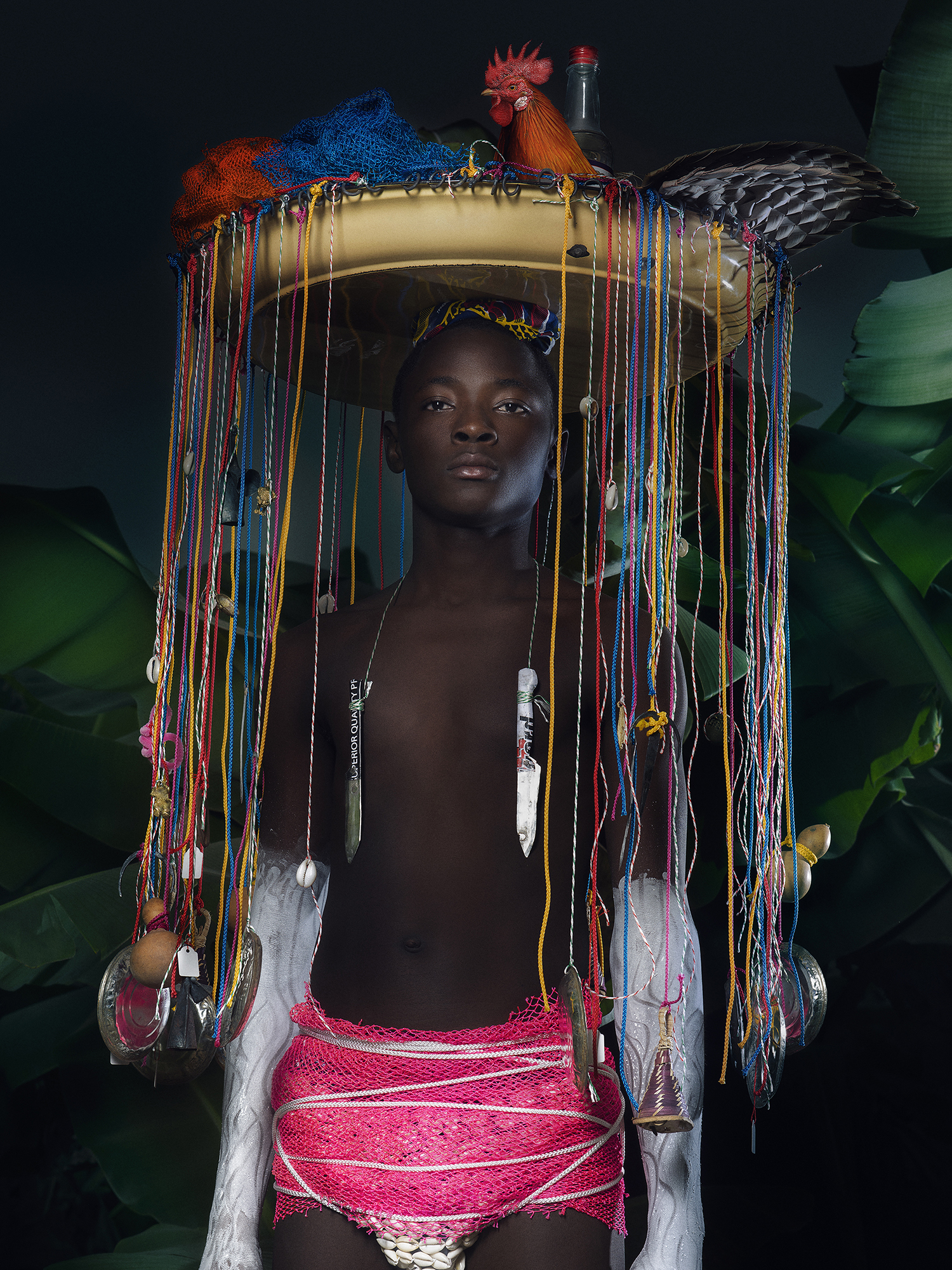 The outlier in the book is the section called "Black Panther," one of Leuba's earliest series, a series of black and white portraits that recreate important moments from the Black Panther movement. While the theme of this chapter is consistent with the rest of the book, the black and white after a vibrant use of color is another compass heading.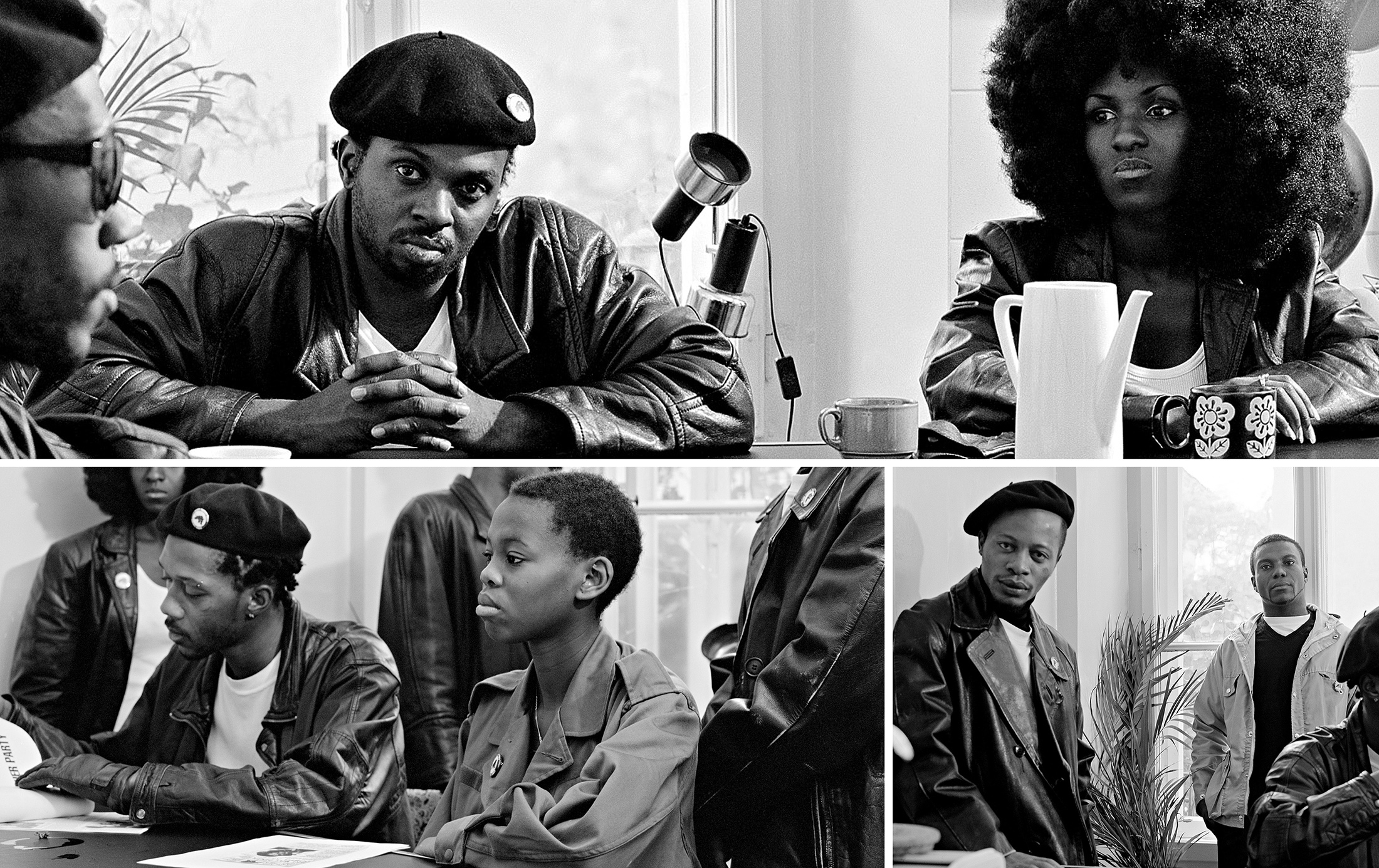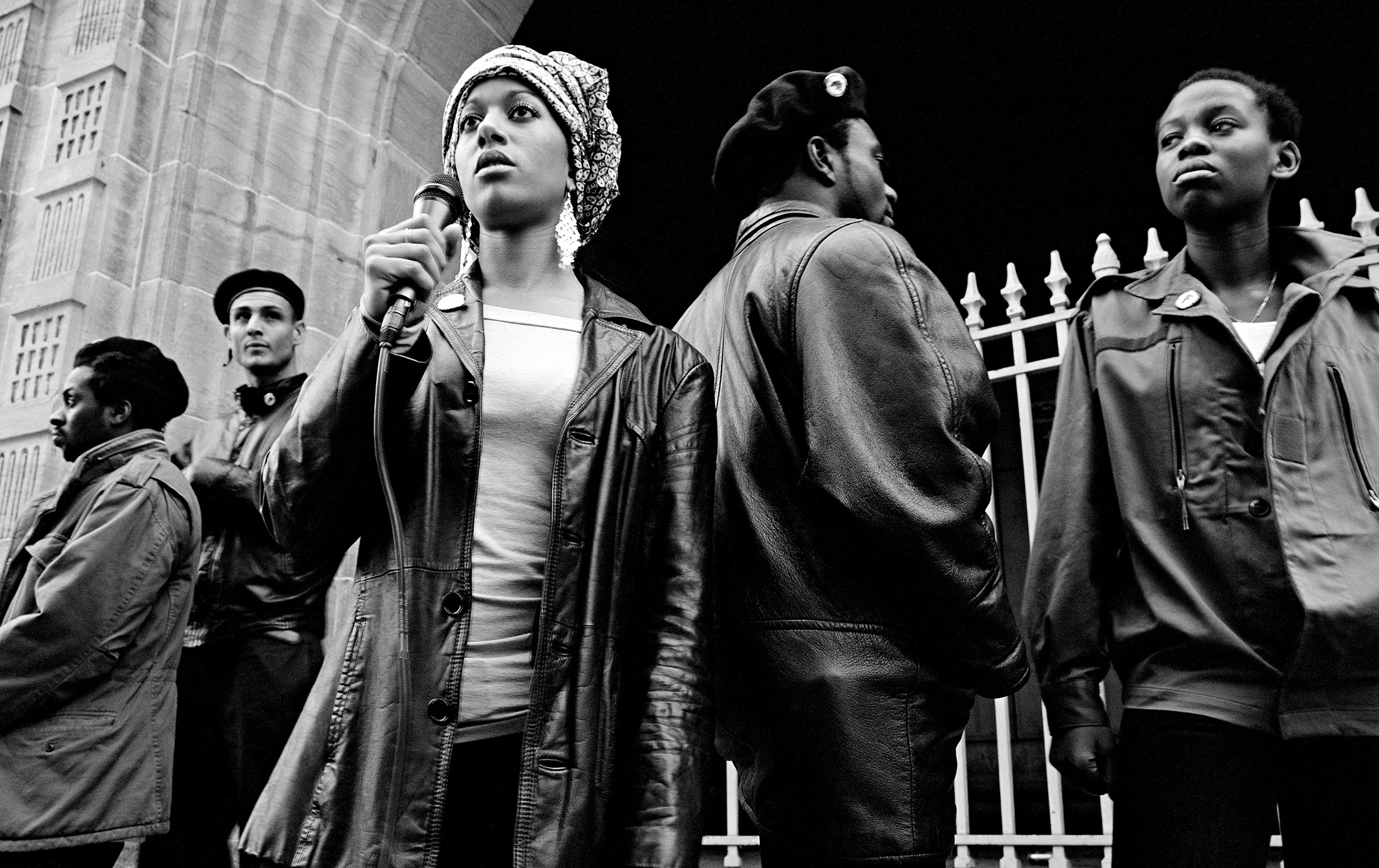 One of the most intriguing things about Crossed Looks is its fictive quality. I don't mean fictive in the way that any art shot is contrived. The "Black Panther" shots, for example, appear to be documentary, but they are not. They are staged recreations.  About the images in a chapter called "Zulu Kids" we learn, "The series features children posing atop wooden logs, which at first glance may seem to reference local statuary traditions. In truth, Leuba created a fictionalized "tradition." Statues are not a traditional component of Zulu culture."
What are we supposed to think when we see images of tradition-like non-tradition? Do we question the image or our expectations of it? Or both? These questions are at the heart of encountering these beautiful, unexpected, re-thought and enthusiastically presented images.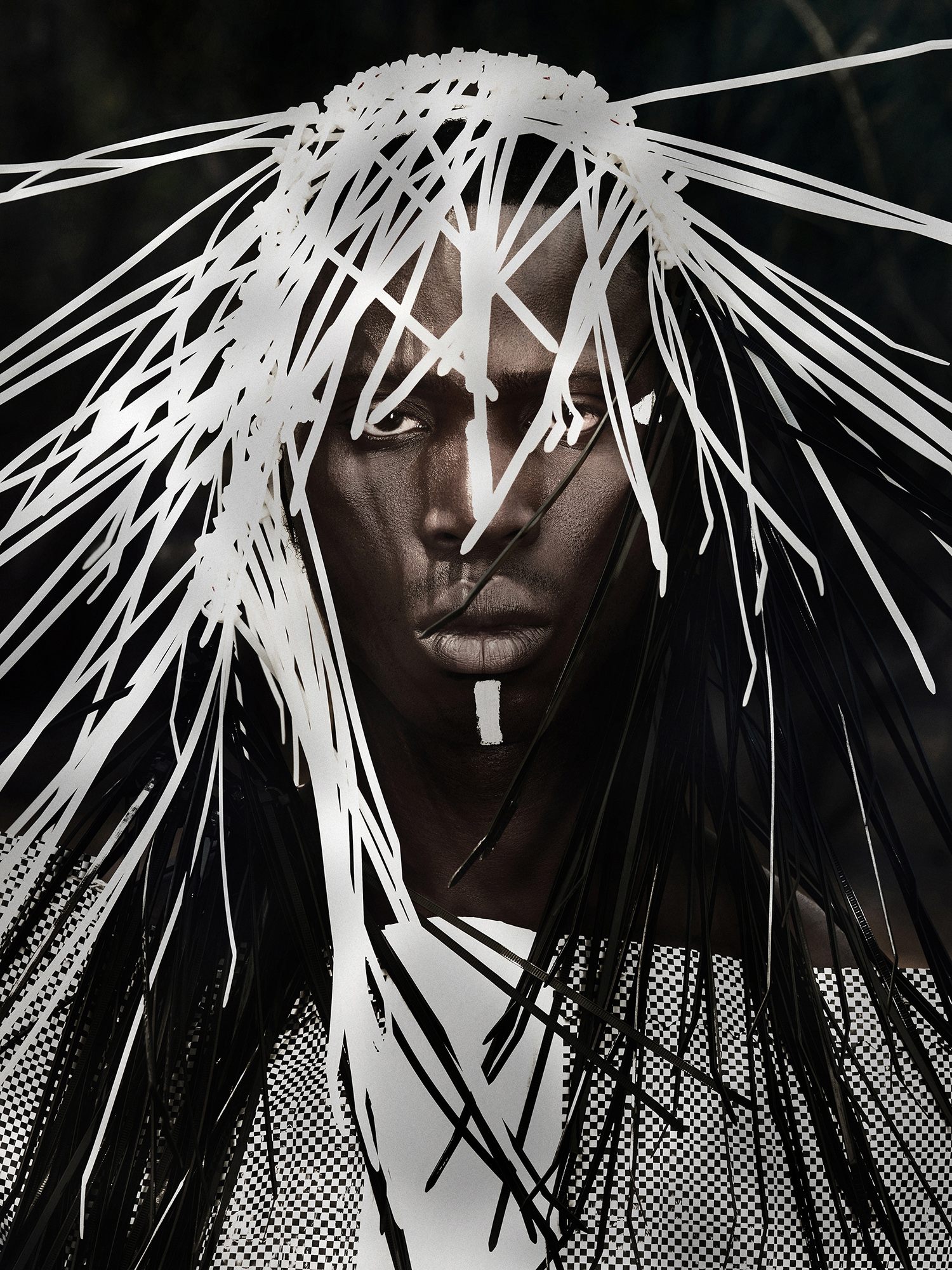 Crossed Looks benefits from including several small essays about Leuba's work. In one essay, titled "Shifting Gazes" by independent curator Joseph Gergel, he writes, "Leuba encountered mixed reactions to the photographs in Guinea, some of which evoked charged emotional responses. Some Guineans viewed the images as blasphemous in attempting to depict the sacred. At one point during the production, she was arrested by the police. These images have a much different power when seen by Guineans who have an understanding of their intended meanings. For European audience, however, the images were separated from their source and often viewed with a sartorial eye, with a focus on aesthetics and its connection to fashion."
In another essay, "Story of Many," by writer and critic Emmanual Iduma, we learn, "There is a movement led by black photographers today to blur the distinction between photography and fashion. These photographers believe that the documentation of black experience, both in and outside of Africa, has long been tainted by the imagination of whiteness, particularly in relation to the fashion industry. Their rescue mission, so to speak, is as invested in the politics of documentation as in the aesthetic choices made in the process."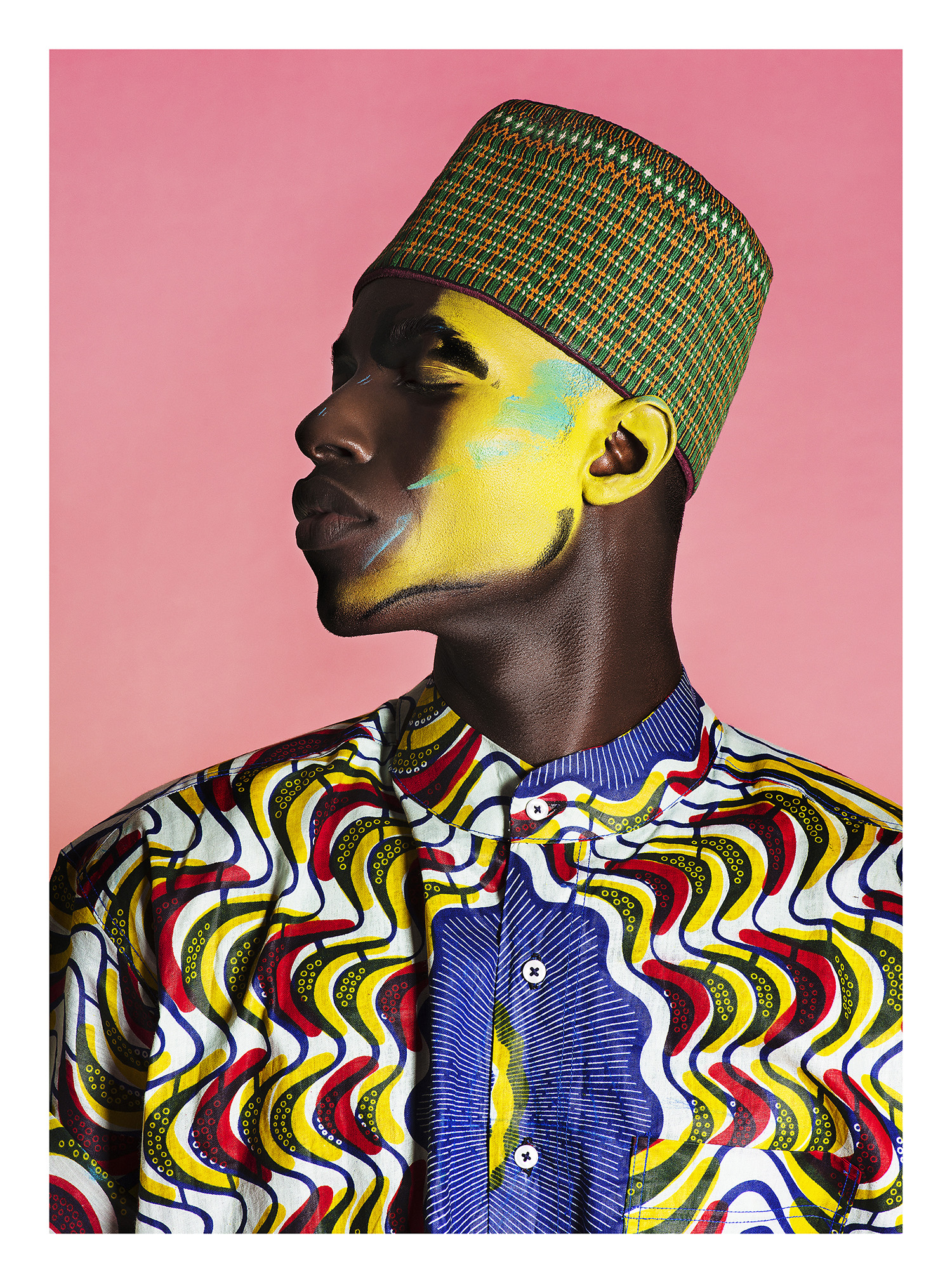 Namsa Leuba, of course, is well-known. Her online bio reads (in part):
Crossed Looks is a smart book of beautiful photography.  Every page opens questions that are engaging to chase.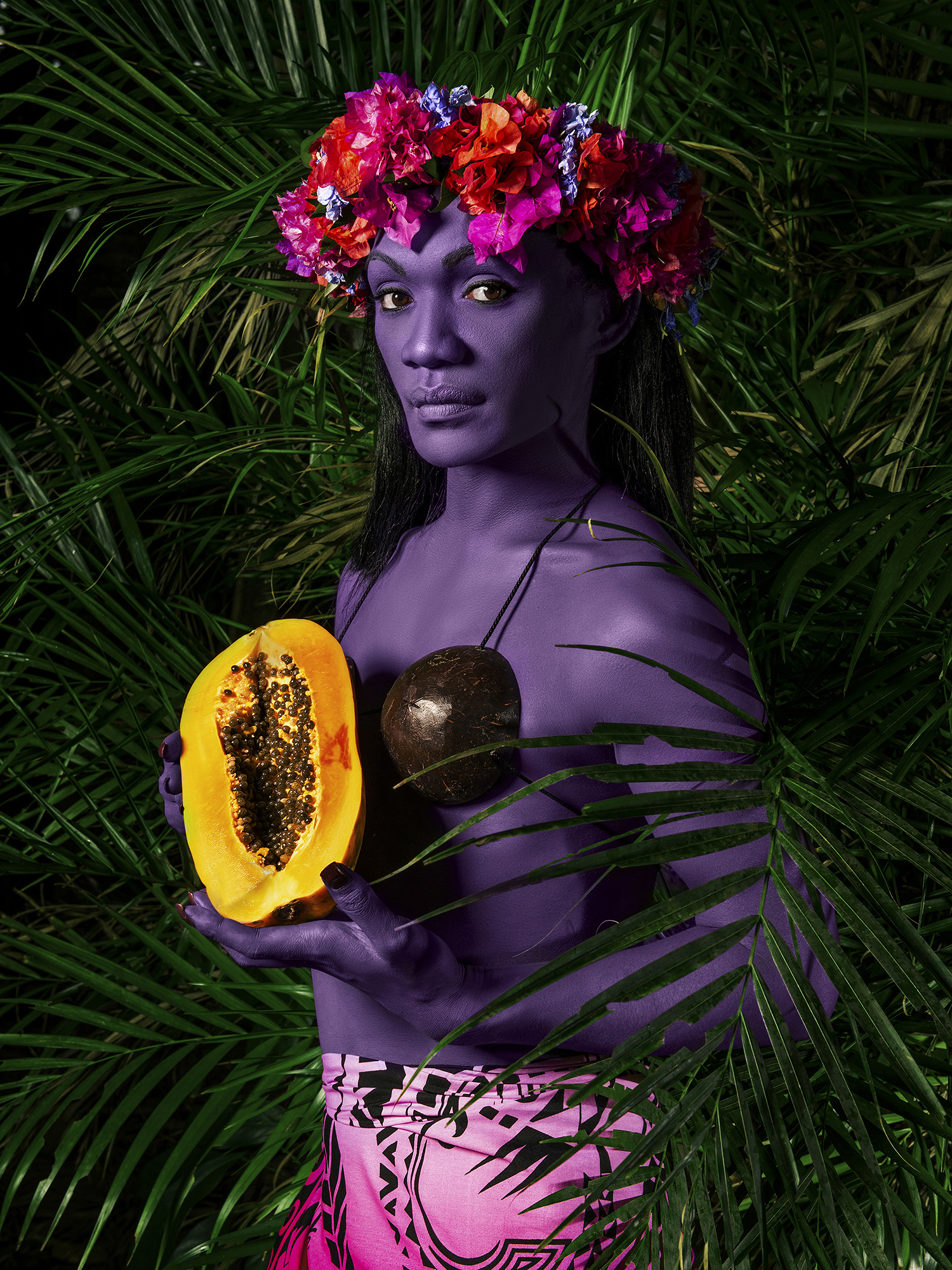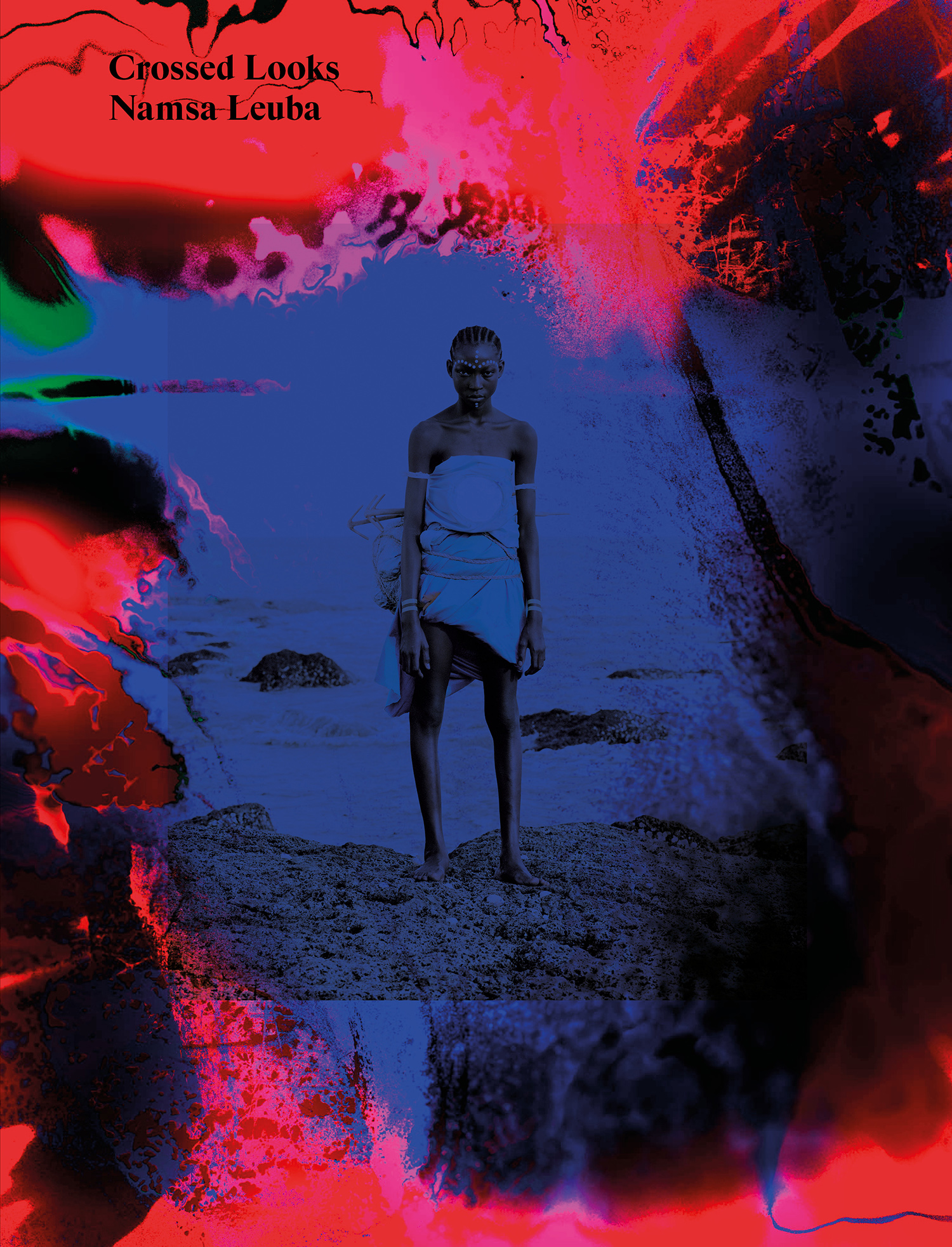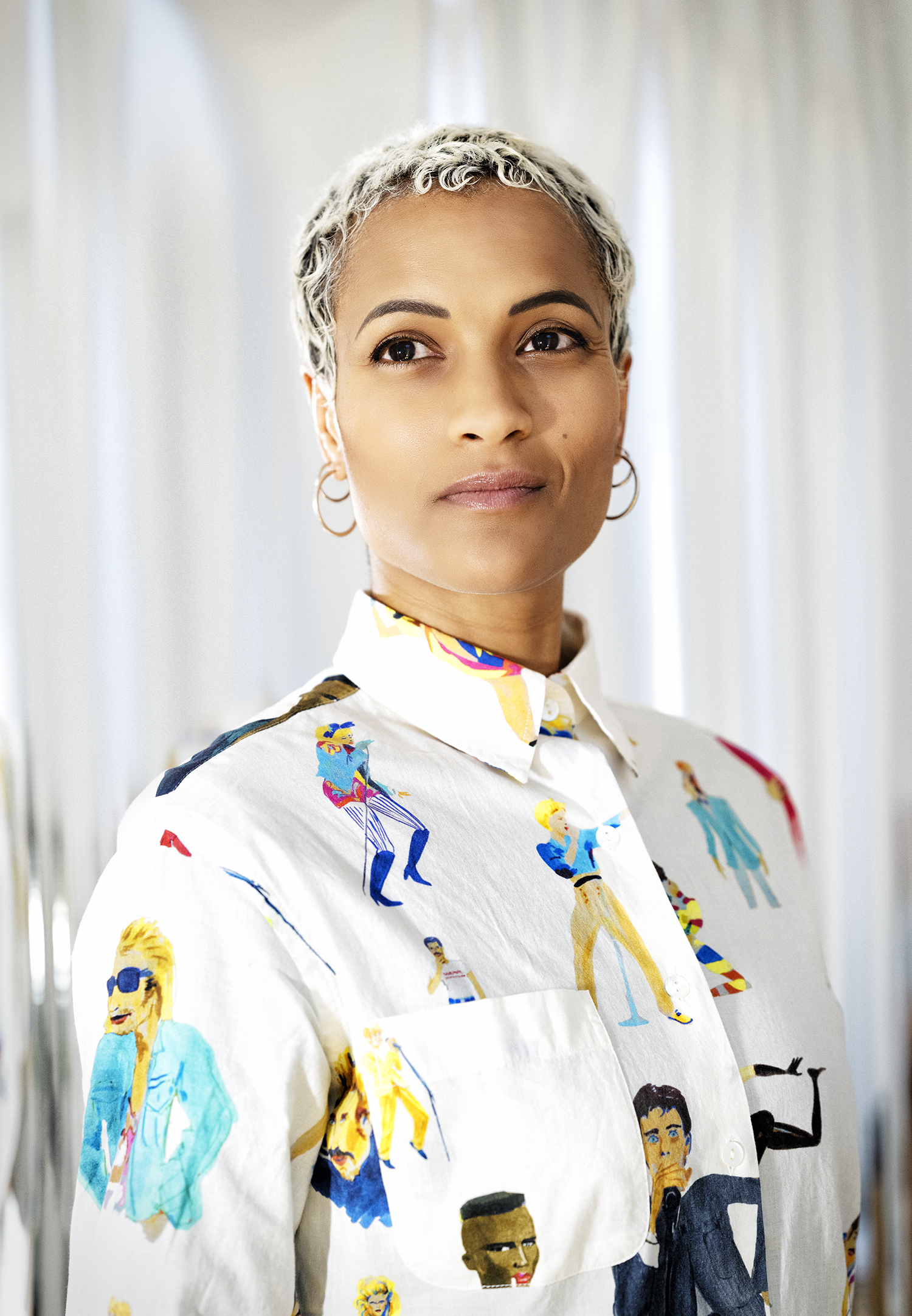 A note from FRAMES: if you have a forthcoming or recently published book of photography, please let us know.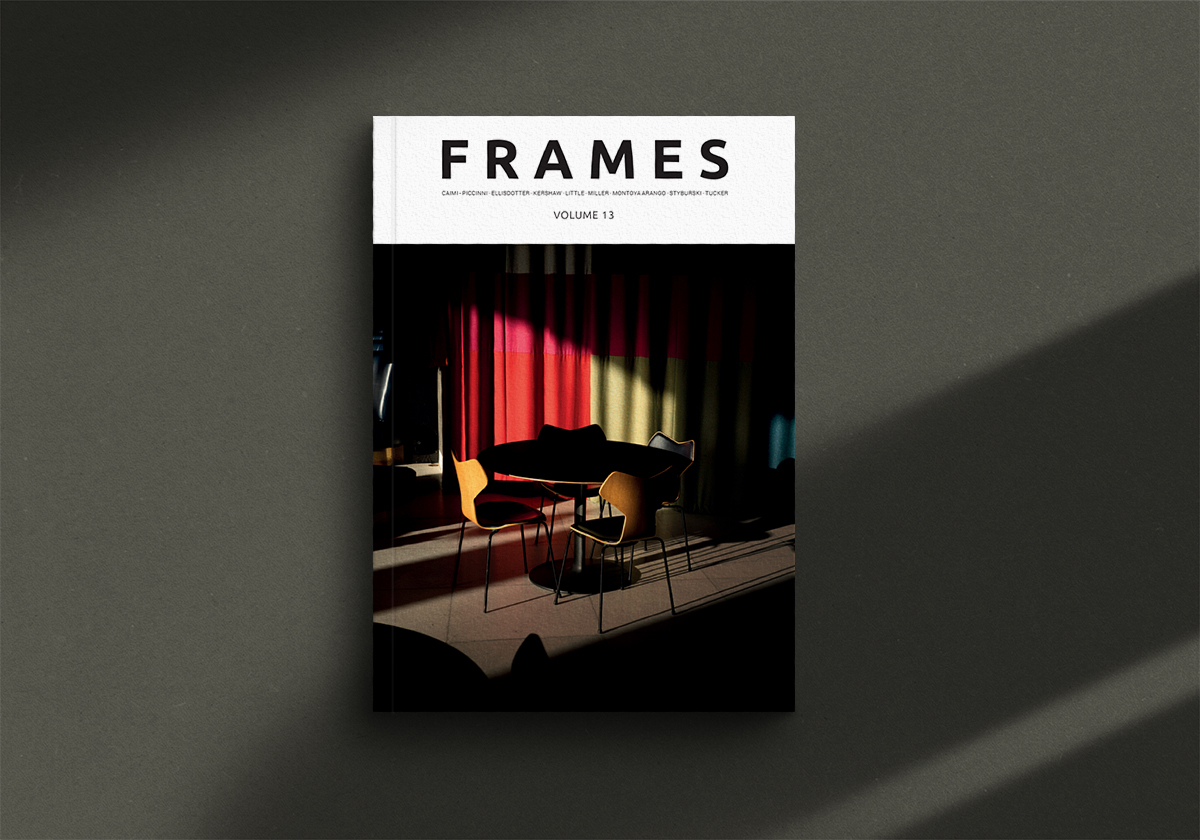 Every year we release four quarterly printed editions of FRAMES Magazine. Each issue contains 112 pages printed on the highest quality 140g uncoated paper. You receive the magazine delivered straight to your doorstep. We feature both established and emerging photographers of different genres. We pay very close attention to new, visually striking, thought-provoking imagery, while respecting the long-lasting tradition of photography in its purest incarnation. Learn more >>>
---