From January 1st to December 31st of 2021, I immersed myself in a 365 project. The goal was simple. Make an image every day with my iPhone for a full year. The resulting images are varied, inconsistent and illuminating. On some days it was a struggle to find something worthy of being included in the project and on other days it was virtually impossible to make a choice.
The pressure to perform was relentless and unforgiving. It trained me to improvise and look in all manner of places to find a creative spark. I ended up with landscapes, street photographs, portraits, collages, wildlife images, still life images, documentary photos, abstract images, architectural photographs, aerial shots, selfies and more.
On my daily ride through Venice Beach my eyes became sharply focused on finding interesting juxtapositions, repeated patterns, bursts of color and head-turning interplay between the eccentric denizens of the boardwalk and the endlessly fascinating Venetian environment.
I was fortunate enough to travel a little during 2021, a year of mandated and self-imposed lockdown, and visited South Africa, Zimbabwe, New York, San Francisco, Joshua Tree and Lake Powell, Utah. At those times, my creative eye was on hyper alert, and as you might expect, it was relatively easy to nail the daily image.
But for much of our time, we spend our lives performing the same routines over and over, and that immunizes us to the magic that surrounds us. This is especially true during the time of COVID-19. Imposing a creative imperative on my daily grind helped me remove the filters obscuring the treasures in the ordinary and raised my game to reveal the wonder in everyday things. And it got me out the house!
Sometimes I'd find myself at the close of day with nothing on my camera roll. At times like these I'd turn to my fabulous girls and beloved dog for inspiration, or I would go into the backyard and shoot masks drying on the washing line or the moon rising over the chimney or the underside of a wet glass table. On occasion, late at night, I'd find myself merging various images to create something new. I had a contingency plan that if ever I ended my day with nothing, I'd simply create an all-black image to represent the void in my project. Fortunately, I never had to put that plan into action. Interestingly, the photos that are below par are as important to me as the jewels in the collection.
The search for meaning in my everyday life, and the revealing of what was previously hidden via images, has evolved into a practice that has trained me to be mindful and appreciate the simple things in my environment. This project has been an incredible gift to myself – a newfound appreciation of old places, the discovery of novel ways of seeing the familiar, and the revelation of the magic in the mundane.
January 2nd – Day 2 of 365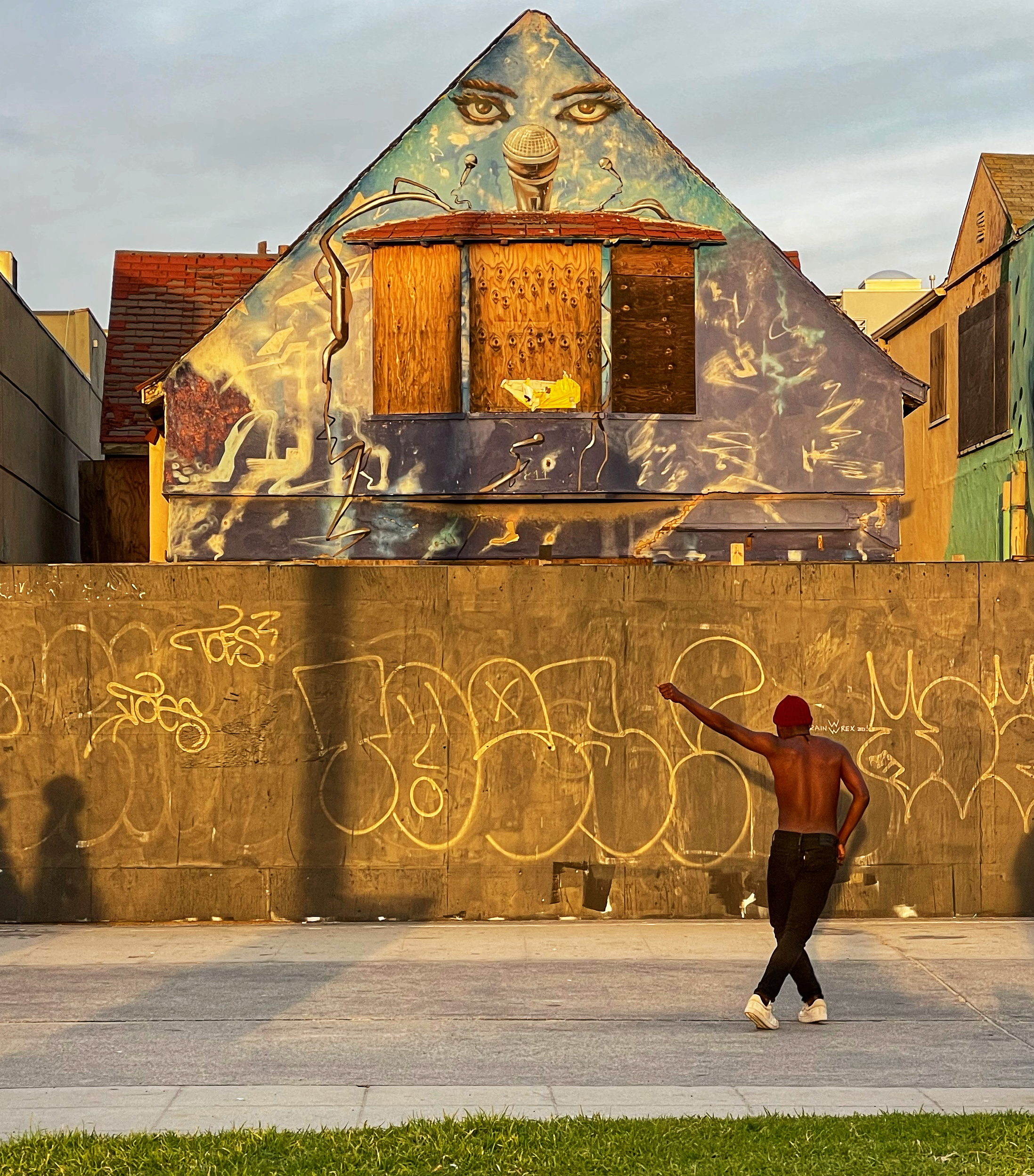 I've been photographing the colorful graffiti covered building at 815 Ocean Front Walk in Venice Beach for over a decade. Always evolving, this inspiring location has been my Venice muse for what feels like a lifetime. I often spend time by the house when I ride through Venice, which is almost every day. Waiting for wonderful things to happen in this fascinating location has taught me what I like to think of as 'photographic patience.'
February 14th – Day 45 of 365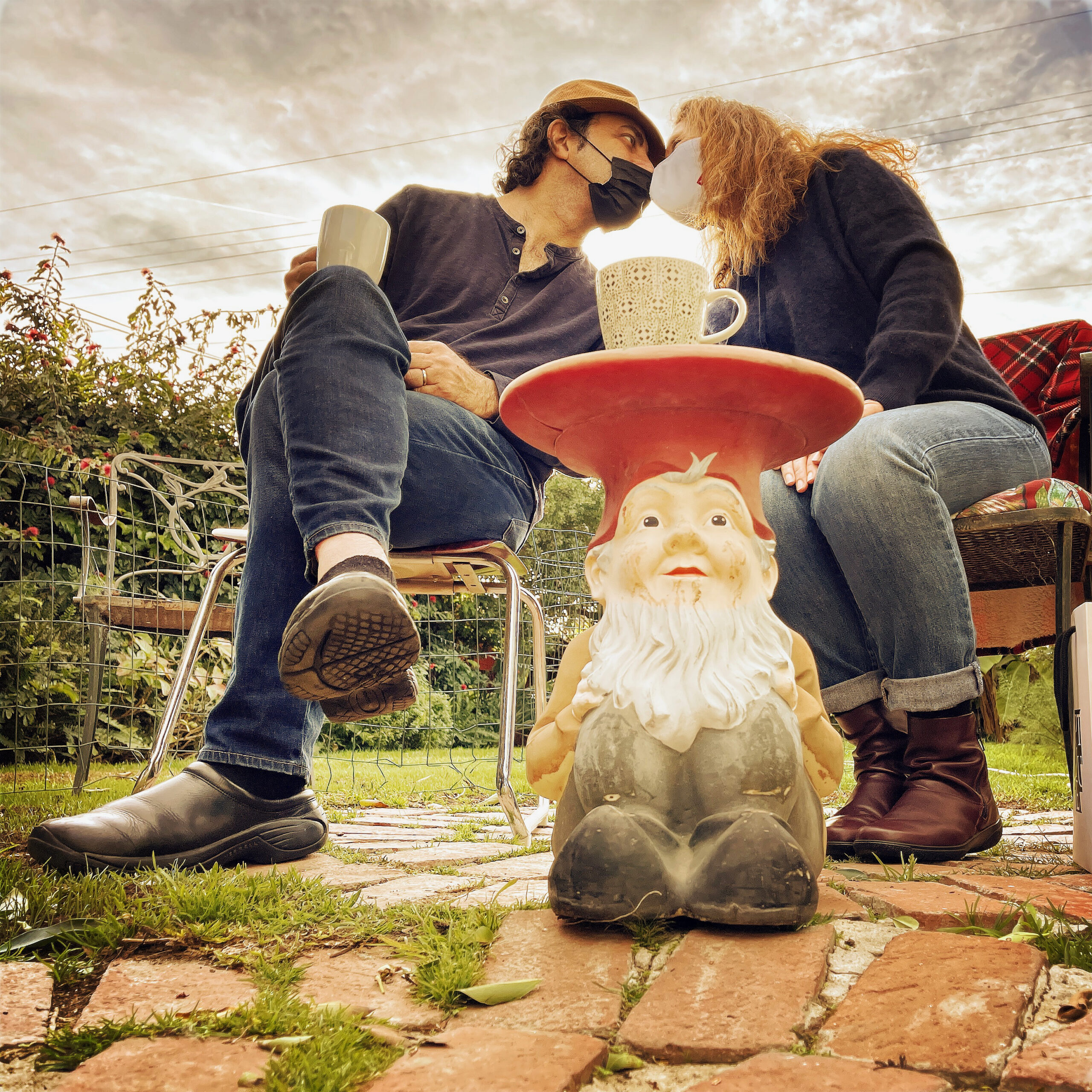 On Valentine's Day, I didn't even have to leave the house to get my shot. My friends Shinks and Steve came for a backyard visit and Cupid arranged for the planets to align and allow me to capture this portrayal of love during the time of COVID-19.
March 19th – Day 78 of 365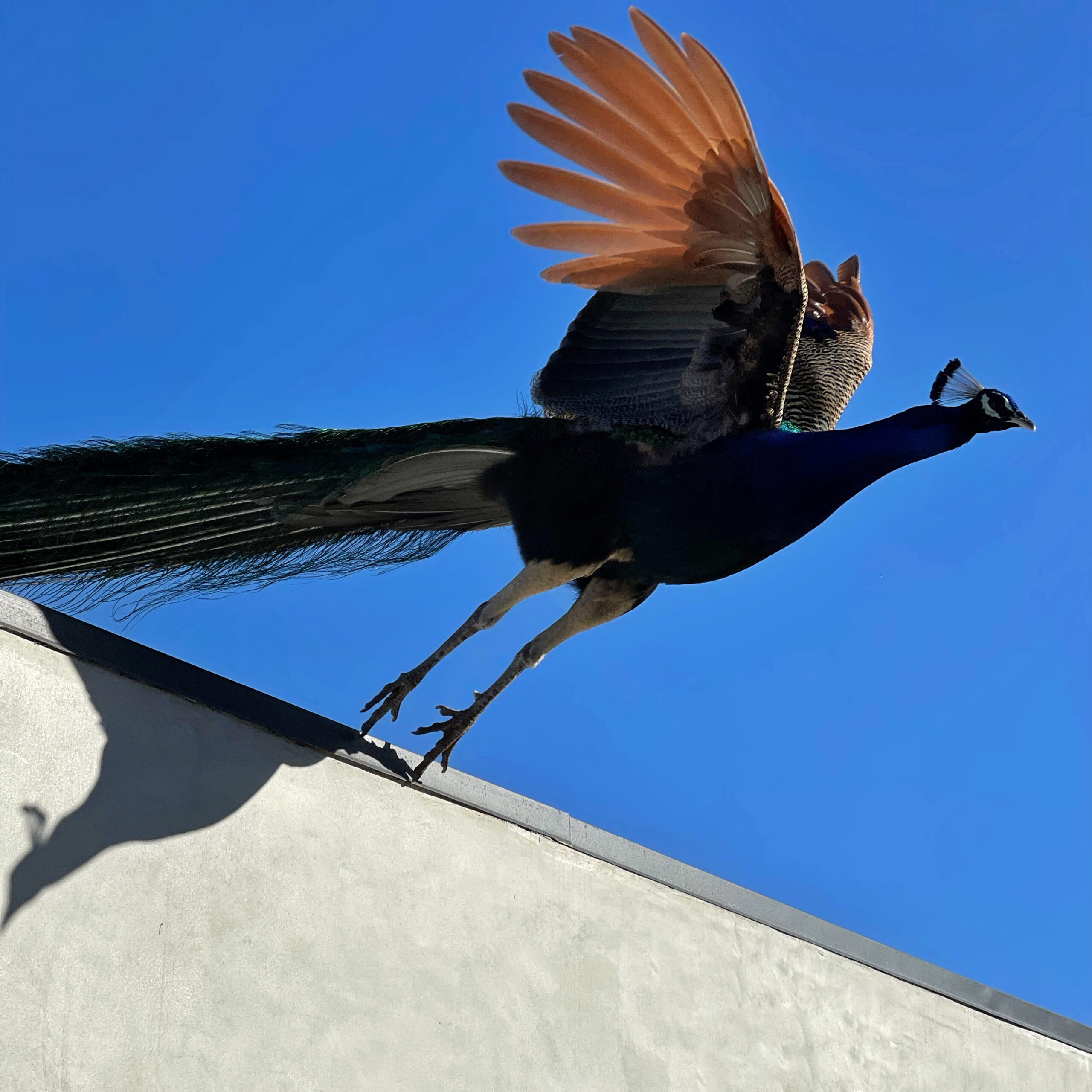 Tivoli moved into the neighborhood mysteriously right at the beginning of the pandemic. For the next 18 months, he became a popular and divisive figure on the streets of Mar Vista and the focus of Next Door groups where it was endlessly discussed whether he should be moved to an animal sanctuary or allowed to continue his dominance of our hood at the risk of being run over by a car. For me, he was totally elusive and even though I rode around the area every day, it took about a year before I had a good sighting of His Majesty. On that fortunate Friday, I was honored to spend about half an hour documenting his royal presence for project and posterity.
April 8th – Day 98 of 365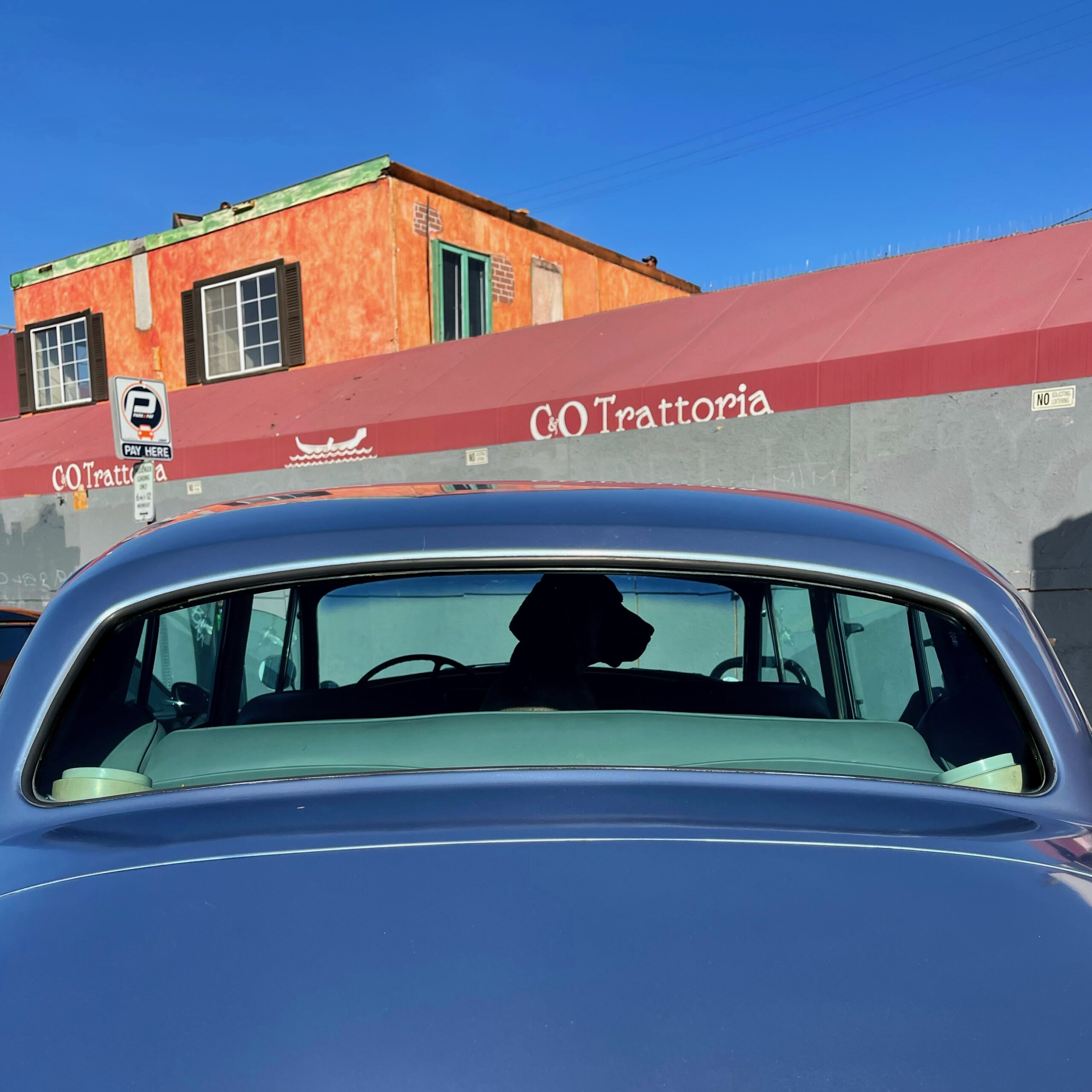 Most days, as I ride the last block of Washington Boulevard before I turn onto the beach bike path, I see this glorious hound sitting in an exotic car waiting patiently for her human to finish his breakfast at a local coffee shop. The cars are interchangeable. One day it's a Rolls Royce, the next day a vintage Jeep, then it's a Rover or an Austin Healy, and so on. The changing cars remain a mystery but the beautiful Miss Daisy, as I refer to her, remains a delightful constant who gifts me with a daily smile.
May 23rd – Day 143 of 365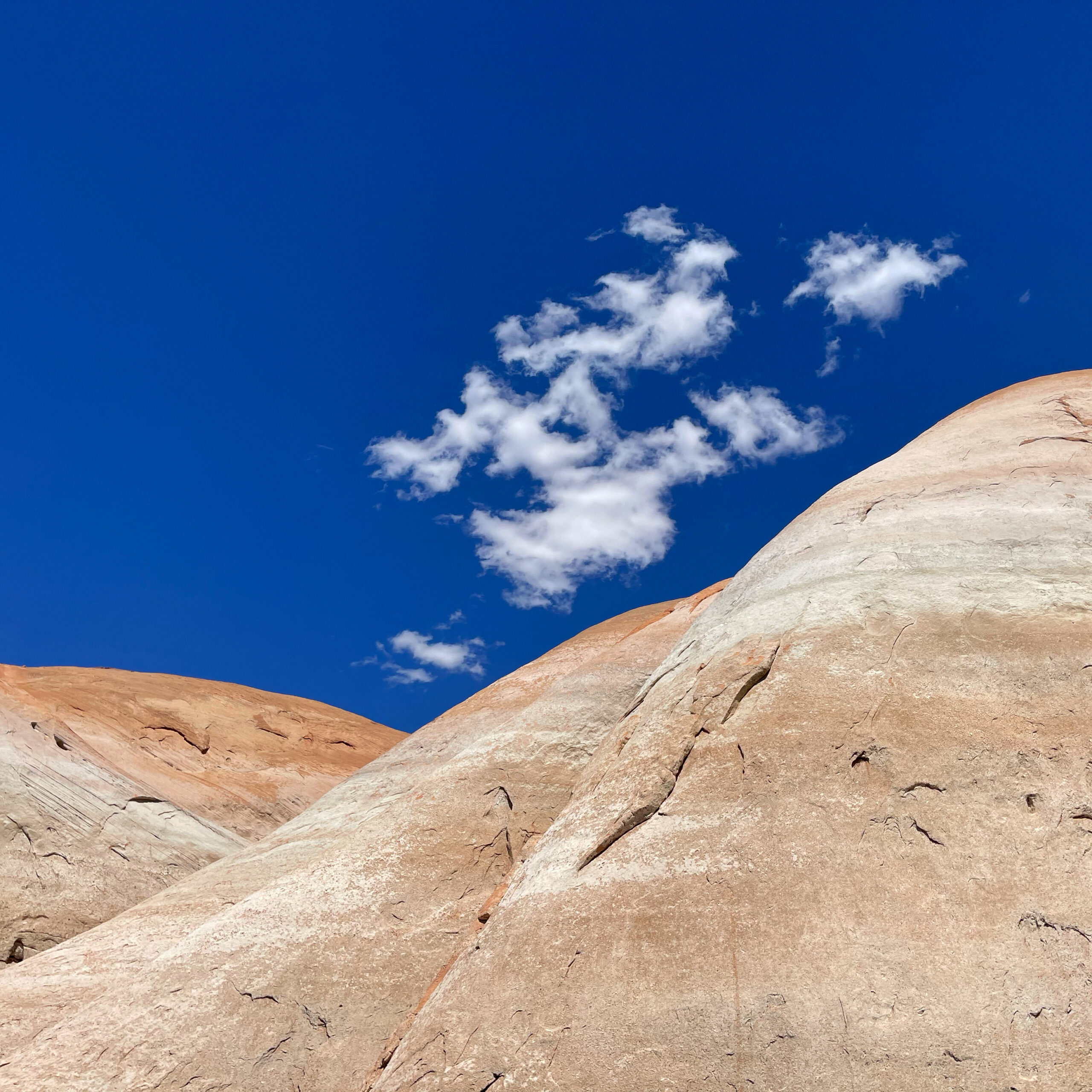 My family and 40 close friends went houseboating on Lake Powell for my 60th birthday. It was a glorious liberating experience coming as it did when we were all vaccinated and starting to look at life with a little more optimism. The photographic opportunities served up by the wild wonderful lunar landscapes made my head spin.
June 16th – Day 167 of 365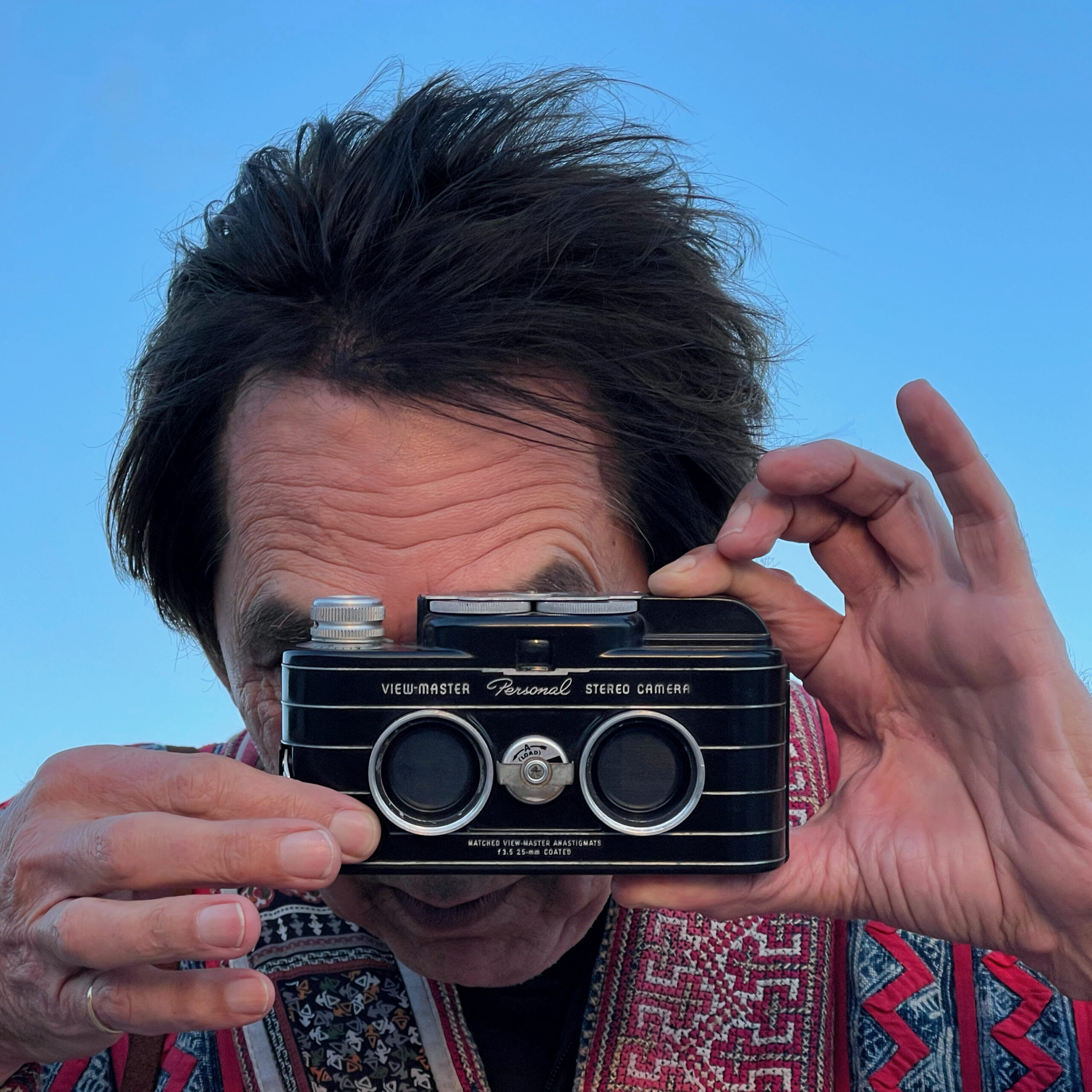 My friend Dale Yudelman is a well-known fine art photographer based in Cape Town, South Africa. He is one of the most interesting people I've ever met and is in large part responsible for my interest in photography and the way I see things. We wrote hundreds of songs together for our band back in the 90s. This portrait of the master says it all.
July 17th – Day 198 of 365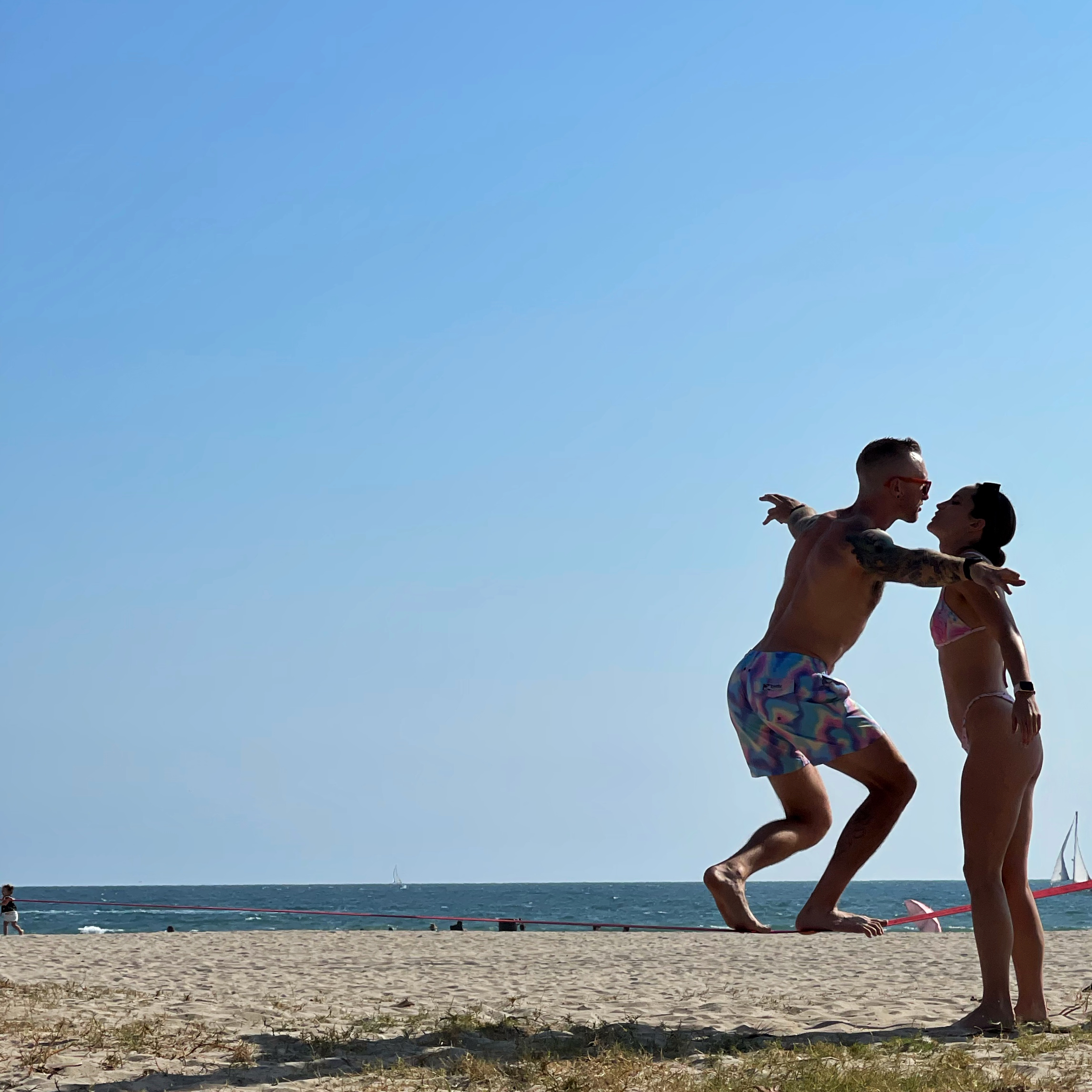 You never know the gifts you'll leave Venice Beach with. It's virtually impossible to explore this cradle of insanity without digging up a momento that will always be yours to keep. On this occasion, I encountered this guy on a slackline. As he was nearing the end of his journey across the rope, his admiring friend who seemed proud as punch sidled over and rewarded him with a kiss.
August 8th – Day 220 of 365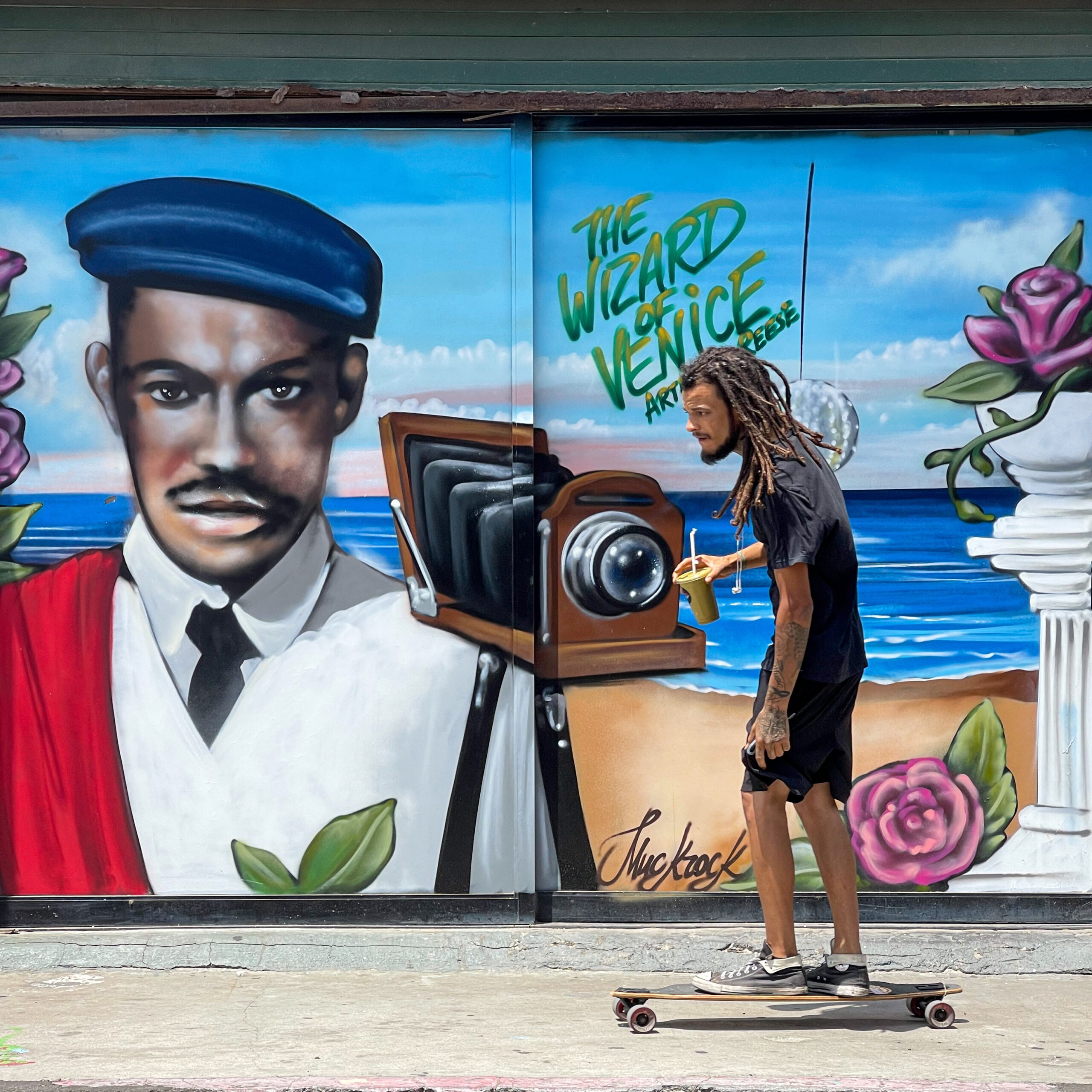 Along with patience, serendipity is a key ingredient required to cook up some tasty street photography. The passing of an old time photographer's doppelganger in line of sight of his camera is fanciful, unscriptable and a little surreal.
September 10th – Day 253 of 365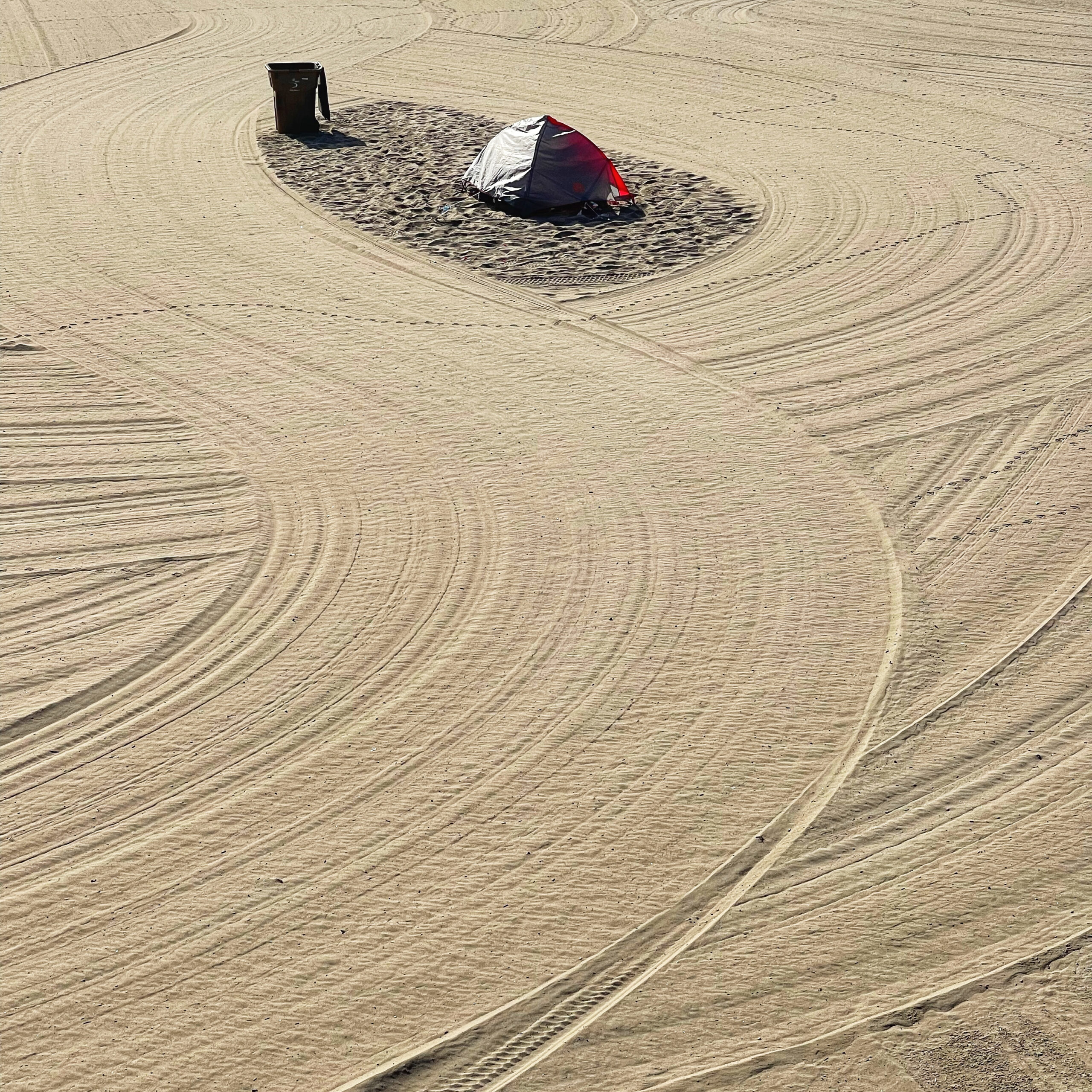 I would love to meet the driver of the beach bulldozer who cleaned the beach next to Santa Monica Pier on that beautiful September morning. There is such poignancy in the design he left behind in the sand – a message of hope at a time when it's so hard to have faith in humanity.
October 28th – Day 301 of 365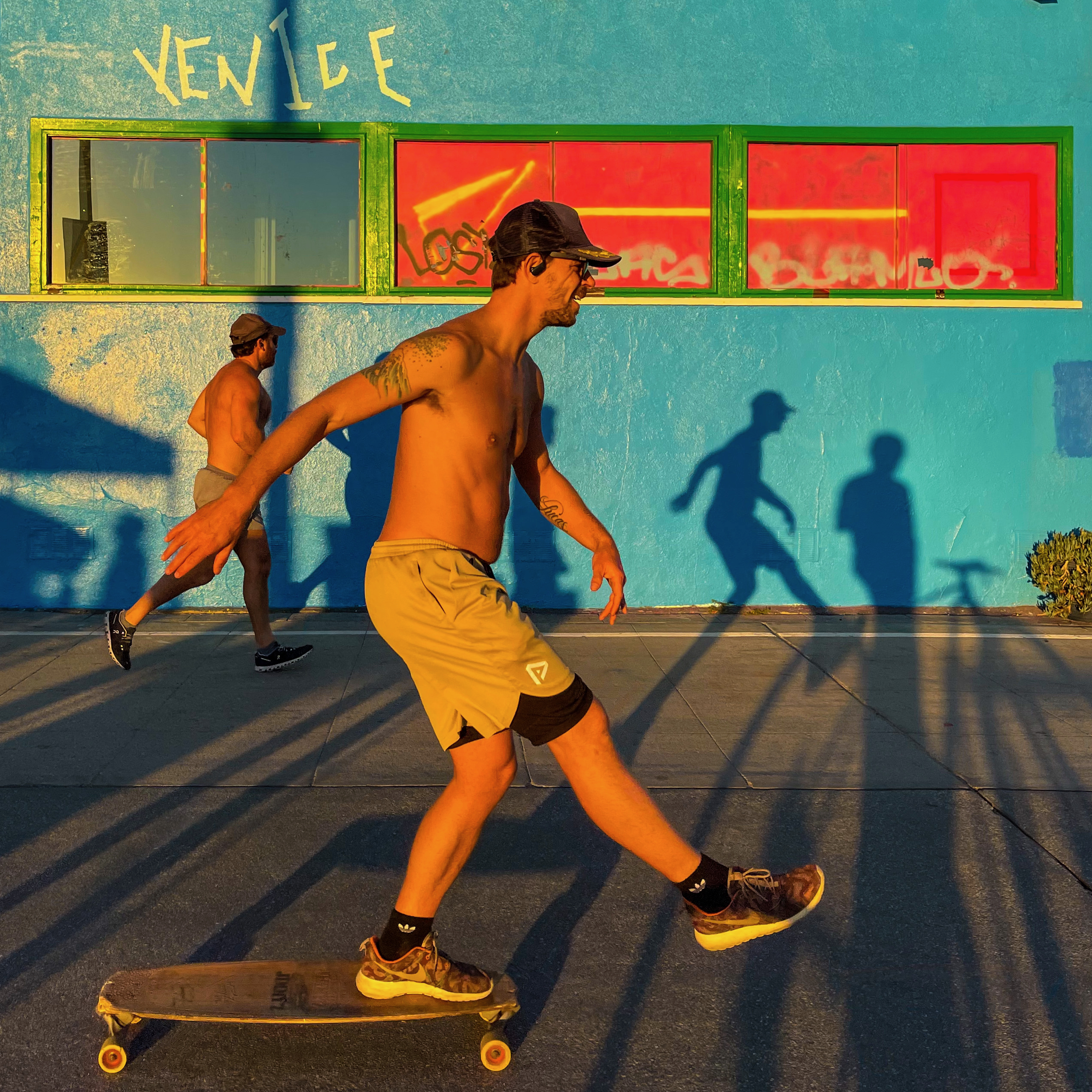 I arrived at Venice Beach with golden hour in full swing. The light was bouncing around like crazy and I could feel the energy in the air. I positioned myself by a favorite backdrop and waited. And then I heard a skateboard approaching. I didn't have time to see the guy because he was right in front of me and was out of frame in an instant. Instinct kicked in, and I hit the button. Boom!
November 9th – Day 313 of 365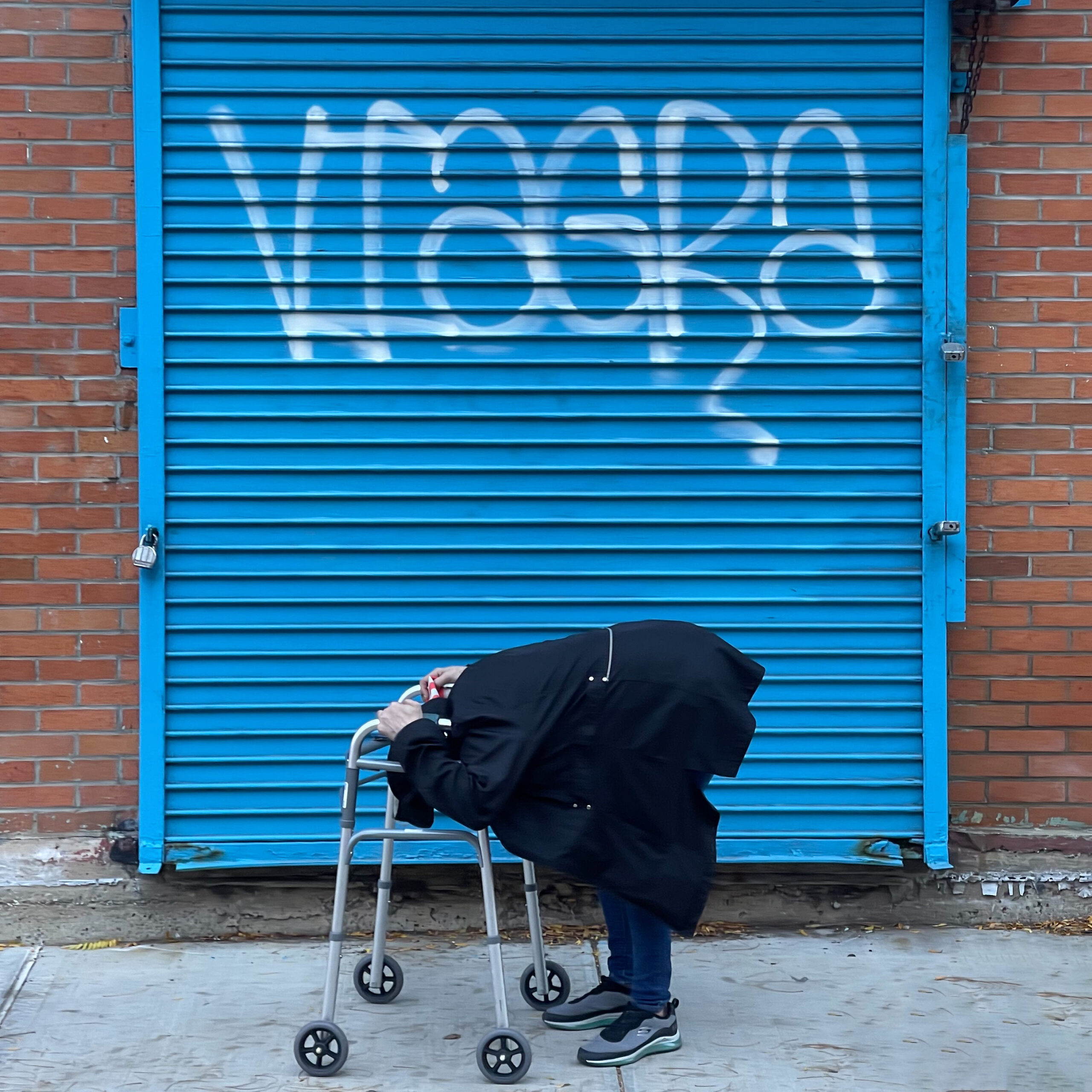 I was riding through the Lower East Side in Manhattan when I came upon this compositional marvel. The woman appeared to be sleeping. I hesitated to take the shot because I was concerned she might be in distress. When she didn't move for a while, I became anxious. I approached her and asked if she was okay and if she needed help. She woke up and cheerfully said, "perfectly fine thank you." She straightened herself up and proceeded on her merry way.
December 31st – Day 365 of 365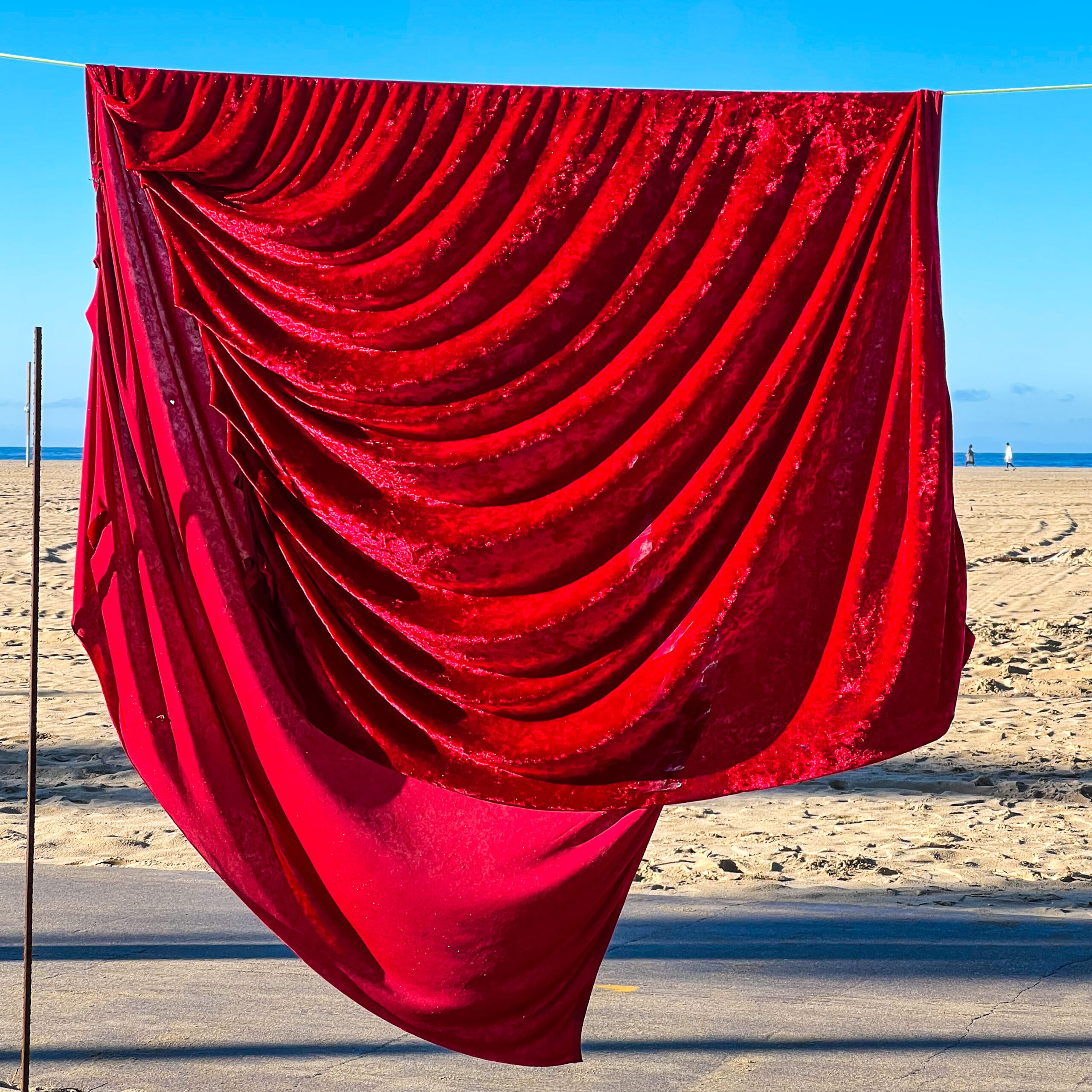 Naturally, the photo gods gave me a tough challenge on the final day of the project. It was one of those days I just couldn't stop shooting. After my morning ride through Venice Beach, I had a treasure trove of images I really liked. But, there was no contest – I couldn't have scripted a more appropriate closing shot.
---
ALON GOLDSMITH
Dubbed "LA's iPhoneography Wizard" by Forbes magazine, Alon Goldsmith is an award-winning photographer who has been featured extensively across media and exhibited in galleries around the globe. His work is included in the private collections of photography collectors around the world. At a recent viewing of Alon's work, Don Johnson was impressed by the "Cinematic sweep" of his California images.
Alon's achievements include third place in the Los Angeles Center of Photography's Street Photography Around the World Competition, winner of Santa Monica College's Curriculum Cover Contest and runner up in the journalism category in the prestigious Mobile Photography Awards, as well as numerous honorable mentions across other categories. He has also achieved wins in the Hipstography Awards, and numerous honorable mentions in the International Photography Awards, iPhone Photography Awards and the MIRA Mobile Prize. Most recently, Alon was a jury member for the 2018 and 2019 MPAs. His work has also been published in the Los Angeles Times, Reader's Digest, the Forward, the Argonaut and the App Whisperer, and has been extensively featured in Snap and Mobiography magazines.
Alon shares his iPhoneograpy expertise in a series of eight articles written for Imagine More, a digital publication published by Manfrotto, one of the world's leading photography accessory companies. His images have been featured in solo shows in New York, Brentwood, Topanga Canyon and San Diego, as well as at the LA Art Show, HaleARTS in Santa Monica and the Los Angeles Center for Digital Arts. Alon's photography has appeared internationally in galleries in Canada, Italy, Portugal and Belgium.
In 2020, Alon published In Place | Portraits of a Pandemic, a book documenting people at home during the time of COVID-19.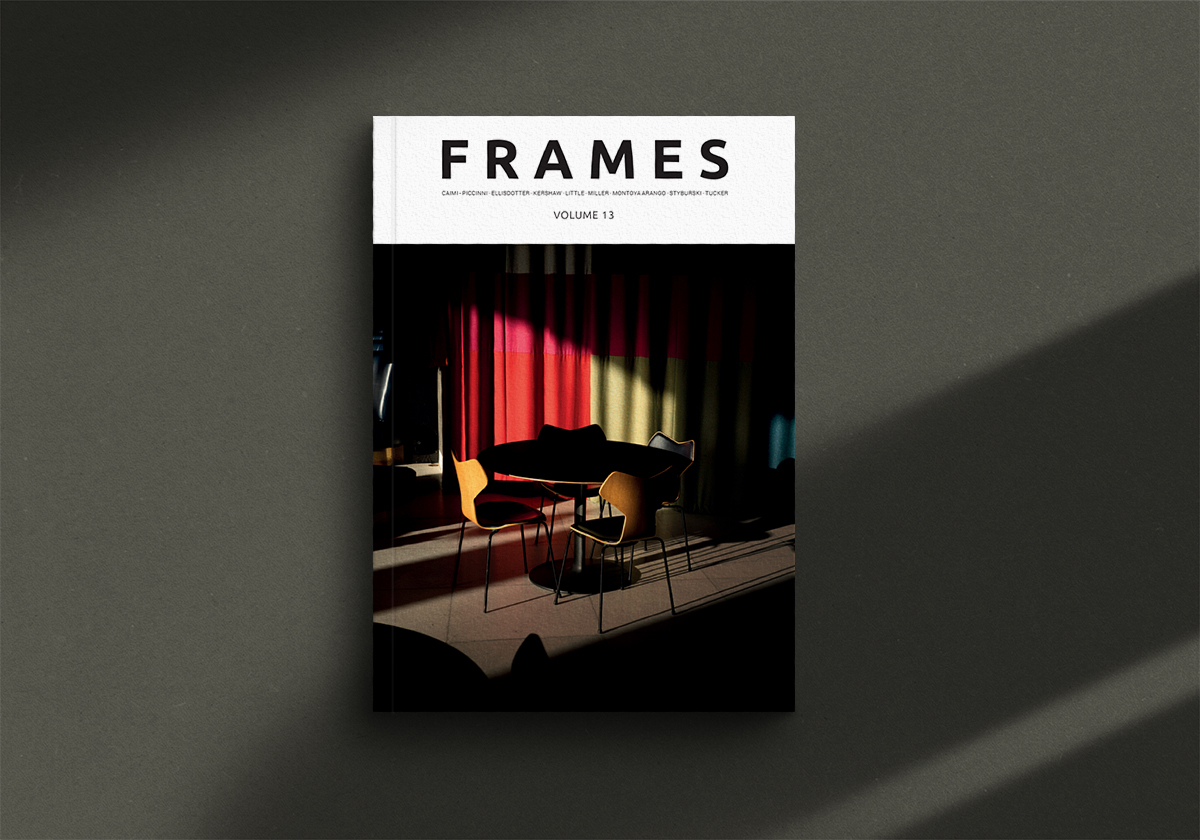 Every year we release four quarterly printed editions of FRAMES Magazine. Each issue contains 112 pages printed on the highest quality 140g uncoated paper. You receive the magazine delivered straight to your doorstep. We feature both established and emerging photographers of different genres. We pay very close attention to new, visually striking, thought-provoking imagery, while respecting the long-lasting tradition of photography in its purest incarnation. Learn more >>>
---