There is something special about reorientation. You think you know something – at least its boundaries if not its core – and then you discover you do not. There is another voice in the choir and it's heading off in a fresh direction. It's not harmony. This is a whole new melody and tone.
---
"Águas de Ouro" by Sandra Cattaneo Adorno
Published by Radius Books, 2020
review by W. Scott Olsen
---
Sometimes it takes a moment, but then the new idea sets in and all you can do is smile.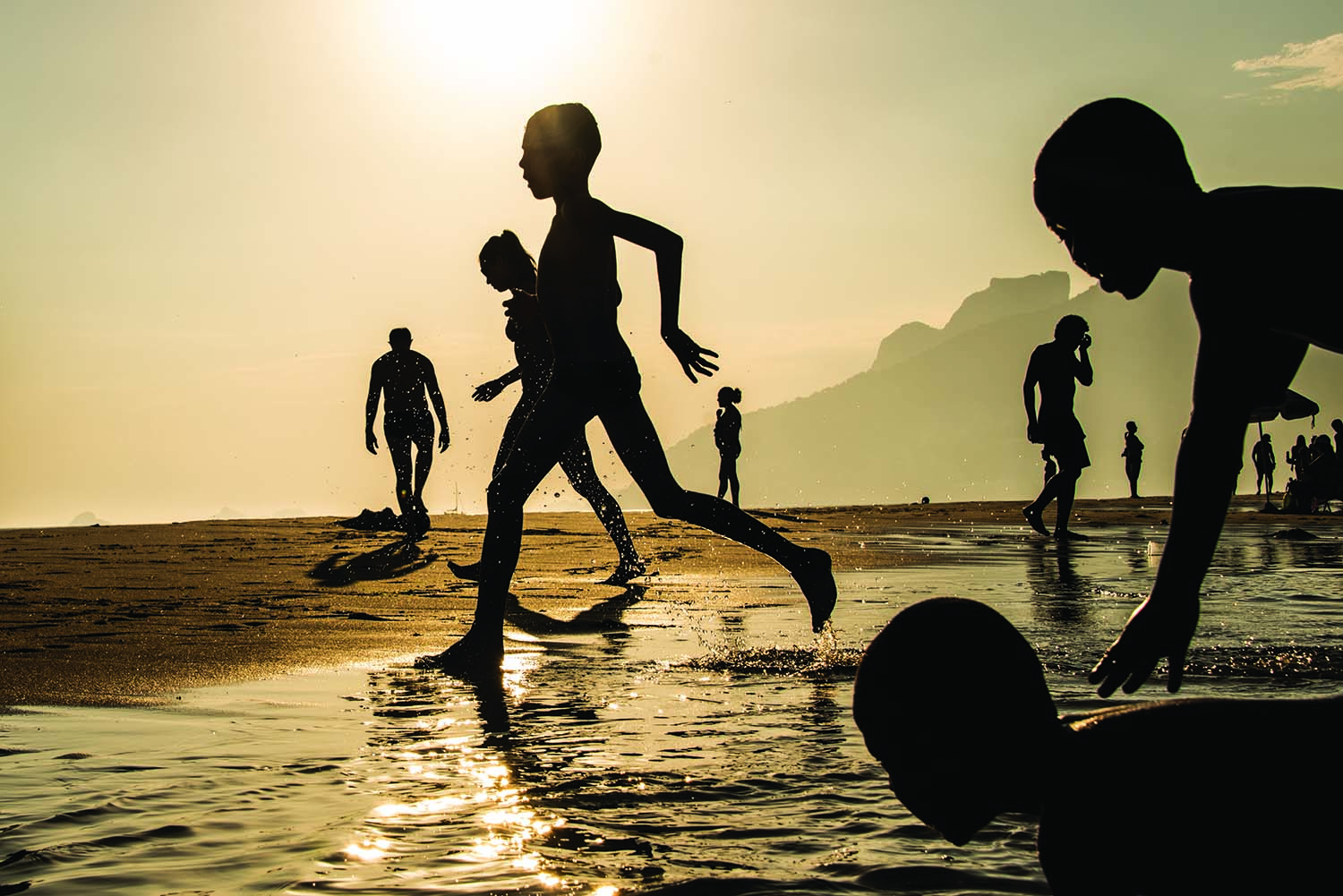 Águas de Ouro by Sandra Cattaneo Adorno is a wonderful and reorienting book.
Ostensibly, the subject is the beaches of Rio de Janeiro, in particular the Ipanema beach. But saying so already implies something much diminished from the truth. This book is not a collection of landscape images. Nor is it a cultural investigation. These images are not street photography nor are they portraits. The book is not filled with smiling faces nor dramatic waves.
Águas de Ouro is a book of moods. Quiet moods. Explosions of joy moods. Dancing moods.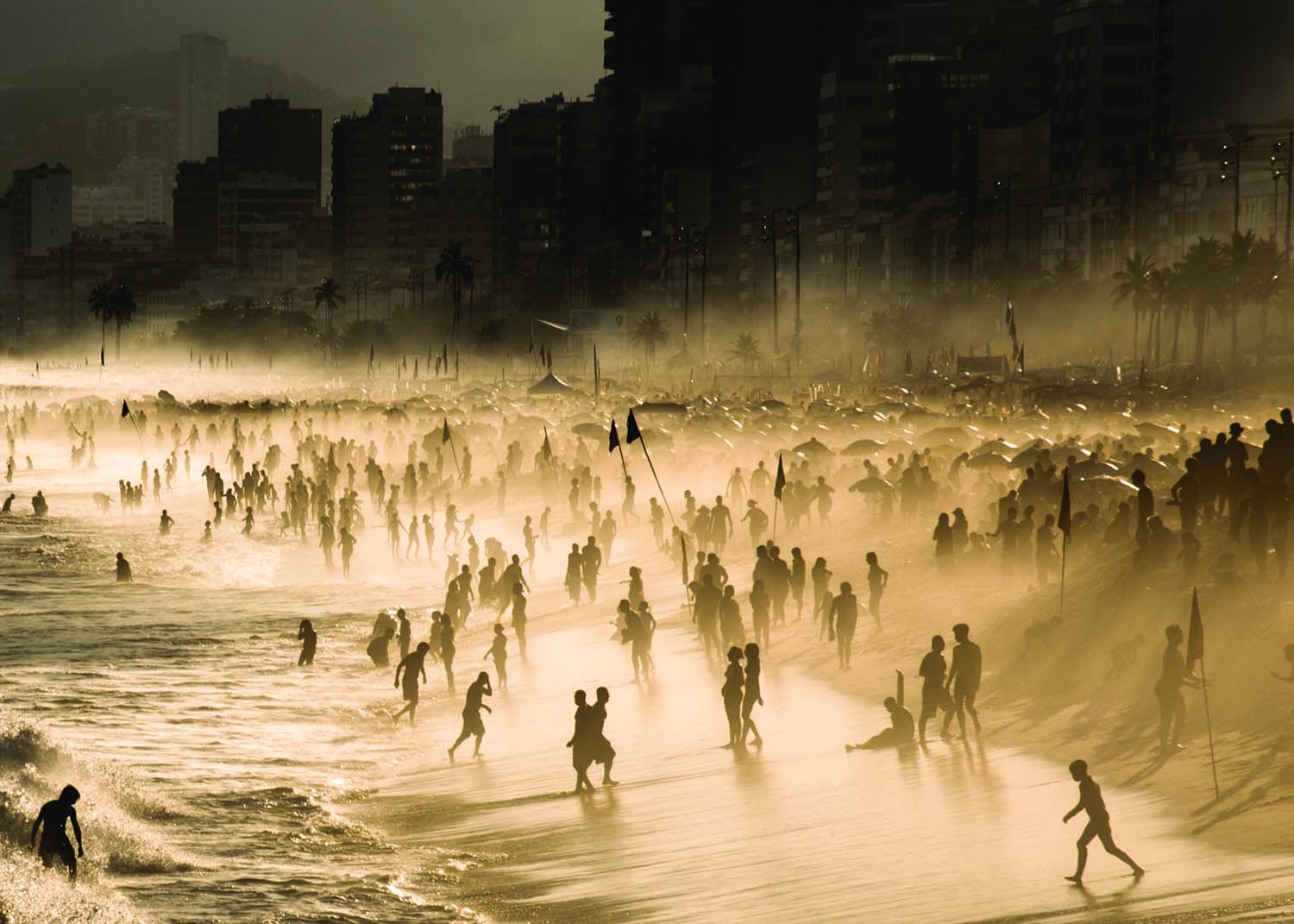 According to the book's press materials: "Portuguese for "waters of gold,"Águas de Ouro is a love letter to the beauty, glamour, and glory of Brazil in its most essential state: the people at one with the landscape. Finely attuned to the nuances of light, color, movement, and body language, Cattaneo Adorno uses photography to fuse the present and the past, capturing the bittersweet yearning that Brazilians call saudade — intense feelings of nostalgia and melancholy for a love long gone. Her timeless images of cariocas (natives of Rio) living their best lives on the glistening shores capture the joie de vivre that they maintain despite the hardships they endure."
Most of the book is set in a deliberate, encompassing gold tone, although there is a center section set in blues – warm then cool then warm tones again. And nearly all the images are silhouettes. Some exposures are fast – sprays of water suspended in the air. Some exposures are slow, water streaking in arcs. Most are taken at some distance from the people in the frame.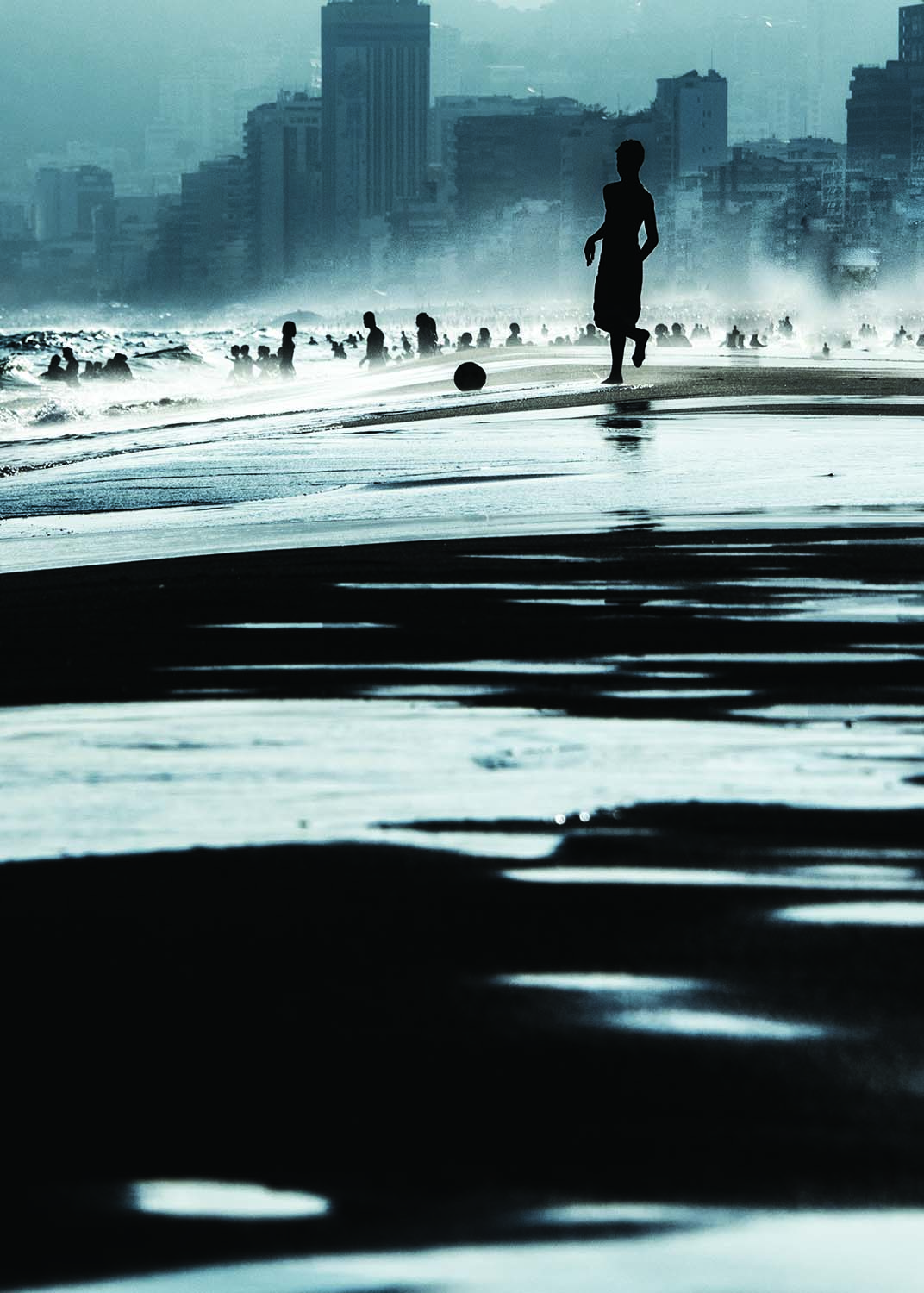 The result is that every image is transporting. Every image is its own mood, it's own emotional statement. Yes, that's true of all good work. But here the effect is much closer to abstract metaphor than realism, though the images are all quite clear.
According to the press catalog copy: "…images that combine moments of street photography with abstract, lyrical compositions. Adorno's photographs emphasize the human body which, isolated and transformed by the strong golden light, contrasts against the natural beauty of Rio's beaches and acquires a symbolic dimension."
What strikes me about this book is the fresh chord it strikes, at least for me. I like this idea of saudade – intense feelings of nostalgia and melancholy for a love long gone.  Nostalgia and melancholy are challenging enough for photographers. But pay attention to the last bit of the phrase – for a love long gone. This is not a sentimental love song for some overly romanticized past beloved. This is a love song for a summer mood, for the exuberance and joy and promise of simply being alive and dancing on a beautiful beach in the shadow of mountains and a vibrant city.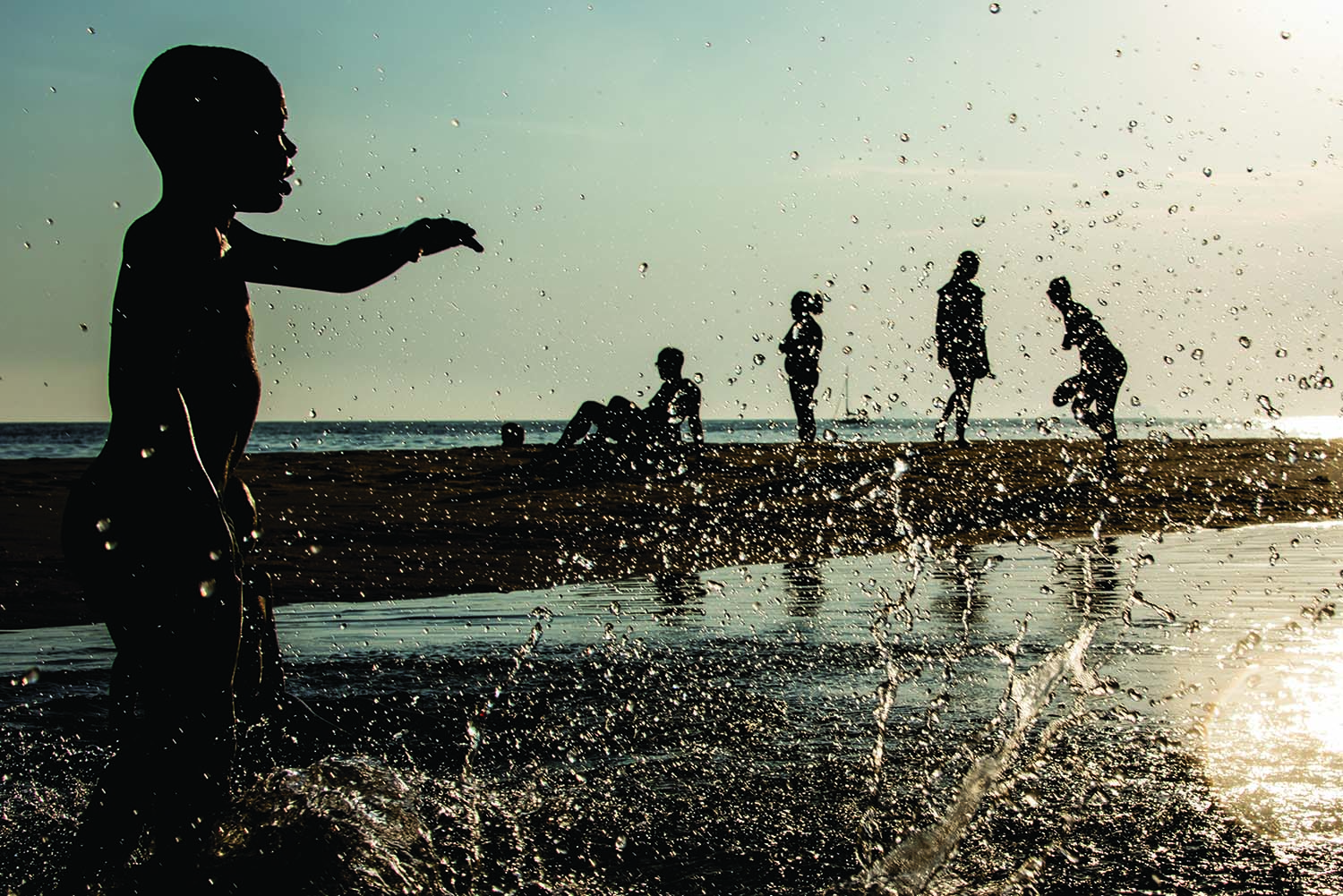 There are occasional bits of text in the book, in Portuguese and then English, which accent the feeling.  For example:
I remember the sun, the dazzling light over the sea. And the people, gentle figures moving slowly across the sand. It was so far away from what I had become used to in England. And yet I was born here, in Rio de Janeiro, and Rio was my city.
Going to the beach as a little girl was different then; we weren't allowed in the sun. To my British mother the sun was alien, unsafe, harmful even. It would burn our light skin. But I could look.  And take in that light and feel the lightheaded dizziness of the sea and the people, the elegant people of Ipanema, swaying with grace as if they were dancing at the tempo of bossa nova.
Águas de Ouro is the type of bookthat needs to be left out for people to discover. Opening to just one page, any page, is an emotional surprise. It's not shocking. It's just nuanced and surprising and true. Turning the page reveals another subtlety and another emotional memory you didn't know you had. The whole book is beautiful.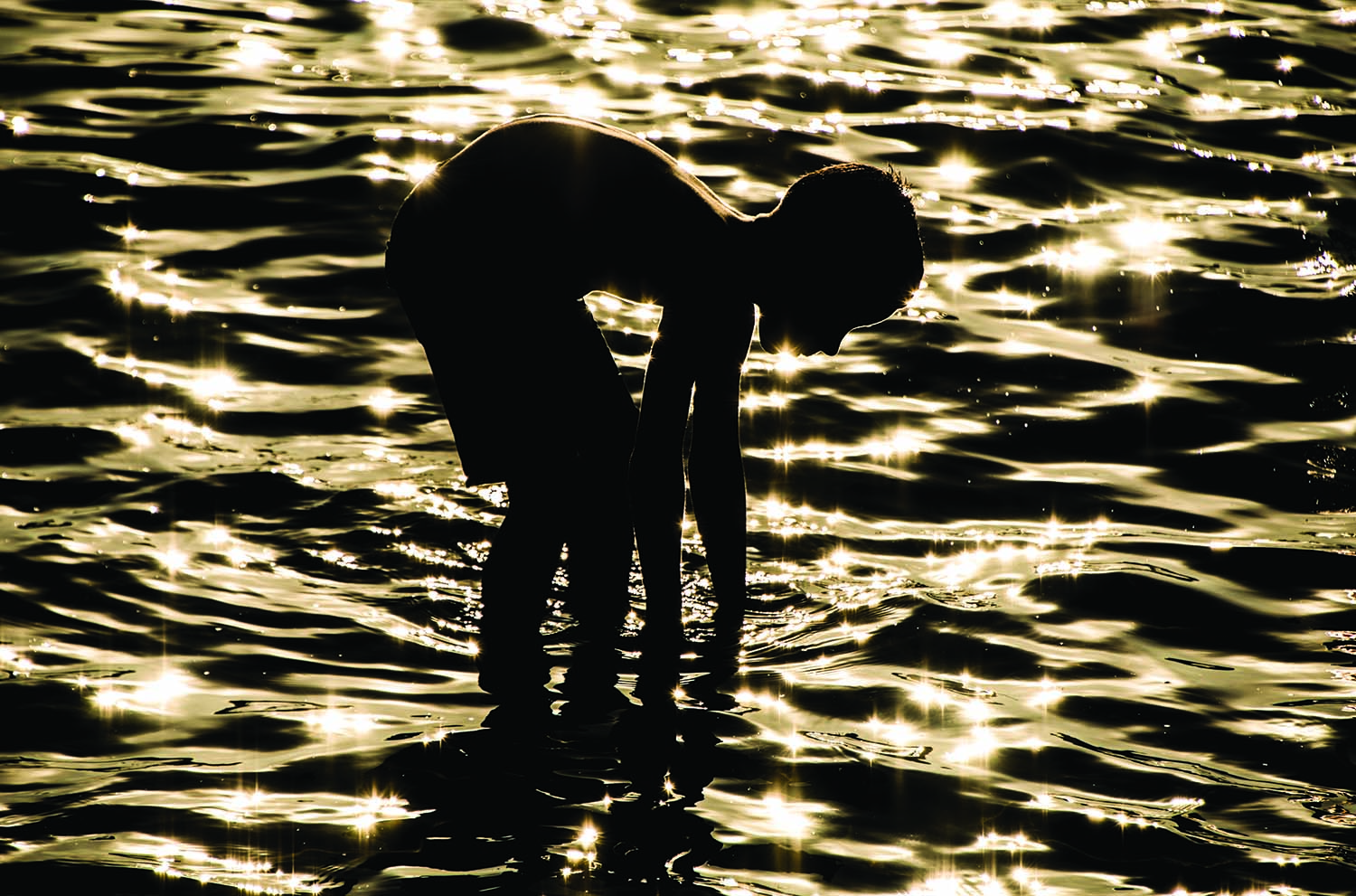 Again according to the book's press: Sandra Cattaneo Adorno took up photography at the age of 60 and has since gone on to garner extensive recognition for her work. The author of The Other Half of the Sky (2019), Cattaneo Adorno's work was recently published in Gulnara Samoilova's landmark book Women Street Photographers (Prestel 2021) and Portrait of Humanity (Hoxton Mini Press, 2019). Cattaneo Adorno received the 2021 and 2020 Julia Margaret Cameron Award, the 2020 International Photography Award, the 2019 Portrait of Humanity Award in collaboration with Magnum Photos, and was a 2019 National Geographic 100 finalist. She has exhibited work at Somerset House, London; Photoville, Brooklyn; Miami Street Photography Festival; Italian Photo Festival, Venice; and Women Street Photographers Exhibition, Paris, among many others."
One final note. Radius books donates 300 copies of their books to underfunded library, schools, arts organizations and community centers. They claim to have donated more than 70,000 books since 2007. This, along with a brilliant book, is a strong reason to buy.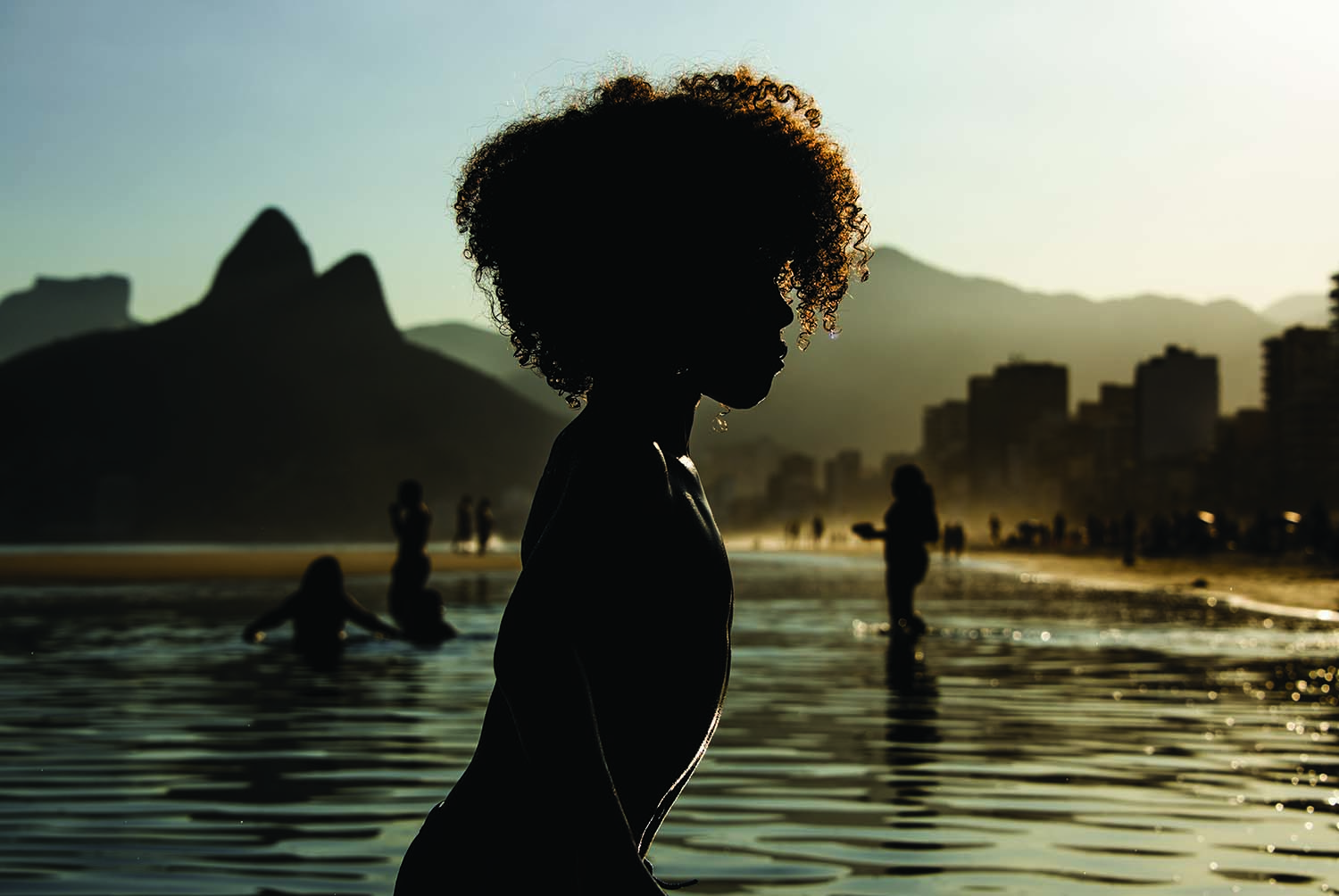 SANDRA CATTANEO ADORNO
A note from FRAMES: if you have a forthcoming or recently published book of photography, please let us know.
---
FRAMES Magazine
Every year we release four quarterly printed editions of FRAMES Magazine. Each issue contains 112 pages printed on the highest quality 140g uncoated paper. You receive the magazine delivered straight to your doorstep. We feature both established and emerging photographers of different genres. We pay very close attention to new, visually striking, thought-provoking imagery, while respecting the long-lasting tradition of photography in its purest incarnation.
Learn more >>>
---