Imagine a photo book on your coffee table. It's a pleasant shade of blue, a little bit bigger than 9 by 12 , landscape format. There's a picture centered on the cover. Two and one quarter inches by three and a half, it's intriguingly small in terms of cover design.
---
"Prophetic Kingdom" by Martin Buday
Published by Daylight Community Arts Foundation, 2021
review by W. Scott Olsen
---
It's black and white, a landscape shot, somewhere in what is most likely the American West. There's a horse centered in the image, alabaster white. Not a real horse, mind you. This is one of those fiberglass roadside attractions, that much is immediately clear. But then you look a little bit closer. This isn't a horse. It's a unicorn. And it's wearing a necklace. It's standing on a small mound of sand or dirt. And there's a pole nearby that appears to have fallen, though it's not entirely clear where it's fallen from. There's a range of mountains in the background. There's a series of electric or telephone wires receding into the distance on the left.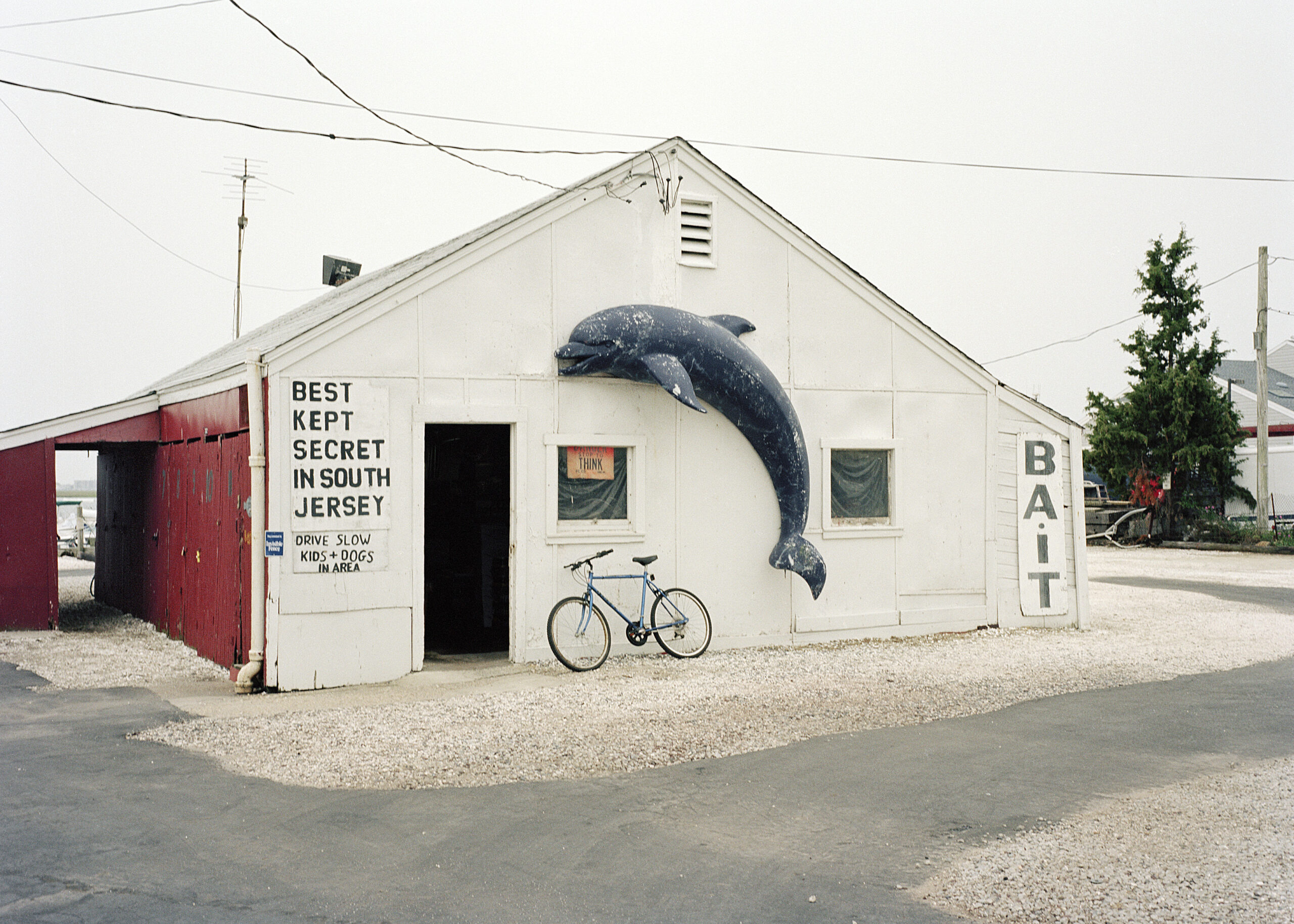 What was initially clear becomes a mystery. Not only a mystery of composition and content, but a mystery of history. What is this thing? How did it come to be here?
Because the image is so small, you keep looking at it, bringing the book a little bit closer to your face perhaps. You notice a floodlight planted at the base of the mound. It's not possible to tell what the necklace is made of, though I suspect it's lights, Christmas lights or something similar. The unicorn's horn is oddly small for the stereotype.
This is the first taste of a new book titled Prophetic Kingdom by Martin Buday. And this small cover image is a fine example of the intrigue and discovery and joy throughout the rest of the book. Every image is an invitation to figure out what in the world is going on.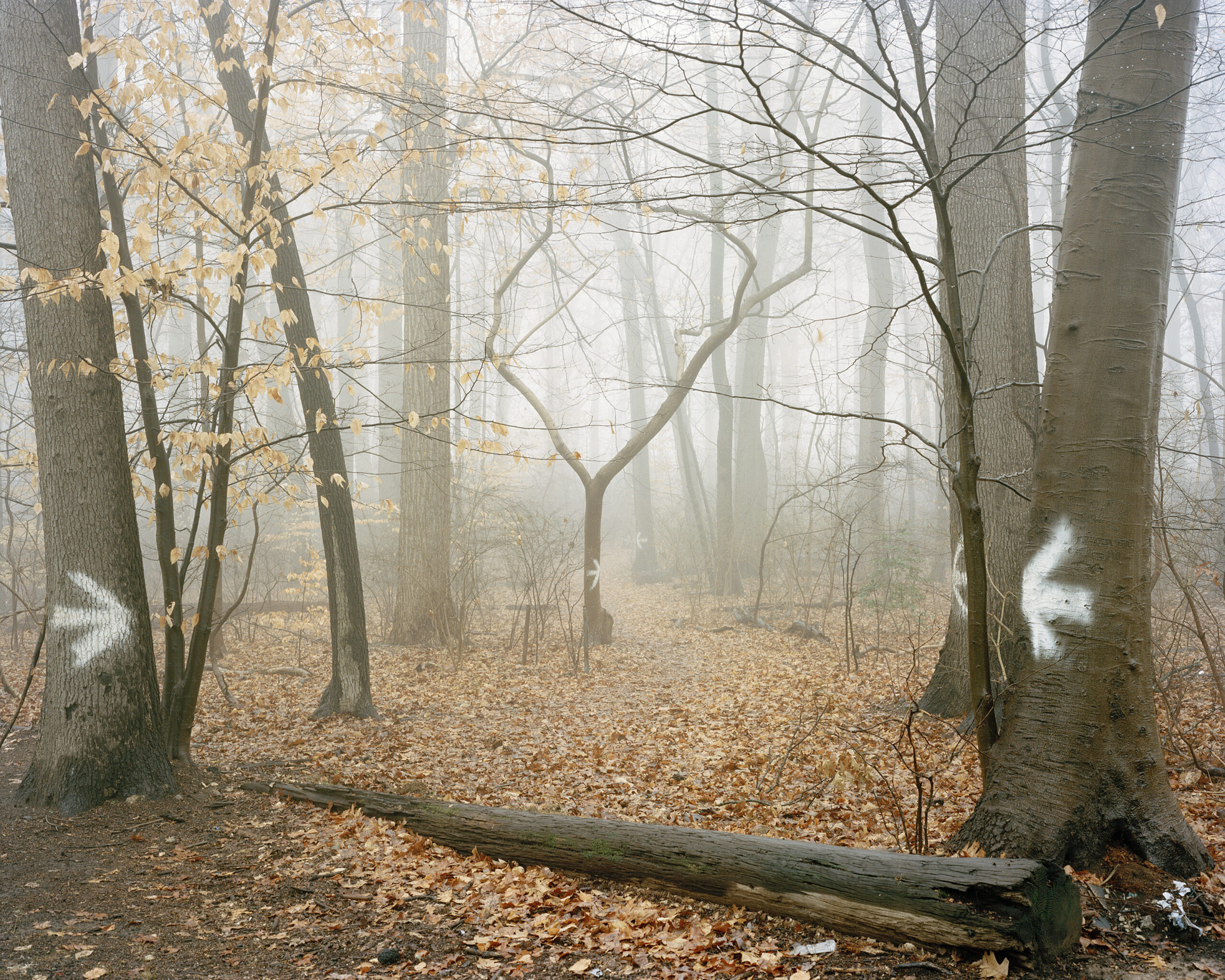 This is a book of irony, of satire, of curiosity and of playful juxtaposition. But this is not a book of sarcasm. This is a book that looks at a world created mostly in the 1960s and 1970s, when architecture was atrocious and sensibilities were very different. These remainders in our contemporary world speak volumes and give great pleasure to the ironic soul.
Open the book to any page. You will not be turning to another page soon. For example, I just opened up ages 40 and 41. On the right hand side, there is a picture of the Go Go Bar and Grill. There's a sign out front with a silhouette of a pole dancing woman. There's a frame for another sign currently missing. The building in the background is one of those horrible, candy-striped monstrosities where every row of siding is a different color. There are horizontal stripes and vertical stripes. There is a faded bit of painted sign at the top that says Topless Go Go Hotel Bar Food. There are also signs that read No Thru Traffic and Keep Off Shoulder. There's a traffic light in the distance which is red. There are kitchen HVAC vents staining the side of the building. The door, for some reason, is on the second floor, next to some windows that seem more residential than commercial.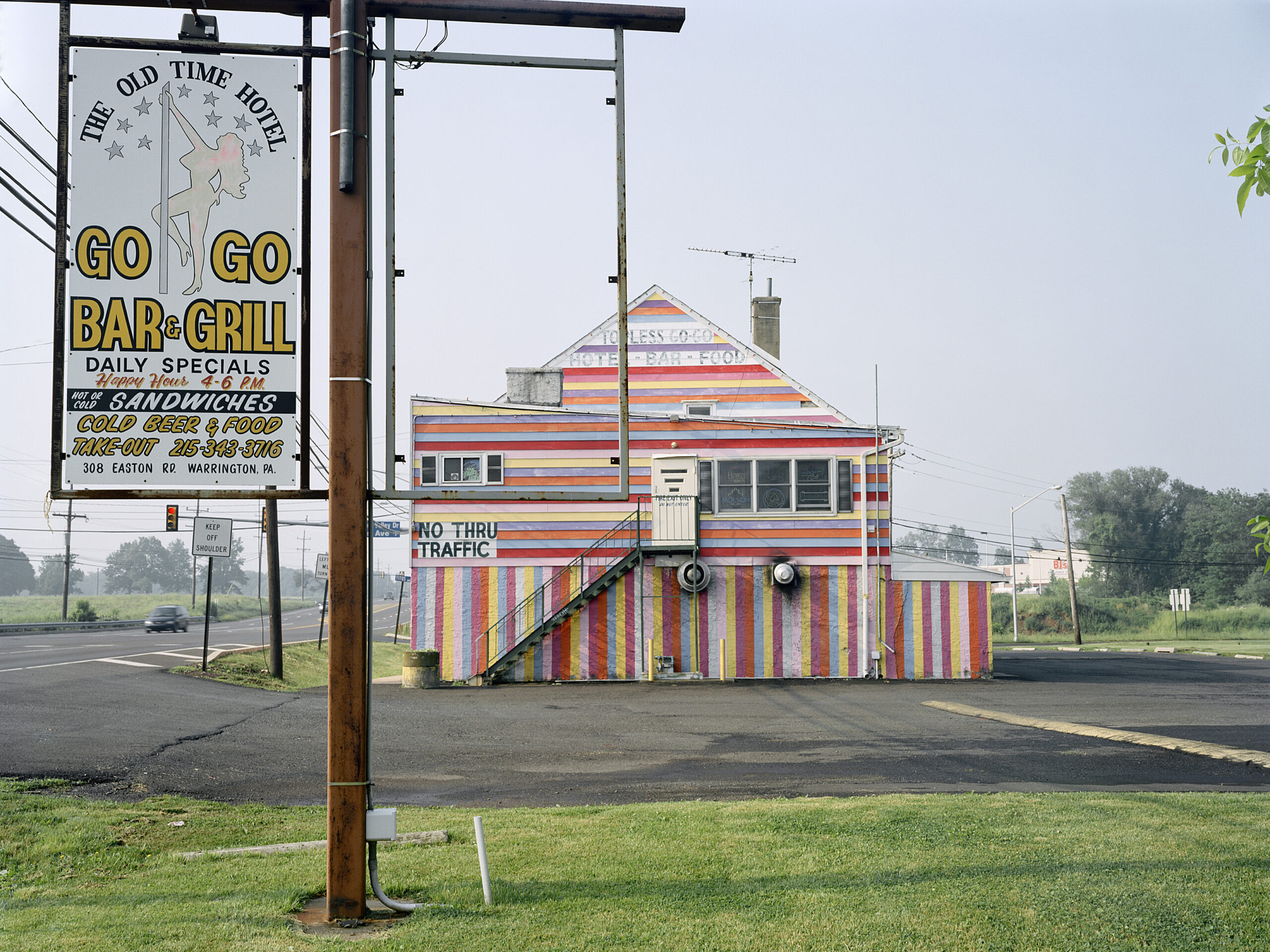 If it's possible for every element of an image to be a non sequitur from the rest, then here it is. There are all sorts of layers of inquiry possible. The architecture, the metaphor of the signage, the change in entertainment sensibilities, the dilapidated physical structure, and so on.
The image is, in the original sense of the term, awe-full. However, this is not all. On the left hand page, there is what appears to be a Merry Go Round horse impaled on a large bit of PVC pipe. It is a pole dancing horse. It's set against not a commercial building but a home similarly half a century old. Why this horse is in the lawn I have no idea. The lawn is poorly kept. The concrete walkway is unlevel. Some kind of odd attempt at decoration sits in what appears to be a shell, sitting on top of an old world milk can that has some version of Tweety Bird painted on the side.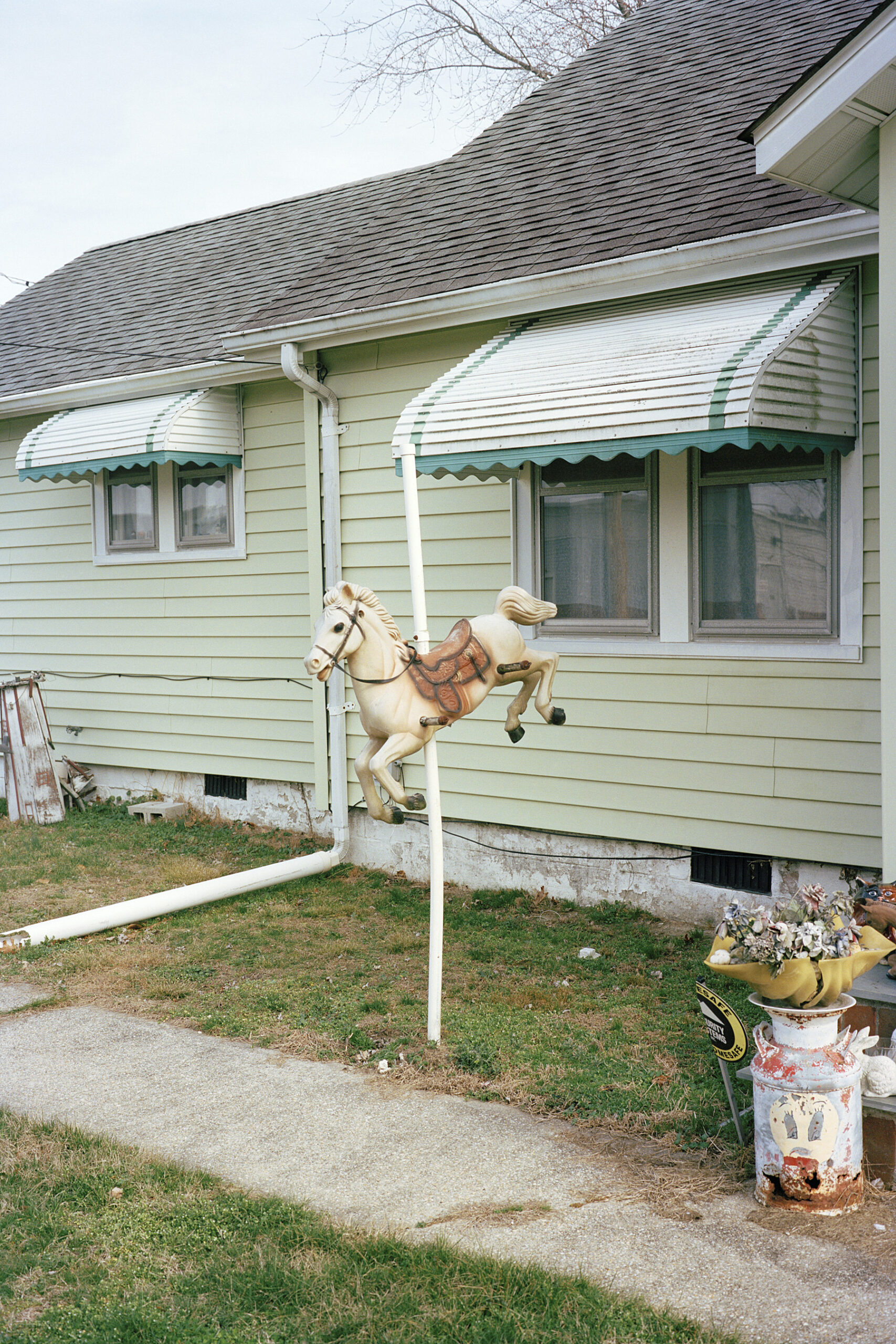 There are so many things begging for attention in this picture it's possible to spend hours chuckling. But put the pole dancing horse next to the silhouette of the pole dancing woman, the bland green of the house next to multicolored Go Go Bar and Grill, and suddenly you have a treatise on the artifacts of a world and culture we barely remember or recognize.
That is the joy of this book, the way it makes you linger. Why does that mini-golf giraffe have its head covered in plastic? What are those now-blank signs set amidst snow fences? How did that pink sedan wind up upside down in front of green trees? Very little in the book makes immediate sense, and that's one of its glories. Every image makes you wonder and, in doing so, oddly happy.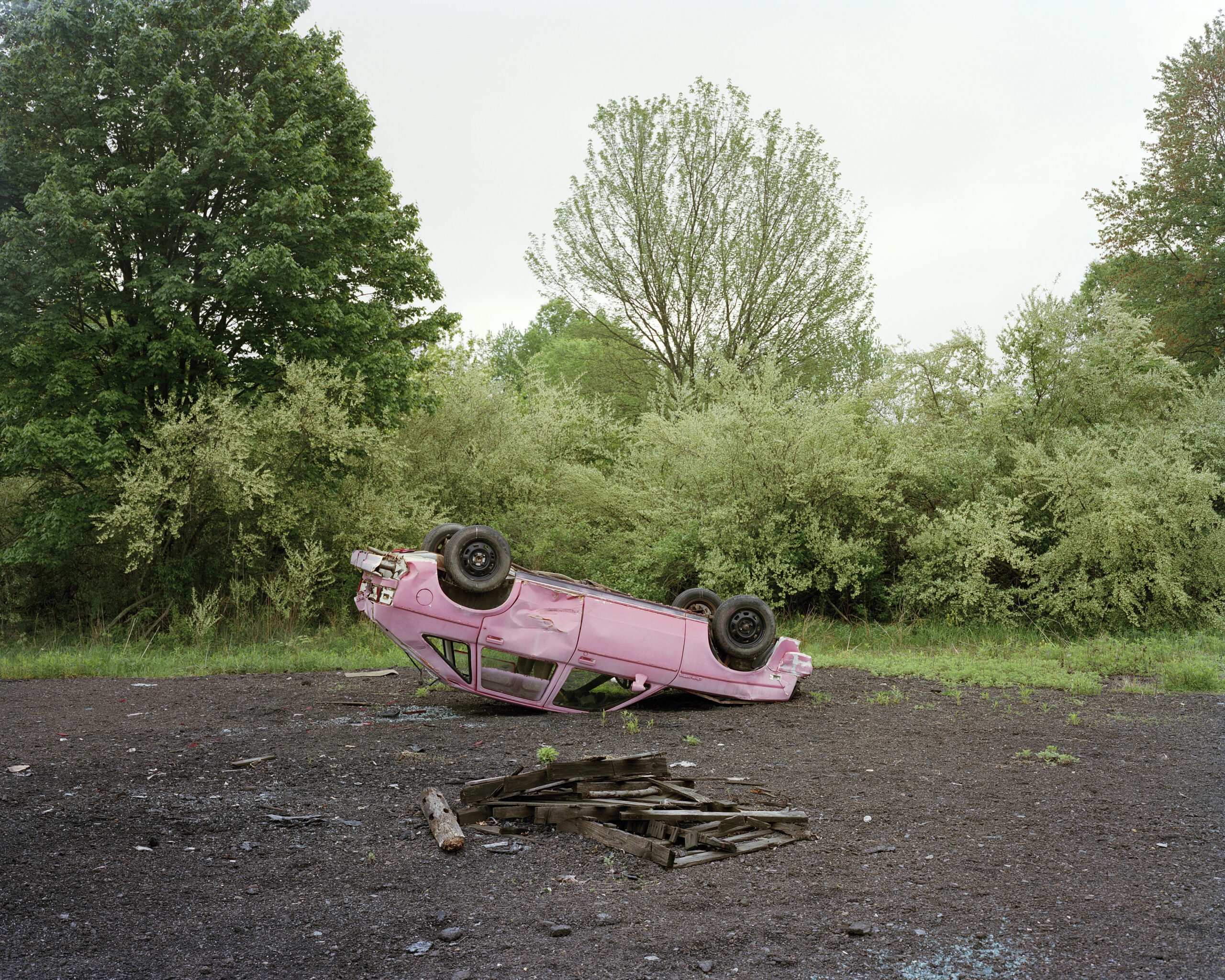 It's important to note that, despite the black and white image on the cover, one of the real subject of this book is color. There is an acute love of color, large color, in your face color, color that demands to be taken as its own subject. Look at the red Jeep, in front of the red barn style garage. The Jeep as a yellow cover that matches the yellow the house behind the fence. The dirty white of the wheels matches the dirty white of a small bit of ice and snow. The book is a riot, a celebration of color.
The book ends with a plate-list that provides titles, places and dates for the images, and then two very brief essays. The first, by independent curator and writer Nicole Kaack is an academic micro-treatise. She writes, for example, "While not so consistent as the leitmotif of the red-and-green saturated scenes in Paris, Texas or categorical as the iconic color coding of map-based markers, Buday's photographs chart recurring colors that link wildly discrepant landscapes." The second essay, by Elisa Wouk Almino, senior editor at the art magazine Hyperallergic, says, "There is something vulnerable about Buday's subjects, as though we caught them off guard, as though they didn't intend to be seen so intently… The more we reach toward these subjects, and the longer we look, something curious happens: the sensation flips and we feel as though they are reaching toward us." Both essays provide a nice bit of context and understanding.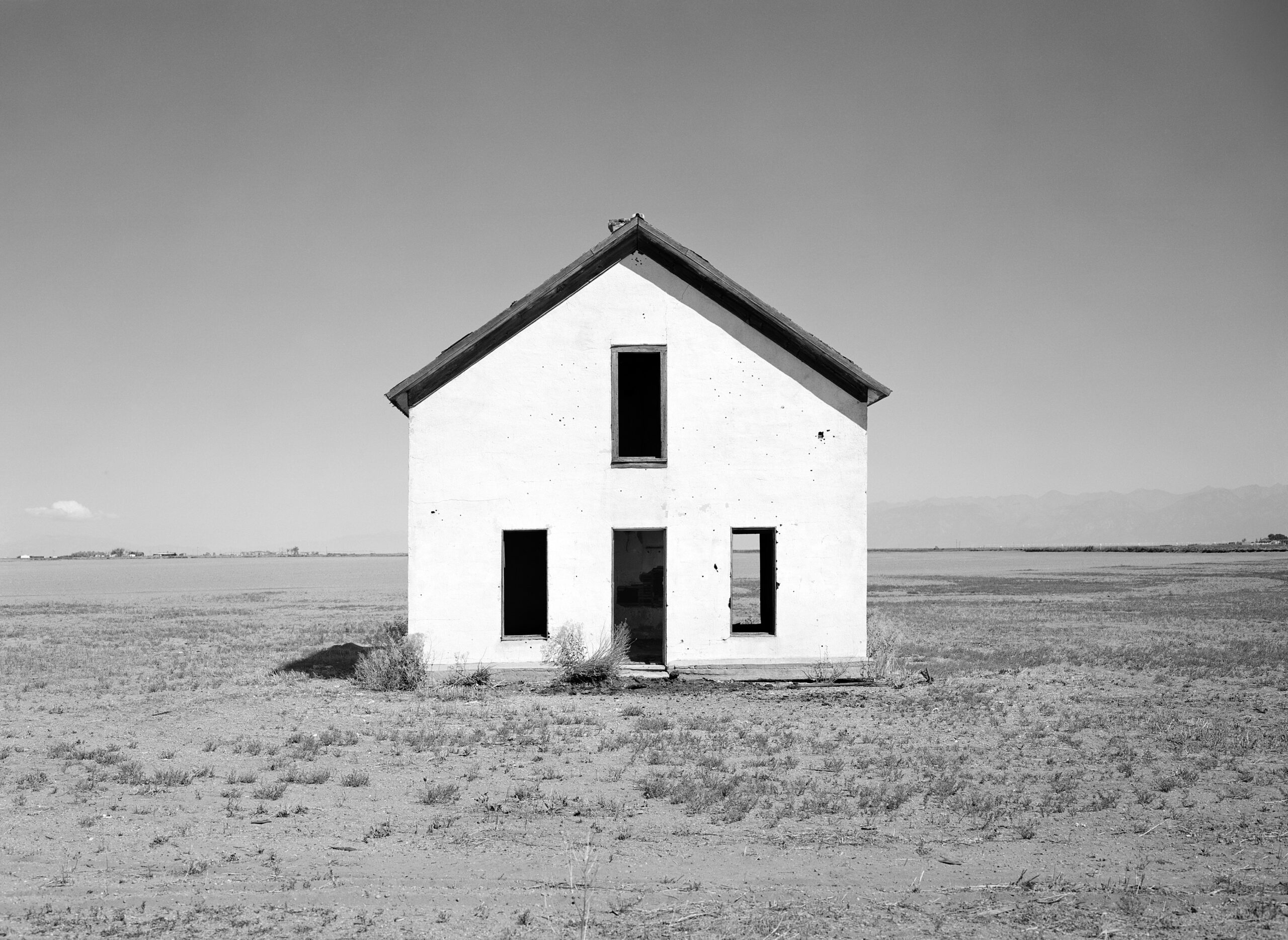 What the book is lacking is any real information about Buday himself. However, an included press sheet let's us know "Martin Buday lives and works in Philadelphia, PA. He has a B.A. from the University of Pittsburgh and a M.F.A. from the Savannah College of Art and Design. Buday has shown in numerous group shows, has contributed to a wide variety of print and online publications, and is held in many private collections throughout the United States. Prophetic Kingdom is his first monograph."
Every image in Prophetic Kingdom is an image of something out of place—visually, historically, aesthetically, culturally, the list goes on. That irony or dislocation, and our automatic response of attempted sense-making, is what makes this collection a treasure.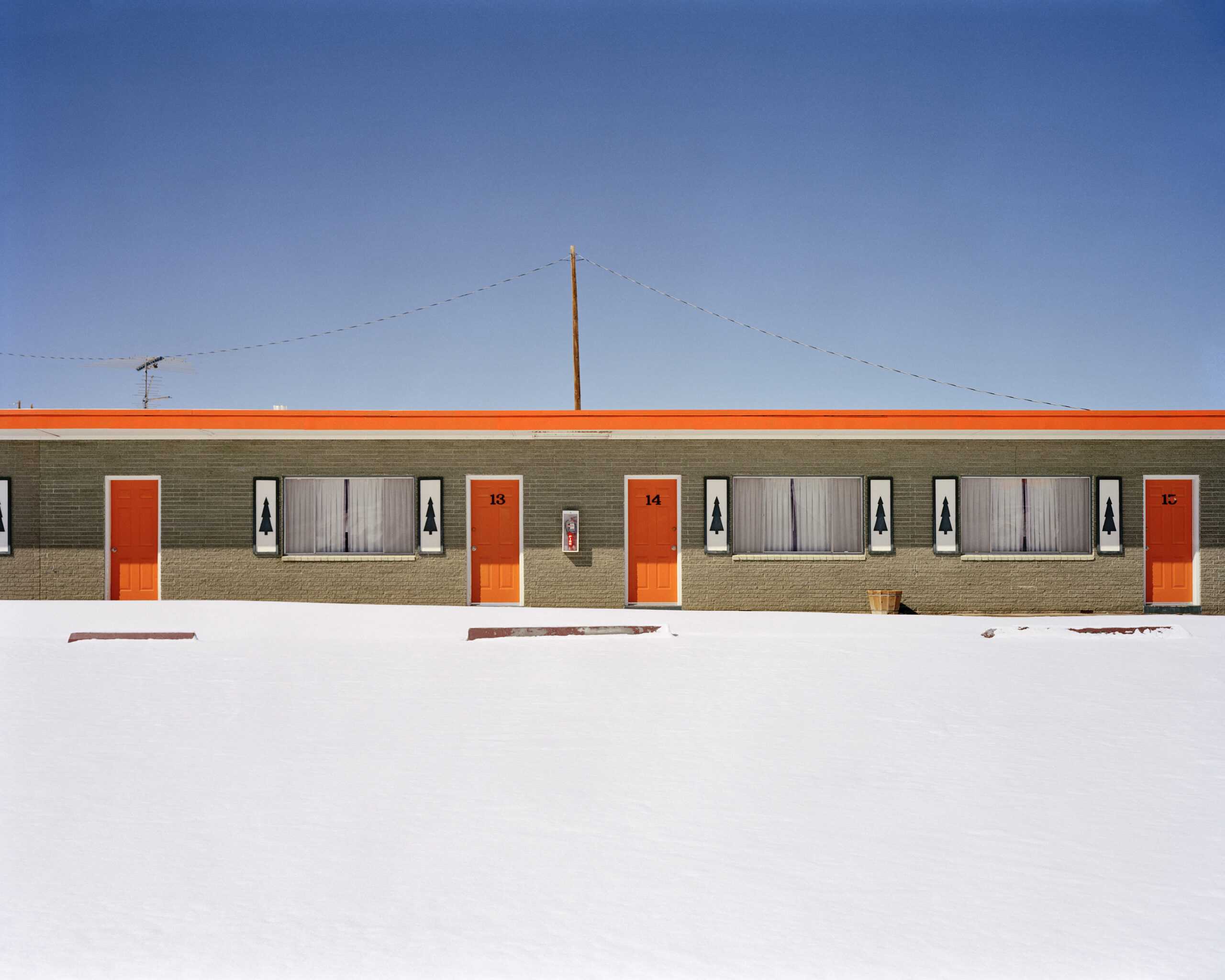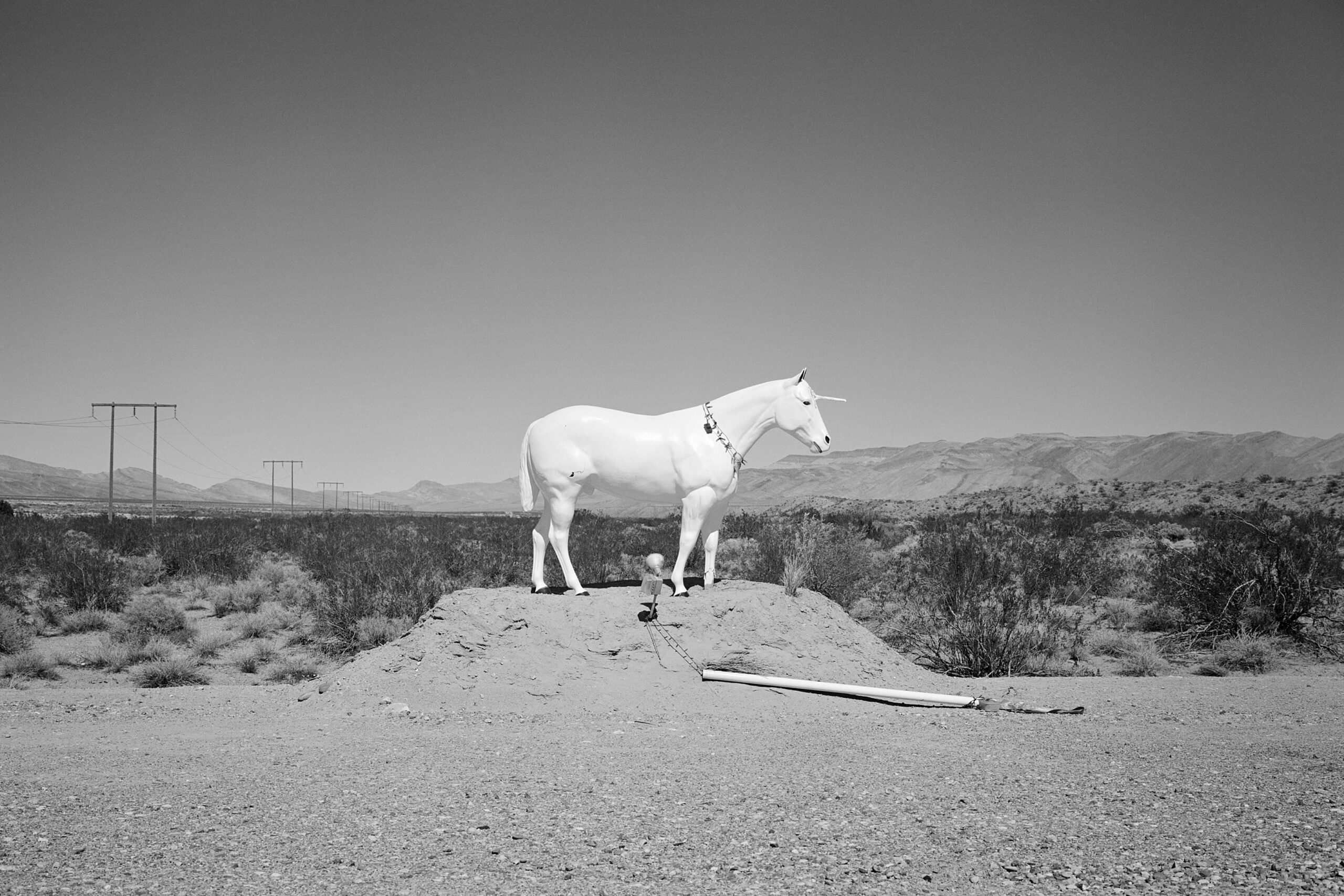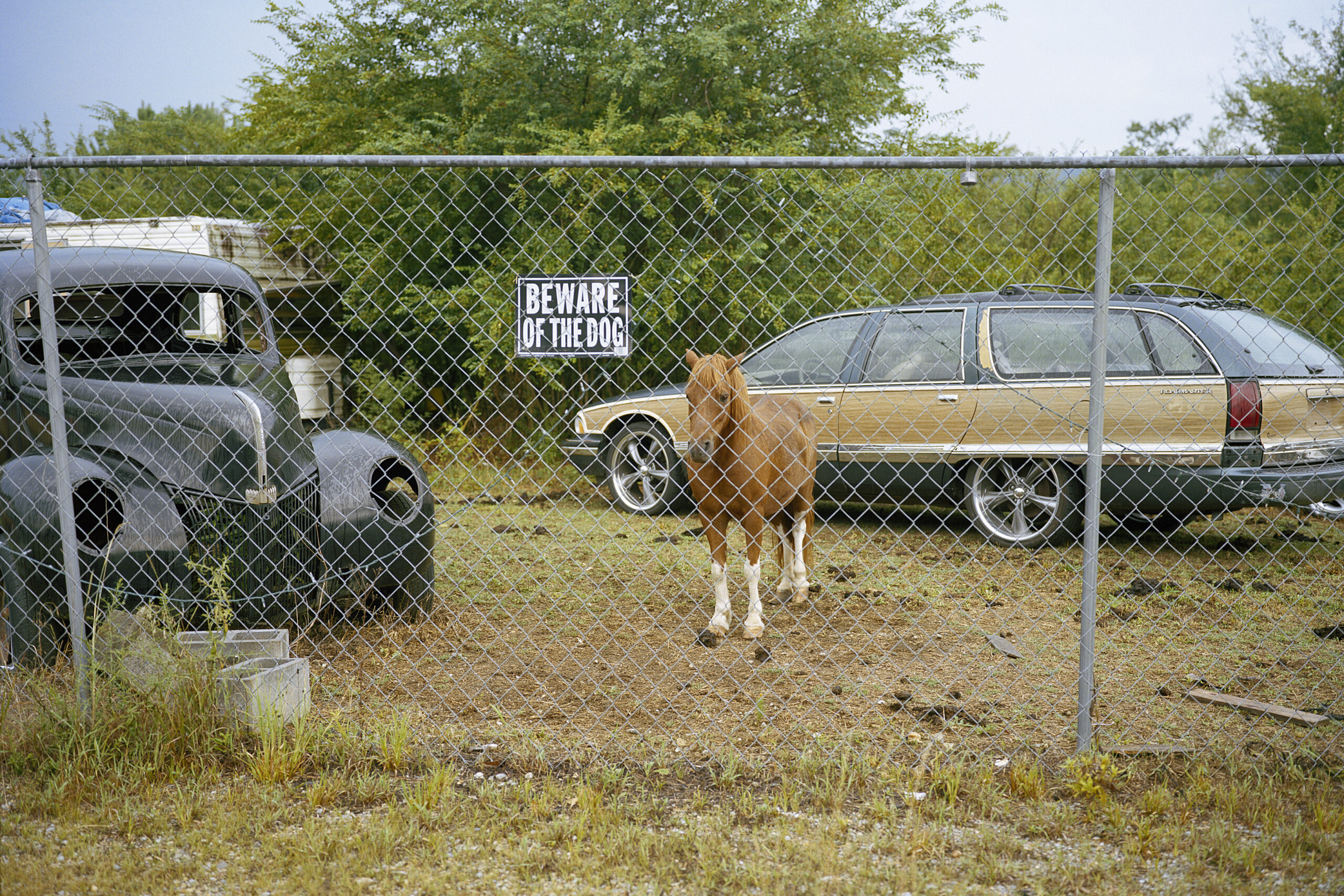 A note from FRAMES: if you have a forthcoming or recently published book of photography, please let us know.
---
FRAMES Magazine
Every year we release four quarterly printed editions of FRAMES Magazine. Each issue contains 112 pages printed on the highest quality 140g uncoated paper. You receive the magazine delivered straight to your doorstep. We feature both established and emerging photographers of different genres. We pay very close attention to new, visually striking, thought-provoking imagery, while respecting the long-lasting tradition of photography in its purest incarnation.
Learn more >>>
---