I walk almost everywhere where it is practical and sensible. I did learn to drive thirty something years ago. That was great, but I was hindered by the fact I did not have a working car to drive. My parents' old car which they had kindly kept for my use had, due to the extraordinary length of time that it took me to learn that most everyday of skills, ceased to be a functioning vehicle and had metamorphosized into a rusting monument to my own uselessness.
More important than my apparent lack of ability behind the wheel was the fact that I absolutely loathed driving. Every time I sat behind the wheel, I was in constant terror that I was going to kill someone. In the mid-2000s, I did try again, but loathing had become anxiety attacks so unpleasant that they left me concerned that I would have a stroke when I took the wheel. It is fortunate that as well as my unending preference for walking I have an endlessly forgiving and (mostly!) uncomplaining wife who has a perfectly normal relationship with driving.
My preference for walking is not only about my complex relationship with the motor vehicle. If I have an option to walk or take the bus, I will inevitably choose to use my feet. I just prefer it that way. During my years as an undergraduate and my first stint as a postgraduate student, I would walk for hours for the sole purpose of thinking. As I walked, chunks of data that refused to allow me insight into their meaning would suddenly yield and let me access their secrets. Amusingly, this same process would also happen while I was in the bath. This led to some faintly comic scenes where I would charge out of the bathroom so that I could write down the thoughts in my head. It is worth noting that I never went full Archimedes and always preserved my modesty with a towel.
Now, why am I talking about walking when this is a photography column? Although it took me many years to realise it, my photography is also tightly bound to my love of a walk. So many holidays and trips have focused on walking around with a camera. It is fortunate that May, my wife, is similarly addicted to these pastimes. Any time we visit a new city, it is inevitable that we will spend many hours walking its streets with our cameras.  Recently, I completed an entire project that was based around walking and making images. One wonders if I consistently managed to complete the 10,000 daily steps that so many people seem to be obsessed with these days. It is clear to me that life would be very much duller without this combination of foot and camera.
One question that comes to my mind about taking a walk with a camera is whether it is better alone or with others. I have always viewed photography as a solitary activity, so the idea of going out with others to make images generally made me squirm. My wife is of a similar mind. If we go out to take pictures together, we will often head in entirely different directions before meeting at an agreed point. However, I have now become somewhat more equivocal about the matter. 
Back in 2017, I had a week's holiday from work. Unfortunately, my wife did not, so I was at a loose end. With her agreement, I packed myself off to the magical city of Jodhpur in Rajasthan, India. Known as the blue city, it is packed with colour and life. It is a dream destination which rewards the photographer with a wonderfully riotous display of humanity every single day of the week. During the week I spent there, I walked and photographed constantly. Every morning I strolled and snapped from dawn until it became too hot. After lunch and a rest, I rinsed and repeated. The whole experience was meditative, life-affirming, eye-opening, and above all great fun. It confirmed all my preconceptions about how to 'do' a walk with photography.
Yet, these presumptions were thoroughly dismantled by a recent event. I was asked to lead a photowalk by one of Canada's leading photography stores. The event was also supported by one of the major camera brands who kindly provided a wide range of top-notch equipment that most would only dream of laying our hands on. Patrick, the manufacturer's friendly local rep, joined us and was on hand to assist with any questions about the gear.
We had sixteen attendees in addition to Patrick, my friend and colleague Charlie, May, and me. The people who came were a remarkably diverse bunch and provided a lovely microcosm of the community that makes-up Ottawa's downtown core. Many would, on the surface, have very little obviously in common and be unlikely to cross paths in everyday life, but on this day, photography brought them together.
As we walked through the city's streets, I had expected most of the conversation to be about apertures, shutters, ISO, and composition, but while this did come up occasionally, people asked questions about each others' lives – how they had ended up in Ottawa, what the newcomers, like me, made of the city, and what their relationship with photography was. People cooperated, made friends, swapped around the cameras that Patrick had brought along, and found pictures for each other. Amusingly, the camera that was the centre of attention was not the US$6,500 top of the range professional camera, but my wife's antique Rolleiflex. Everyone wanted to hold it and look through the viewfinder. I cannot blame them. It is a singularly lovely object.
If I am honest, both the weather and timing were not particularly conducive to the creation of fine images. A scheduling error meant that we started far too early in the afternoon to get the best of the light. It was also unpleasantly hot and humid. Yet, nobody seemed to mind. Perhaps it was because of the sheer thrill of the event, but more likely it was because we have all been cooped up in lockdown, socially distanced, and subject to pandemic related controls for so long that being able to socialise again in comparative safety (Canadian COVID vaccination rates are well above 80%) allowed people to relax, be themselves, and have a good time.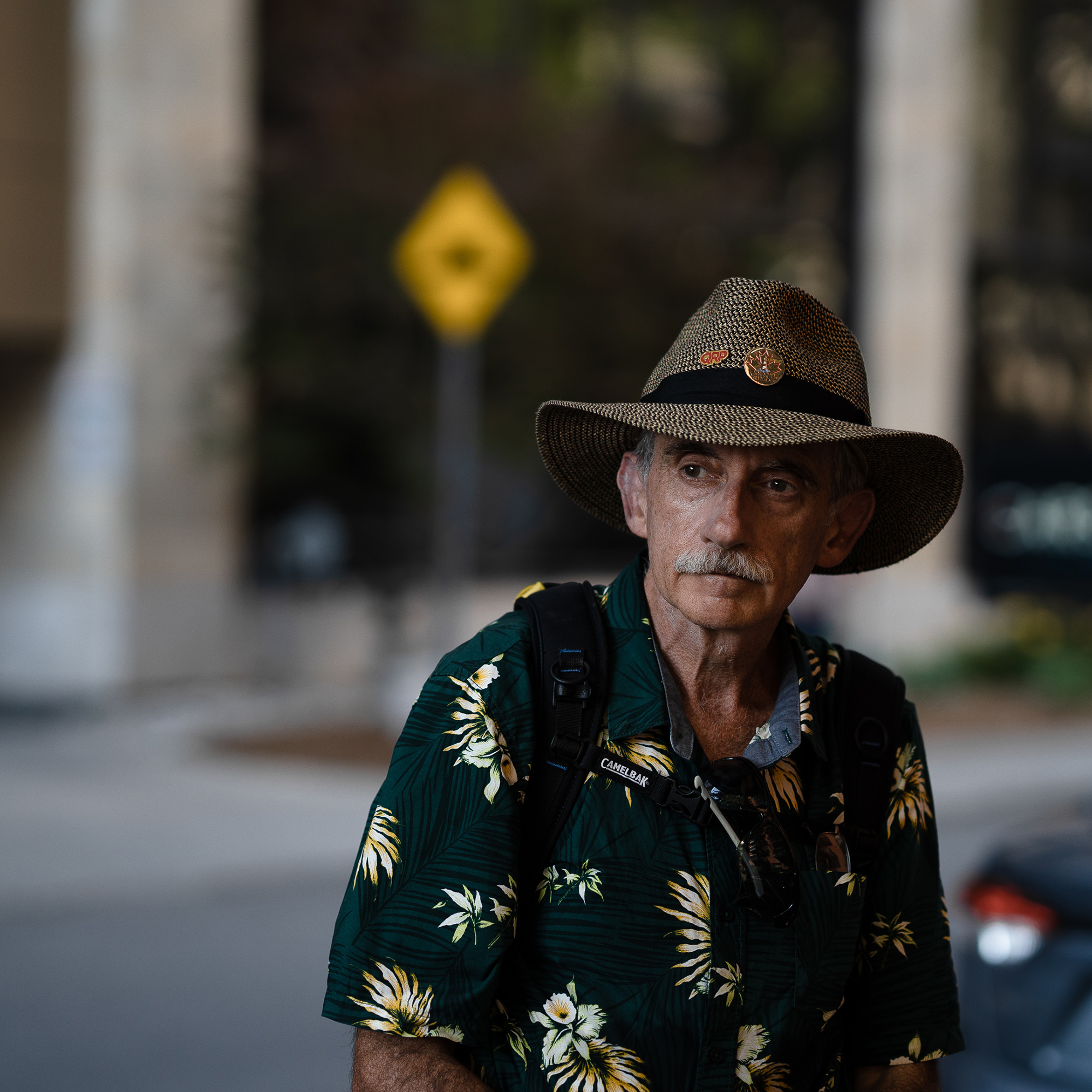 As part of this article, I am delighted to include some images from four of the attendees as well as one of my own. Luke Boguski was not even supposed to take part in the photowalk. He had visited the camera shop to browse and perhaps purchase a few accessories, but upon learning of the event, he decided to join in and spent the rest of the afternoon with us. His candid portrait of another of our attendees has an outback Australia feel to it despite being taken in the middle of the city. This is due to the hat, the shirt, and the yellow sign. I think I can hear the theme from the old travel television programme Globe Trekker, also known as Lonely Planet, in my head. It would certainly make an appropriate accompaniment.
Alicia LaPierre's reflection along the Rideau Canal shows just how lovely Ottawa can be this time of year. During the summer, holidaymakers bring their boats along the canal. They park at this point before either turning around or making the journey through the canal's remarkable lock system. The reflection is beautiful and brings the very best out of some of the city's buildings.
JP Serre captures the differences between the city's buildings in his monochrome photograph of the city's downtown core well. The photograph features the First Baptist Church which dates to the 1870s. Its first stone was laid by Canada's second prime minister, Alexander Mackenzie. The image provides a fine contrast between the old and the new and the changes that the city has seen.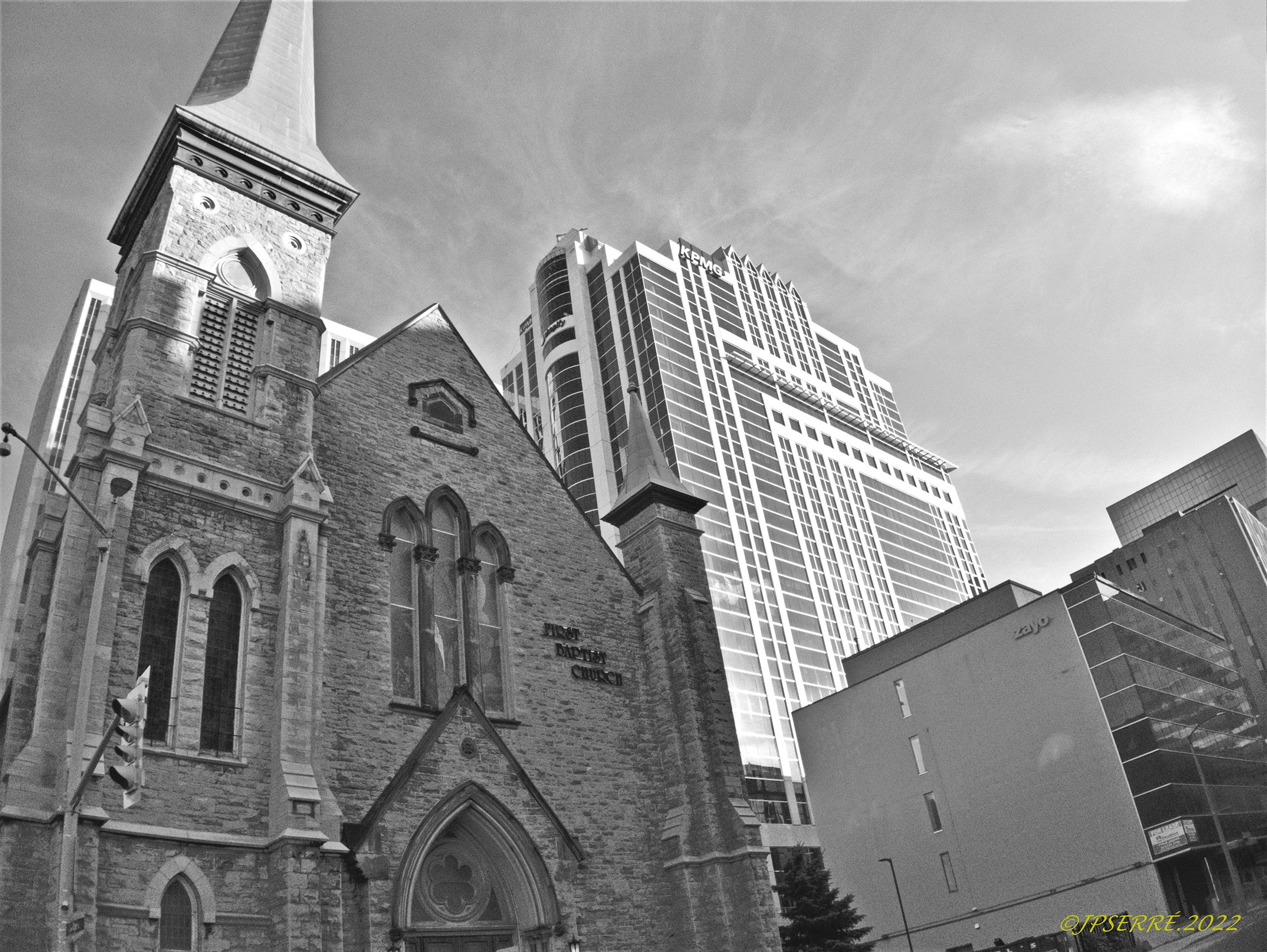 Charlie Marsh and I photographed the same person. Our walk finished outside Canada's Parliament, and this was where we made our images. The individual in both photographs was a remanent from the huge protests that engulfed the city earlier in the year. The protests were extremely controversial. Local businesses were affected. Residents were intimidated. Life in the city generally became a lot less pleasant until the protests were cleared. I do not particularly wish to spend more column inches on the subject beyond saying that I was not a supporter of their aims or acts in any shape or form.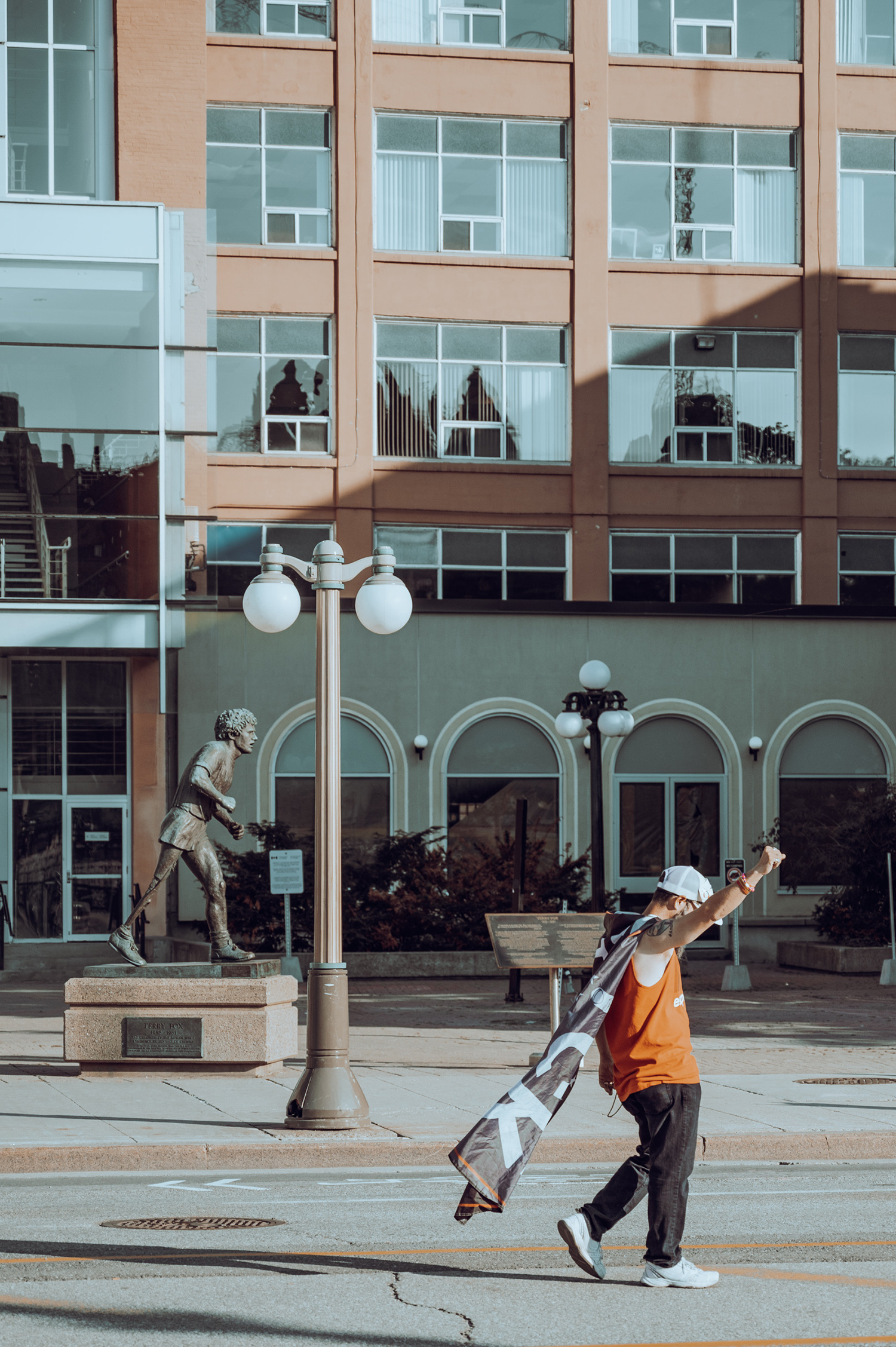 Charlie photographed the protester juxtaposed against the statue of Terry Fox, a genuinely beloved Canadian hero. One controversy that arose was how the statue was treated during the protests. The viewer may draw their own conclusions from the photograph, but I think it shows a fine contrast between Fox's unwavering determination and the motivations of the protesters.
Me being me, I decided that I wanted to get the man's portrait so when he stopped walking, I headed over and said hello. His name was Steve, and to be fair, he was quite affable and welcoming. He was more than happy to pose for a portrait and even asked if I wanted to take a picture of him giving the finger to Parliament. This, I politely declined. After a few minutes of shooting portraits, Steve told me that he needed to get back to his protesting. He pressed play on his nearby stereo, started up the song that he was using as his accompaniment and headed back to the middle of the street with his fist raised. The lyrics made some thoroughly disproven claims about COVID-19 and the efficacy of the vaccine before hitting its bizarrely catchy chorus which described what the singer thought should be done with the Prime Minister. It was a strange but amusing end to the afternoon's photography.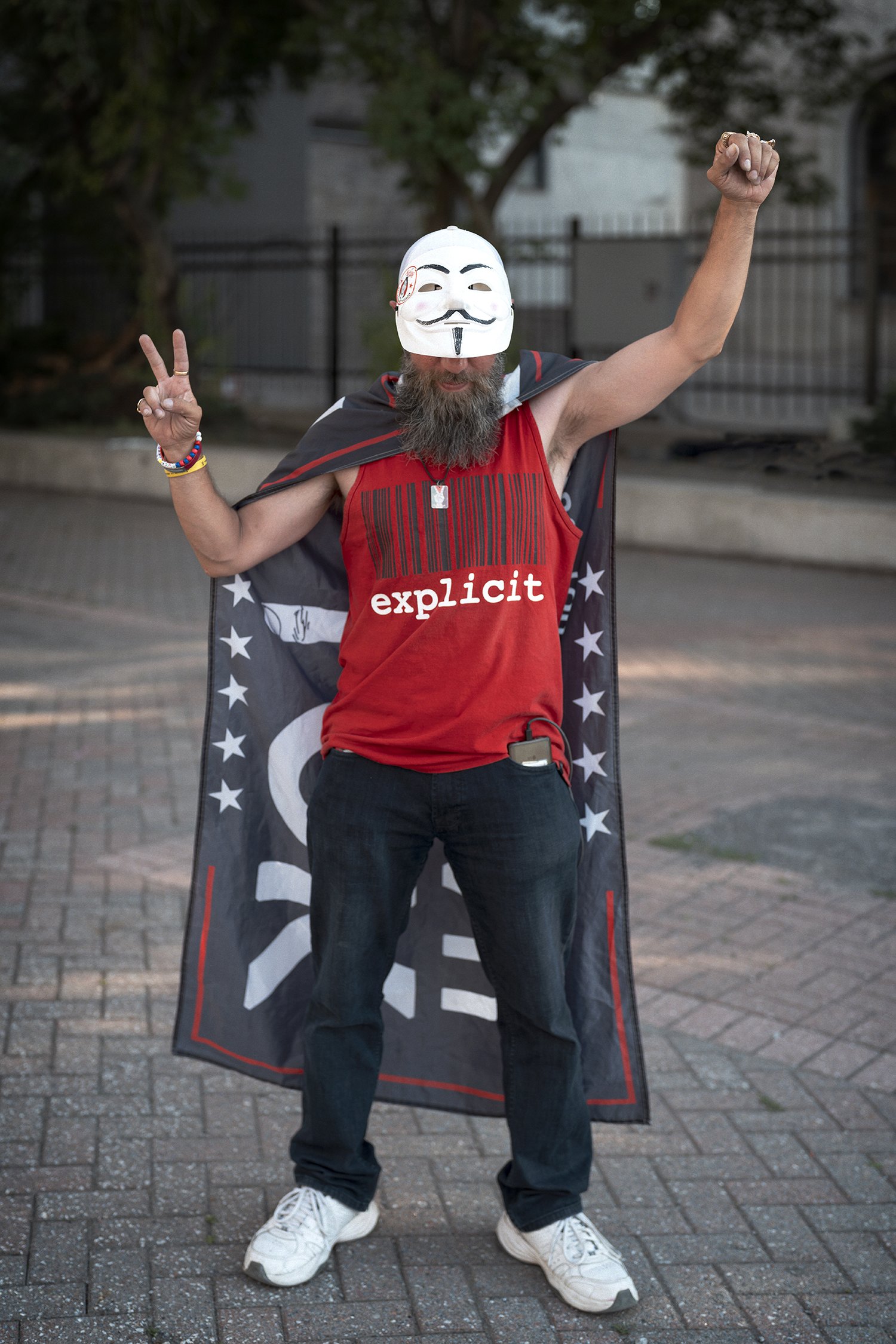 Most of the group said their goodbyes at this point, but several of us decided to conclude events in a traditional fashion by going to the pub for a burger and a beer. It was the perfect way to finish off a lovely photography walk that changed my preconceptions of the practice.
I cannot say at this point that I prefer the group photowalk as a way of gathering images. If I am honest, I spent far more time talking about pictures than making them. However, it was a great experience after the long period of collective misery that COVID brought (and may bring again). The people were lovely and had fun. We all made new friends. Most of all, it helped me remember that at its core photography is a joyful thing. The event helped me remember why I love making images. So, if you are feeling a bit unmotivated, perhaps you should call a friend, grab your cameras, and just go for a walk.
---
FRAMES Magazine
Every year we release four quarterly printed editions of FRAMES Magazine. Each issue contains 112 pages printed on the highest quality 140g uncoated paper. You receive the magazine delivered straight to your doorstep. We feature both established and emerging photographers of different genres. We pay very close attention to new, visually striking, thought-provoking imagery, while respecting the long-lasting tradition of photography in its purest incarnation.
Learn more >>>
---