FRAMES member Shane Balkowitsch may have made photographic history.
More than 100 collaborators came together Saturday in Bismarck, North Dakota, at the University of Mary's Marian Grotto to create what is likely the largest wet-plate photographic collaboration in history. The final image, called No Vaccine for Death was inspired by the painting "Triumph of Death" by Pieter Bruegel the Elder, circa 1562. In Saturday's version, more than 75 collaborators were in the image, with dozens more helping behind the scenes with makeup and costumes and other logistics.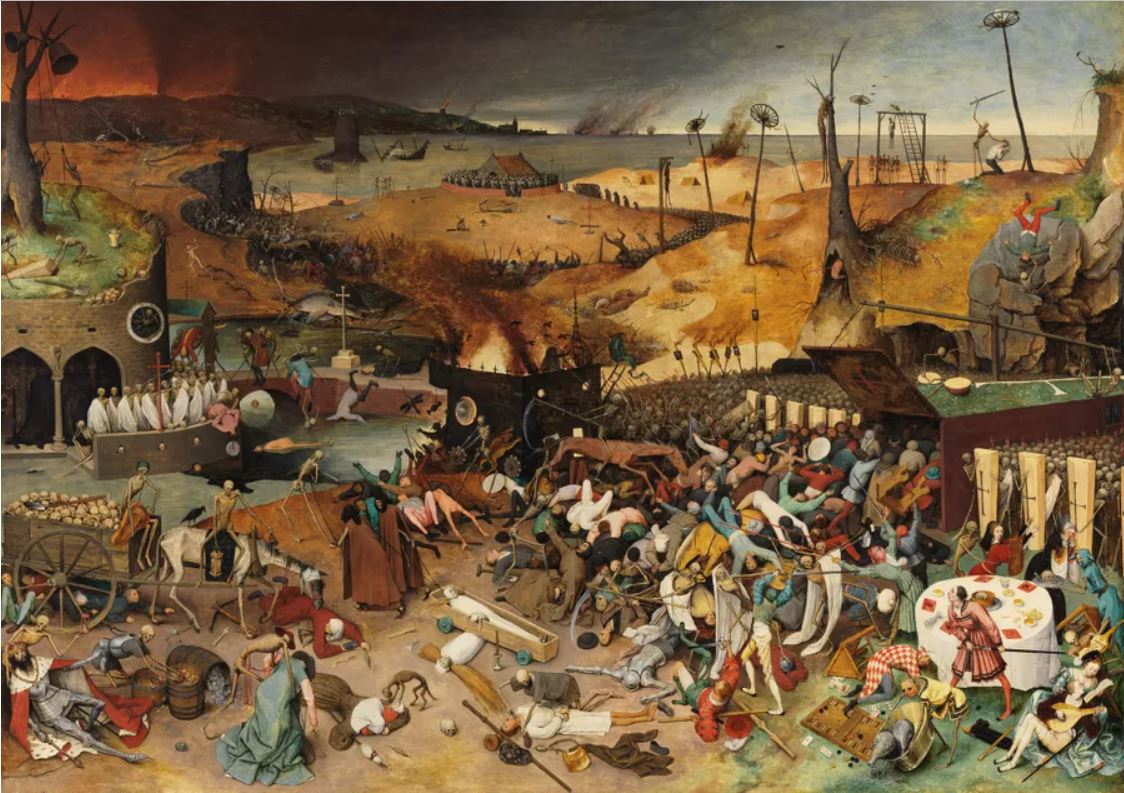 Balkowitsch has made a national and international name for himself with his images. He is currently engaged with a project that hopes to preserve 1000 portraits of Northern Plains Native Americans using the wet-plate photography process, a highly specialized form of photography from the early days of the art. Collodion is poured over a plate, immersed in a bath of silver nitrate, exposed in the camera, and then developed – all within ten minutes before the chemicals dry. The process creates what is called an Ambrotype. While some wet-plate photographers use clear glass plates, which allows for multiple contact prints, Balkowitsch uses black glass, which means every finished plate is unique and not copyable.
This project has already resulted in an acclaimed book, Northern Plains Native Americans: A Modern Wet Plate Perspective, and he is well on his way to a second.
No Vaccine for Death is Balkowitsch's fifth large-scale collaboration. The first was called Murderer's Gulch in 2016, based on a historic section of downtown Bismarck from the 1800s. Then came The Capsizing of Humanity, based on 1818 painting by Theodore Gericault called The Raft of the Medusa. This was followed by Liberty Trudges Through Injustice, based on Liberty Leading the People, the famous painting from the French Revolution by Eugène Delacroix. Fifty-three collaborators came together for that project. Then came Throne of the Gods, inspired by the work Olympians by Nicolas-Andre Monsiau. All of these images are viewable via a Google search.
Why do a large collaboration on this? "To bring creative people together," Balkowitsch said. "I had been collaborating in my studio, and it sounded like it would be fun if I brought make-up, hair, costumes, set-design all together in something large.
More than 100 people were involved with No Vaccine for Death. Chief among them was Marek Dojs, Associate Professor of Communications at the University of Mary who has a background in film making. With an Alessandro Gibellini 8×10 large format camera mounted in the back of a pick-up truck, Balkowitsch and Dojs arranged the collaborators to represent the painting, organizing them sections.
"Two years ago, this was going to be something completely different," Balkowitsch said. "We had a painting about some saints descending from heaven and other people ascending into heaven. It was a fight between good and evil idea. Then Covid hit and we knew we had to do something about the pandemic."
"We're not trying to mimic the painting exactly," he continued. "Some people think every element has to be exact and that's really not our intention at all."
"One of the challenges," Dojs said, "is that we have a lot more people in the frame. This image draws eyes to lots of different places."
"We just want to pay some homage to the original image," Balkowitsch said.
I was there to document the event and to write a story for FRAMES as well as a news service. It's rare for photographers of any sort to bring together so many volunteers who accept assigned roles, create their own costumes, practice their poses, and then gather on a hillside in 90 degree heat for a chance to be in a single image.
On the hillside overlooking the Missouri River, the collaborators got into position. Little yellow flags placed in the ground defined the camera's field of view. Balkowitsch and Dojs called the people into position, having already defined sub-scenes in the original painting and assigning the volunteers to each scene. Once collected, people practiced their poses.
The sky was cloudless and the wind was calm. Balkowitsch made three test plates, adjusted the people and props after each one. "I only need one useable plate," he said. "If I get one plate that represents what I'm trying to achieve, it doesn't matter what else happens that day."
The fourth plate was perfect. The collaborators gathered around Balkowitsch to watch the plate develop and a cheer went up when the image met everyone's hopes. A bit later there was a champagne toast and pizza.
While there are wet-plate images with more people in them – crowd shots and such – No Vaccine for Death appears to be the largest fine-art collaborative project in history.
The final plate will become part of the permanent holdings of the North Dakota Historical Society.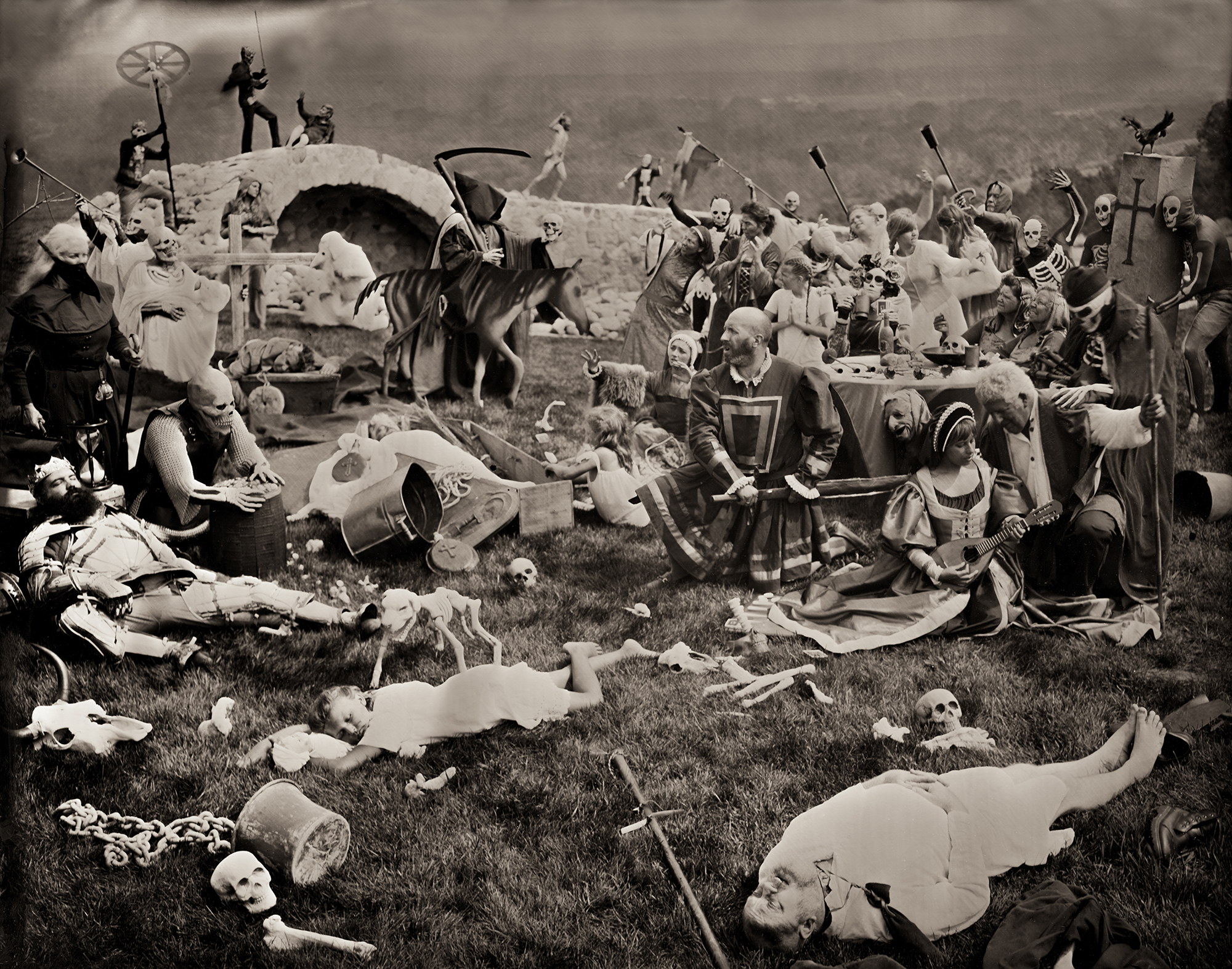 What follows is a documentary of the day as it unfolded, a behind the scenes look at an extraordinary idea, project and gathering. The images do not have captions, though it should be clear what is going on.
Click on any photo to begin a slideshow.
---
FRAMES Magazine
Every year we release four quarterly printed editions of FRAMES Magazine. Each issue contains 112 pages printed on the highest quality 140g uncoated paper. You receive the magazine delivered straight to your doorstep. We feature both established and emerging photographers of different genres. We pay very close attention to new, visually striking, thought-provoking imagery, while respecting the long-lasting tradition of photography in its purest incarnation.
Learn more >>>
---