Consider the piano. It's not a simple instrument. Yet, although there are a variety of sizes and types, it's pretty well defined. Even though an old glass-front player piano looks nothing like a spinet, and neither of them look like a concert grand, they are instantly recognizable. Everyone knows what it is, and what it's for.
---
"Perfect Strangers" by Melissa O'Shaughnessy
Published by Aperture, 2020
review by W. Scott Olsen
---
And yet, sit any individual at the keyboard. What you'll get is as individual and unique as the universe allows. Yes, there will be traditions and schools and genres. But think about the blues – Dr. John sounds nothing like Ray Charles. Think about classical music – Arthur Rubinstein sounds nothing like Mitsuko Uchida. And think about the experiments – Chick Corea and Herbie Hancock once found themselves under two pianos, exploring the percussion potentials of the wood.
Now consider street photography. It's not a simple genre. Yet, although there are all sorts of cities of all sorts of sizes and character, its pretty well defined. Get a camera, go outside, capture moments that somehow reveal the character of that place. But just like pianists who have developed their own voice, there are masterful street photographers who approach the streets with wildly different styles.
I am thinking about all this because I have a fine new book on my desk. Perfect Strangers: New York City Street Photographs by Melissa O'Shaughnessy takes on perhaps the world's most street-photographed location. Because New York has been photographed so often, it's exceedingly difficult for a photographer to find a voice there. Been there, done that, is the threat. It's easy to take the pictures, and just as easy to be derivative or mundane.
Happily, O'Shaughnessy has found a wonderful style and voice for her work. This collection finds a new insight and every page is a joy.
In "Being Present," his introduction to the book, Joel Meyerowitz writes: "…so O'Shaughnessy takes us along on her daily rounds looking at contemporary life in New York City. What she selects is hers alone, yet the consistency of her attraction to certain moments of time and the people caught in them, her curious and quirky rendering of these moments, present us with a time capsule of the now. We see her present tense, her reading of meaning, her judgement of what might be of importance to readers of history a hundred years from now…"
Meyerowitz goes on to say, "…Her photographs segue between honest, clear observation, and layered, nuanced, and fragmented combinations that make the viewer scan the frame for the hook that pulls us in, only to realize that there are several hooks pulling in in different directions, and that these hooks lead us to inevitable discoveries in the sequence of subjects and threads that tie her ideas, and this book, together in unexpected ways."
O'Shaughnessy's street-work is often portraiture. Her focus is on the people more than the urban landscape. Her images are most often up close, revealing the complex expressions of character and mood. No one in her book is a type. At just that level, I found myself lingering with images, trying to imagine who these people are – as individuals – and what they might be thinking. That's one of the things I like best about this book – the people all seem to be in possession of some idea or intent that is moving them down the sidewalk.
There is an image, one of the first in the book, of an old woman in a white turtle-neck sweater and a hat. Oh, that hat! The look on her face could be exasperation, or impatience, and it could also be bemusement. The other people in the image are nondescript, so this woman and her sense of style are immediate and forceful.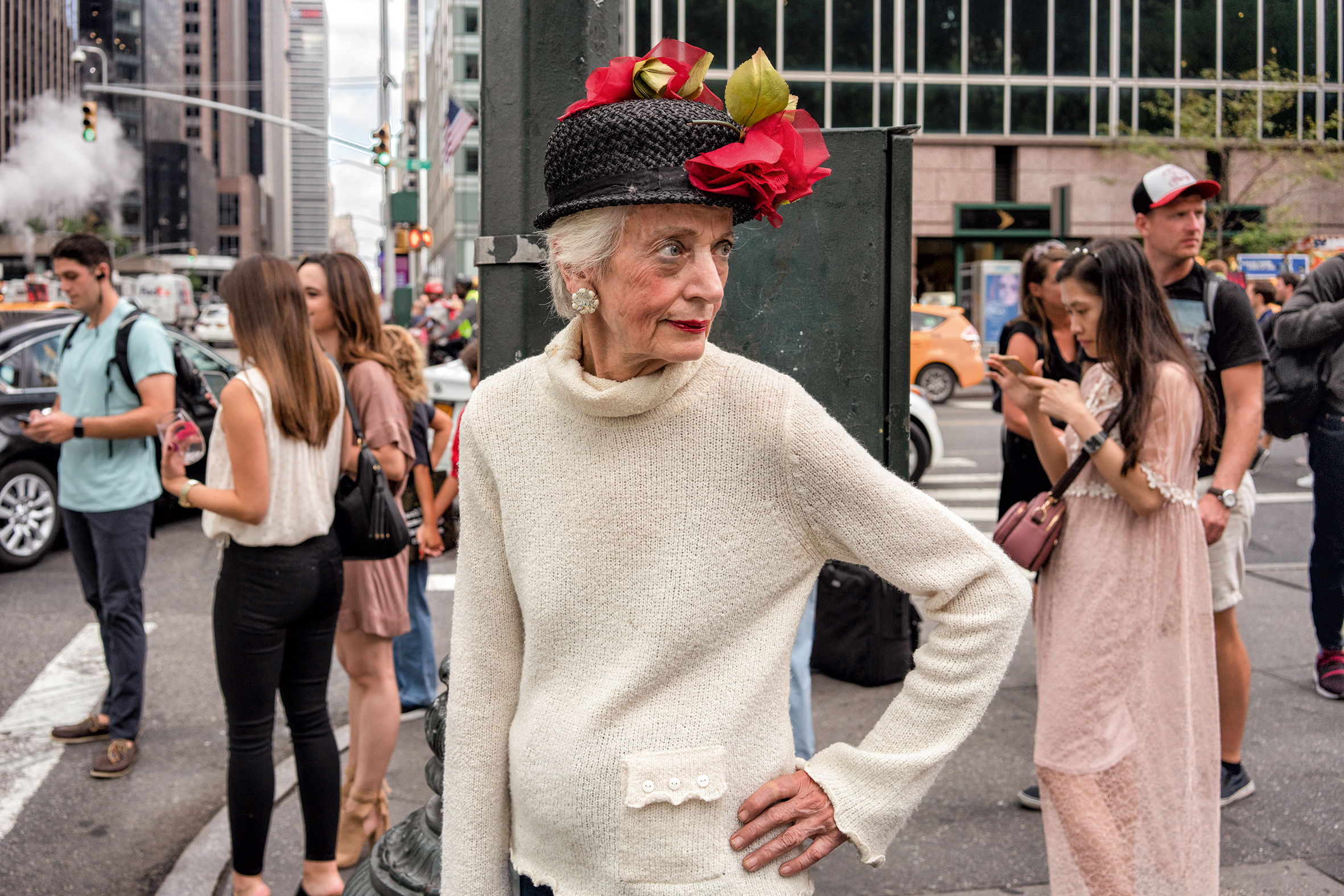 Several of the images are simply quirky. In one instance, four people wait, I presume, at a corner, while from the darkness behind them the arm of an otherwise unseen person holds up a newspaper with "Resist!" as the banner. In another instance, three people walk down the street with mirrored cubes worn as helmets, hiding their faces. These images are entertaining.
Street photography is often meant to illuminate the present. It's also often meant to preserve it. Sometimes these two motives are aligned. Sometimes they are congruent but not equal. Meyerowitz is exact when he says, "We see her present tense, her reading of meaning, her judgement of what might be of importance to readers of history a hundred years from now…" Many of the images in this book seem to be acts of preservation of the now. They do not, as it were, have an immediate metaphor.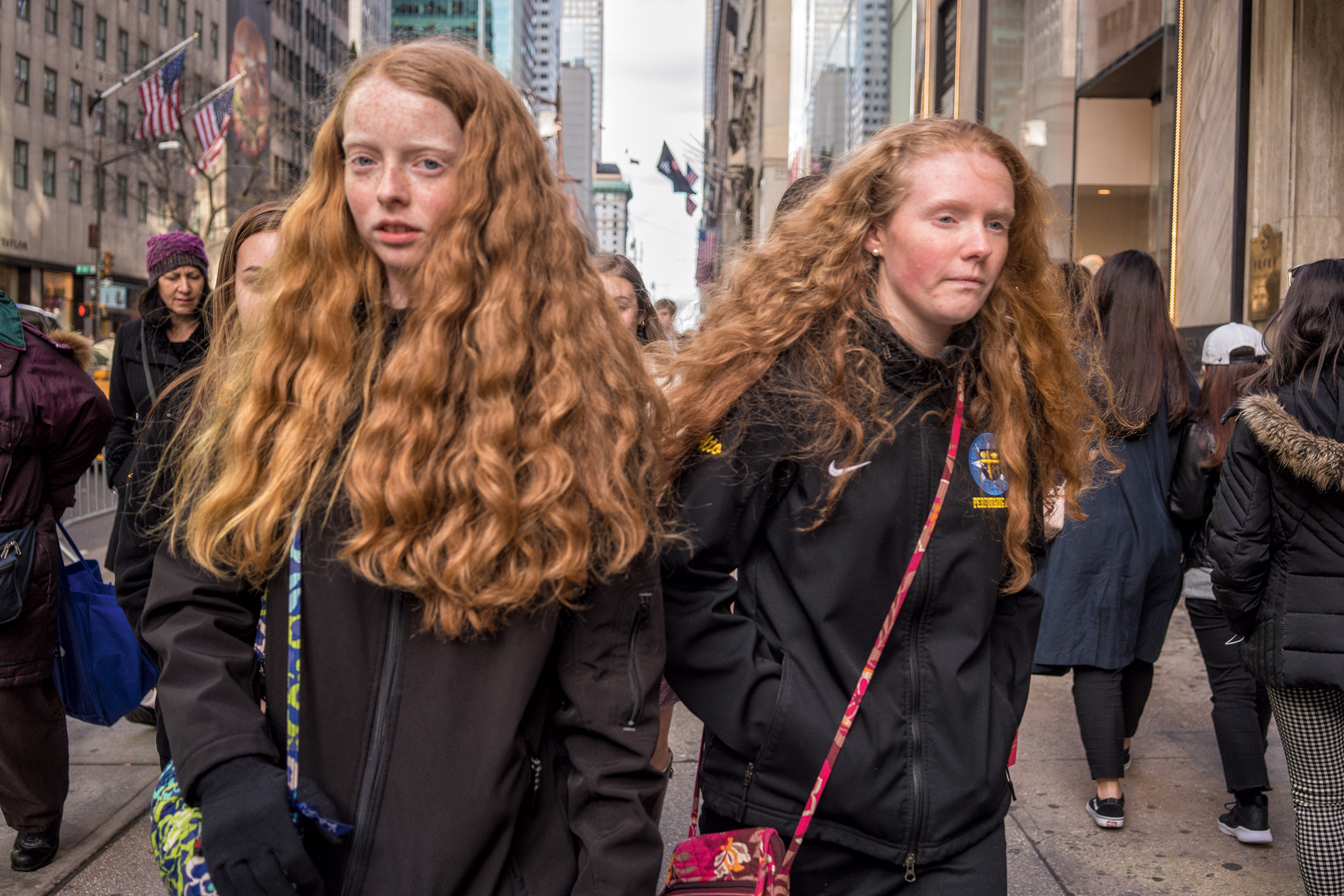 The best images, though, are a good deal more complex. There are layers – the ostensible subject of the image but then subplot, too, as other people in the frame provide counterpoint or reaction.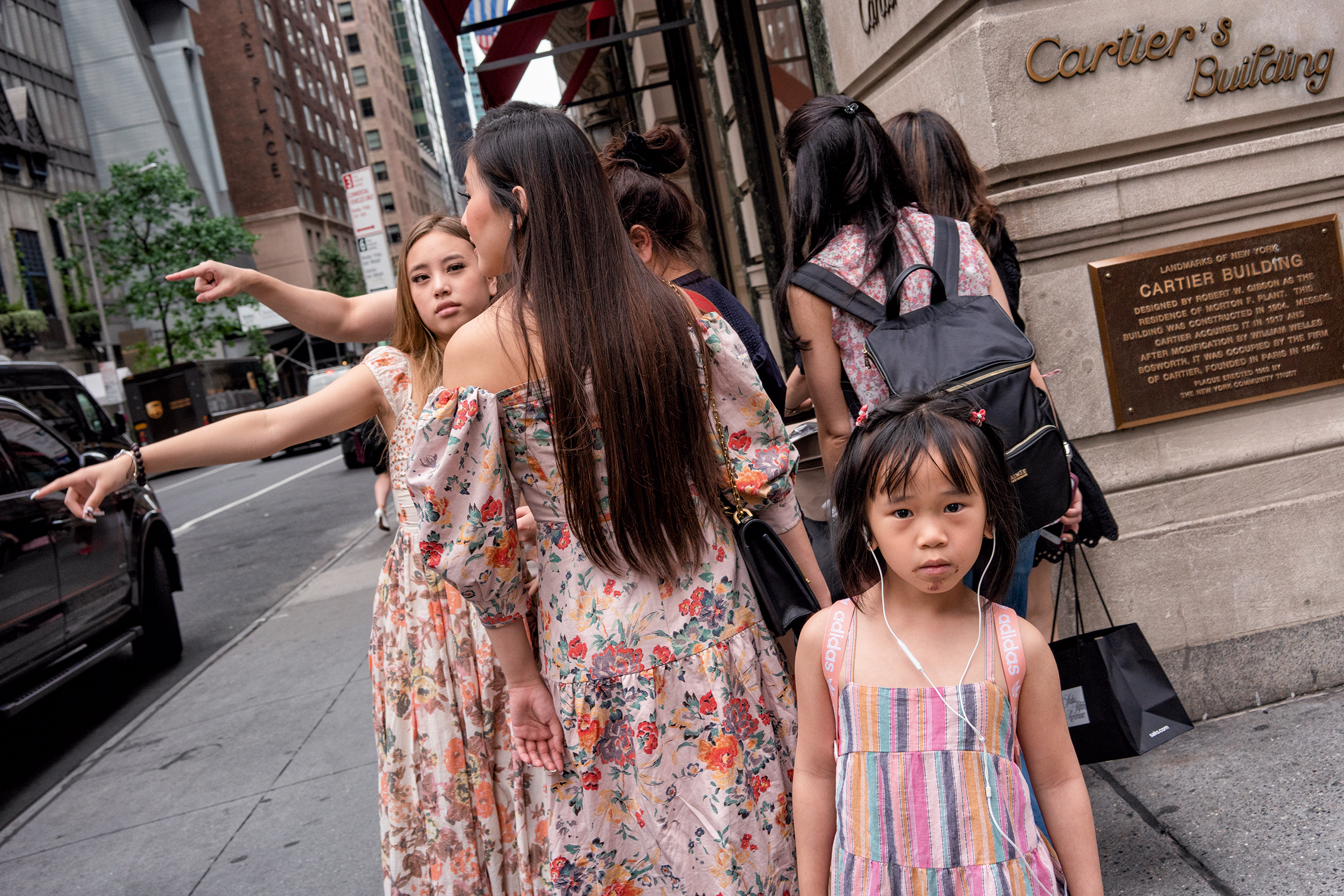 For example, this image of a group of women apparently discussing directions. The floral outfits in the stone setting is a nice juxtaposition. But this girl in front. She's disconnected from the conversation due to her earphones. Her dress is pastel but not floral. And her gaze is direct, a solid stare at the lens. The moment is clearly hers.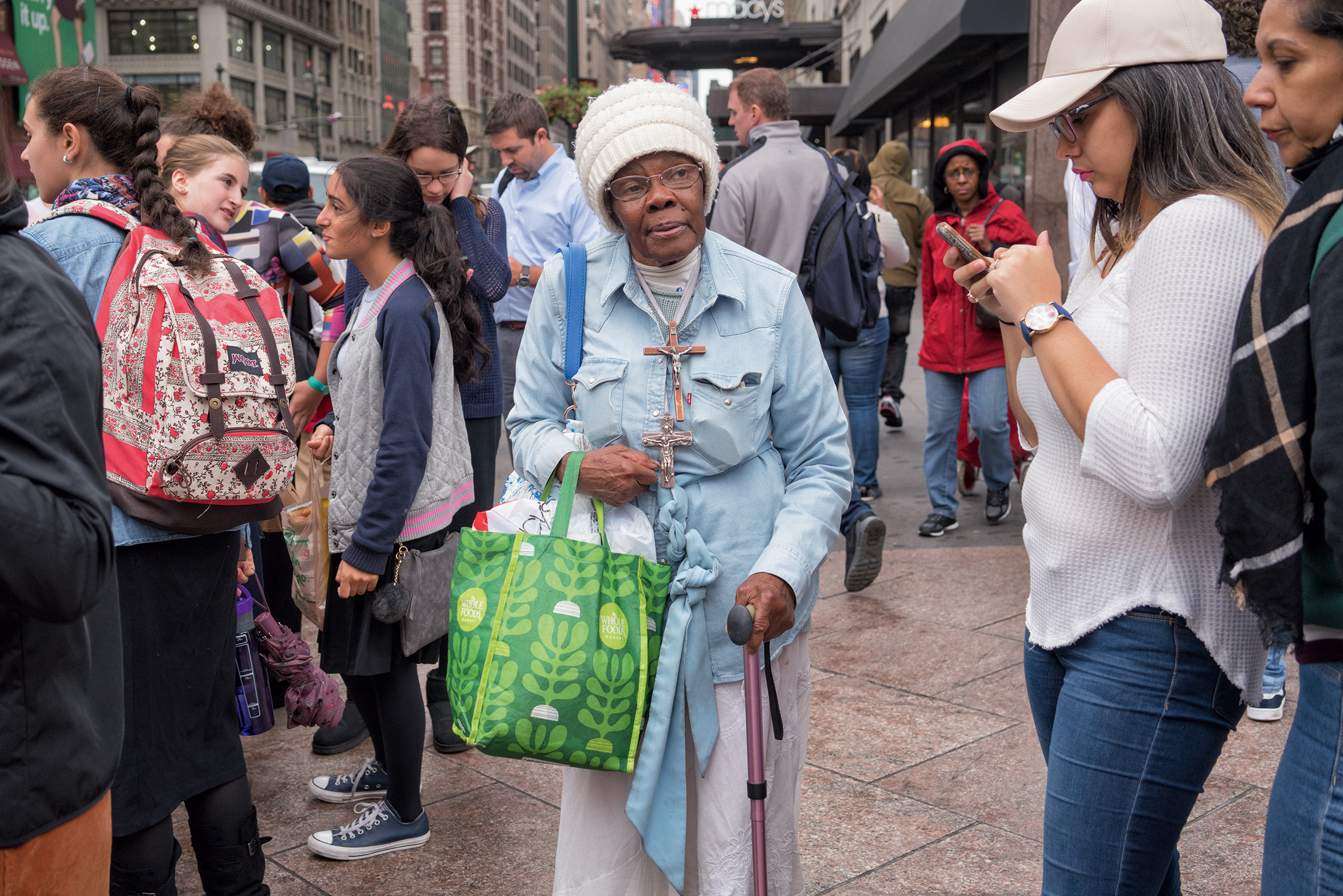 I do have one complaint with the book, and it has nothing to do with O'Shaughnessy's work. The book designer decided that all the captions would be printed vertically. This made for several physically distracting moments when I had to turn the book 45 degrees to read two or three words. Photobooks often have breathtaking design elements. This one did not work, at least for me.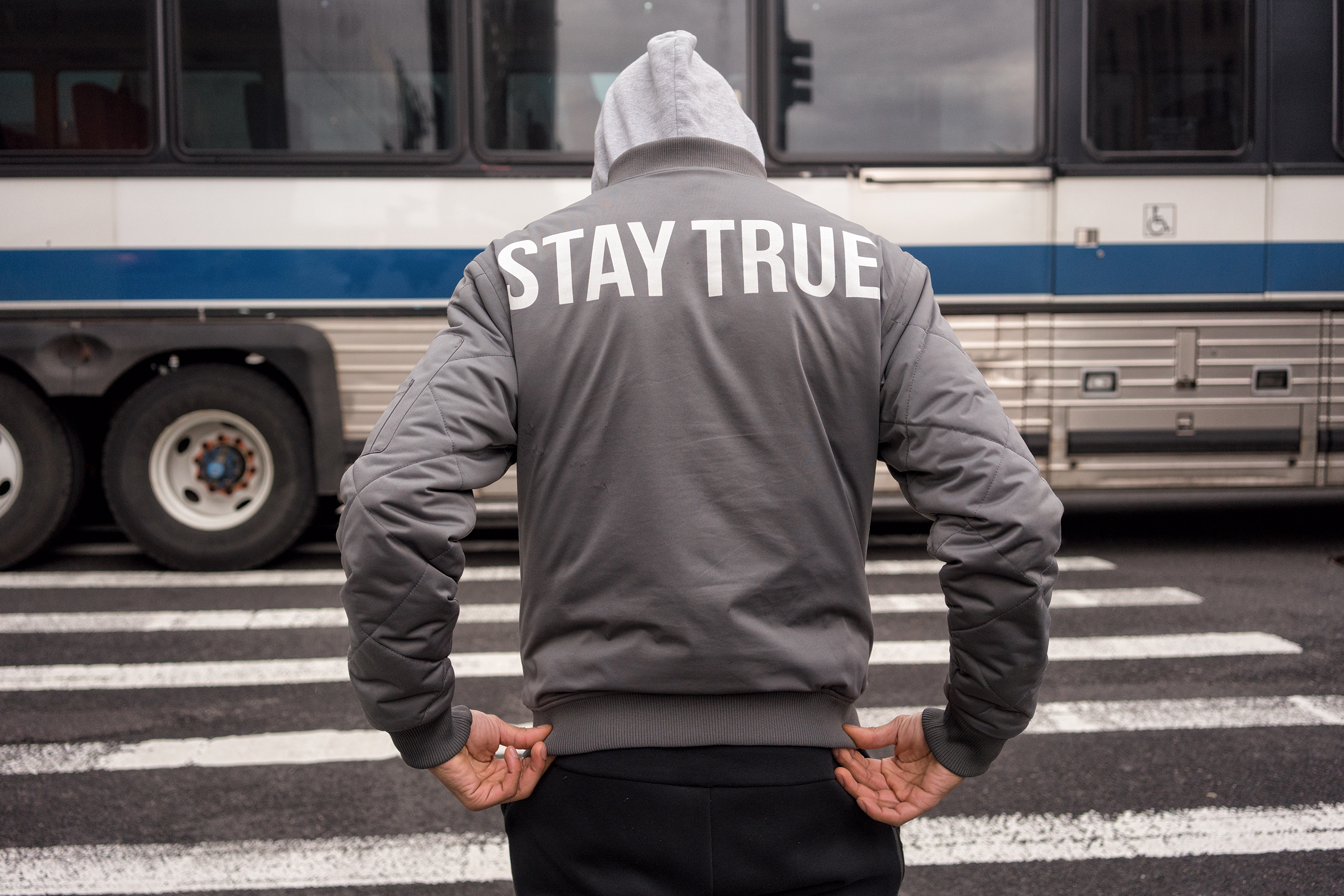 Perfect Strangers: New York City Street Photographs works familiar and rich ground. The selection of images is eclectic and governed more by O'Shaughnessy's walking routes than any ethnographic subject. We can look at the book today and say yes, this is New York. I recognize it. This is us.
Ten years from now, we will look at this book and say "wow." The images will become more revealing with every passing year.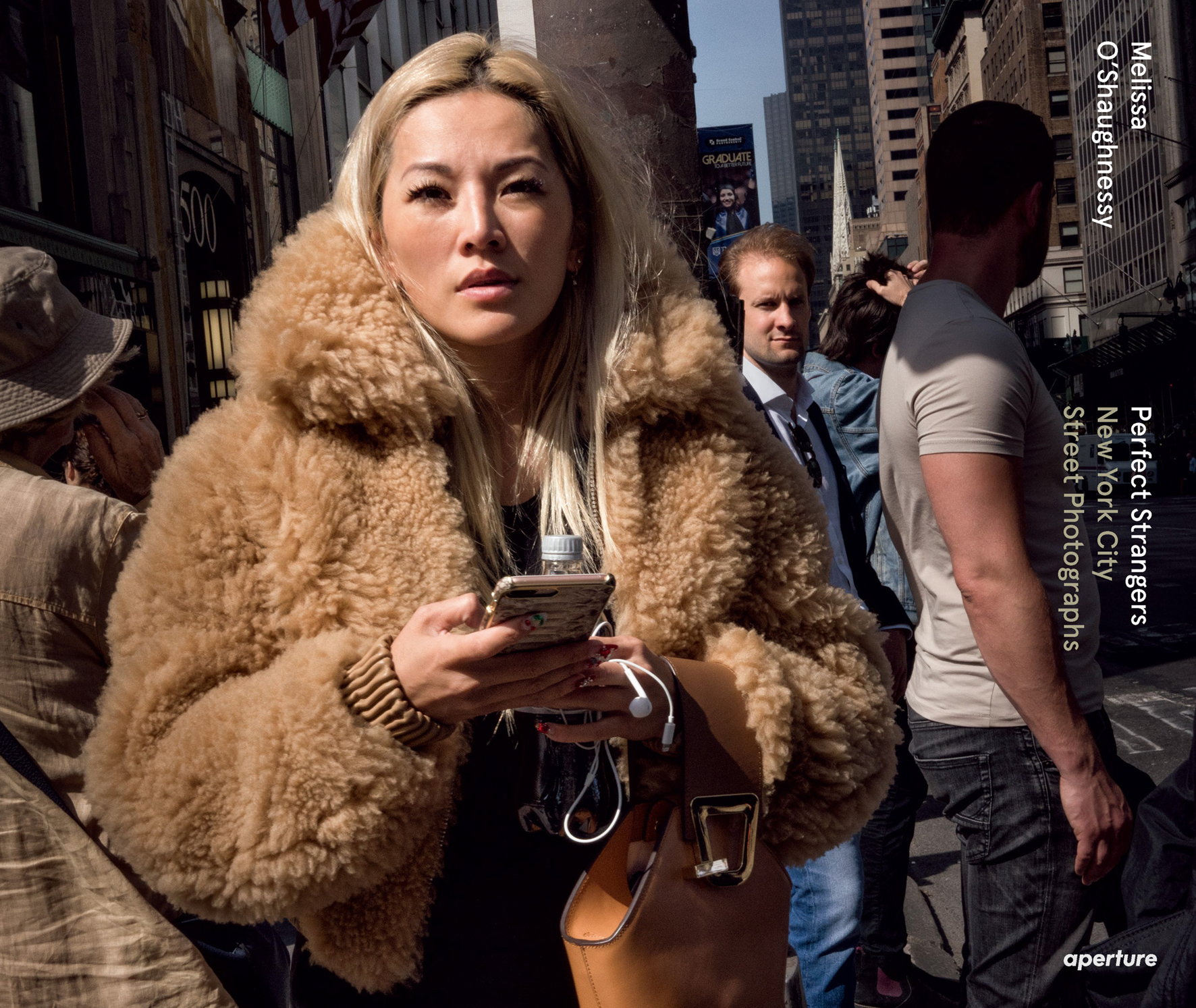 A note from FRAMES: if you have a forthcoming or recently published book of photography, please let us know.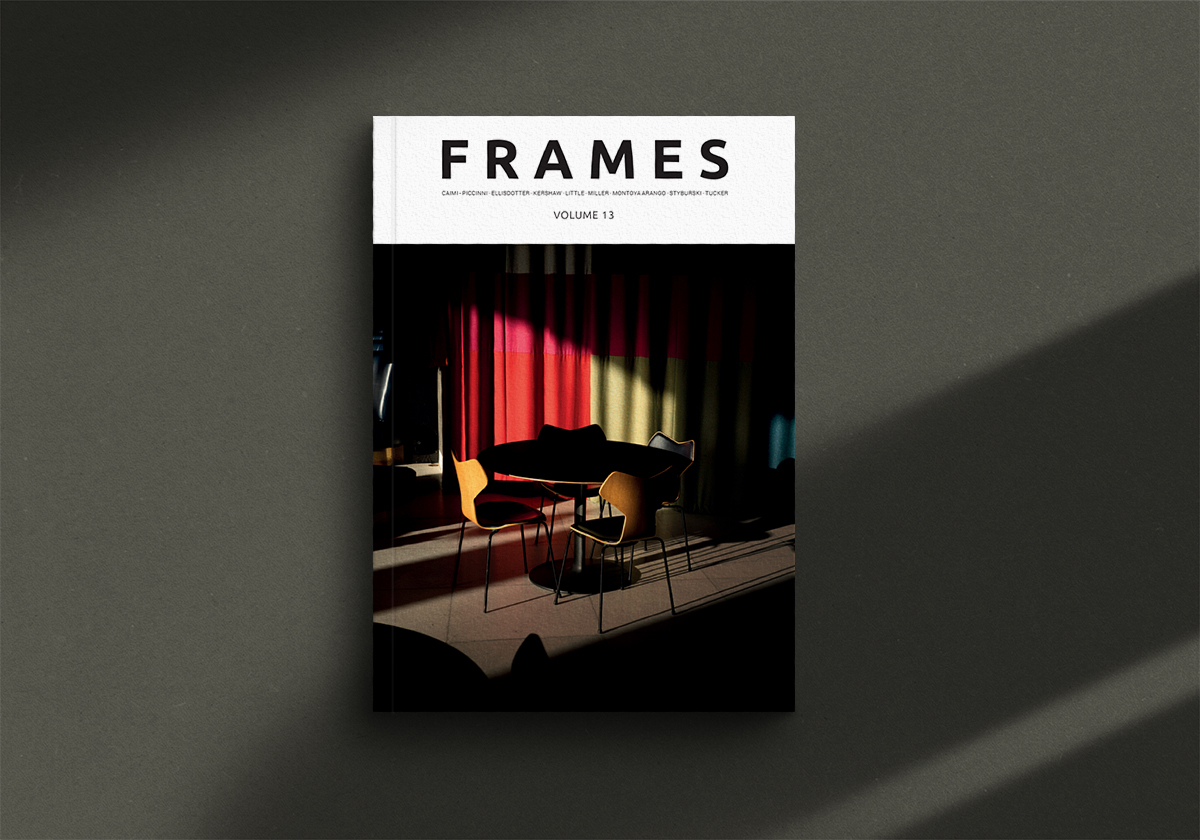 Every year we release four quarterly printed editions of FRAMES Magazine. Each issue contains 112 pages printed on the highest quality 140g uncoated paper. You receive the magazine delivered straight to your doorstep. We feature both established and emerging photographers of different genres. We pay very close attention to new, visually striking, thought-provoking imagery, while respecting the long-lasting tradition of photography in its purest incarnation. Learn more >>>
---