Debe Arlook is an artist who lives and works in Santa Monica, CA. Arlook was awarded her B.A. in Film and Media from American University in Washington, D.C. She exhibits nationally and internationally; venues include the Lishui Art Museum, Museum of Art & History Lancaster, Rick Wester Fine Art, Griffin Museum of Photography, and the San Diego Art Institute.
Recognition for her work includes twice being a Critical Mass Finalist (2020/21), four awards in various categories of the Julia Margaret Cameron Awards (2018/21), and Top 20 Finalist in Photo LA 2020. She has been featured in many publications, including Fraction Magazine, L'Oeil de la Photographie, Rangefinder, Shots Magazine, What Will You Remember, and One Twelve Publishing. Books include California Love, Perceive Me, and Emptiness Defined. Arlook's work is represented by Posner Fine Art (Los Angeles, CA) and Venice Institute of Contemporary Art (Venice, CA). Arlook curates for FORUM and Open Show Pasadena/East Los Angeles and serves as Contributing Editor and Resource Manager for the PhotoBook Journal.
I want to thank Debe Arlook for helping me out this month. I originally had another artist scheduled for this slot and had Arlook slotted later this year. Partway into the month, the May interviewee had to cancel due to personal issues, and I prevailed upon Debe: Could she help me out by moving up to this month and turning everything around in a few days? Despite her busy schedule, she agreed. Thank you, Debe; I am grateful.
I met Arlook on Facebook sometime during the pandemic. I'm no longer sure who friended whom; though we didn't have much if any contact, we seemed to be connected to the same community of photo people.
We had spent the pandemic sitting in on many of the same Zoom workshops, talks, and portfolio reviews, but those are not ideal venues for chatting with someone you do not know the way a face-to-face event might be. Often they were held at 'off-hours' (for those not living in the continental U.S.) I used to see Arlook's well-pulled-together visage and think, "This is why I keep my screen off. I don't look like that at 6 am! Not only that, but at these hours, without a few more cups of coffee under my belt, I'm not confident and articulate like she is."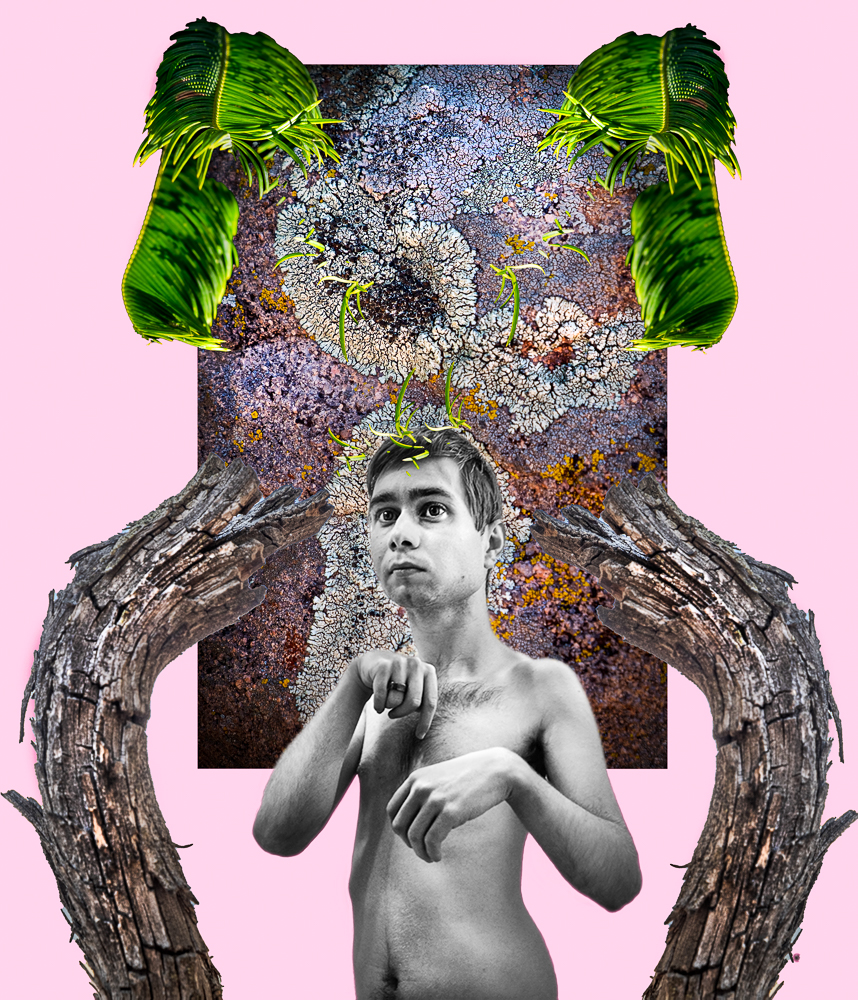 Then, last fall, I saw selections from Arlook's series Silent Buddha, now entitled one, one thousand…, while perusing the Stories section of the PH Museum site. I was thoroughly touched by the series and asked Arlook about featuring the image called Spike Waves in my Poignant Pics series at One twelve Publications. Arlook describes the project as "a love story and an unconventional documentary exposing the impact a rare, incurable form of epilepsy, Lennox-Gastaut Syndrome, has on a mother and son's experience of life-long care. It's a story of devotion and perseverance."
While I am on the topic of this series, Arlook just found out that she received an Honorable Mention in the 2022 Social Award category at CENTER. The juror was Jess T. Dugan. Arlook said, "Having Jess recognize the project means the world to me! I am quite a fan of their work. The award includes upcoming features for the project in the Strange Fire Collection, Feature Shoot, Lenscratch, and at CENTER Santa Fe."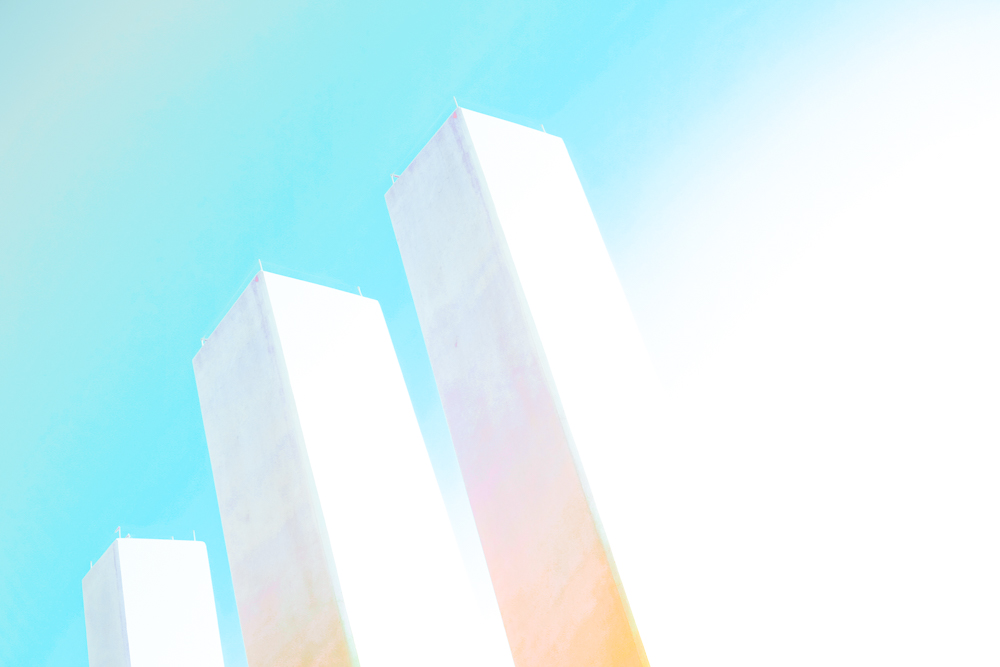 Arlook's conceptual work responds to her surroundings and the larger environment, depicting inner and outer worlds and humans' relationships with their built and natural environments. Arlook uses color, often highly altered, in conjunction with a variety of photographic processes with the specific intent to underscore the ideas she is discussing via her work.
Arlook grew up in a small town in central New Jersey in a close family that she considers an essential and integral part of her upbringing. The middle child of three sisters, she thought herself "a tomboy." It was a time when children played kickball in the street and wandered the neighborhood playing with friends until their moms called them home for dinner. She told me, "We didn't know better and chased after the mosquito fogger truck in the thick white clouds of DDT." (I remember those trucks myself. What a different era!)
Arlook's father took a lot of home movies and photographs using his Brownie and an 8mm Movie Camera, documenting the family and their trips and holidays. Every Thanksgiving, he made showing these movies an event, setting up to screenthem for her extended family. When she was eight years old, her parents gave her a Kodak Agfamatic. Arlook stated, "I had that plastic camera with me constantly. It used 126 film and had a flash cube that made a popping sound. I thought it was pretty cool, and it encouraged me to watch and see my surroundings rather than simply look. I usually photographed my sisters, the landscape, and trees."
Despite living in a bucolic setting within the Garden State, the proximity of NYC meant that she was exposed to the arts, culture (and grit!) the city offered. The dichotomies provided by such a duality of environments burrowed deep within her psyche. To this day, Arlook still feels it essential to balance both of these energies within her lifestyle.
DNJ: Tell us about your chilhood.
DA: I enjoyed my childhood years. Both of my parents lived by extending themselves beyond their own lives. They are heroes to me.
My dad attended law school while at the same time working as an accountant and serving as a city councilman. After passing the bar, he had a long career as a civil attorney. My mom was a nurse, president of the board of health, and a humanitarian. I recall that she went to a remote village in Guatemala to give medical care to orphaned children. While there, she discovered their priest was molesting the children and did everything in her power to get him dismissed. When I was nine years old, I remember my mom taking me canvassing for George, a 1972 presidential candidate.
We summered with my grandparents in the Catskills. They had a bungalow colony that was in the family for two generations. Located in upstate new york, it was a traditional vacation site for Jewish families in the Tri-State area known as the "Borscht Belt" during its heyday. I have great memories of searching for salamanders by the brook, swimming in the pool, and playing bingo in the "casino" that was more like a huge barn. We watched movies of the '60s like "Under the Yum Yum Tree" with Jack Lemmon; Mickey Mouse cartoons were the opening act. Looking back, this is where my love for story and film began.
Arlook attended American University in Washington, D.C., where she majored in Mass Communications with a filmmaking focus and minored in Psychology. She told me she never viewed herself as an artist at that time. She said, "I couldn't draw or paint and never studied art. Yet filmmaking is a form of seeing within the frame. Additionally, I was always fascinated with how the mind works. Ultimately, that plays into how we interpret our lives and the world around us."
Arlook said me feels fortunate that her family was close and supportive then and has remained so throughout her adult years.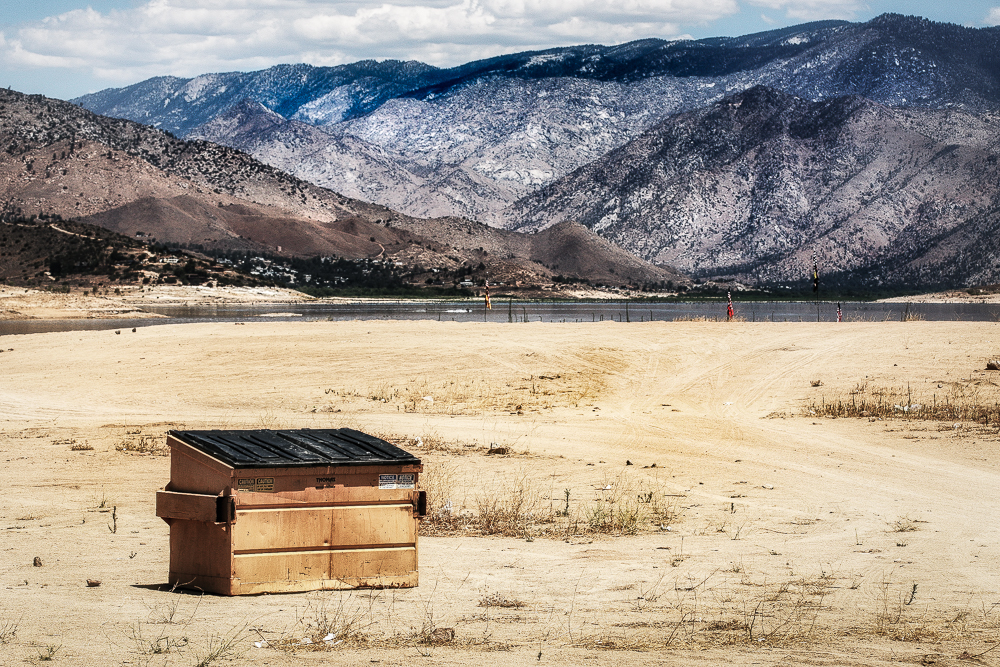 DNJ: What brought you to Los Angeles?
DA: I was naive and had no fear, which is the best foundation for making a life change. Having won a small award for the film I made my senior year, I was confident Los Angeles was where I needed to be. I packed up my car and drove across the country, determined to break my way into the film industry and become a director.
Shortly after arriving, I answered an ad in the Hollywood Reporter, which led to my finding work with an independent film company. Over the next two years, I took jobs in the filmmaking industry that offered diverse experiences. I did everything – from working craft service to writing script notes for the writer/producer team that made Bill & Ted's Excellent Adventure.
There weren't many female directors as I was making my way in the industry, but that didn't stop me – I loved what I did.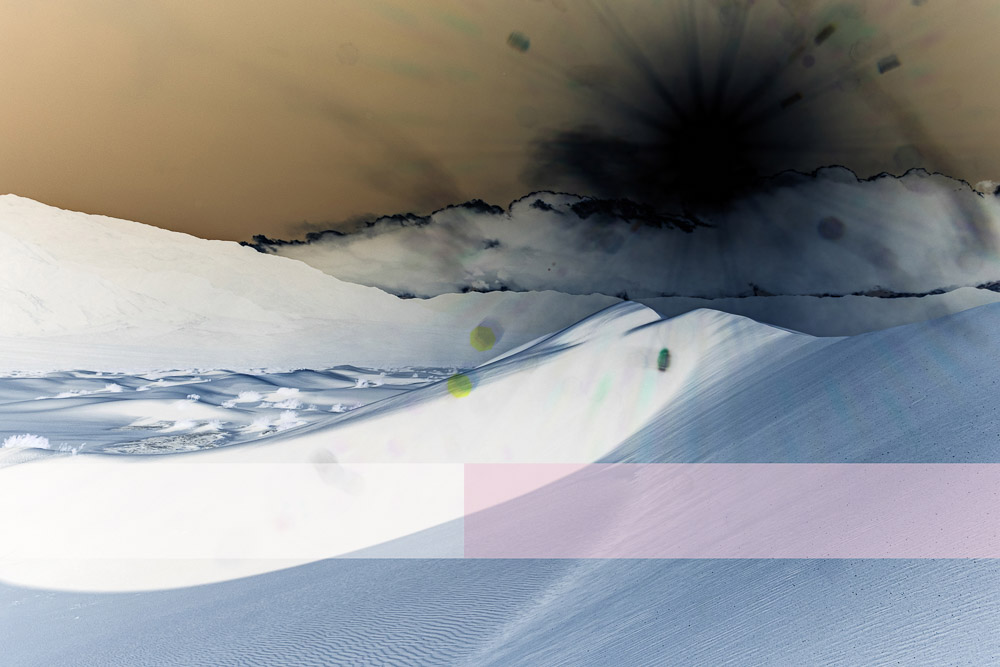 DNJ: When did you figure out art was your career path, and how did that happen?
DA: We intuit many things as children but don't always follow that path. When we were kids, we played "The Game of LIFE." I always wanted to be a teacher or an artist, but the artist card said, "starving artist." That was discouraging even at a young age!
I got married young and had three children by age 30; being a full-time mom was my focus during those years. My husband was also in the film industry, so I was able to keep my creative juices flowing in conversations with his writer/director clients.
Over the years, having seen and personally experienced the not-so-pleasant side of Hollywood, I realized filmmaking was no longer my dream. I also realized that for me, it was always about the image. One perfect frame holds a point of inquiry or communicates a narrative.
When my kids were older, I began studying street photography with Julia Dean. She had recently founded Julia Dean Workshops (which later became the Los Angeles Center of Photography.) I was hungry to see the world beyond my daily life by that time. It was a time of self-discovery, and photography was my means of autodidactic exploration. The art of photography opened me to life's beauty, pain, and richness.
In 2007, I went to a jungle in Puerto Cabezas, Nicaragua, along with a film crew and team of volunteers, to document the humanitarian efforts of Wheels for Humanity. I saw things I had in person that previously I'd only seen on the pages of National Geographic Magazine. I used my photography to promote the work of WFH and help raise awareness of and funding for their programs.
Something about calling oneself an artist was difficult for me – I saw myself as a photographer. Maybe it goes back to childhood and that card in "The Game of LIFE." It wasn't until recently that I'd call myself an artist. Going back to those childhood ideas again, I now teach photography at the Los Angeles Center of Photography and mentor fine art photographers.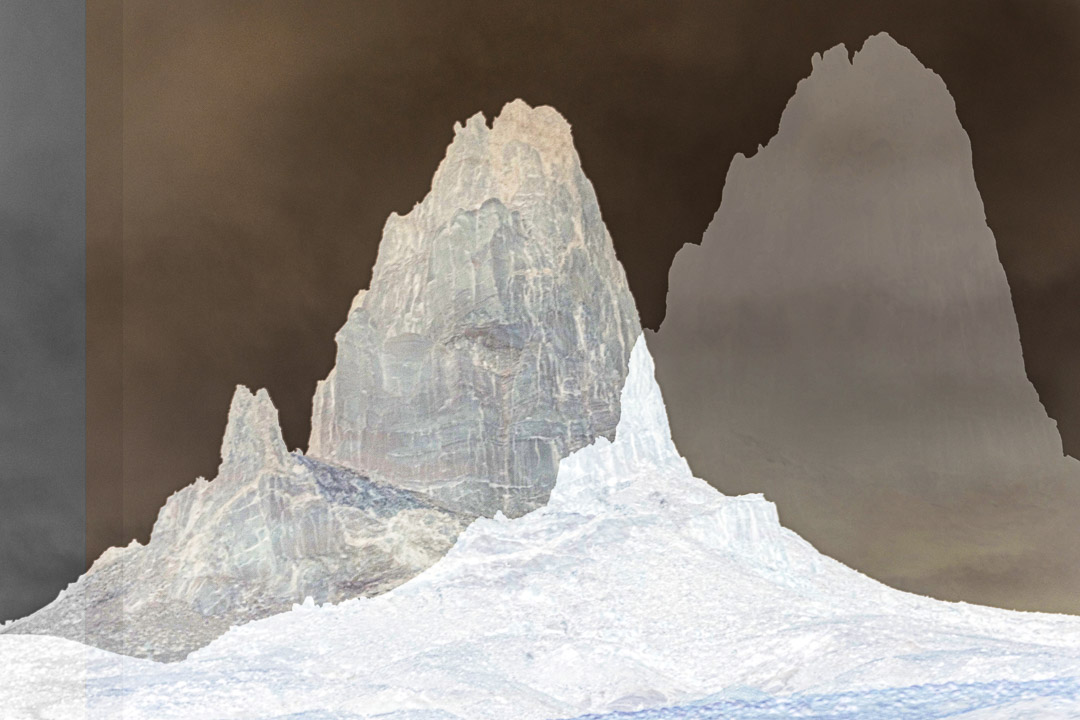 DNJ: Tell me about your artistic practice: What motivates you? How do you decide what issues or themes you tackle? Would you share your approach to creating the work?
DA: I'm motivated by internal questions and personal life experience. I respond to a feeling and my surroundings.
While going through a divorce, I became dedicated to personal growth and spiritual studies. I asked the big existential questions and was dedicated to understanding far more than the eye could see. I became certified as a life coach, led workshops, and worked with clients. These practices play a crucial element in the explorative work I make.
As I mentioned earlier, street photography was my first love and a practice I continue. To me, it's one of the most challenging ways of working. I liken it to playing the piano. If a person can play a foundational instrument like the piano, they can quickly learn other instruments. Street photography led to my shooting reportage, events, landscape, portraits, abstractions, and ultimately returning to documentary work.
Usually, I don't realize working on a project until it's begun taking shape. Although I'm aware of what I'm doing, it takes time before I understand the deeper meaning that is threading together the work and can begin to steer it to completion. After amassing a body of images with reoccurring themes, I like to spend time with the work and let it sit for a while before working with the photographs. Then, I dive in and bring the work to the next level. Sometimes I go through that, working on getting it to the next level multiple times; it's ongoing. Although people are not always present in my imagery, my work rests upon the human perception of the world, each other, and the self.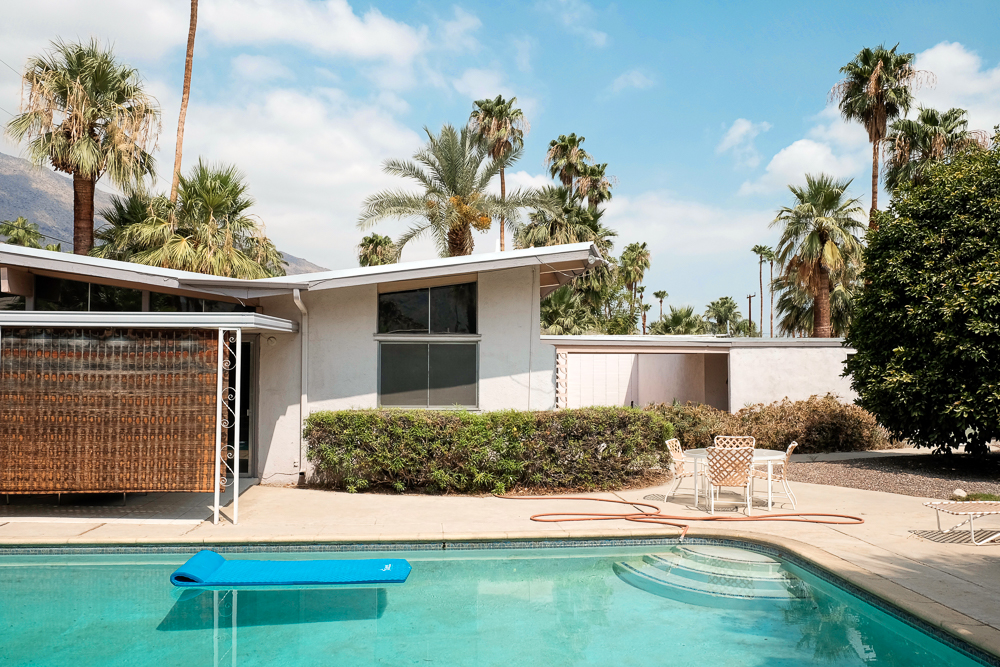 DNJ: Tell me about the evolution of the different series you have done and how each led to the following one?
DA: How each series led to the next is a great question, Diana. And even though each of my projects is quite different, there is an evolutionary thread between them. I placed them in order of conception on my website, encouraging the viewer to make the connections.
Though I had been exhibiting since 2001, "scene & heard" is the first series I made. That was 2013. At the time, I was taking a workshop with Aline Smithson at LACP, and she prompted us to make conceptual work. I had amassed many images of occupied and abandoned structures in desert areas. I'd also begun writing down intriguing snippets of other people's conversations I overheard. I wondered what would happen if I paired these. I found it brought new energy and narrative to both the image and the words. It was also a fascinating learning experience hearing the different interpretations made by the viewers, which showed me how each person's life experiences colored how they saw the work.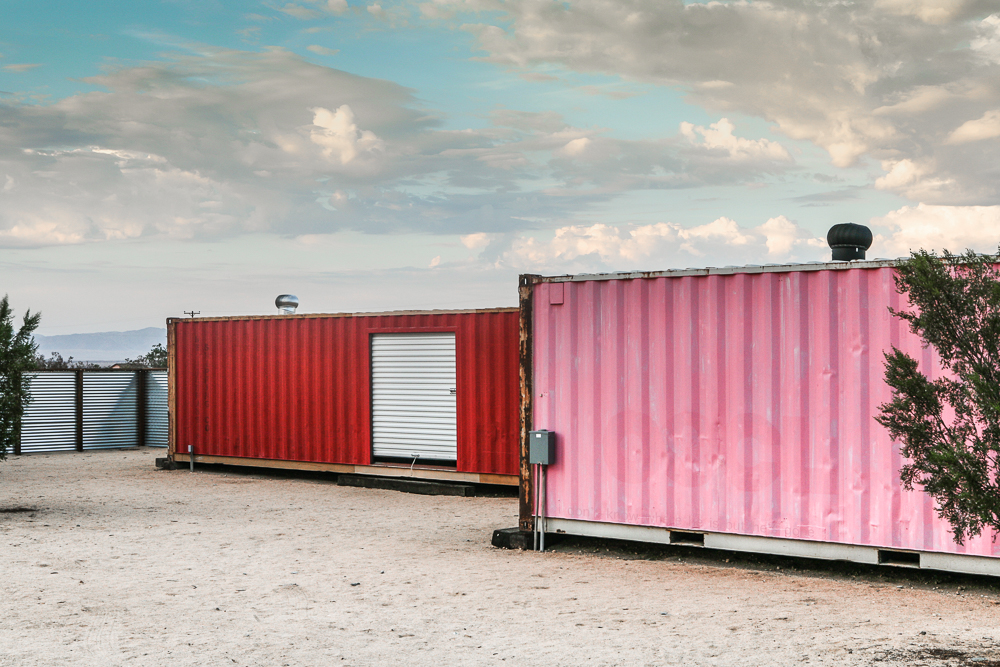 "emptiness defined" began as an homage to Tina Modotti but ultimately shifted to walking meditation. The title references my spiritual studies of the emotional and mental spaces we use to define ourselves, each influenced by social, familial, or politically imposed "walls." There is no restraint and no false definition of self and other when walls don't exist. We see what happens daily on personal and world levels when they do.
"⎮sembləns⎮" considers people's positive and negative connotations about airplanes and travel.
"fronds+palms+variants" uses non-indigenous flora to talk about sensitive issues regarding identity and gender specificity.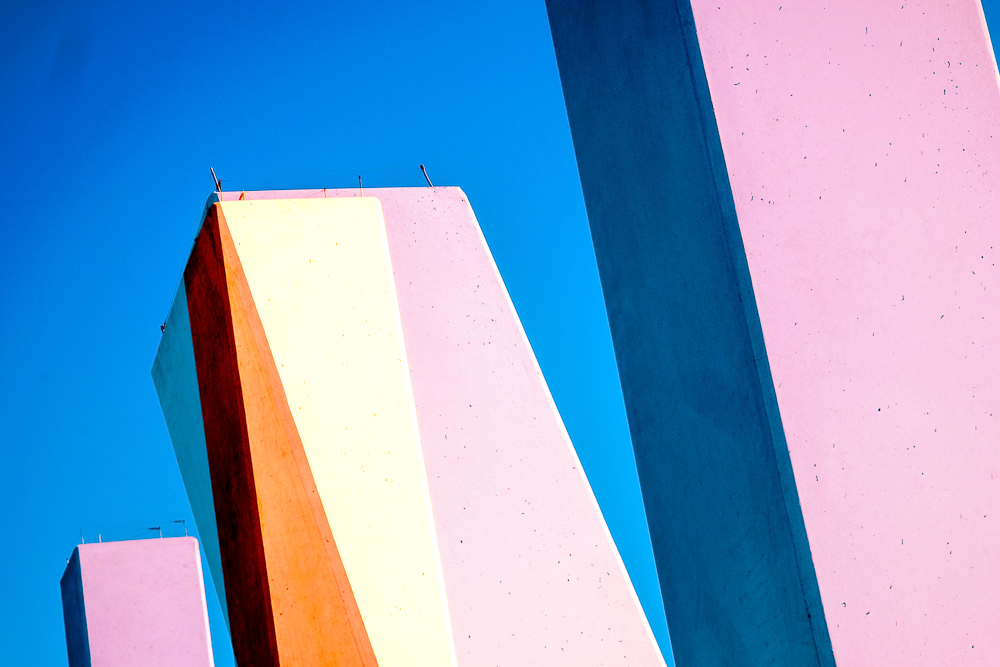 "mirage" is an abstract study of the mind using an architectural metaphor to demonstrate visual paradox and illusions.
"⎮sembləns⎮," "mirage," and "fronds+palms+variants" were all made reasonably concurrently. I was experimenting with in-camera double exposures to demonstrate perception and misperception.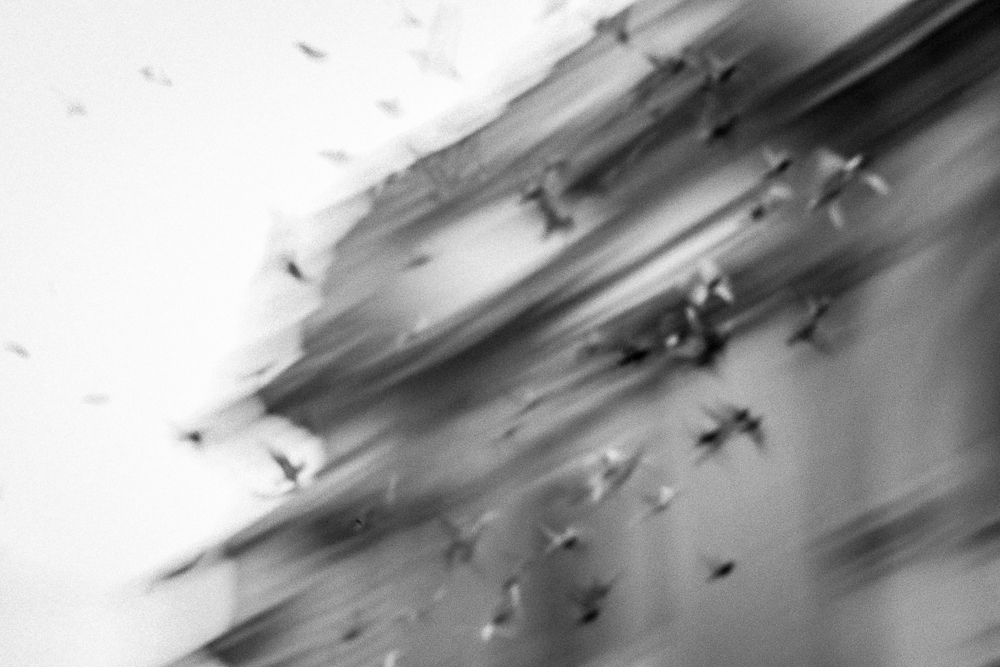 "Rendezvous" was made at the majestic Grand Central Station. Having spent much time in New York City growing up, it seemed appropriate to make work there. The imagery was altered street photography but silhouetted and blurred to enhance the feeling of rhythm and motion. The syncopated rhythm of commuters and travelers felt poetic and timeless.
For "Eye of the Beholder," I began by photographing people in front of Hockney's paintings at the Metropolitan. His work has always inspired me, as does John Baldessari's. I later expanded it to shooting at LACMA as well. The work consists of pop-art-styled silhouettes in front of the paintings.
"Edge of an [American] Dream" began in 2016 on the first of many long road trips to Idaho and Colorado from Los Angeles. Sitting in the passenger seat, seeing new to me vistas was like being a kid in a candy store all over again. I'd photograph for ten straight hours. If I put my camera down for a meal or to take a call, I inevitably regretted not taking a photo I'd seen in my head. Because I was shooting for personal enjoyment, I noticed more details particular to each town. Once I had made these pictures for a few years, I discovered that a style and narrative were present and then worked to develop a series more fully from the images.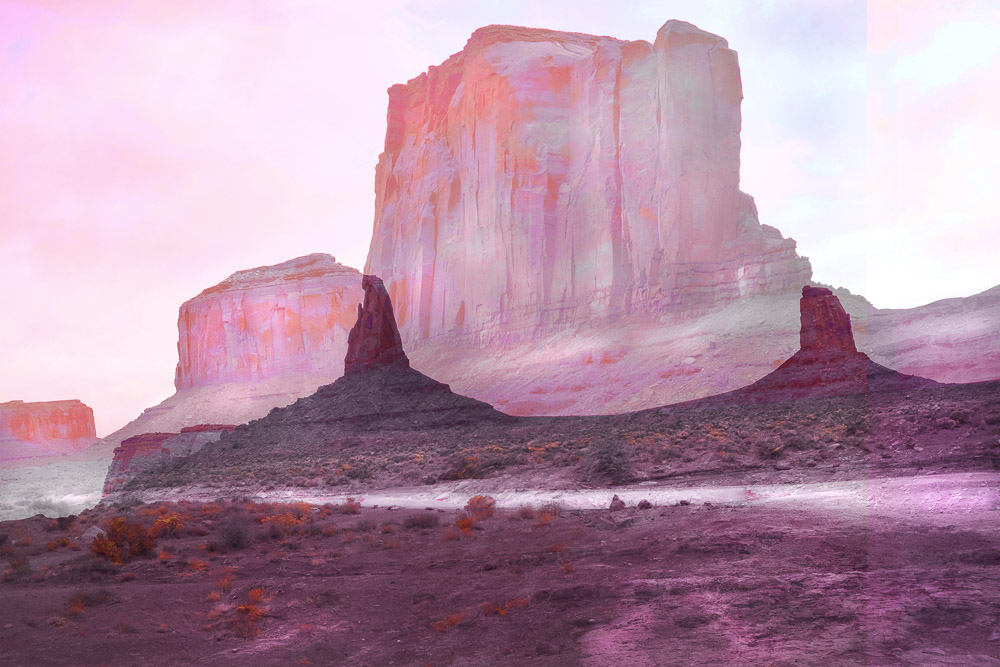 "Foreseeable Cache" came about on one of those trips; that one, I'd decided to make in-camera double exposures. I shot both from the car and in the environment as we toured Monument Valley and Arches National Park. We were on sacred Native American land, and I found the atmosphere meditative and transformative. While developing them into a series, I worked on the images further to amplify that spiritual feeling.
"one, one thousand…" is my first documentary work. Given my recurring theme of spirituality and the fact that the subject, my nephew David, suffers from an ailment, Lennox-Gastaut syndrome, that makes his mind unknowable, it makes sense to me that the work is non-traditional in form. The work began as surreal and has changed to less so over the time I have been working on it. Eventually, I'll make the work dimensional to underscore the dimensional states David and my sister Lori experience.
I had never heard of LGS before running across Arlook's series, then called Silent Buddha, at the PH Museum last fall. I thought Spike Waves (now called Spike) was a beautiful diptych: sad, tender, curiously non-traditional in format for documentary work. Before writing about Spike in that Poignant Pics feature, I visited the LGS Foundation website, where I learned some facts about the syndrome:
Lennox-Gastaut syndrome (LGS) is a developmental brain disorder that frequently evolves from early-life-onset epilepsy. Atypical brain waves signify that expected brain development was disrupted, and learning and developing are challenging and complex.
In LGS, seizures usually begin in preschool, and LGS usually emerges between 3-5 years of age. LGS can, however, start later in childhood.
Approximately 13,400 children under the age of 18 and 34,300 adults have LGS.
People who suffer from this syndrome have developmental and behavioral problems and epilepsy. The epileptic seizures often worsen the former.
In addition to the above, Arlook's nephew, David, has ocular ailments and severe autism. He also has a 70% chance of having synesthesia, but it is impossible to discern due to his inability to communicate.
The series has changed significantly in seven months since I wrote about Spike; I'm only guessing as to the whys. I imagine that it is partly as the deeper Arlook gets into the project and her collaboration with her sister and David in making it, she changes her thinking about what it needs and how it should look to look to best reflect her concept. (Haven't we all faced that with our projects at one time or another?) Additionally, both Arlook and I have been enrolled in Foley Gallery's Exhibition Lab this year (although in two different sections, so we did not even realize we both were in the workshop until a few weeks ago.) The program culminates in a group exhibition at the Gallery in July; Arlook will be showing work from this series. The intense period of project development the program encourages would also affect the resulting imagery, I expect. Again, these are strictly conjectures created in my mind in response to the significant changes in the work.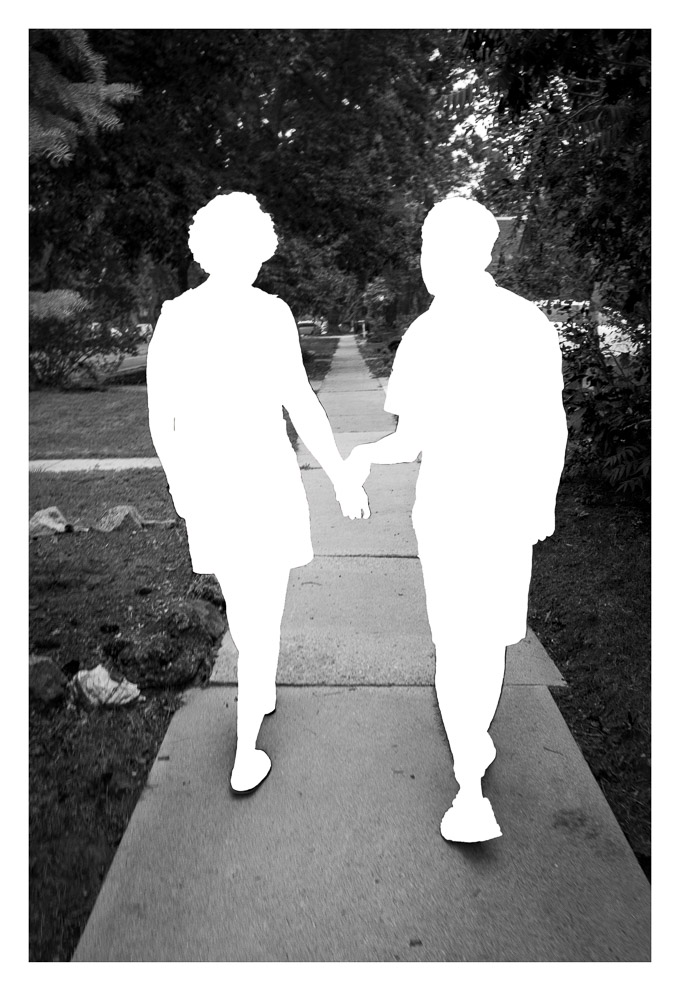 DNJ: one, one thousand… is your most recent series and is still in process. Could you elaborate on its concept and evolution from its start as Silent Buddha to where it is today?
DB: "one, one thousand…" is very different from my other work in that it's an unconventional documentary exposing the hidden impact a rare and incurable brain disorder, Lennox Gastaut Syndrome, has on a family's experience of life-long care. I use multiple artistic interpretations to convey David's unknown world perception and Lori's spiritual explorations. The goal is to raise funding for research on LGS and help others in long-term caregiver positions to know that they are not alone in their situations.
I became aware of the disease because my nephew, David, is afflicted. It began when I received an intuitive message to support Lori (David's mother), raise awareness about a family caregiver's life, and share David's narrative. The work is an explorative dive into what is "real" and what is imagined, and of my own sisterly love. Via Lori's narrative, it is also a mother's story of devotion, perseverance, and personal growth.
I knew I couldn't do this without David's consent. Yet I didn't know how to get it because he has no means of formal communication and does not hold eye contact. I spoke to him, stating that I wanted to tell their story – to be a witness to their lives and his voice through my photography. I said I would respect and honor him. I asked, "Is it okay with you?" David stopped his rocking motion and did something he'd never done before with me. He leaned forward, very close to my face, then stared into my eyes, holding my gaze. He smiled and then leaned back, resuming his swaying. Both Lori and I were in shock. We had an affirmative response!
I stayed with them for a month, where I shadowed Lori and David's lives for weeks, using my camera to document every aspect of their lives. Once I returned home, Lori and I worked together on captioning the images. This series is still evolving, and I continue to document Lori and David's life together.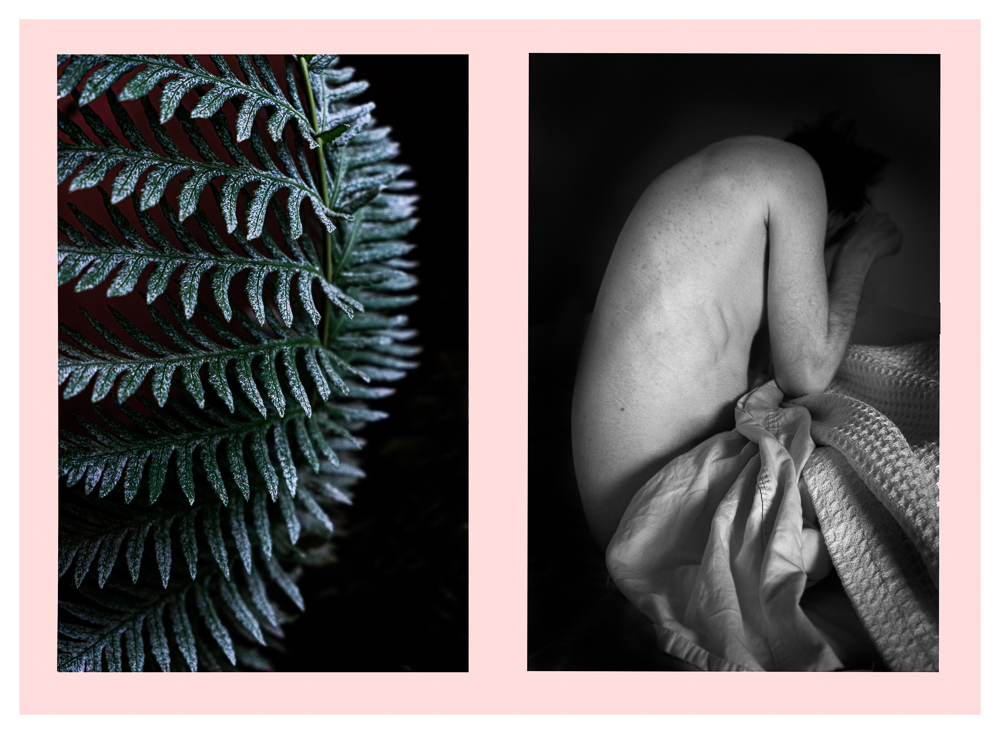 In 2014, Lori gave a TedX-like talk about her life with David entitled "My Silent Buddha." That inspired my initial working title and remained the title of one of the images. I've since changed the series title to "one, one thousand…," which references Lori's process of counting the length of time a seizure lasts.
It's gratifying to see the interest the project is getting! It makes it much easier for us to bring awareness to LGS and long-term family caregiving issues. I'd like to have a traveling exhibition with community programming tie-ins. Topics could include discussions about neurodiversity, mental health programming, epilepsy, autism, women as care-takers, and long-term family care, with presentations by professors, medical personnel, advocates, and family members, among others.
DNJ: What message do you intend to send out into the world with the work you make?
DB: Except for creating awareness of Lennox Gastaut Syndrome with "one, one thousand…", I don't have planned intentions for my work. I make art as self-expression and to explore inner questions. But thinking more about this question, I think it would be cool if my work causes my viewer to slow down, to be fully present in that moment in time.
That is the response Arlook gave me, but as a viewer and interviewer looking from the outside, I see something different. When I examine what she told me about each series, I see intentionality present in her work; even her final sentence is a form of that. Maybe the difference between my perception and Arlook's is that Arlook is viewing it from her loose and free-ranging process of creating, and I only see the work as a finished body after the fact. I'm not sure. But in this viewer's opinion, I see intentionality in her work as she releases any given series out into the world.
DNJ: What's coming up on the horizon for you?
DA: I'm heading back to Colorado the first week of June, showing work from the series in the Center Forward exhibition at the Center for Fine Art Photography, juried by Alyssa Ortega Coppleman and Christy Havranek. In July, I'll be exhibiting five prints from the series in the Exhibition Lab Exhibition at Foley Gallery in New York City. Finally, In late July, I'll be teaching "The Art of Photographic Capture for Teens" at the LACP.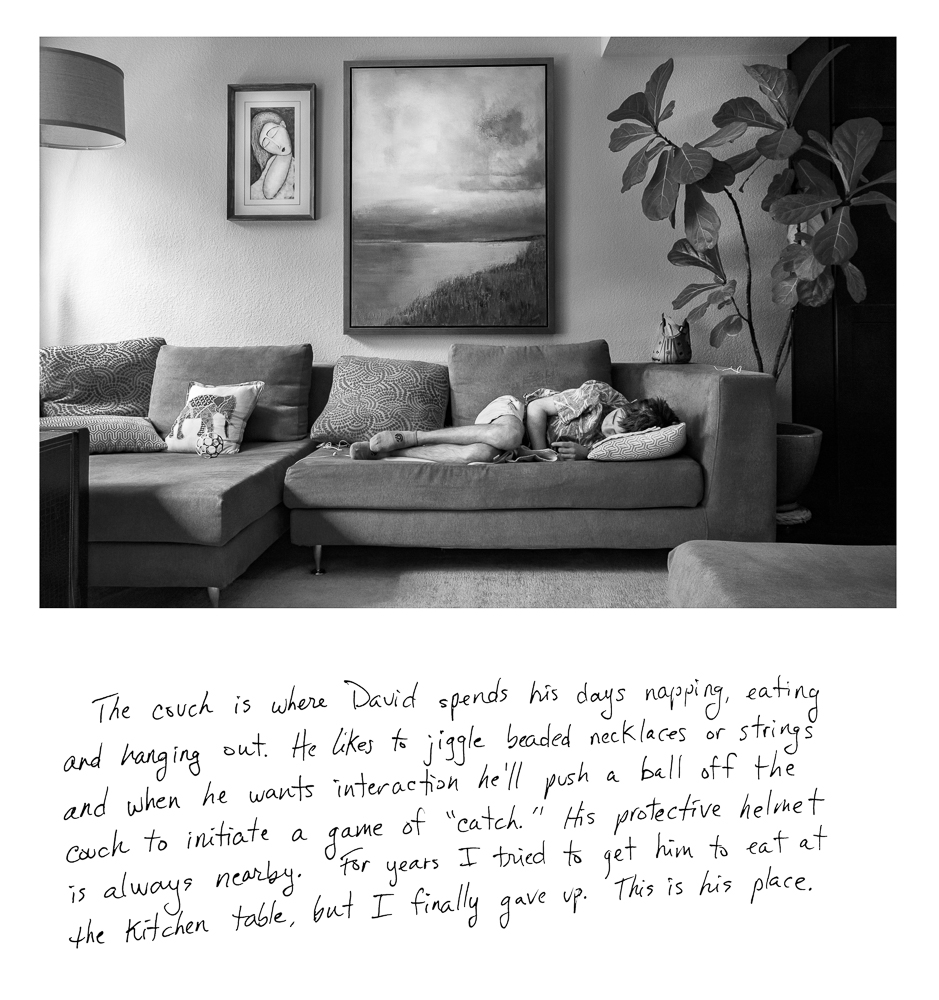 To leave you with a final thought from Arlook, she says, "We're making this work to champion caregivers and bring awareness to this rare syndrome. We hope to raise funding to enable more research into the many unknowns about LGS. To learn more about LGS, visit the LGS Foundation website.
As you can see, Arlook's work is quite wide-ranging in style and theme. It's been interesting for me to watch the evolution of one, one thousand…; I look forward to seeing the final version of this project.
I hope I've perhaps introduced you to some new work and piqued your curiosity about what Arlook may do in the future.
DEBE ARLOOK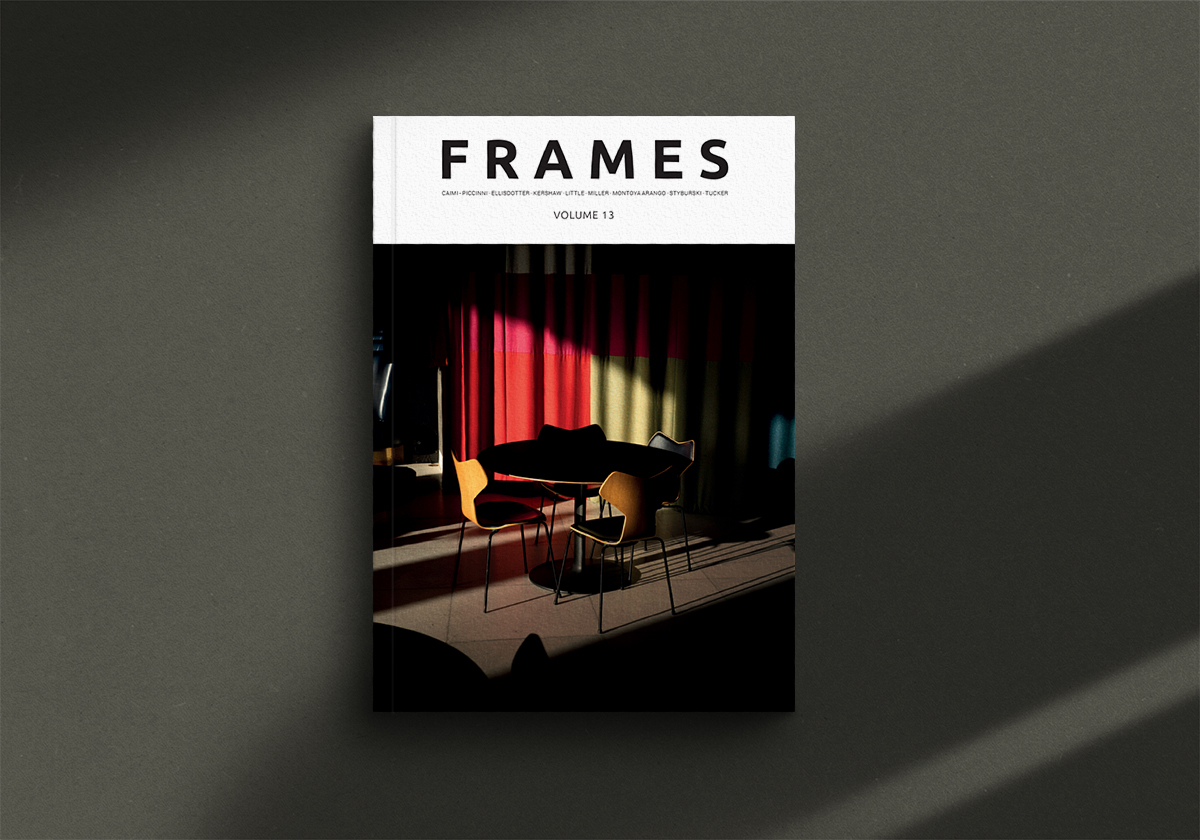 Every year we release four quarterly printed editions of FRAMES Magazine. Each issue contains 112 pages printed on the highest quality 140g uncoated paper. You receive the magazine delivered straight to your doorstep. We feature both established and emerging photographers of different genres. We pay very close attention to new, visually striking, thought-provoking imagery, while respecting the long-lasting tradition of photography in its purest incarnation. Learn more >>>
---