Ellen Friedlander is an award-winning artist based in Los Angeles who uses an assortment of in-camera and post-processing techniques to reveal the unpredictable, idiosyncratic, inscrutable nature of the human condition. She holds a BFA in Art with a Minor in Photography from Ithaca College and a MA in Mass Communications from the University of Florida. She is a member of the Los Angeles Street Collective, a Kipaipai Fellow, and an advisor for Pasadena Photography Arts, which promotes diverse photography projects by established and emerging photographers worldwide through Open Show and FORUM events. Friedlander was also a guest curator for The Crit House podcast. Media and publications featuring Friedlander and her work include Lenscratch, The Hand Magazine, The LA Weekly, California Love: A Visual Mixtape (photobook), A Photo Editor, The Photobook Journal, and The Candid Frame podcast. Her work has been exhibited internationally, including a solo exhibition at The Photographer's Eye Gallery (CA). Venues for group exhibitions include Austin Desmond Fine Art (GB), Praxis Photo Gallery (MN), Lancaster Museum of Art & History (CA), Center for Photographic Art (CA), Carmel, CA, PH21 Gallery, Budapest, Hungary, and Soho Photo Gallery (NY). Friedlander's work is represented by The CAMP Modern (FL), Veritas Editions (US), and l'etrangère in London.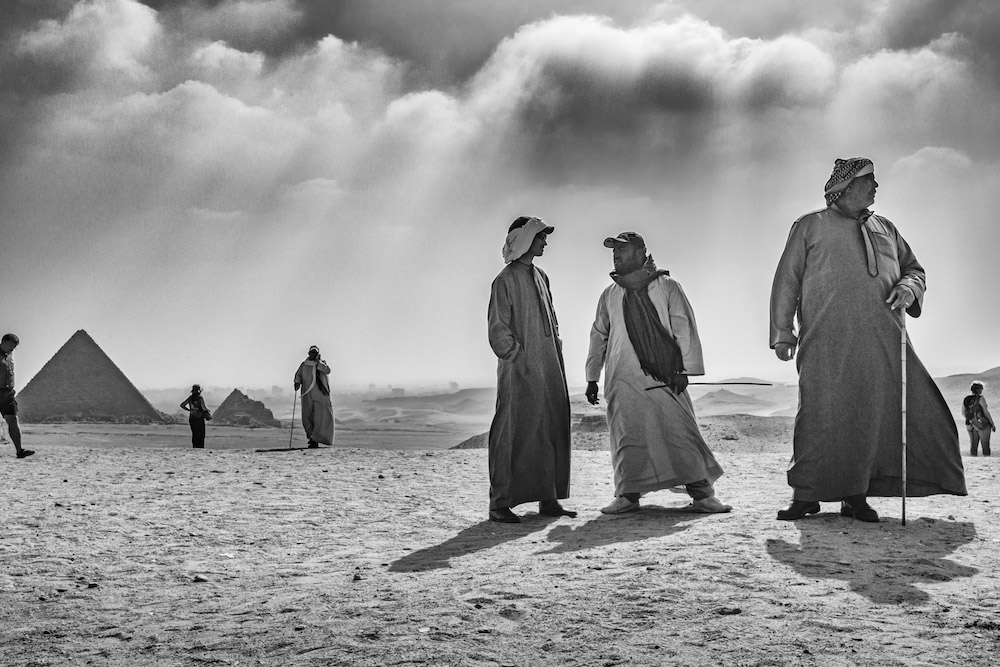 Friedlander was born and raised in Utica, NY, the fourth generation of her extended family to live there. Her father, who passed in 2004, was an independent insurance agent. Her mother is a fashion designer who chose to raise a family instead of growing her collections. Friedlander characterized her mother as forward-thinking for a woman of her era; for example, she introduced and taught yoga to her community. Her mother is very spiritually attuned and shares that journey with those open to learning.
As young as five years old, Friedlander felt most connected to herself when she was painting or dancing. Throughout her youth, Friedlander was actively involved in taking classes for art, dance, and figure skating activities in which she found solace and enjoyment. When she was 16, her father gave her her first camera, an Olympus OM2n. It was a pivotal moment; the camera became like an extension of her body.

While her family hoped she would stay in the area, Friedlander had other ideas, even in her youth. She was interested in exploring a larger world, though she knew leaving her home area would be monumental. After listening to Friedlander's ideas, her mother suggested to her father that they consider sending her to boarding school. Though she grew up comfortably, her father did fret over money, like many men of his generation—or many of us now. Eventually, she had the choice to continue with skating lessons in Utica or to attend boarding school. She made the life-changing choice of the latter, enrolling for her final two years of high school at Emma Willard, a woman-centered academy in Troy, NY. There, she found herself surrounded by challenging academics with curious and confident peers from around the globe, and she loved it all. She also credits Emma Willard as the place she found her passion for photography.

After graduation, she attended Ithaca College, where she received her BFA in Studio Art with a minor in photography. She studied with Monte Gerlach and Danny Guthrie, whom she categorizes as extraordinary instructors. Having become a contemporary of theirs, she remains friends with them to this day.
Later in her life journey, while living in Florida and pregnant with her first child, she attended the University of Florida, Gainsville, where she earned her Master's Degree in Mass Communications.
Friedlander has studied and worked in all facets of the medium since leaving her BFA program.
I've spoken with Friedlander about her life and artistic practice, her responses to my queries you will find here, interspersed with my occasional commentary.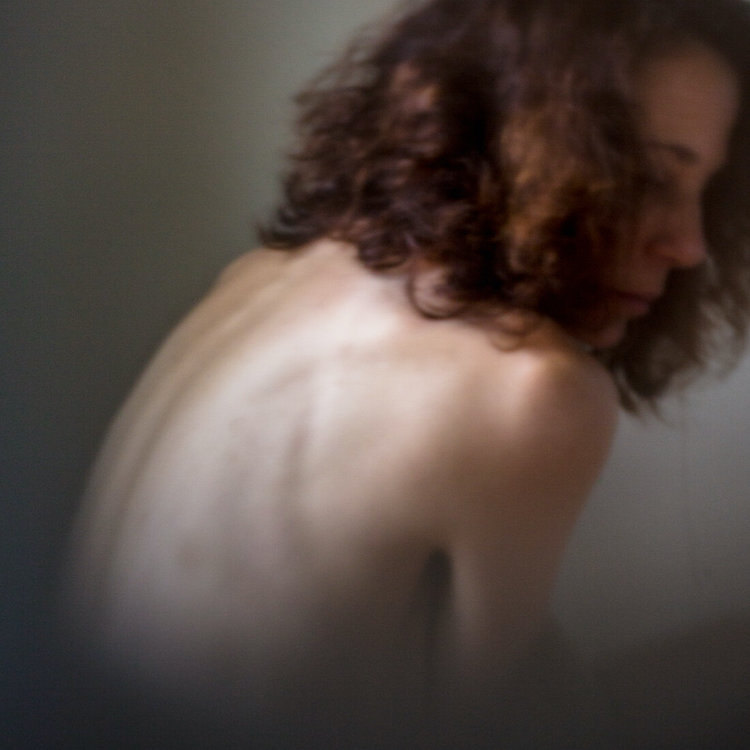 DNJ: What jobs did you hold in the photographic field?
EF: My experiences working with and for others have greatly informed my photographic practice.
After graduation, I moved to Washington, DC. My first photography job was assisting Peter Garfield, who at that time created the covers for The Washingtonian Magazine.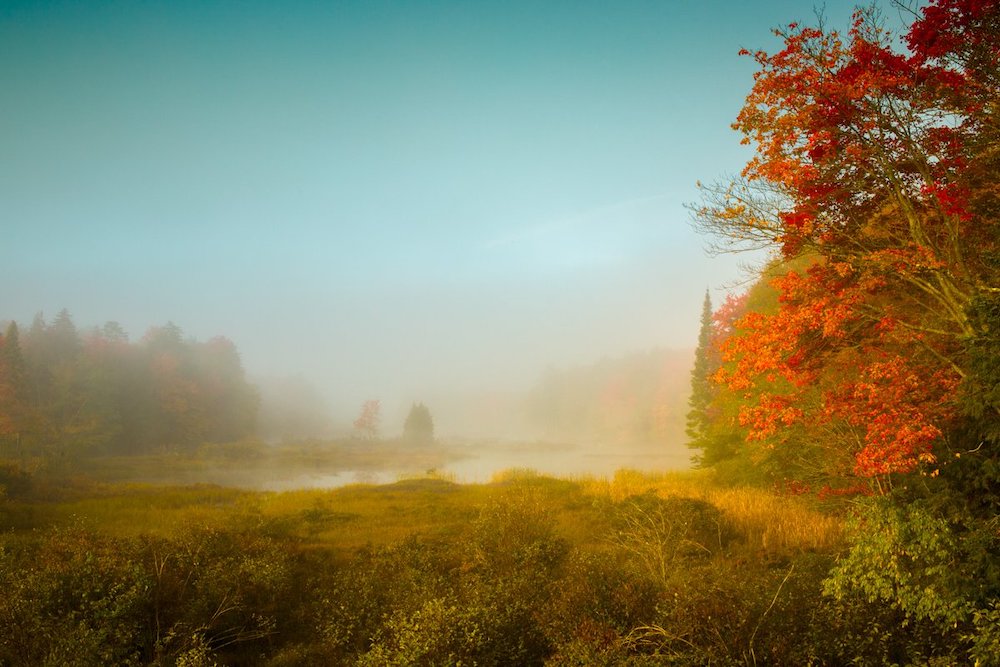 The man who would later become my husband moved to St Louis for his work, and I moved, too. I worked for several years assisting Jerry Tovo, a commercial photographer. His clientele included Brown Shoe Company, Emerson Electric, and Anheuser-Busch. I then worked for Delcia Agency, a boutique modeling agency, where I was the Director of Print. I gravitated back to the studio when I met Duane Powell, who brought me on to be his Rep. This was a pivotal experience as Powell was a lighting master with high-end clients; he often flew in talent from LA. Several years later, my husband's job brought us to Hong Kong. Despite navigating a new city and culture while raising two children, I connected with a local Hong Kong photographer. We began collaborating, and I spent the next ten years working with him as a rep, stylist, and studio assistant.

DNJ: If you weren't an artist, what career would you want to pursue instead?
EF: I have always had an innate need to express myself through art. I love helping and connecting with people, am extremely curious, and am an active listener. If I were not an artist, I would have enjoyed pursuing psychology, specifically family therapy.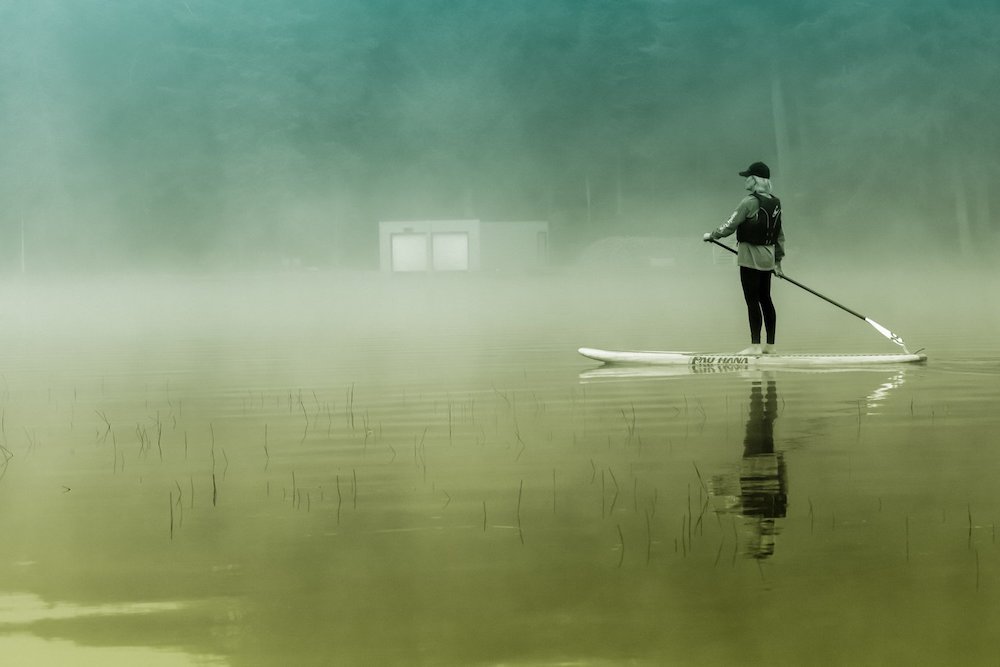 DNJ: Do you consider yourself to be a specific type of photographer?
EF: For the longest time, I didn't know how to answer this question. In 2017, when I was learning about the fine art side of the photographic world, Aline Smithson asked me the same question. I was uncommitted to a specific genre, and I was worried she would discourage me from that. Instead, she told me that as long as I continue to create, I could be any type or many types.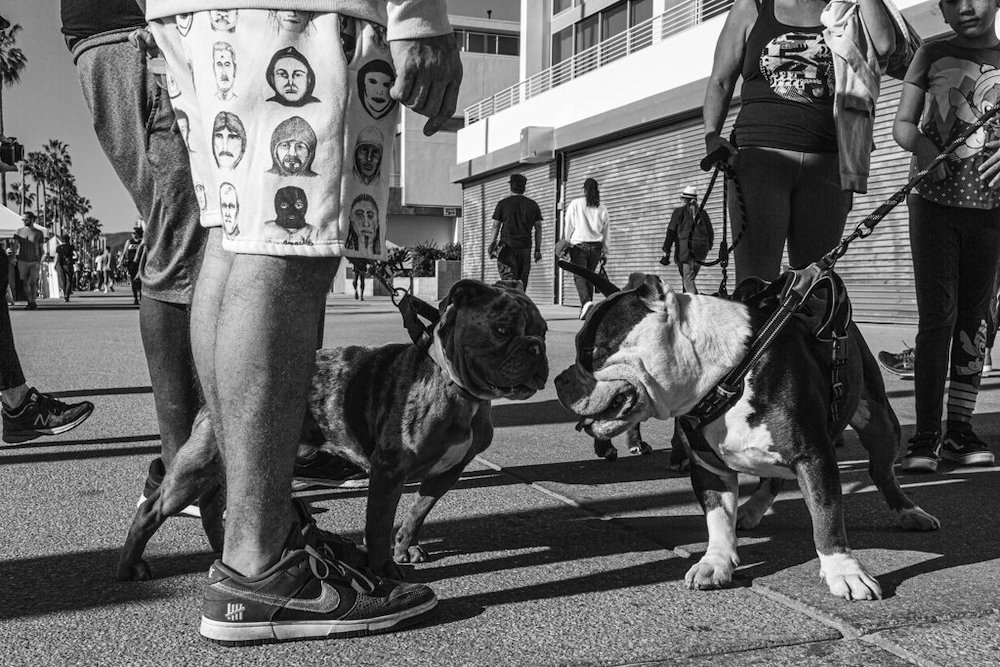 I'm grateful for that because I do not feel the need to constrict my practice to one style. I am a photo-based artist who works in multiple areas: street, documentary, fine art, and portrait.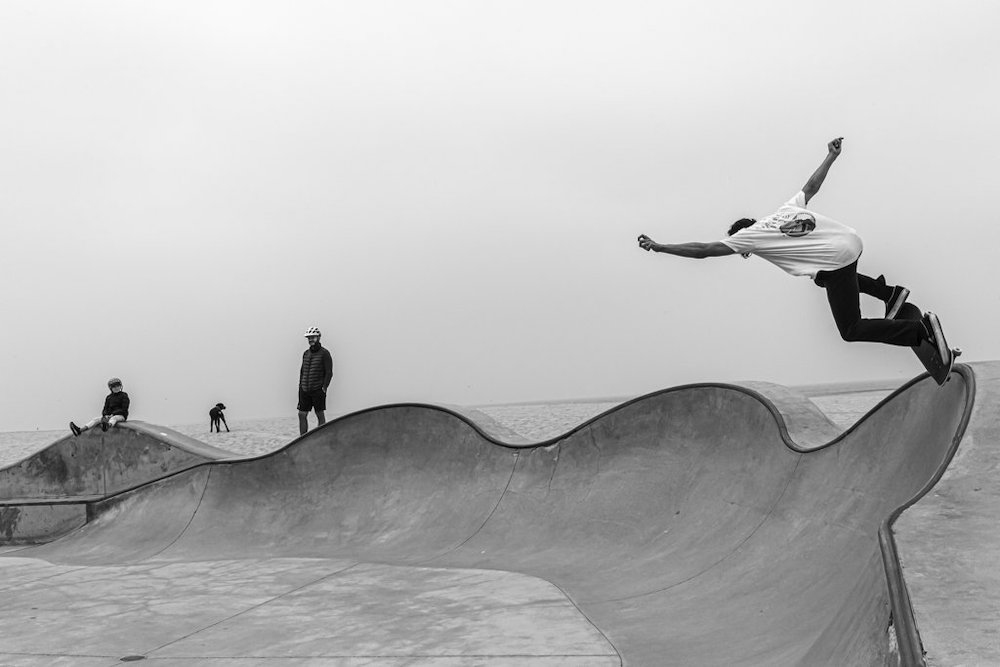 DNJ: Who are the artists who have most influenced you?
EF: There are so many! 20th-century photographers such as Winogrand, Callahan, Friedlander, Gowin, and Cartier-Bresson influenced my passion for street photography and the vernacular. O'Keefe, Cunningham, Lange, Chicago, and Arbus are strong women whose work influenced me. Closer to home, several Los Angeles-based photographers inspire me, including Aline Smithson, Colin Finlay, Kristine Schomaker, Aline Mare, Douglas Hill, Bill Wishner, and Ibarionex Perello.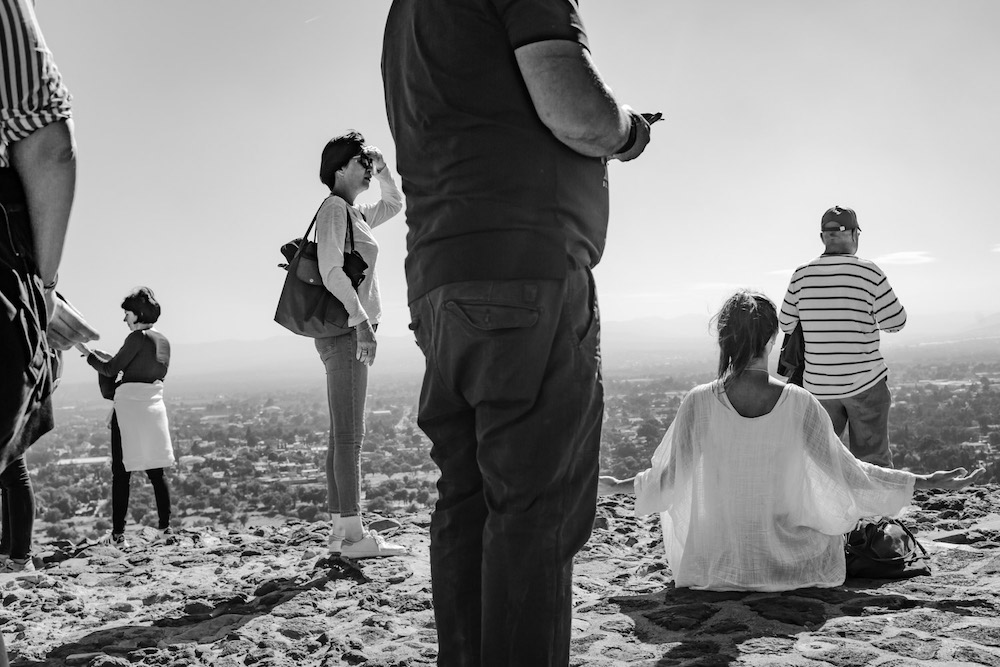 DNJ: Can you tell us about your process? When and where do you work? Do you work on one series at a time? Do you come to the work with a fully formed idea, or do you improvise in the making?
EF: I've recently built a new home studio space, which I consider something I am growing into.
I am very disciplined in my practice, but I'm also non-linear. I work at all times of the day. I often wake up before sunrise to make images or edit work.

I don't usually start projects with a specific result in mind but rather improvise and let the work speak to me as it develops. I'm very organic that way. The same is true of my projects—I jump from one to another, following where my instincts lead me. My process is one of simultaneous observation and reflection as I use my camera to create a visual diary of the places and experiences I see before me.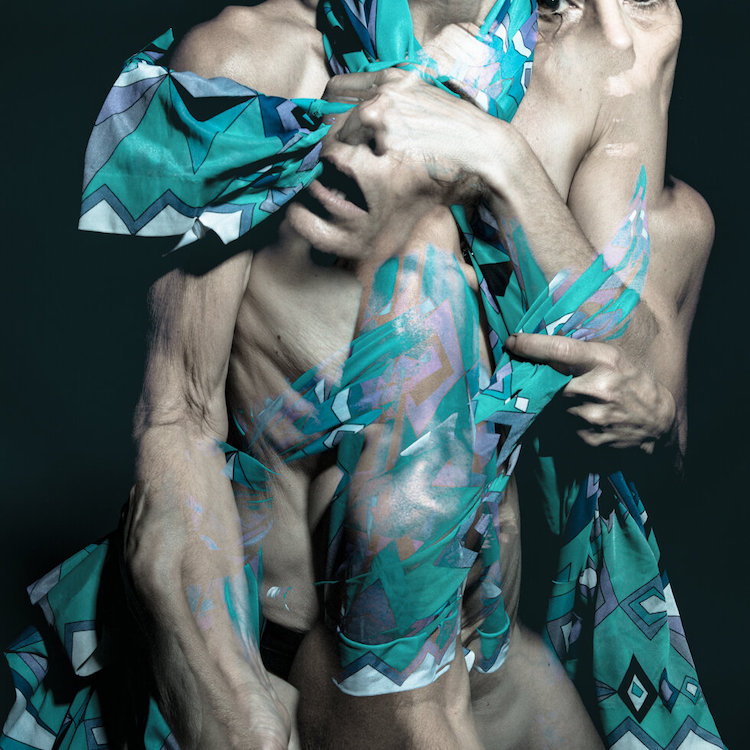 Generally, I mention early in the feature what prompted me to select a particular person to write about. In this case, I felt it would be more beneficial to use it as a buttress to Friedlander's "Betrayal" series.
Last summer, I was working on my submission for the 2021 Critical Mass competition and shared my work for some feedback with a couple of my most trusted peers. The series I had decided to submit from is a still in process work about marital betrayal. Among my concerns was how much to disclose in my statement. One peer referenced Friedlander's Betrayal project and said that as far as she knew, the openness of Friedlander's statement had been well-received.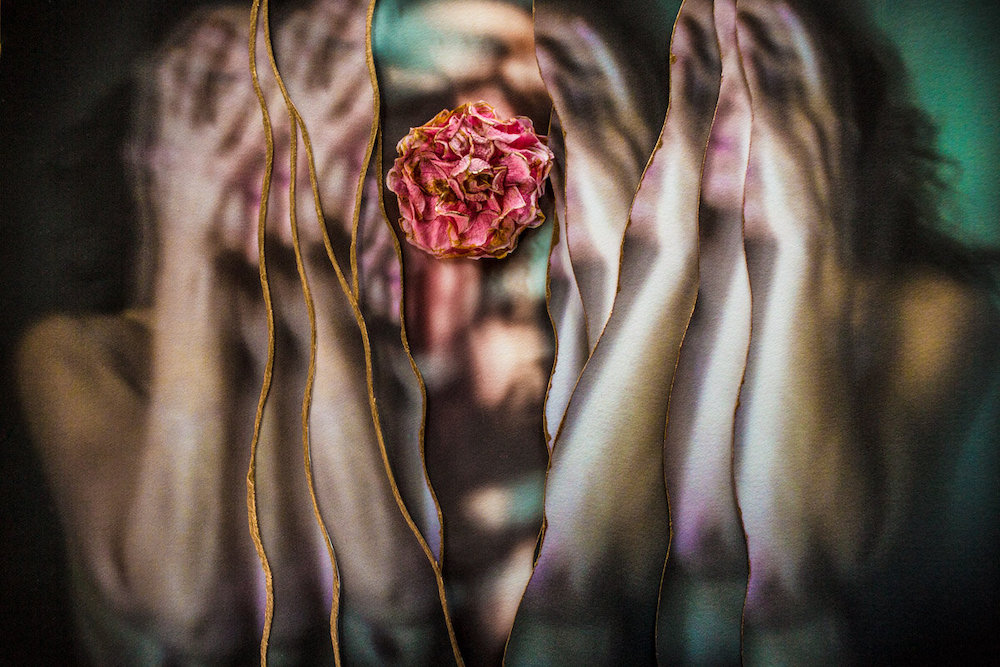 I was unfamiliar with the series, though I knew Friedlander's name. I visited her site and confronted the following project statement:
"A child was conceived, and everything changed. I learned that my husband of 25 years had fathered a child with another woman. And yet, my love for this man had not waned, nor had his love for me, but he had lost his way. I grieved deeply, counseled my children on their grief and confusion, and through thousands of conversations, have grown to understand this man. The destructive has now become constructive. The growth from our challenges allows us to forge a path of recovery. We now share a new love for each other as we co-parent together but separate.
With my project "Betrayal: Shattered in a Moment," I faced the camera in times of paralyzed sadness as a way to process very complex emotions and to free the shock, loss, and anger I was experiencing. By deliberately cutting emotionally fueled self-portraits into vertical uneven strips and reassembling them, I created the physical manifestation of letting go of a story that no longer served me. As a new self was re-contextualized and reconsidered, I felt renewed and invigorated, able to let myself shed the past and be free to find happiness. This profoundly therapeutic series is part of a larger body of work created over the last five years."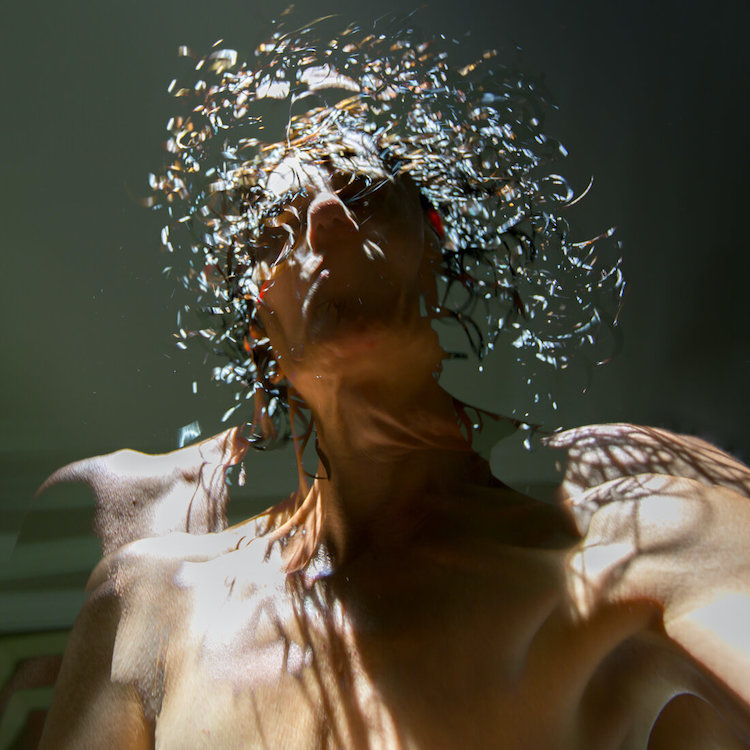 As I looked at the work, I felt her anguish and pain. Yes, because I have had my trust broken, but more so, how Friedlander translated that experience to the work. If you are familiar with my curation at One Twelve, or my work, you already know that I firmly believe that materials have mana; the deft use of technique can add to (or detract from) the conceptual ideas contained within a series. The destruction done to these images fits the former category.
It's easy to think that we know what we would do and how we would react if confronted with infidelity. And perhaps some people actually do. From personal experience—and being part of a community of people who have experienced the same—I think we do not know what we will do until we face the situation (which, if you are lucky enough, you will never have to do.) It's impossible to state just how devasting a marital betrayal can be. It impacts your sense of security, sense of self, and ability to trust anyone and everyone. It can be physically debilitating when grief is so deep. For many people, it also involves sudden and grave changes to lifestyle and custody fights. People may suffer from long battles with PTSD after learning about infidelity; an even more unlucky few literally lose their life from broken hearts. (I know, I know…that sounds stupid, but it is an actual syndrome. Google it.)
Although the one betrayed is not the one who broke their vows, there may also be a sense of shame. I am not sure why this is. But it exists for many in this situation. And the feeling that others will judge you because of the situation only worsens it.
For my two series about this issue, one of the things I have written is that this experience is like riding a rollercoaster that you never got in line for. Everything you know and understand about your life comes to a grinding halt: the floor just fell from under you while you are ten stories high, and you have no Plan B. You are forced into a new mental place you never wanted to be.
The toxicity and devastation she experienced come roaring toward the viewer in this project by Friedlander. Her treatment of the imagery—the poses, the multiple exposures, and the destruction jump off the page. It's impossible not to feel some of the pain she experienced.
The reality of infidelity aside, this work speaks equally well to those suffering other forms of grief. From other sudden and devastating life events that cause despondency, say, the loss of a child, a spouse, a parent; a terrible and haunting health diagnosis; or any situation that causes someone to lose their footing in life due to despair. It's not surprising that Friedlander has heard from people that this work made them feel less alone and shared their own stories with her. I did. And that is what ultimately, many months later, led to this article.
DNJ: Like me, you have used deeply personal experiences involving personal relationships as the basis of some projects. What did that mean for the work as well as for you?
EF: I was alone and emotionally catatonic, and photography was my means of salvation. When I felt overcome with emotion, I reached for my camera. I think that when we make art that is so raw, it is like an out-of-body experience. Through this process of facing the camera alone, sometimes naked, I discovered how to access my creative flow. It allowed me to release my emotional state into the images. I look back at them now, and I see a different person. Numerous individuals who viewed "Betrayal: Shattered in a Moment," contacted me to tell their stories of betrayal and paths to healing. These volunteered insights into the grieving and growth process borne of infidelity have prompted me to envision a more expansive project.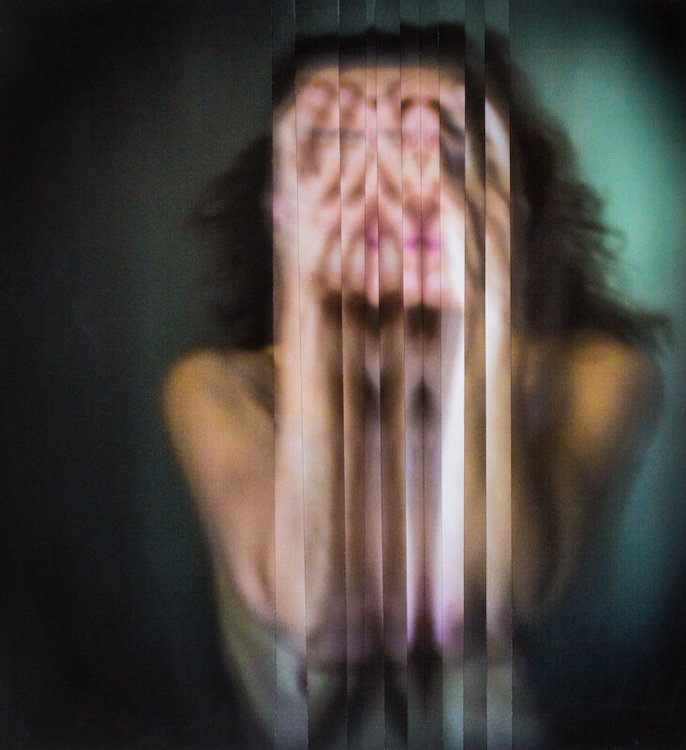 DNJ: Tell us about the different series you have created.
EF: "Betrayal: Shattered in a Moment" developed from a profoundly challenging life experience. I started thinking back to when I was mentored by Jim Friedman, who sagaciously impacted how I work; he had encouraged me to turn my camera upon myself to document my emotional states. When I worked with him, I had been making photographs for decades but was not yet fluent in the making of art using the camera. For "Betrayal," I used many different techniques to record my in-the-moment emotional state, experimenting with multiple in-camera exposures, long exposures, flash, and timed exposures. I learned not to judge the output at the time and to take many photographs. The first time I cut and reassembled images, I found this new way of working cathartic. I could feel my pain releasing into the work. I was also letting go of a story that no longer served me. As a new self was re-contextualized and reconsidered, I felt renewed and invigorated, able to let myself shed the past and be free to find happiness.
I shot "The Extended Frame" in Hong Kong in 2014. I had amassed over 4000 street images; those sat in my files for three years because I wasn't sure how to decipher them. In 2017, I sought out a mentor, Jim Friedman, to help me find my creative voice for those images. It was then that I created the format I call an "extended frame," which invites the viewer to explore and question the reality of the imagery across the frames. My design allows me to convey more tellingly the experience across urban environments, something a single frame can't do.

I place three to six images next to each other "in conversation." Working this way is a form of problem-solving, as well, because the photographs must hold connections between them to work together. I don't use software to modify or blend the images; the only work I do on them is to color grade to unify the palette across the frames. Each photo needs to be strong and dynamic to increase the power of the entire grouping. Unexpected connections between colors, imagery, and mood are what integrate each with the others. The resulting imagery transports the viewer to imagined environments, even when visual inconsistencies at the frame edges disrupt the illusion. Simultaneously distinct and interlinked, these images explore dichotomies of public vs. private, unity vs. isolation, and collective vs. individual to reveal unexpected connections, challenging our idea of what is "real."

Kristine Schomaker invited me to participate in her "Perceive Me" exhibition, which consisted of artists responding to Shoemaker's request to "perceive her." Shoemaker states, "Through it I ask, Who are we in the eyes of other people? Does it matter? Should it matter? Why do we take other people's opinions of ourselves so seriously? Do we even know what other people perceive when they look at us? Why should we care?" The portraits I created for the exhibition used in-camera multiple exposures. The process is similar to that of some of the "Betrayal" images. I continue to explore this method in some of my street photography.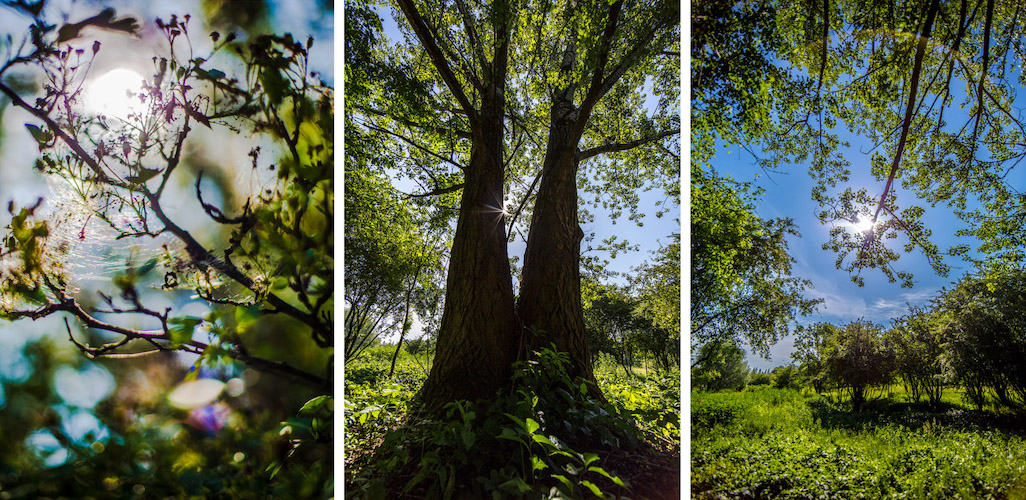 In 2017, I visited Krakow, Poland, to participate in a workshop with Magnum photographer Chien Chi Chang, which resulted in the project "What Remains," which is still in development. It was my first opportunity with a "fixer" (a knowledgeable local guide) to dive deeply into a location-based project. Growing up in a Jewish community in Upstate New York didn't prepare me for being Jewish in Krakow, Poland. The trip allowed me to understand the travesties and tragedies of World War II and deeply connected me to my heritage as I walked in the shadows of death and sadness. These pictures reflect upon my experiences there.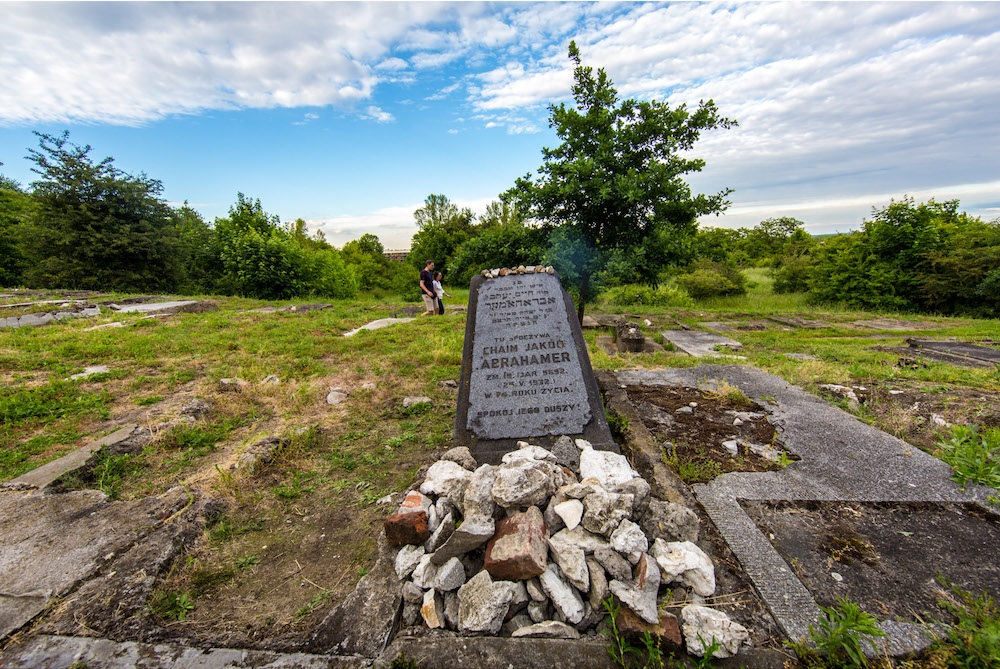 DNJ: Tell us about how you decided to make The Extended Frame into a book.
EF: In 2018, I had just moved to Los Angeles. I met Rick Albertson, a fellow photographer, at a panel on Street Photography at the Los Angeles Center of Photography. We became friends and creative partners. I made the book because of Rick; he was adamant that I should have one. I was still finding my way around the city, so he took it upon himself to create a dummy, and we worked together on editing and getting it printed. I am grateful for his belief in my work and his help designing it; both are true gifts.

DNJ: What do you want viewers of your work to take away from it? What do you want the experience of viewing your work to be?
EF: I strive to create work interesting enough for a viewer to linger with it and for it to stay with them. I want my viewers to feel something from what I show and tell them. Ultimately—like so many of us—I want my work to strike a chord inside my viewer, which results in them enjoying it so much that they collect it.
With the raw and self-expressive work, I want to share my vulnerability in a way that allows others to feel brave enough to connect with their own emotions and experiences, to stir conversations that would otherwise not occur.
DNJ: Tell us what you're working on now? What's influencing your work lately?
EF: Until moving to Los Angeles in 2018, I worked in a vacuum with little in the way of an artistic community. Yet, I will always be grateful to those who embraced my work and continued to push and inspire my career.
I've dedicated the summer to creating new work, unattached to anything that came before. I'm excited to play and see what happens. I will also be working alongside my daughter to expand my "Betrayal" project into an immersive installation.
At this time, though, the current political climate surrounding women's rights and abortion access is front of mind and definitely influences what I think about making. I want to use my art to contribute positively to the fight.
I want to make art that transcends object-making into intentional conversation and action. I find I am inspired by artists who do thought-provoking work by pushing boundaries into photographic sculpture and multimedia works.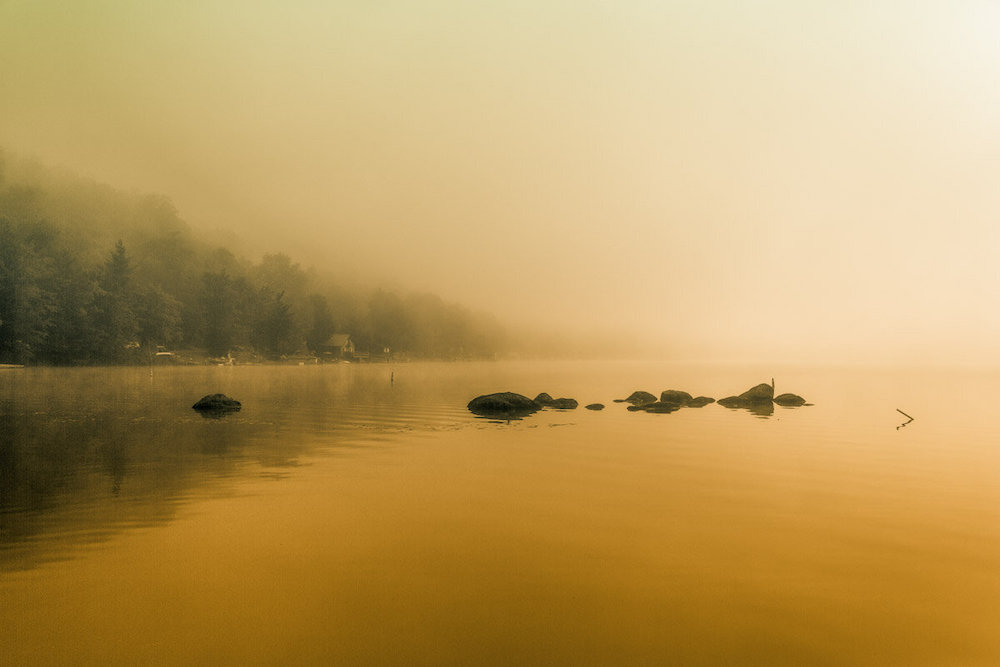 Perhaps most importantly, I am working on bringing joy and positivity at a time when there is so much darkness around us.
As I write this, it occurs to me that running throughout all of my work is a need to push my self-expression by using alternative methods. Life is layered, messy, and confusing; it is also joyful. I put all of this into my work.
I will close with Friedlander's last quote – full of truth and love. I hope that FRAMES readers find Friedlander's diverse body of work as compelling as I do.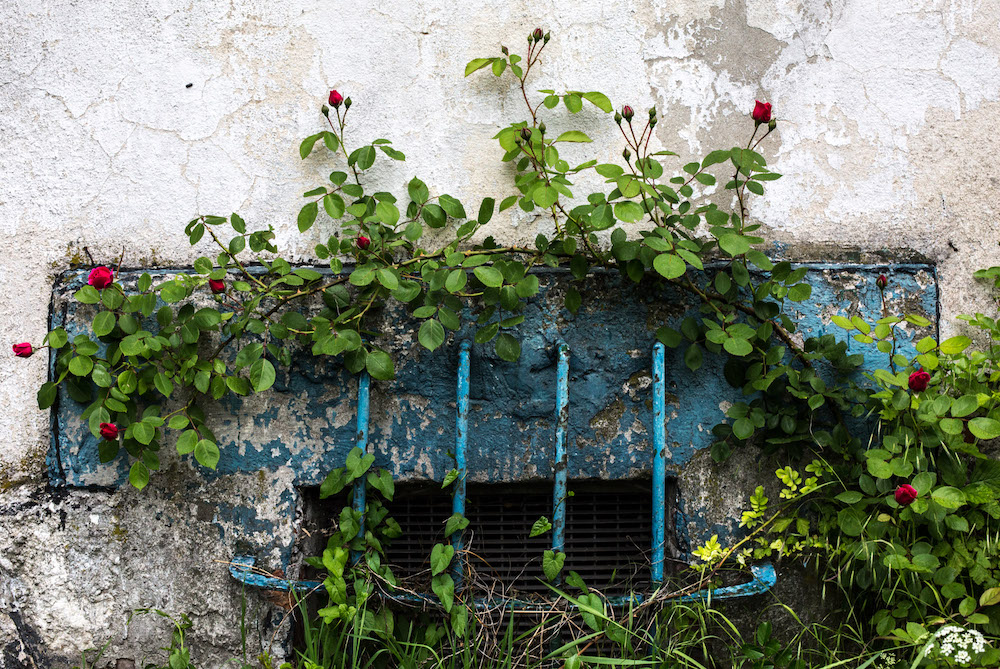 ELLEN FRIEDLANDER