Melanie Walker is an artist and educator who lives and works in Boulder, Colorado. Walker was awarded her MFA from FSU and attended SFSU for her undergraduate work. Her academic career includes teaching at SFSU, SUNY Albany, among others. Currently, she is faculty in the Media Arts department at the University of Colorado, Boulder. Her resume divulges a grant list that most of us would love to have: an NEA Visual Arts Fellowship, Colorado Council on the Arts Fellowship, Polaroid Materials Grants, and an Aaron Siskind Award. Her work is in the collections of the Center for Creative Photography, Los Angeles County Museum of Art, the Princeton Art Museum, San Francisco Museum of Art, and The Smithsonian, among others. Walker Fine Art, Denver, CO (no relation), and Tilt Gallery in Scottsdale, AZ, represent her photographic works.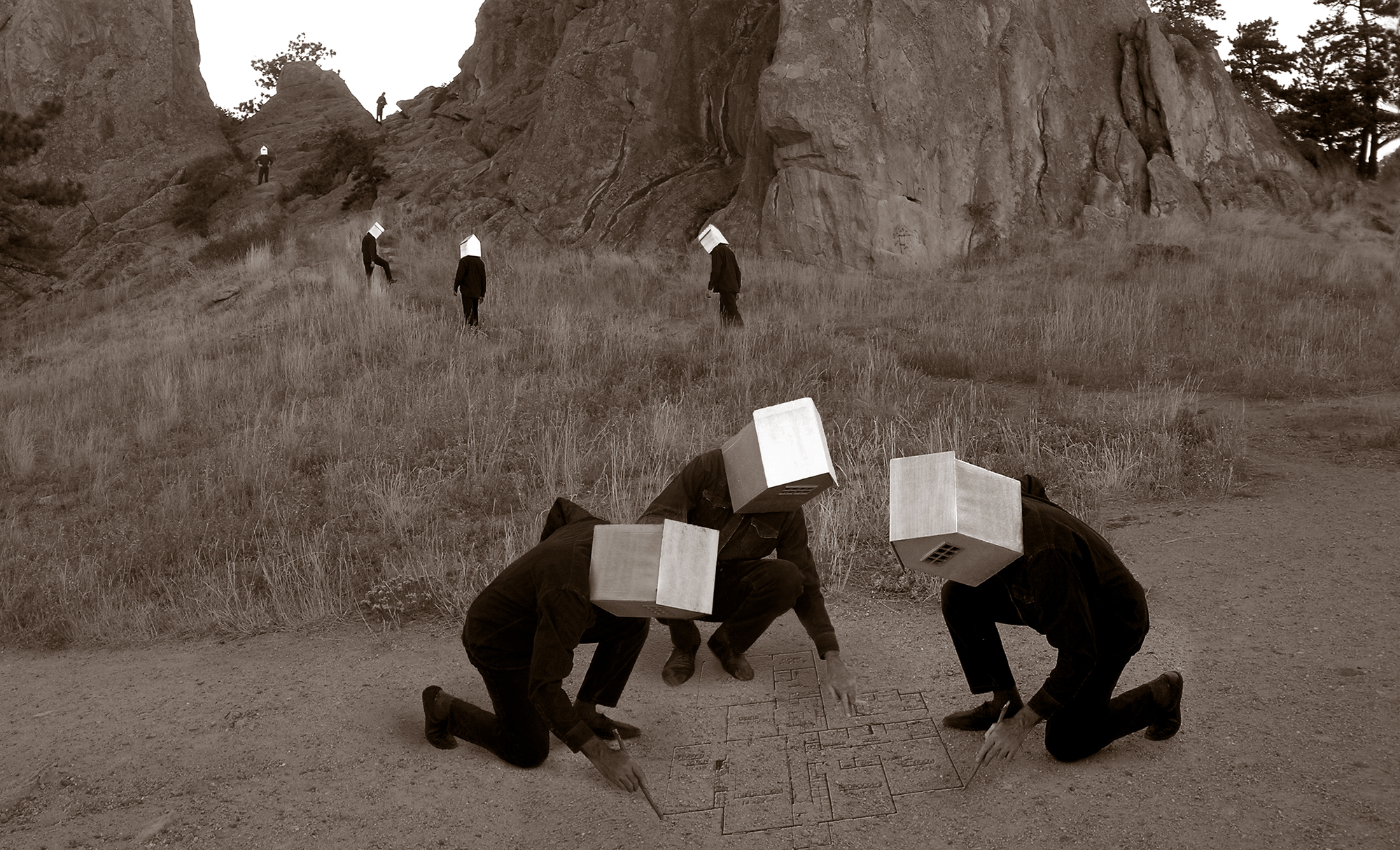 Walker has been around photography since she was old enough to stand at her father's knee. Her father, Todd Walker (1917-1998), was a photographer and educator with a fascinating story. Todd learned photography from his father, who worked designing Hollywood sound sets. He passed on when Todd was 14, but before that, he built a darkroom in the family home and taught his son "the magic of photography." Early in his career, Todd Walker was a photographer known for his 1950-70's advertising work. Later on, he was known as a highly experimental photographer and educator interested in photo-chemistry and had a penchant for experimenting and pushing the boundaries of what photography was and could be. His work was considered groundbreaking for its era. He even taught himself machine language to delve into digital art production in 1981, long before Photoshop hit the market. Todd Walker's friends included Wynn Bullock and Robert Heinecken; both were frequent visitors to her father's studio and home. Walker remembers Bullock always asked what she saw in his pictures and that he valued what she told him, though she was only a child. She told me, "I started making pictures seriously in my teens, but my education probably started at a very early age, really as soon as I was aware." With her childhood and beyond rubbing elbows with photographic pioneers and luminaries, is it any wonder that Walker has spent her photographic life also pushing boundaries?
One aspect of Walker's life that moves me is that she is legally blind in one eye and has double vision. My interest grows out of the fact that my mother was legally blind. It may seem to be an anomaly or an impossibility – that a person with vision compromises could work in photography. Though it may be rare, Melanie is not alone. I know two additional photographers with what we might term significant visual impairments that are actively working, exhibiting photographers.
Further, in 2009 curator Douglas McCulloh mounted a traveling exhibition, Sight Unseen, which featured eight photographers with varying degrees of blindness. As McCulloh states in his curatorial statement, "Great art is not a product of the eyes, but the mind. Beethoven composed music without the ability to hear, and blind writers Milton and Homer conjured the landscapes of the heavens and the underworld." Walker's vision challenges drove Walker to create dimensional, tactile, and multi-sensory art. Being a person with blindness and double vision allows her to experience the world in a way most of us cannot, from multiple perspectives simultaneously.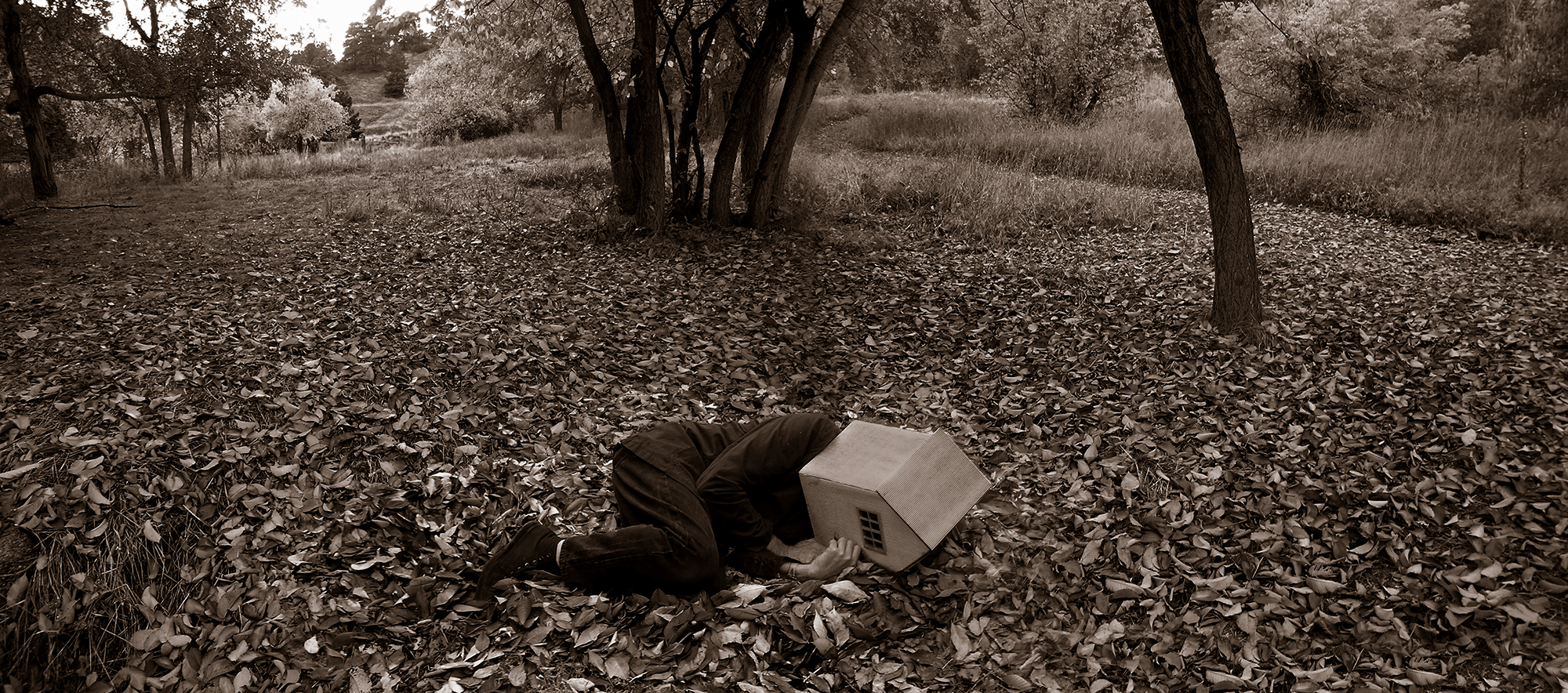 Her art practice includes photography and public art projects, the latter mainly created with her creative partner, artist George Peters. Walker works primarily in alternative process photography in her solo practice, though she also sprinkles digital and mixed media into the mix. Much of her recent work has focused on large-scale immersive installations. She first did one during her graduate education, then started working with them again 12 years later while teaching at Alfred University. While there, she began to include sound as part of the experience, something she still does. She records her own ambient soundtracks, frequently at the level of a whisper. Walker says she always has multiple projects going on at any given time, with the projects informing each other and her new projects as they emerge. I've included images from several of her recent projects here. Her artistic gifts manifest as storytelling projects and installation but using her experience with her visual impairment to invite others to experience the world differently, as she does, and to question the nature of reality.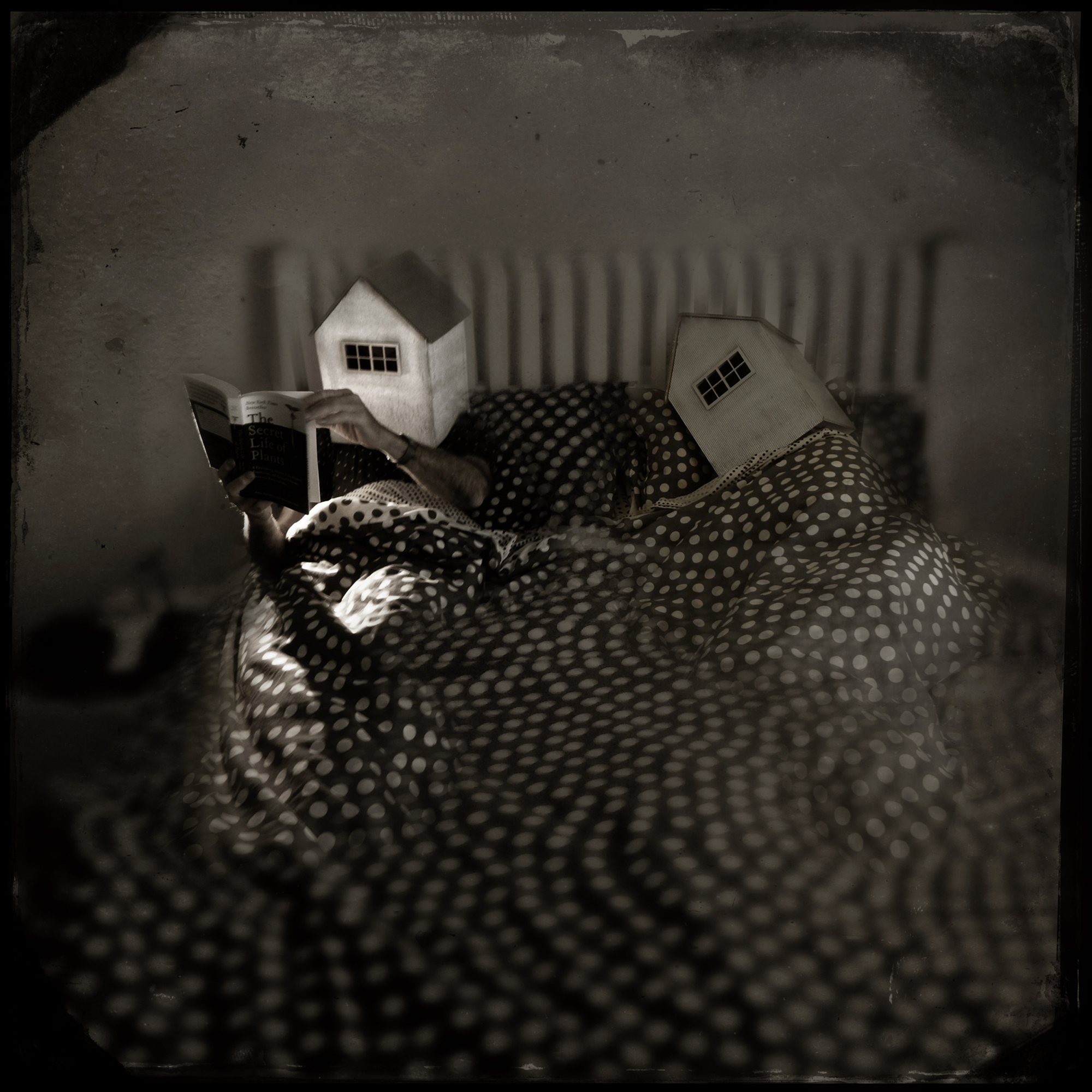 I spoke with Melanie about her experience as a visually impaired artist and posed additional questions about her life and art practice.
DNJ: "My mother was legally blind leading to fully blind for all of my adult life yet lived alone and was very active in her community. We have previously discussed that you also have a visual impairment, yet you have functioned as a practicing artist for over 50 years. What do you hope that others, both fully sighted and those with visual impairments, take from that accomplishment?"
MW: "We all experience the world in our unique ways. I have never investigated whether my situation would qualify as a legal disability, and I am distaste for that word. We all have 'dif-abilities'; our unique differences make this such a fascinating planet to live on."
"I think my challenges are equivalent to but different than anyone else's challenges, and I always remember that every person alive is wrestling with their unique challenge. Empathy runs deep in me because of my circumstances, I believe."
DNJ: "How do you think it has affected your work, if you think it has?"
MW: "My vision challenges have led me to work with the materiality of photography and what it could be. I think of my work as haptic that hopefully engages multiple senses. In some of my earlier installations, I incorporated soundtracks that I constructed from the ambient sounds I was always recording. Fabric is tactile, and working with new ways of presenting images comes from my early times on the back lots of Hollywood and being part of staged images in advertising. Photography relates to theater in so many ways. The frame is the stage, but what is taking place off-stage?"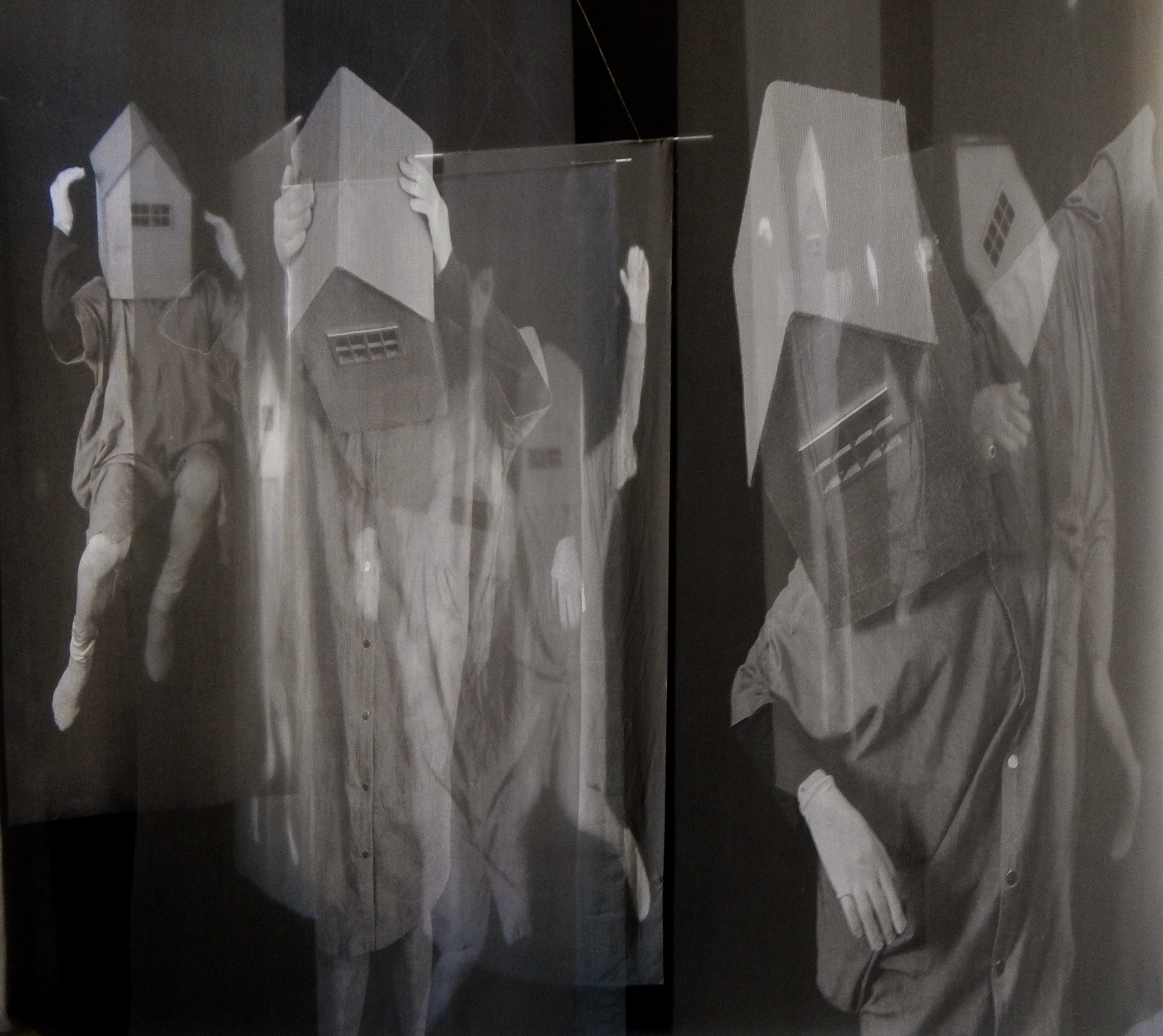 I found that a fascinating way to think about photo work. I have no experience with theatre (or TV) other than as a viewer. Maybe I am an 'odd-photographer out', but I've never thought about what is happening outside the frame or how that might impact inside the frame. Thinking about it now, though, it seems odd that it's not something I've thought about. Since so much of my work is a form of self-portraiture about my inner life, perhaps it was not crucial to what I needed to create. (I'll tell myself that, anyway.)
It's always fascinating how I can look at work and see one thing, and the person standing next to me at the gallery might see something entirely different. Last spring, I read an article on Walker at Lenscratch written by Aline Smithson. Smithson wrote, "When I think of the work and installations of artist Melanie Walker, I think of magic and childhood, of play and memory, and most importantly, a legacy of incredible art-making that transforms the medium in innovative ways." I hadn't thought of Walker's work in these terms, though I had been acquainted with Melanie and her work for several years now. I was taken with Smithson's description and asked Melanie about it.
DNJ: "Do you feel that your work reflects 'magic and childhood'? If so, in what ways?"
MW: "I am so humbled by Aline Smithson's words…I hope my work takes people to a place of wonder where words have yet to be formed…A place of the ineffable. But that's my hope…"
"I think most of my work is informed by my earliest memory which is kind of surreal. I grew up around Hollywood, actually in the same town as Tim Burton so maybe it was something in the water…My earliest memory was from my eye surgeries when I was 3 and 3½. I was born legally blind in my left eye and my eyes didn't work together. I remember waking up alone strapped in a hospital bed with an eye patch over one eye and I saw a chimpanzee dressed in a band leader's uniform riding down the hallway on a tricycle. I made a piece about this and had a show with a woman who was a painter who had the same surgery at the same hospital for the same problem the same year and at the opening, her father remembered the chimpanzee. This one strange event has left a lasting impression that feels like it has informed so much of my work."
"A lot of play is based in the realm of 'what if', imagining, trying to figure things out, curiosity and lots of questioning. I feel like these are the places where magic lives as well. Growing up in my family around photography was my safe place. Photography was the family activity and everything revolved around it for better or for worse… This environment was a place where risks could be taken. It was a place to putter and play and experiment. At an early age I questioned the 'reality' that every picture implied. Photography was a construct to me early in my life because of the staged photographs made for commercial purposes…and I think my work questions that idea of constructed realities."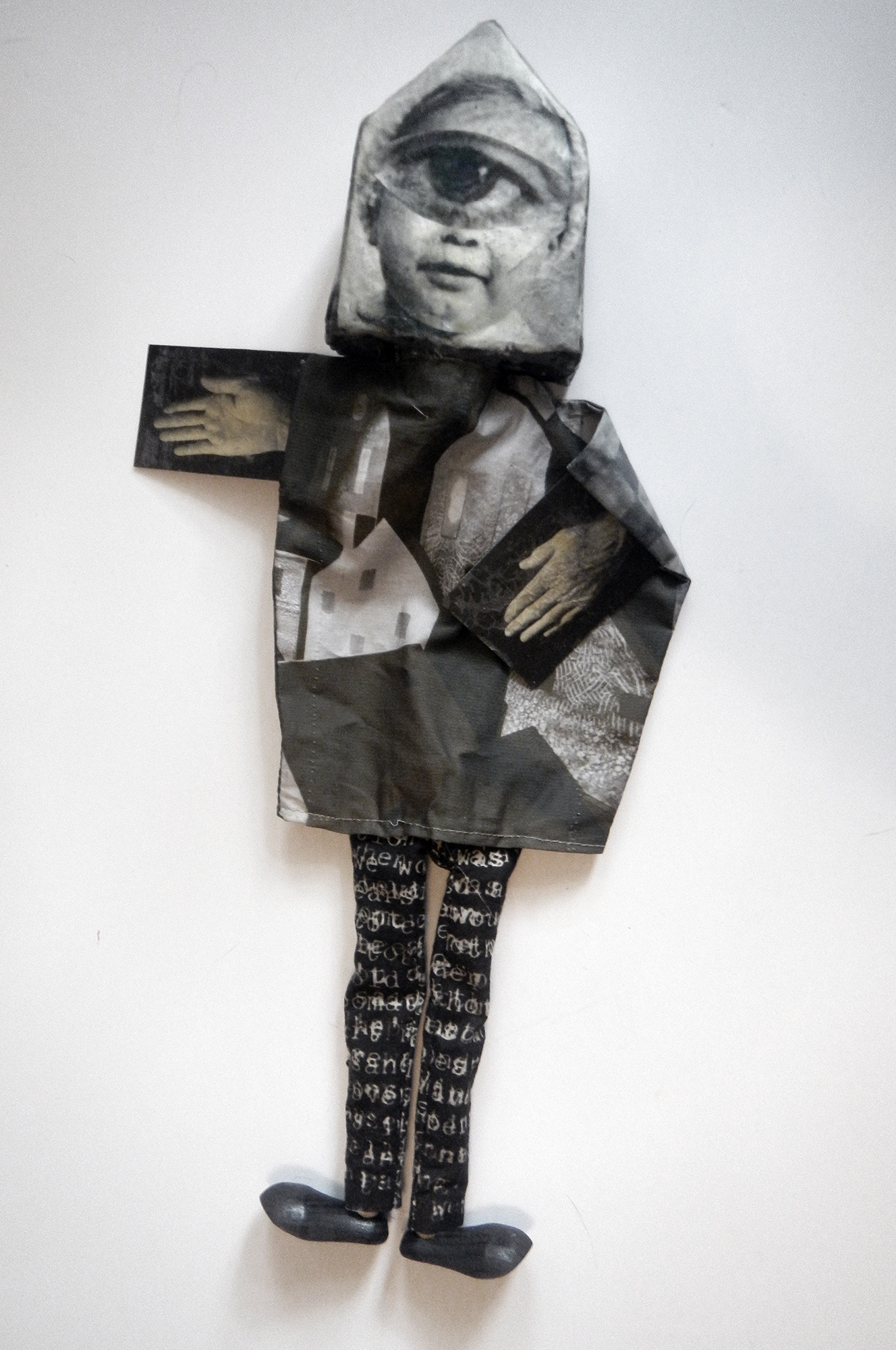 A recent project entitled Song for My Father: A Posthumous Collaboration was created using the negatives of advertising photographs from her father's archives. The negatives were cut up and reassembled, then printed to emphasize the flaws created by age. She told me, "Fossils of the Anthropocene was an early name for this new project." I didn't know the term 'Anthropocene' so I looked it up; Oxford Language characterized it this way:
An·thro·po·cene /ˈanTHrəpəˌsēn/
adjective: relating to or denoting the current geological age, viewed as the period during which human activity has been the dominant influence on climate and the environment. "We've become a major force of nature in this new Anthropocene epoch"
noun: the current geological age, viewed as the period during which human activity has been the dominant influence on climate and the environment. "Some geologists argue that the Anthropocene began with the Industrial Revolution"
Melanie continued, "The compromised negatives I have been working with were images that he made for others. Some of it was intended to sell a way of life, the American Dream and things that people didn't really need. He was well aware that the objects he made so enticing through his photographic skills were compromising the planet. He always had a difficult time coming to terms with that and was very happy to walk away from advertising so that he could dedicate himself to teaching and research."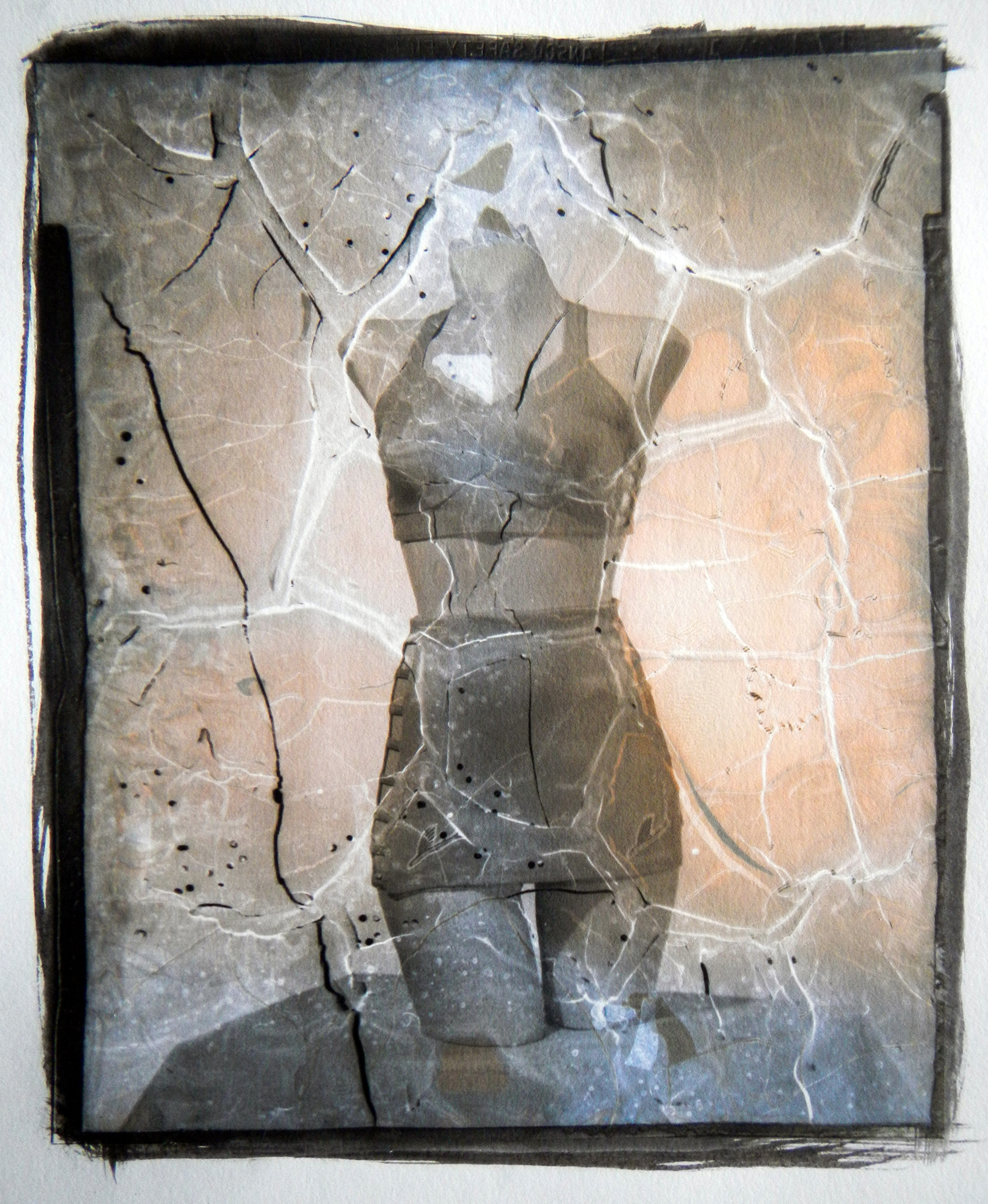 DNJ: "How did it feel to do work in collaboration with your father, Todd Walker, after he had passed?"
MW: "It took me years and I am still in the process of trying to figure out how to work with these fragile artifacts of a time past. I was hesitant to do anything with them but I kept looking at them and curiosity got the best of me. I just started examining the materiality of the physical negatives as objects in conversation with the image recorded on the film. Sometimes I think I should just encase the negatives into blocks of resin and let them live that way but the interaction of how different lighting affects the object is just so stunning. I don't want to lock anything up."
DNJ: "Do you think the project would be different had he still be alive to do it with you, if so, how/why?"
MW: "If he were still alive I think he would be very interested in what I am doing but in reality he would be over 100. Our work was always in conversation and we bounced ideas off of each other. The main line always was 'I wonder what would happen if…' He would frequently go back into his old negatives and use them as source material. With the last digital works he made in the late 90's he was disrupting and distorting the images, like of like what has become of the negatives I am working with. I guess it's my way of grieving and continuing to be in conversation with him."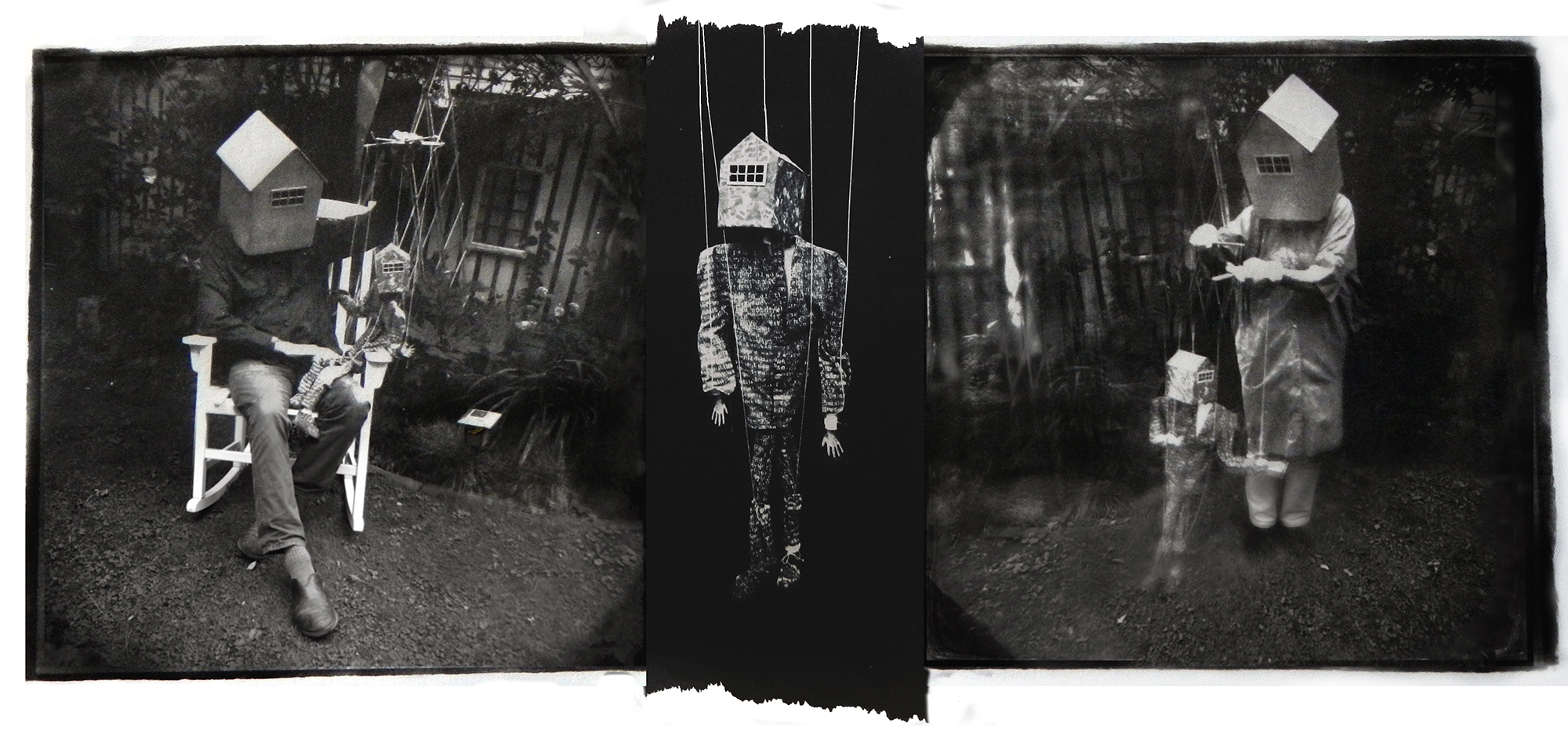 Another part of Walker's practice includes making sculptural objects, such as the house heads seen earlier in this article, used as a costume or prop during her image-making. Sometimes these are displayed alongside the work during her exhibitions. One of my significant interests as an artist is in taking photography out of the frame. Walker has pursued that in her work to a much greater degree than I have. I'm enraptured by the materiality of her installation and objects, and with how she forces us to look at photography as an experience rather than simply a 2-D image.
DNJ: "You have been a pioneer in making sculptural photography, much like your father was a pioneer in his day doing handmade experimental work. How did his legacy influence this choice of yours?"
MW: "I'm not really a pioneer. I am just curious. Again that ongoing conversation with my father about wondering what might happen if I try this drives me. And working all the time whether it's making or researching or reading. My father worked constantly and he was more interested in where the work would take him rather than promoting what he did. I feel like his example set the stage for what I have tried to do."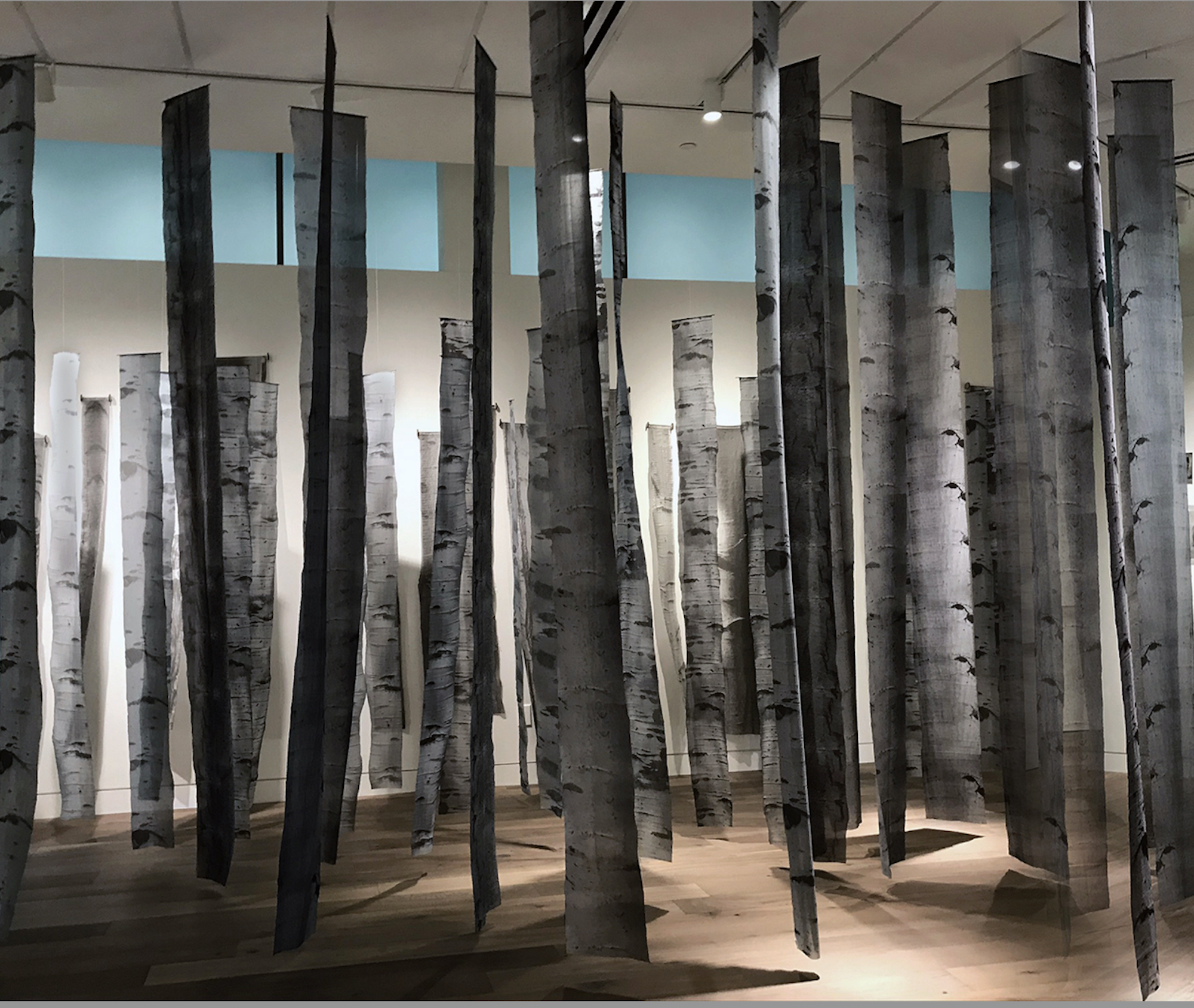 DNJ: "What do you hope this body of sculptural photography says as your own legacy?"
MW: "Once a reviewer said of my work that I was fearless. That made me happy. I am grateful that I have had opportunities to make spaces for viewers to experience. I live between sight and blindness hoping to serve as a bridge to empathy and compassion. I seek the spaces between us."
Fearless, grateful, and compassionate – an apt picture of both the artist and her work. And a perfect place to end. I'm a huge, longtime fan of Melanie and her work, and I hope that now, you will be, too.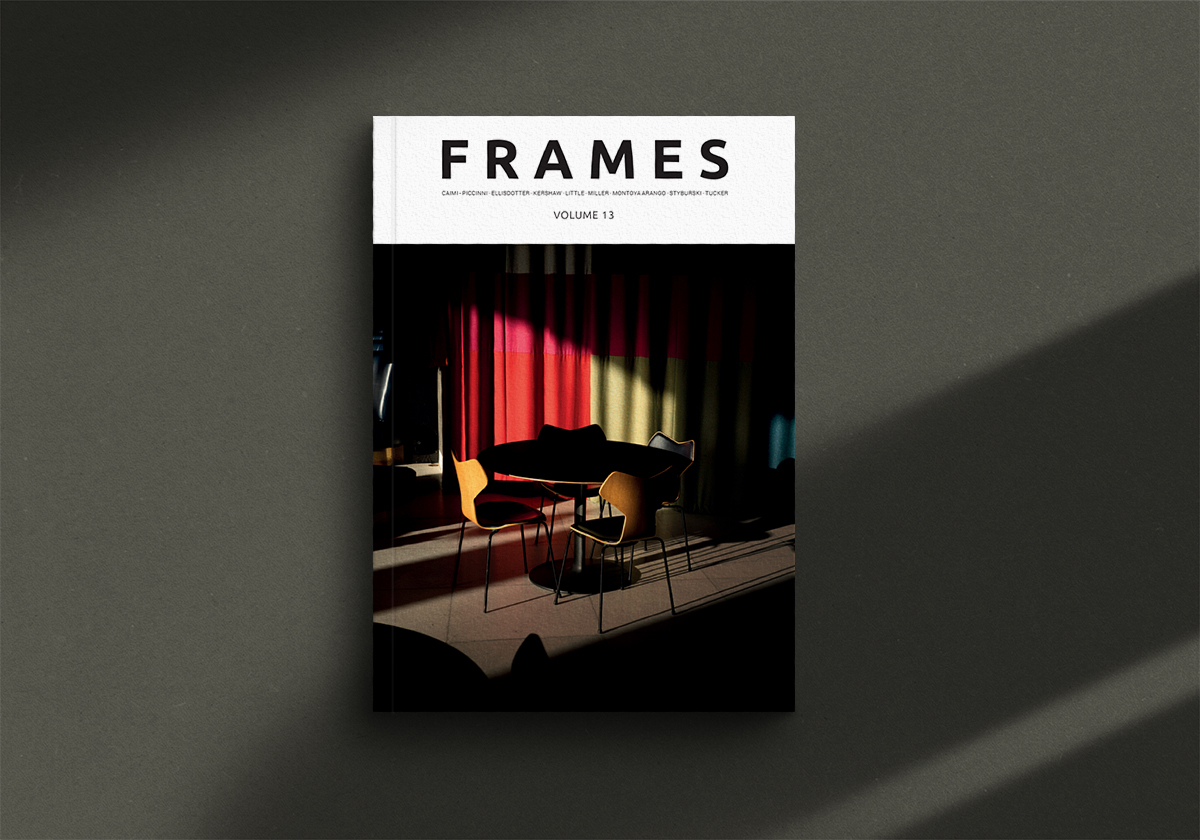 Every year we release four quarterly printed editions of FRAMES Magazine. Each issue contains 112 pages printed on the highest quality 140g uncoated paper. You receive the magazine delivered straight to your doorstep. We feature both established and emerging photographers of different genres. We pay very close attention to new, visually striking, thought-provoking imagery, while respecting the long-lasting tradition of photography in its purest incarnation. Learn more >>>
---