Molly McCall is an award winning artist from Monterey, CA. Her work has been featured in a wide range publications throughout the world, including Architectural Digest magazine, The Extravagant, FotoNostrum, Analog Forever, Gentry, and Diffusion.
Venues exhibiting her work include the The Los Angeles Center of Photography, Center for Fine Art Photography, Triton Museum of Art, Griffin Museum of Photography, Ogden Museum of Southern Art, Klompching Gallery, SoHo Photo Gallery; Martin Museum of Art; Houston Center for Photography, Center for Photographic Art; Barcelona Foto Biennale; FotoNostrum Gallery; and The Reclaim Photography Festival. She is represented by COAST Big Sur, Photo-eye Gallery, FotoNostrum Gallery, and The Commotion. McCall's work has garnered multiple international attention in award competitions including Photolucida Critical Mass Top 200, The Pollux Awards, The Julia Margaret Cameron Awards, The Creative Photo Awards, Photograph Collector, The Tokyo Photo Awards, Top 10 Finalist at FRESH, and Top 20 Finalist at FOCUS Photo LA.
Her work is in many private and public collections.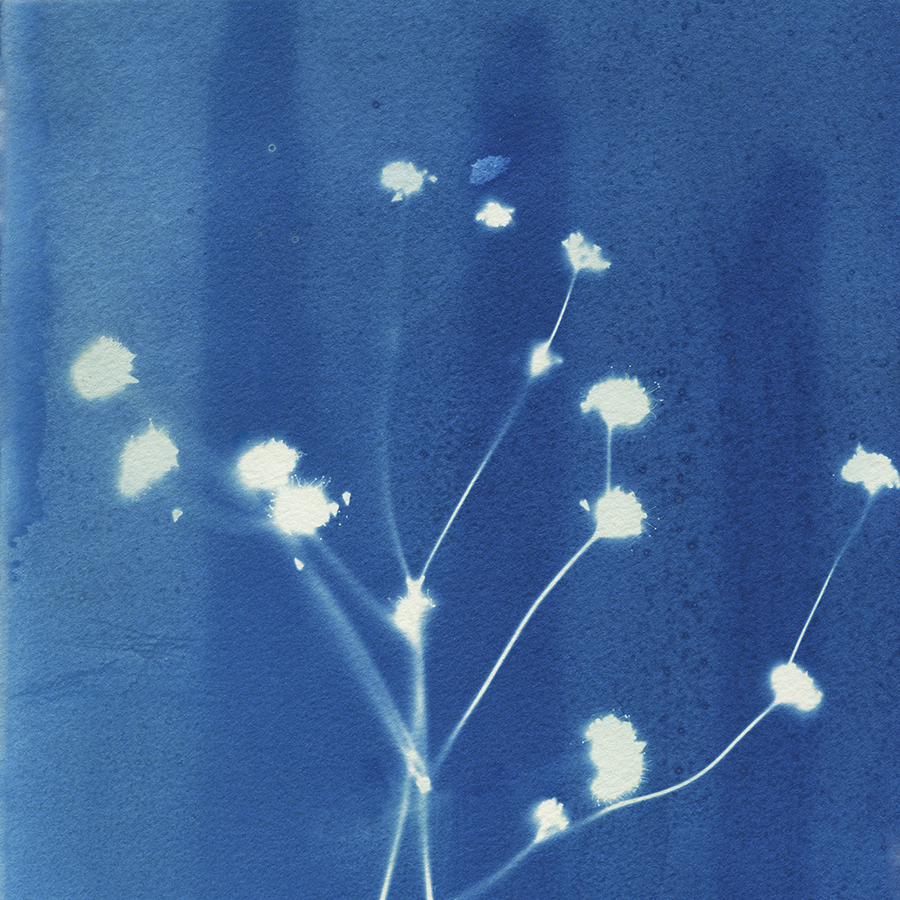 Regular readers know that I adore photography that crosses boundaries: mixed media, installation, and projection and that I am also a fan of work bound to processes. Molly McCall's work engages both of these.
When did I first see McCall's work? Too many years have passed to recall. I do remember the day I met her in person. I was at Photolucida in April 2017, and she held fort with Blue Mitchell at the One Twelve Publications table at the book fair. It was thrilling for me to meet the woman whose work I so admired from a distance.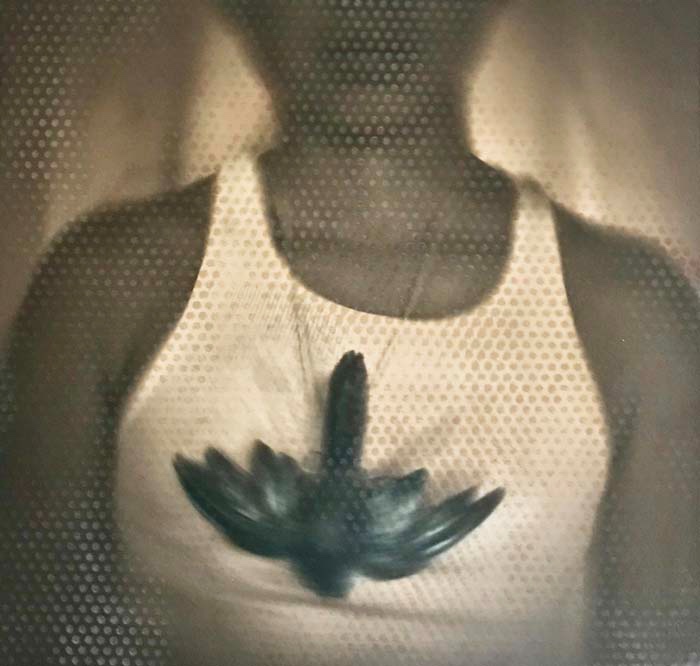 I've watched her work from the distance of a casual acquaintance, but much of it lingers in my mind, the way the memory of a fine wine or gourmet meal might stay with you long after having consumed them.
I asked her if she would consider letting FRAMES readers in on her life and work, and she agreed.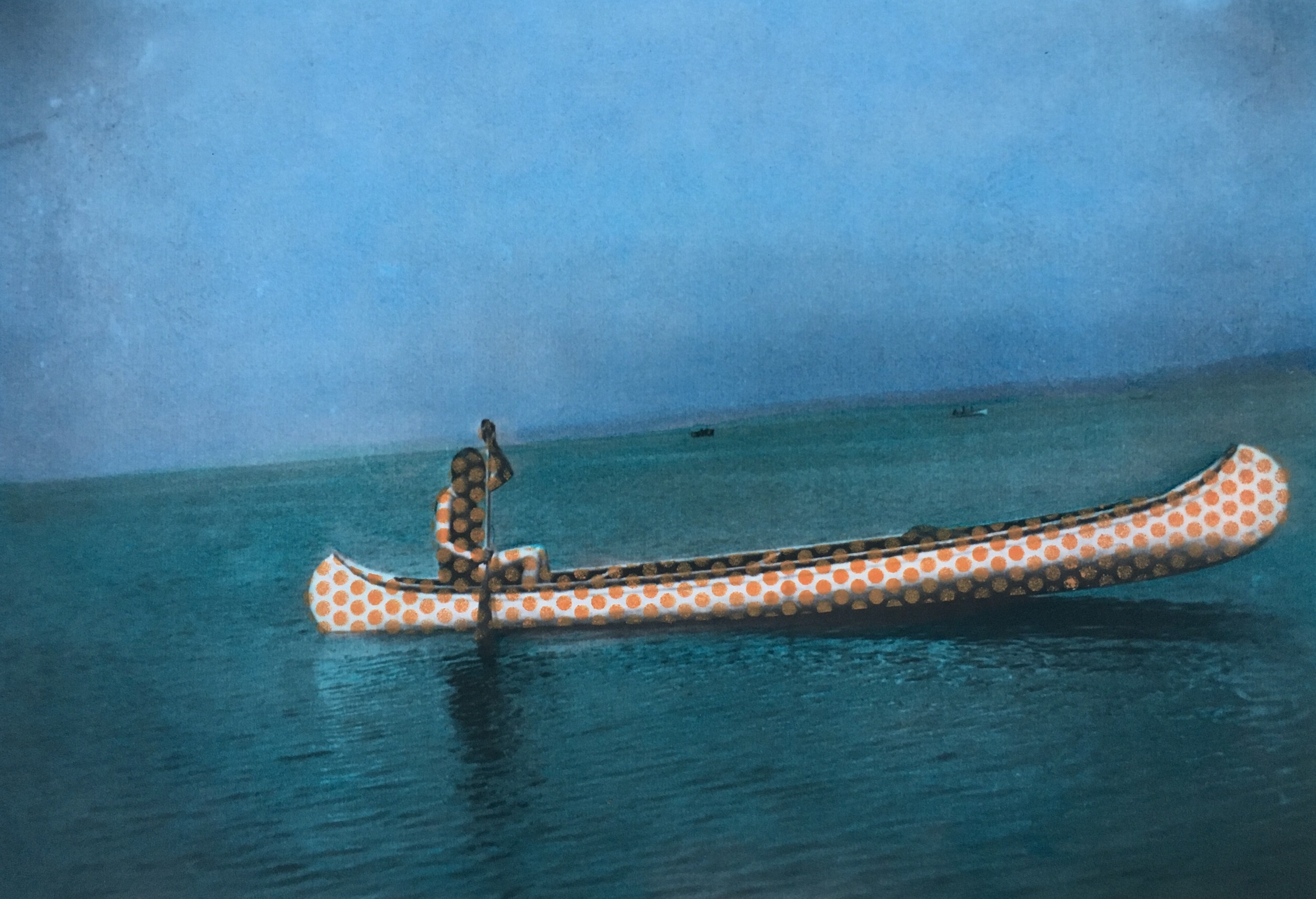 DNJ: Tell us about your childhood.
MM: I grew up in a rural part of central California near Carmel, the eighth child in a large family of creative artists. Our family home was filled with artwork created by family members. Every generation, including my siblings and great-grandparents, was involved in the arts. We spent time at art exhibitions, museums, poetry, music, and theatre performances.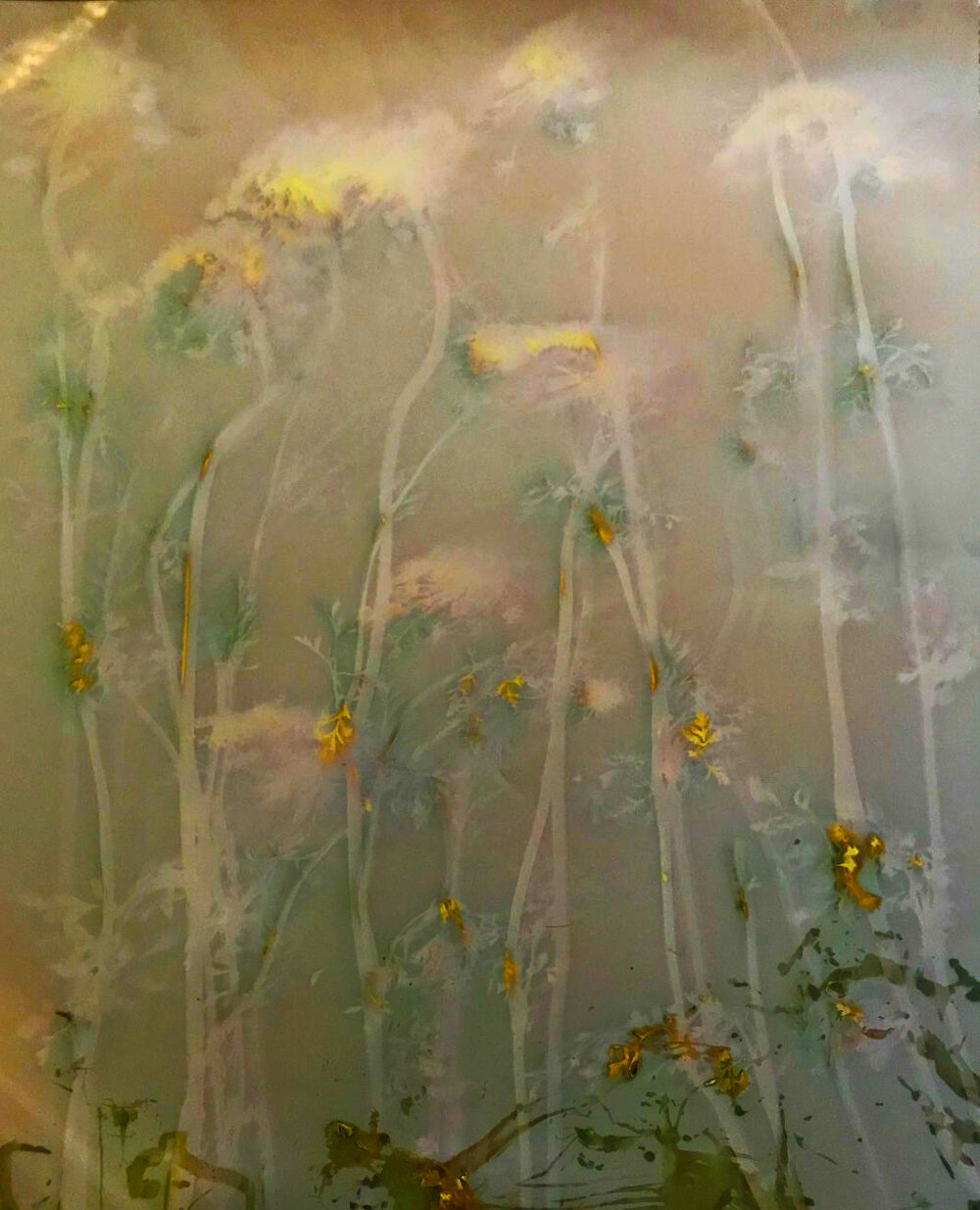 In my free time, I was outdoors, immersed in nature. We got a TV when I was ten, but I didn't find it interesting. I preferred to spend my time outdoors, following my imagination and playing without artificial distractions.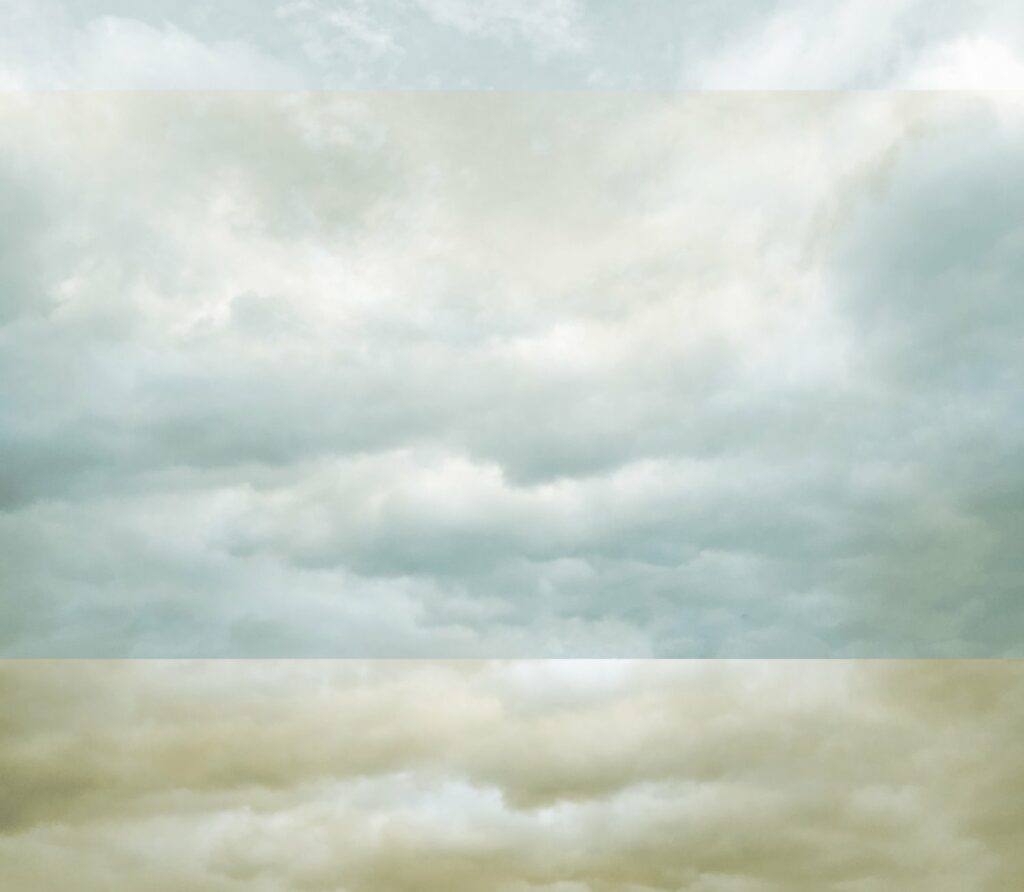 DNJ: What brought you to photography?
MM: We had a close family friend who was a photographer for the local paper. He was a regular at our family gatherings and often brought his camera to photograph us. He lived in a one-room second-floor apartment he transformed into a darkroom. He would black out the windows with dark cardboard, change all the light bulbs to red safety bulbs, and set up his wet working area in his kitchen. He used the entire apartment as his darkroom and hung his prints to dry from clotheslines strung across the room diagonally. I thought it was amazing and magical. When I was 12, he gave me my first camera, a Pentax K1000 with a broken light meter. The defect taught me how to read light and adjust the camera by trial and error.
I have studied/practiced photography since he gave me that camera, and I have had a darkroom in every house I've lived in. His ingenuity made a lasting impression on me. He inspired me to convert any space I could into a darkroom: a bathroom, a corner in the barn, or even a waterless closet in our garage. There, I worked at night when it was dark to process my prints outside with a garden hose.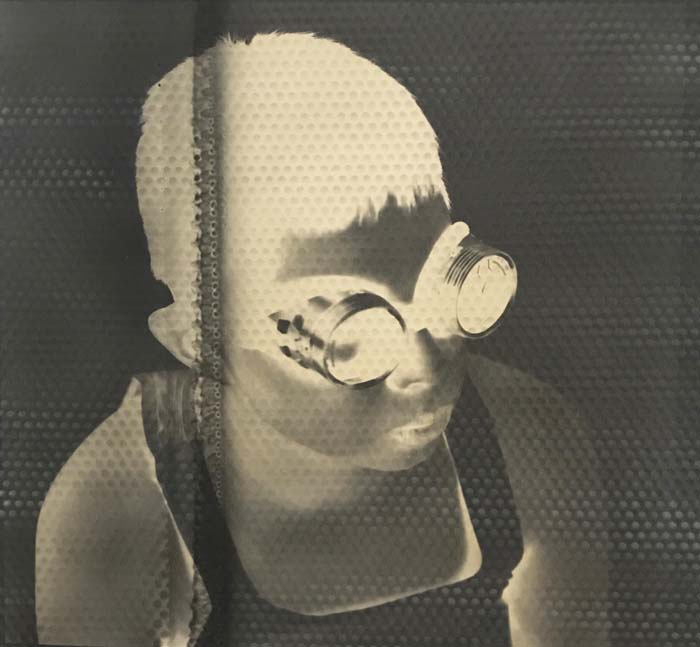 DNJ: When did you figure out art was your career path?
MM: Art was the language of my family for many generations, whether music, pottery, painting, drawing, dance, or just the pursuit of beauty; it has always played an essential role in my identity and the connections in our family.
I always wanted to be an artist; in my youth, I still needed to decide what form that would take. My experiences with the theatre and museums instilled a love of art, history, and scale, but my passion for art always included photography or some part of the photographic process.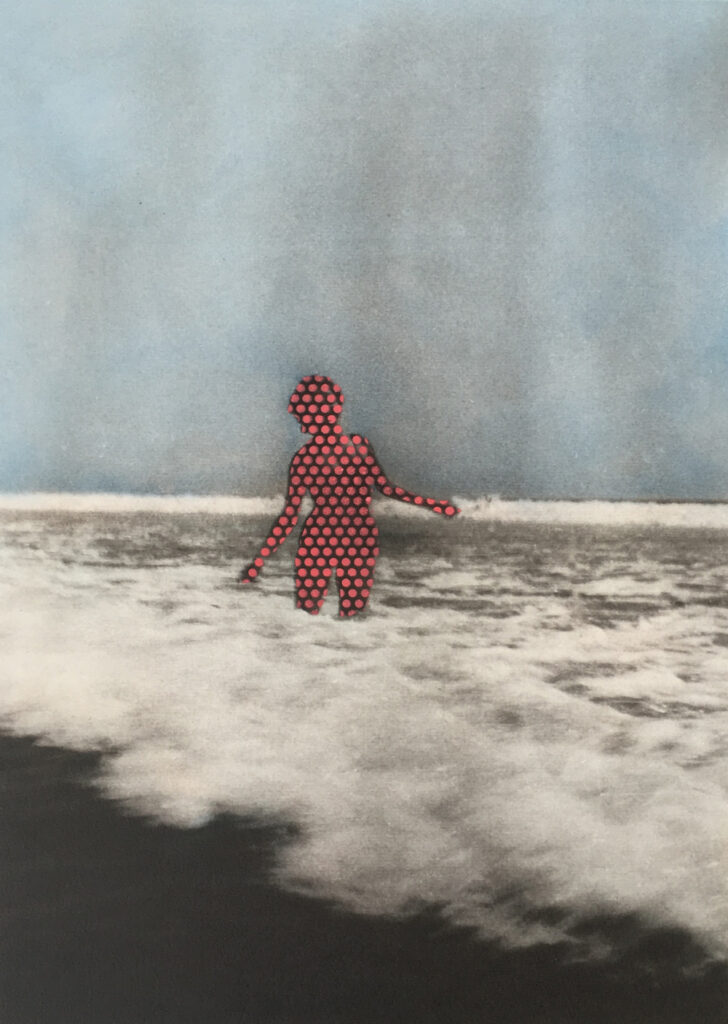 DNJ: What attracted you to choose Laguna for your art school? What did you study while there?
MM: My family's roots are in Southern California, and I spent much time there as a child and was introduced to Laguna Beach School of Art while visiting one of my sisters who was studying painting there. It was small and unaccredited at the time, and all the teachers were artists from the community.
I knew I wanted to pursue art as a profession, but I needed to decide if I wanted to paint or do photography. I looked at many universities in California and private schools like Brooks Institute in Santa Barbara. Laguna offered a range of mediums to explore and helped me decide which way to go.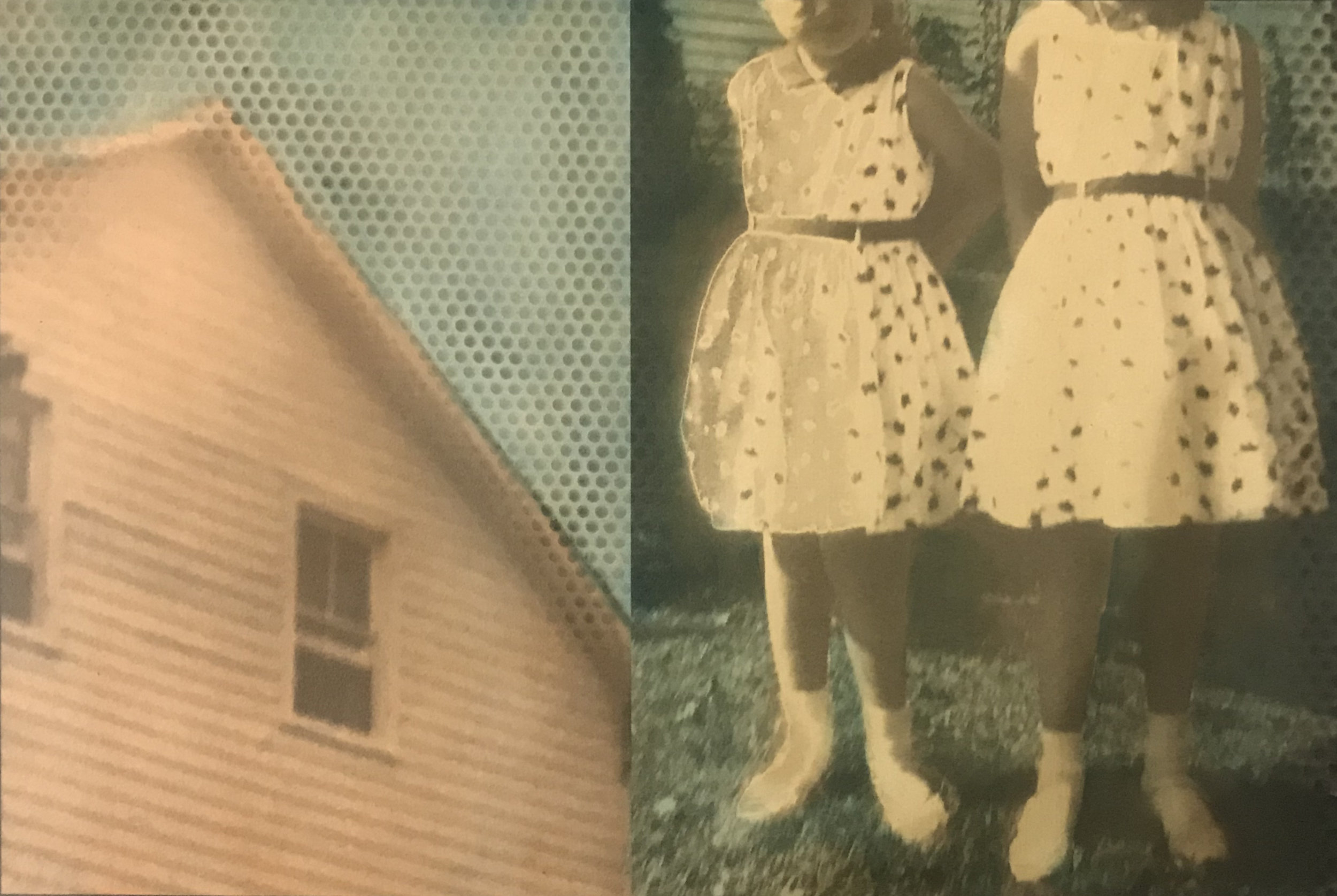 I studied watercolor painting and color and black-and-white photography. Artist Antoinette Geldun introduced me to the antiquarian process of hand-coloring photographs, something I have practiced for more than 40 years now.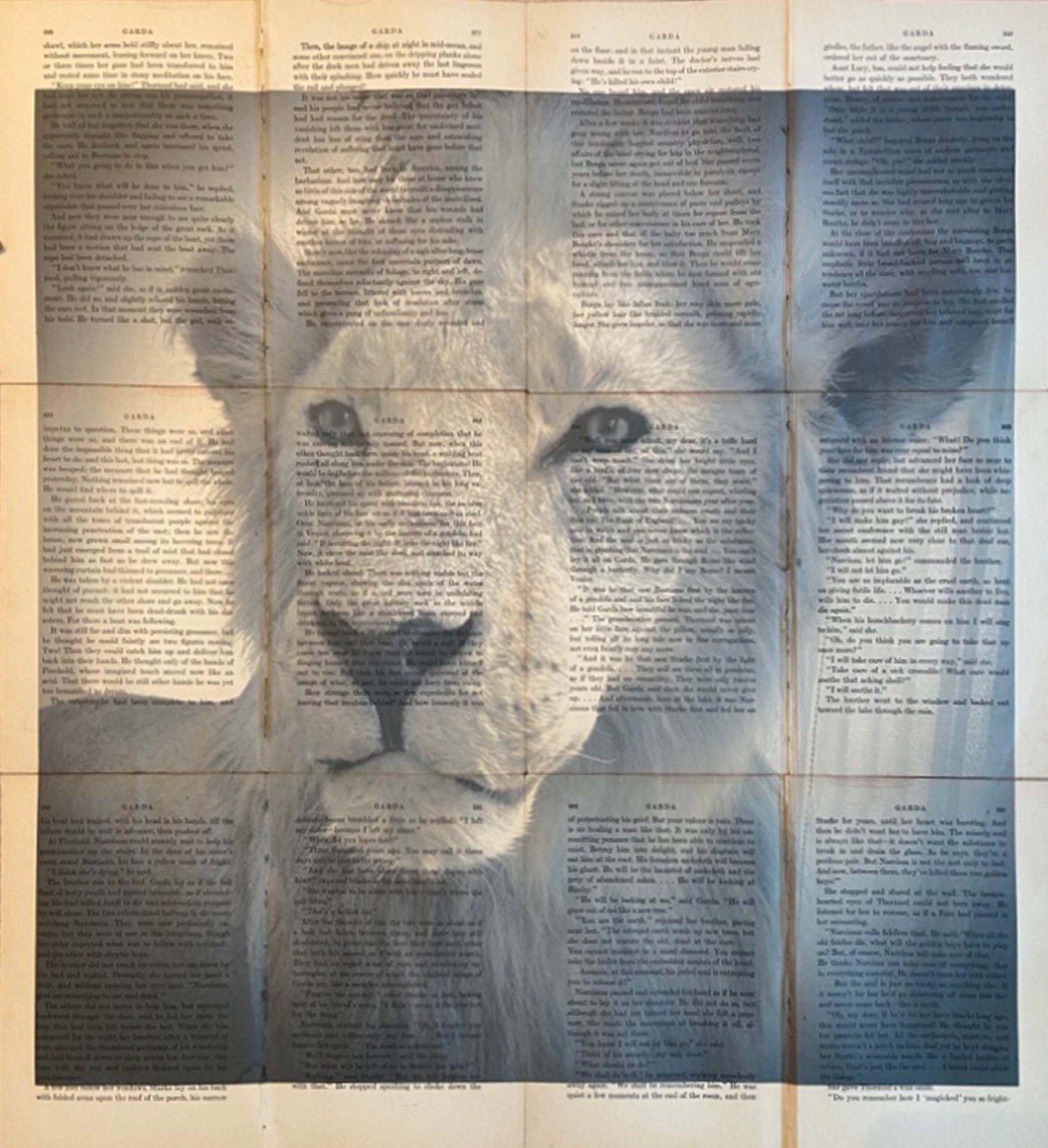 DNJ: How did you decide on textiles as your career path afterward?
MM: An early influence in my life was theatre. Parallel to my interest in photography, I studied historical clothing and costume design and was an avid theatergoer from an early age. When I couldn't find the fabrics I needed to make specific period clothing pieces, I began designing and creating them myself. That included applique to patchworking, block printing, painting, staining and dying, and embellishing. I studied the history of clothing and worked with many different sewing techniques to create garments that would become part of the storytelling.
My interest in historical clothing and textiles eventually brought me to fashion. My family's business in clothing manufacturing gave me a foundation to transform this interest into a commercial enterprise. I continued to develop my textile designs and began incorporating them into accessories. Eventually, I designed a complete line of clothing manufactured and distributed across the country.
I spent nearly two decades in the fashion industry, and my photography focused on marketing my creations. Textiles and tactile elements remain a part of all my artwork still.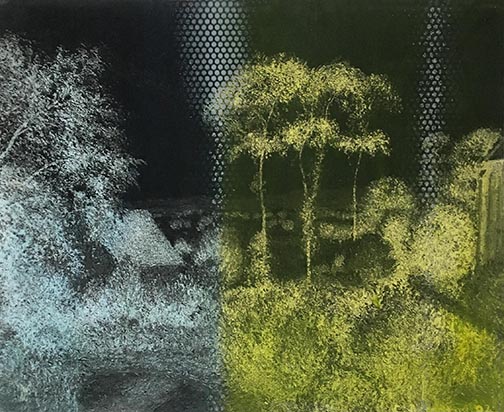 DNJ: Tell me about the ideas within and the evolution of the different series you have done.
MM: Each series sprung from journal entries, music, a story, or a question and formed from there. Early work used found images from books, the Internet, or my vintage photo and film collection. One series led to the next organically, with a thread around questions of memory connecting them.
"In the In-Between" is about the memory of memory. Its art history and painting meet photography.
"Homestead" concentrates on memory and origin, a sense of belonging and identity through place.
The idea behind "One Moment" is that memory is what you make it. I explored color theory and how the mind fills in what was forgotten.
"Home Movies" revisits memory through found home movies. It questions which memories are important and how the mind sorts and documents them.
After collecting vintage snapshots for decades, I noticed discarded home movies in flea markets and antique shops that grabbed my attention. The simple cinematic narratives in the found movies intrigued me as I wondered what made these occasions so vital that someone would immortalize them on film. The recordings of benign family trips, scenic skylines, and everyday life were so iconic and mysterious; the unfamiliar places and unnamed people seemed lost in their anonymity. I discovered that each filmed story was a testimony to the past, loss, love, and memory — a memory that could be revisited repeatedly and reanimated on demand.
The series integrates my interest in art history, color theory, and found imagery, using photographic processes and today's technology. I am creating segmented imagery to explore connections between the passage of time, transition/transformation, loss, and memory. I've reframed seemingly spontaneous found images to reveal gestures of unfinished stories and convey memory in a narrative form. I used color and mark-making to emphasize or diminish some aspects of the image, similar to the deterioration and fading of memory and material things over time. Each print is toned with various solutions, and details are painted out or painted in, using oil and acrylic paints, transforming the vintage image through time as re-created in its new state and context.
My creative process is about searching, looking, and finding. It includes resurrection and reimagination, and it is slow, requiring time, waiting, and craft. I find images in junk shops, flea markets, books, and on the Internet, and then recapture them on film and print the new image in the darkroom. I love using film with all of its fragility and flaws. In Japanese, the beautiful word natsukashii (懐かしい) identifies the feeling of evocative longing for something past—a yearning nostalgia that's also very sad, as it reminds you that what you remember will never happen again. Film physically metaphorically manifests this emotion, capturing a moment that comes and goes, then vanishes, leaving only the visual record behind as proof of its existence.
"Nothing Comes from Nothing" considers how memory is accumulated and passed on; its passage and transformation through time.
The series reimagines past stories discovered in Super 8mm films and found photographs. My interest lies in investigating the relationships between the passage of time, memory, repetition, and loss, including reappearance and forgetting. The imagery is a diverse collection of composites, recreating layers and fragments of the past similar to the way memory is created, stored, and recalled. I am searching for the balance between truth and fiction and seeking to reconcile that uncertainty.
When choosing images for my work, I imagine that I am the camera, and my mind selects the images just as if I were taking the photos with a camera- the exposure, subject, and composition are all considered and adjusted. I utilize references to identity, a sense of place, and history to explore themes of humanity, loss, and loneliness—water and nature reference to the cycle of life and the infinite power of renewal.
I am keenly interested in altering memory over time and the subsequent narrative that speaks hauntingly to the present. The title of this series is referred to in many literary sources- The Bible, Shakespeare, Classic philosophy, theatre, film, and music. These varied references include the idea that existence is an infinite succession of moments, and even with no change, there is temporal change.
"Memento Vivere" The series evolved into an homage to the memory of my late brother and expanded an ongoing investigation of the interaction of memory, the passage of time, and identity. I am keenly interested in how memory forms our sense of being and how that can be affected by the contradictions that the past and the present pose. In the act of remembering, there is a point where reality and the interpretation of reality cross, and it's that intersection that I wish to explore. This intersection of experiences may be most poignantly found in the sense of loss which can shape who we are and how we perceive the world. As a visual artist, I have found the qualities of photography, darkroom manipulation, and the malleability of paint to be uniquely sympathetic to this search. They allow me to intercede at the moment a fixed image presents, juxtaposing within it a profoundly subjective view of reality formed in the shadow of remembrance.
The series calls on an intimate visual language incorporating a subdued palette of photographic tones and painted hues to echo personal dreams and childhood memories. Inspired by Jorge Luis Borges's short story, it presents a solitary protagonist in a narrative that plays out throughout the images. Notions of magical realism are joined with various objects, symbols, and the figure, portraying themes touching on the power of remembrance.
"Flora" reminds us of the fragility of both nature and humanity. It's an ongoing dialog I've been having for decades.
"Remembering the Twilight" is a remembrance poem; it invokes the mystical powers of nature, an homage to my Irish origin. It expands an ongoing investigation of the interaction of memory, the passage of time, a sense of place, and identity. I am keenly interested in how memory forms our sense of being and how that can be affected by the contradictions that the past and the present pose.
In this series, I am returning to my Irish ancestry and exploring relationships between memory and the natural world. The poem "Into the Twilight" was my inspiration and conduit to connect to another time.
Written in 1899, "Into The Twilight" conveys Yeats's belief that the tumultuous dark times that had come over Ireland led the people toward an age of enlightenment. "The Twilight," as he referred to it, is nature's magical, mystical energy. He believed the natural world would heal all of man's wounds.
Using specific materials—Darkroom silver gelatin photographs, acetone, vintage papers, oil paint, and pencil— allows each piece to reflect a stanza in the poem and refers to nature and beauty with an empathetic theme. I am interested in the ever-changing flux in nature and memory- The ephemeral state of both and the visual metaphor they create.
"Time and Again" is an exploration of time during a period of great uncertainty, a call to have faith in nature. Each photograph tells a story of memory, humanity, and a sense of being. Some images are captured at locations visited throughout my life; others are creations of my imagination. Each image encapsulates the feeling of a place, time, and memory, either dreamed or remembered.
These photographs invite you to pause, to breathe. They are windows to a moment in time and space through different perspectives and perceptions.
This collection is influenced by nature; the motifs of air and water run throughout. There is an organic living line even in the most reductive and abstract images. Finding the balance between abstraction and figuration is what I am pursuing, with thought put into capturing each shape and shadow. This work is a comforting anecdote to our uncertainty in these tumultuous times.
The images in this series combine photography with digital image processing, working with multiple layers of photographs to form a final composite image, capturing the concept of time and mirroring the method of a painter working from numerous sketches.
"Like Breath on Glass" is metaphorical, of memory in the form of nature. It used the fragility of clouds and the ephemeral state of their existence.
"Truth Be Told" continues the theme of memory, exploring the intersection between the photographic image and what can be real or imagined, joining these ideas in a new visual context. In our media-immersed lives, the object of a photograph, once thought of as "evidence," has been continually challenged by technology, and what was once considered a visual representation of the truth is now a malleable resource like memory.
For this series, I chose random photos from my iPhone presenting a provable record of a specific moment in time that I had directly experienced. Each image in the series is archivally printed over vintage pages taken from books of fiction, juxtaposing the past and the present, romance and reality, and fact and fiction. The images are titled with a corresponding alphabetic format, referring to the elementary way learning begins with objects, associations, and memory. Inscribed en verso, these titles- a "real-time" chronology documenting the date and time of the photograph are accompanied by the corresponding alpha letter and word identifying the subject in the image.
"The pictures will not go away," Susan Sontag wrote. "That is the nature of the digital world in which we live … Up to then, there had been only words, which are easier to cover up in our age of infinite digital self-reproduction and self-dissemination, and so much easier to forget."
When I paired the two opposing ideas of fact and fiction, the photos with text revealed dynamic nuances that were unfamiliar to me although they were my memories, and I knew I had to explore this contrast further; When I wasn't finding answers, but more questions, I had to continue exploring this uncharted path.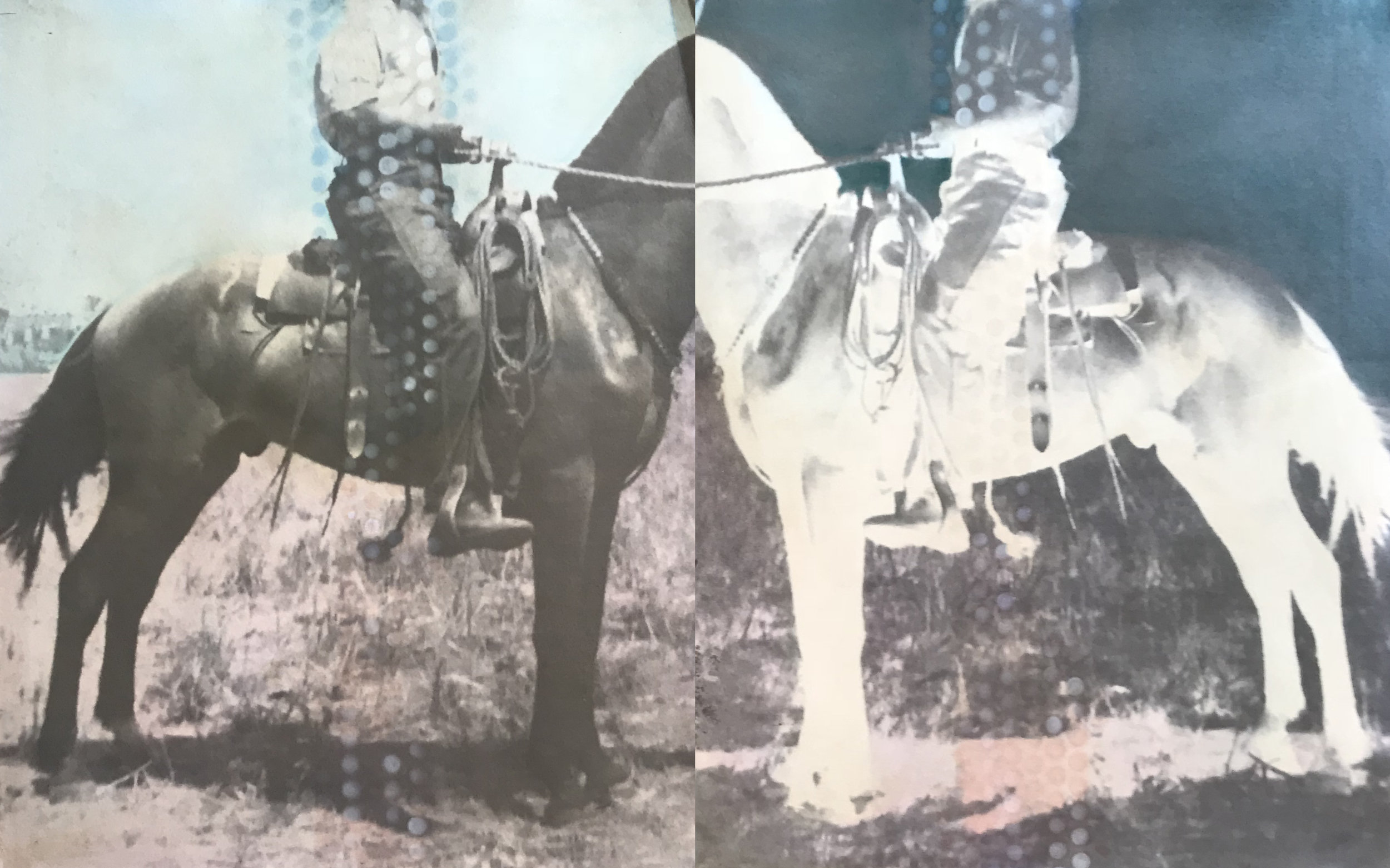 DNJ: Your series under the "Tell me a story" category on your website are distinctive and specifically recognizable as your work. How did you develop the process that makes them so unique?
MM: "Tell me a story" was made in the darkroom and uses a narrative format, a form that has always appealed to me. I began this series using my collection of found photography and film, then incorporated my painting and textile techniques.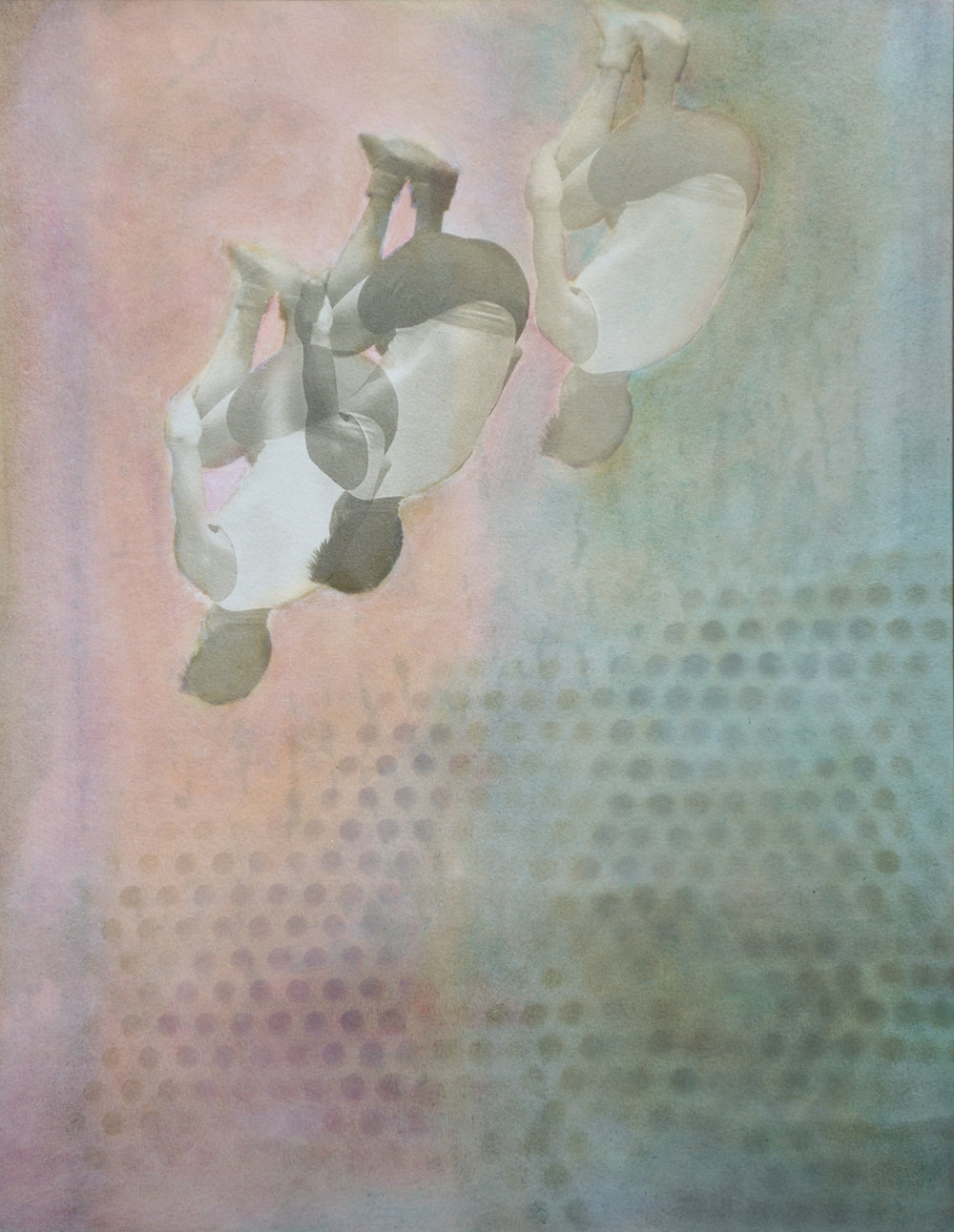 I was in an abstract expressionism painting program at San Francisco Studio School. We were learning to create a sensory element in our paintings. I saw that what I was doing could be applied to my photographs; by altering the pictures in both pre- and post-production, they began to break apart, causing a sensory experience or dimension to appear. That allowed me to engage the viewer at a sensory level. The surface manipulation was purely experimental and fundamentally came from my love for drawing and mark-making. My process includes using many different found materials and creating patterns and stencils to obscure or highlight various parts of my images. It's a visual way to recontextualize the narrative and create a new story about memory and the passage of time.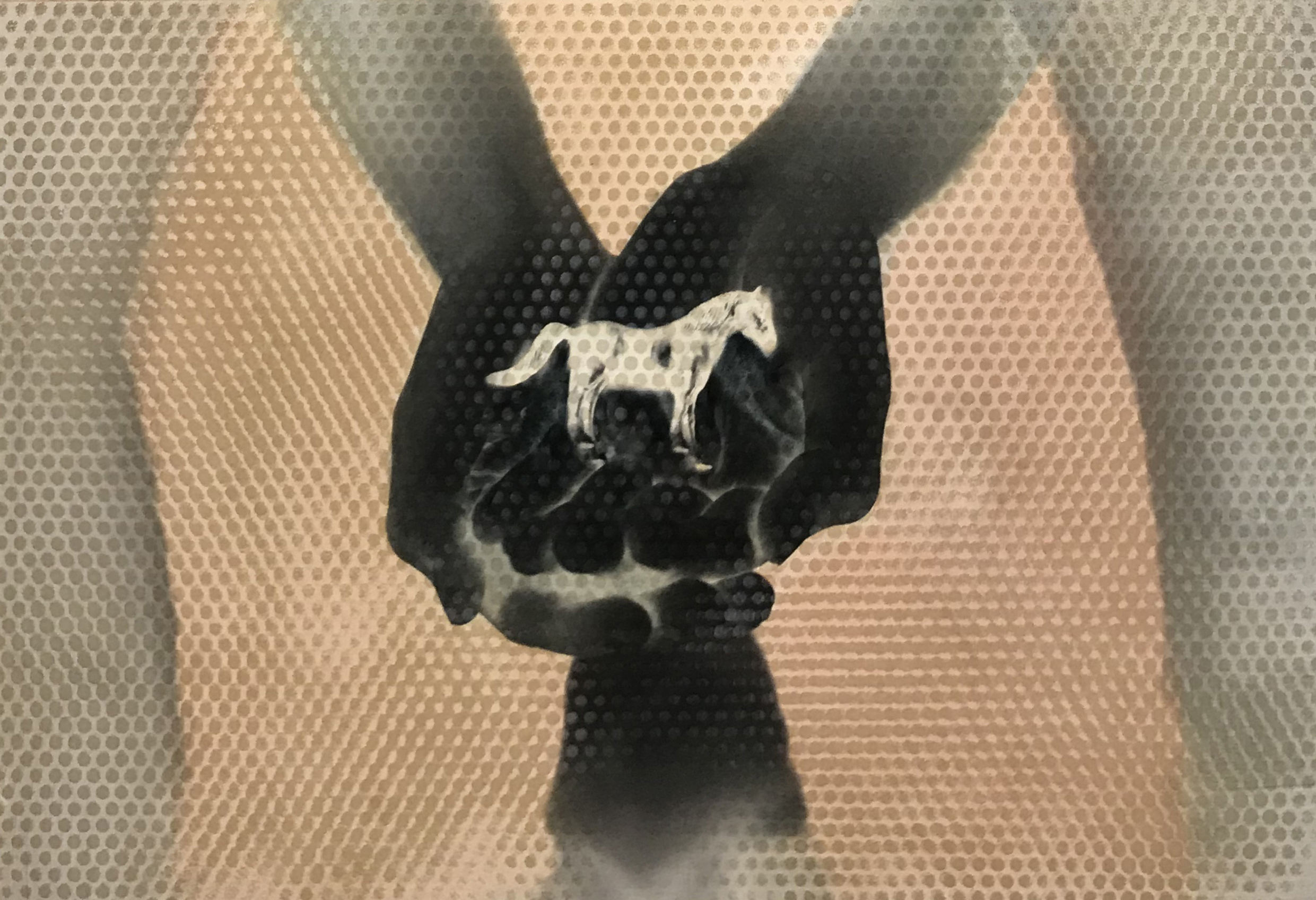 DNJ: You work with many different media within the realm of photography. How do you determine what media is the right one for any given project?
MM: My process usually starts with a series of images and questions. The questions somehow activate my thinking in a non-visual way. Mostly I'm exploring ideas about metaphor, like writing a poem, and the media becomes a part of that transformation (or translation.) I don't determine the media in advance; the photograph and the process lead me to it.
I often sketch my photographs in advance to consider different ideas. That creates a dialog with them, allowing me to find a connection between metaphors, color, or dynamics, and determine what materials I will use to create the image. It's part of my creative ritual; I keep my mind engaged with my instincts and intuition, preventing me from discounting or rejecting something that could be interesting.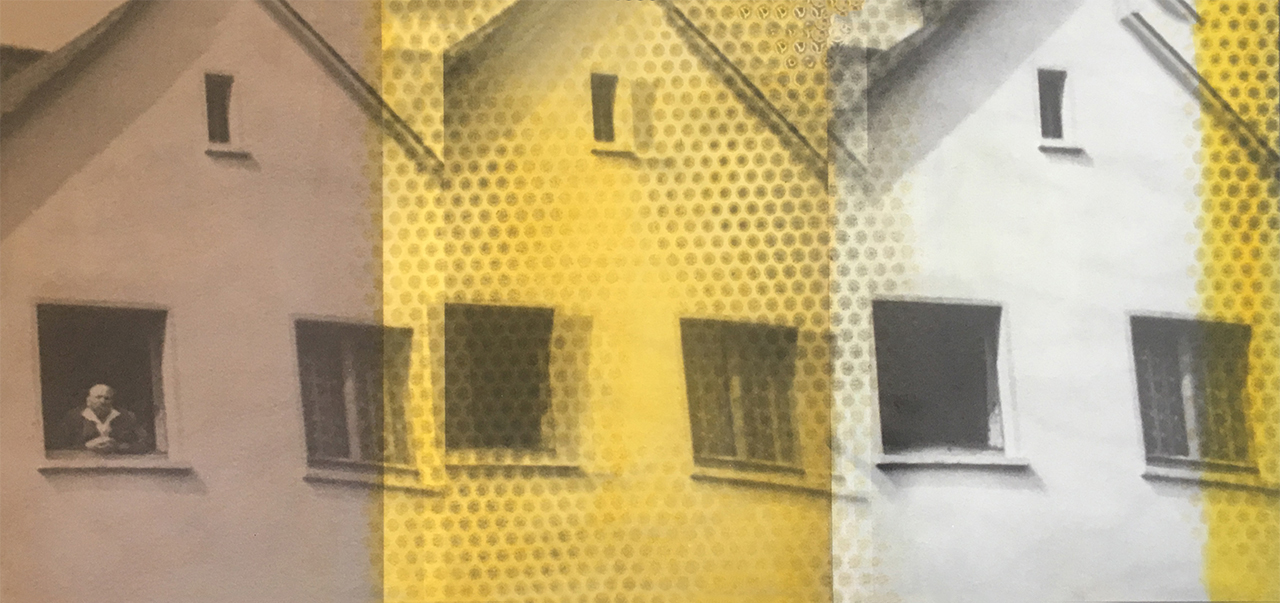 DNJ: Although our themes are quite different, your work "Time and Again" reminds me of some in my series entitled "Legally Blind": they both obscure the vision of a land or seascape. This series is distinctly different from any of the work that has gone before for you. What brought you to work this way for this series? Is it something you intend to continue with other series going forward?
MM: "Time and Again" arose from the Covid lockdown with its abrupt halt to the cadence of my life. On top of the uncertainty of the outside world, I experienced several unfortunate incidents that reduced my life to the point that I felt paralyzed with fear and anxiety. I felt both helpless and unable to help others. A severe injury to my husband, the separation from my elderly parents, the forced shutdown of my business, the illness and suffering of so many friends and family—this sudden destabilization of all the ordinarily reliable areas of life relegated me to feeling like a "bystander" in my own life.
Eventually, I took regular trips to the coast—to feel the motion of the water, to see the movement, feel the rhythm. This ritual became my salvation and helped me calm down all the flux around me. The horizon steadied my thoughts and gave me a place to focus and balance, the water soothed my sense of being, and the waves were a consistent source that helped me feel that life would continue.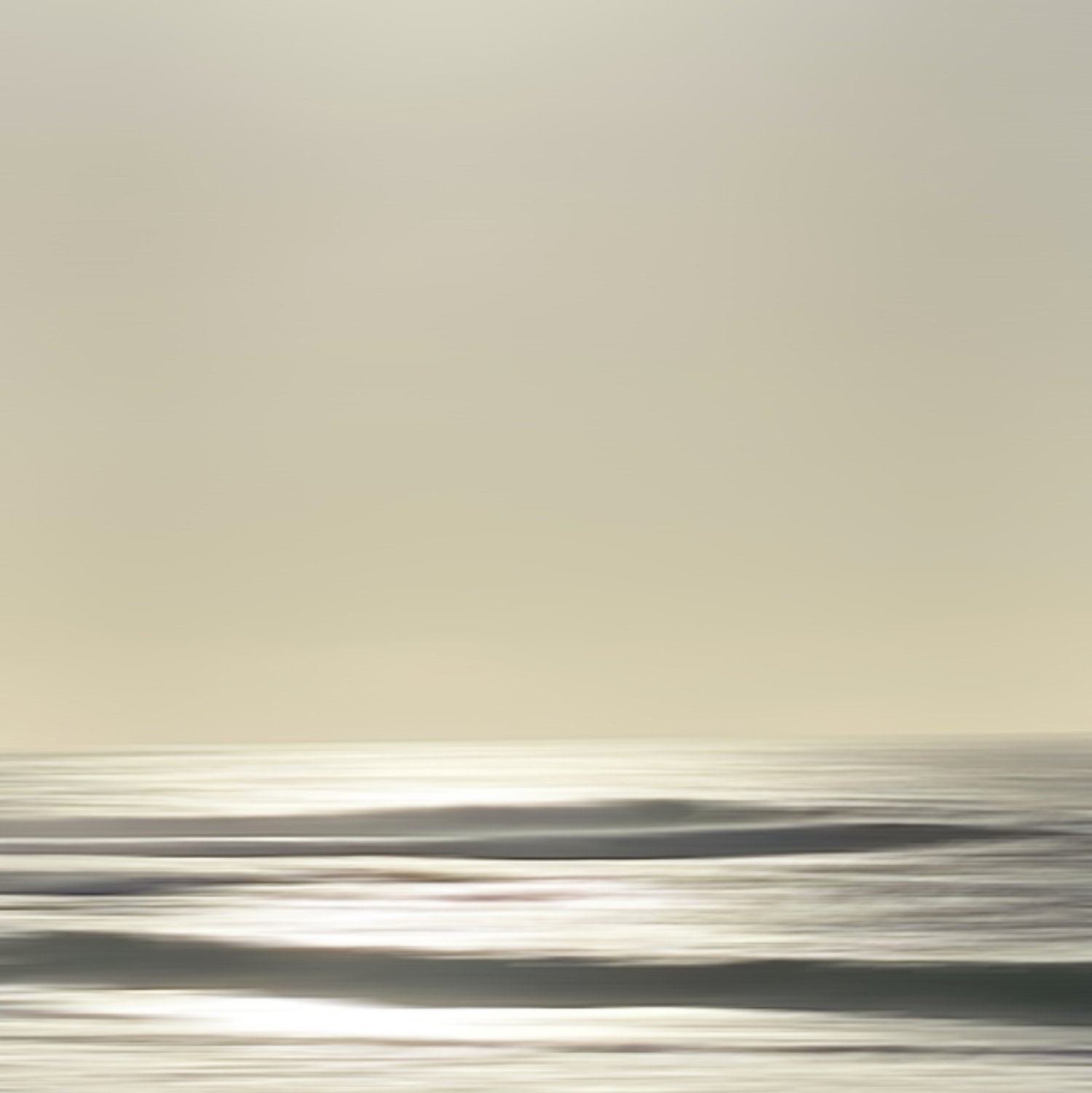 I've lived near the coast since I was born and never explored it as a subject, yet suddenly my immediate surroundings became the most crucial aspect of my life. I needed to create something positive from all the negative energy thrust into my life. It was the only remedy for me and came about somewhat unconsciously. Bringing my camera to the coast pulled me away from the anxiety that was haunting me. The action of looking brought my mind to a place of stillness.
I began to study the relationship between the sky and the water more intently. The way they would harmonize and then appear polarized; the way one could overpower the other one day and be the opposite the next; the way the water felt like an actual physical weight and the sky felt infinite and full of ephemeral possibility. The sea and sky began to overtake me. Together they kept my mind clear and grounded me with their powerful alliance.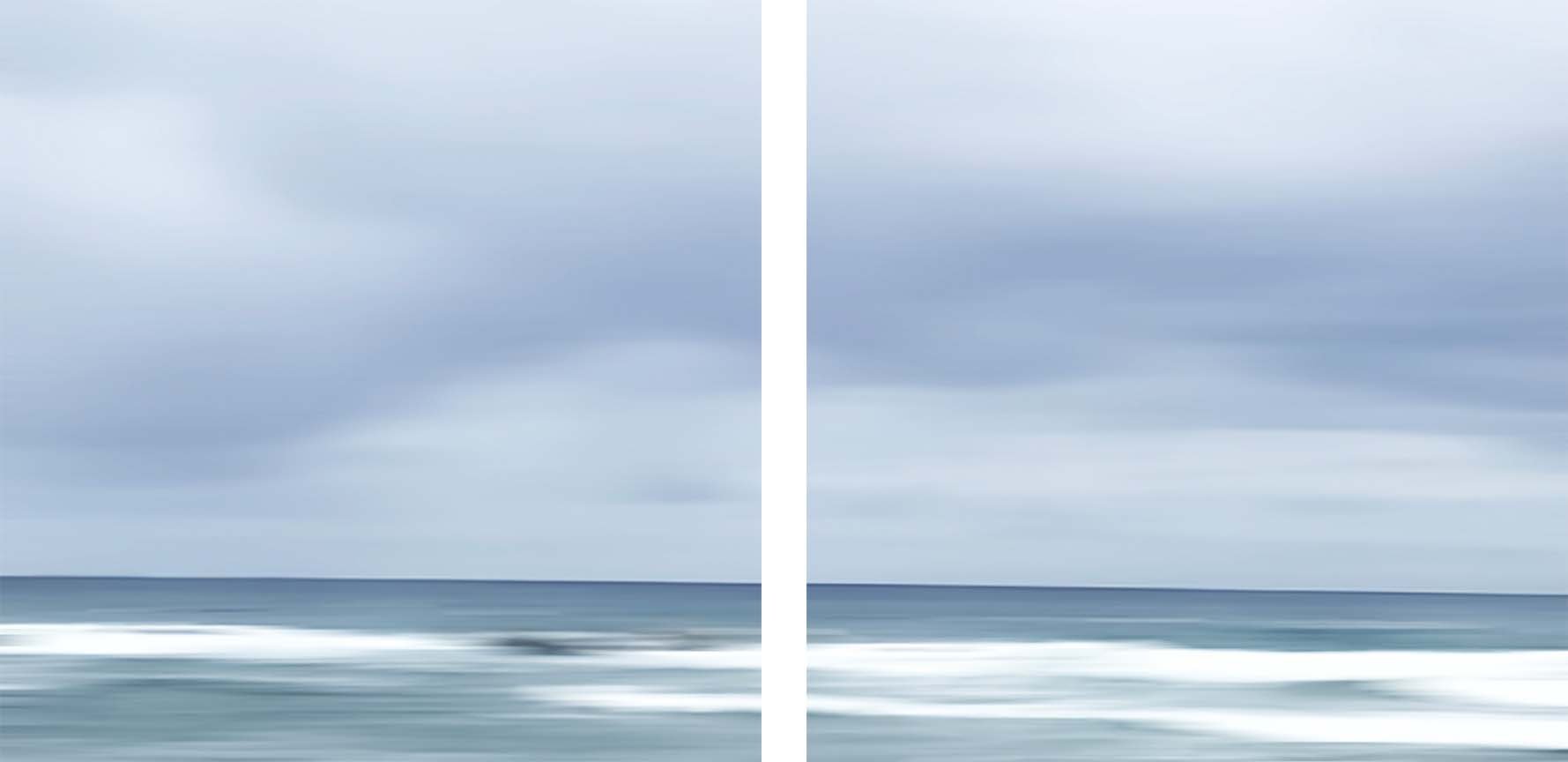 I used a digital camera and then manipulated the images in Photoshop. I began to explore visual metaphors for the passage of time and memory, using layers and repetition to create and deconstruct simultaneously. It was very different from my usual approach. Not knowing what would happen awakened my curiosity for discovery and gave me a sense of freedom I had lost during that fearful time.
Since I finished that series, I started working on new coastal images using canvas with oils, graphite, and wax. I've found the horizon line particularly interesting and am searching through the landscape for a similar synergy.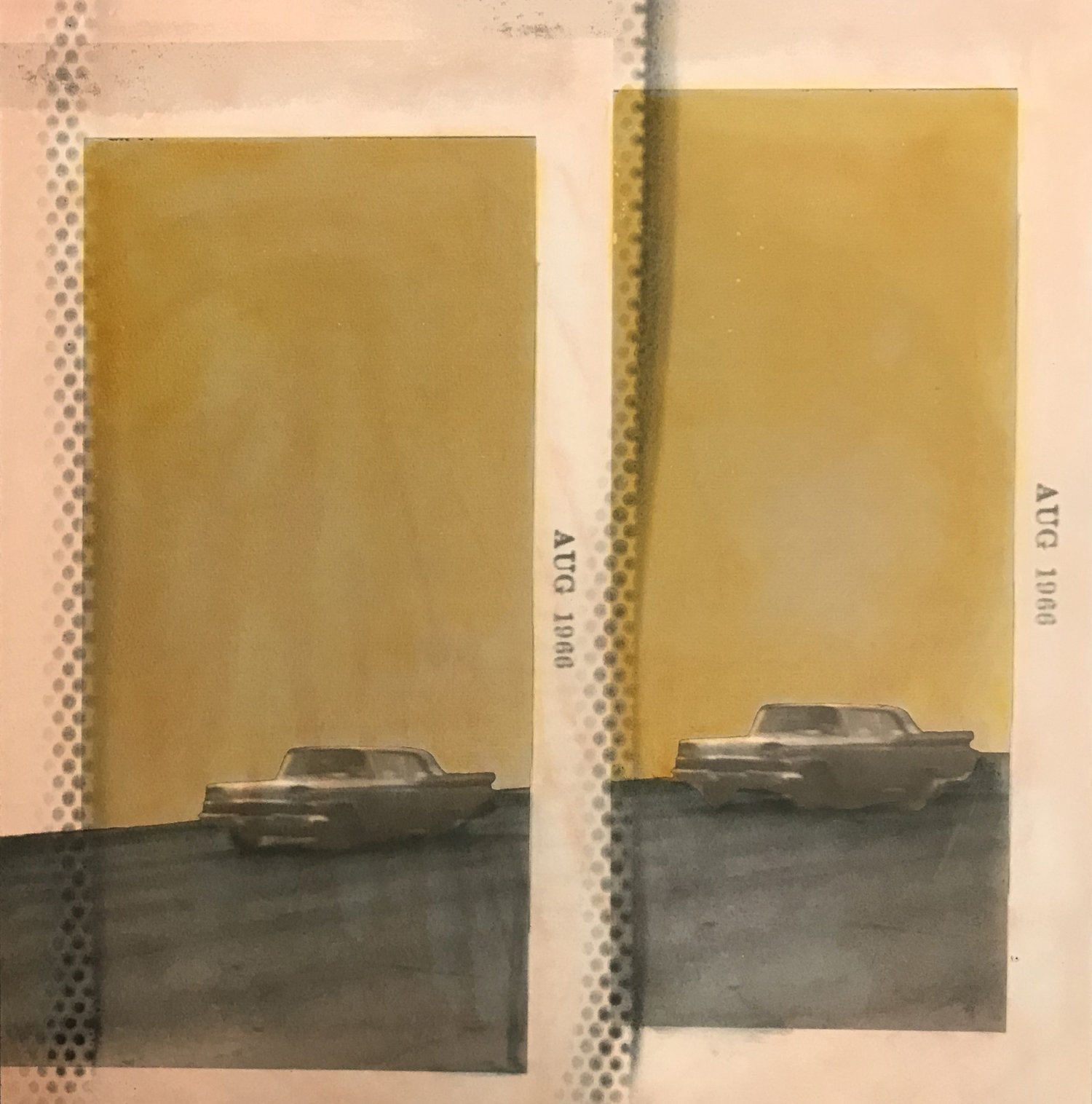 DNJ: Can you share your approach to creating work?
MM: Most of my work begins as a spark of an idea in my journals that I write in daily. I have them all over my studio/house at arm's length. I note thoughts, memories, sketch ideas, lines from classic movies, lyrics, poems— anything that triggers a response, a memory, or an emotion. It's all jotted down quickly, without editing. It's a ritual I have practiced for decades and one that I think of as brainstorming: free, open thought without interruption or judgment. Later, when my mind is quieter and more focused, I look for connections and ideas that I can unify into a visual context. It creates a path for me and an entry point to begin to explore and transform.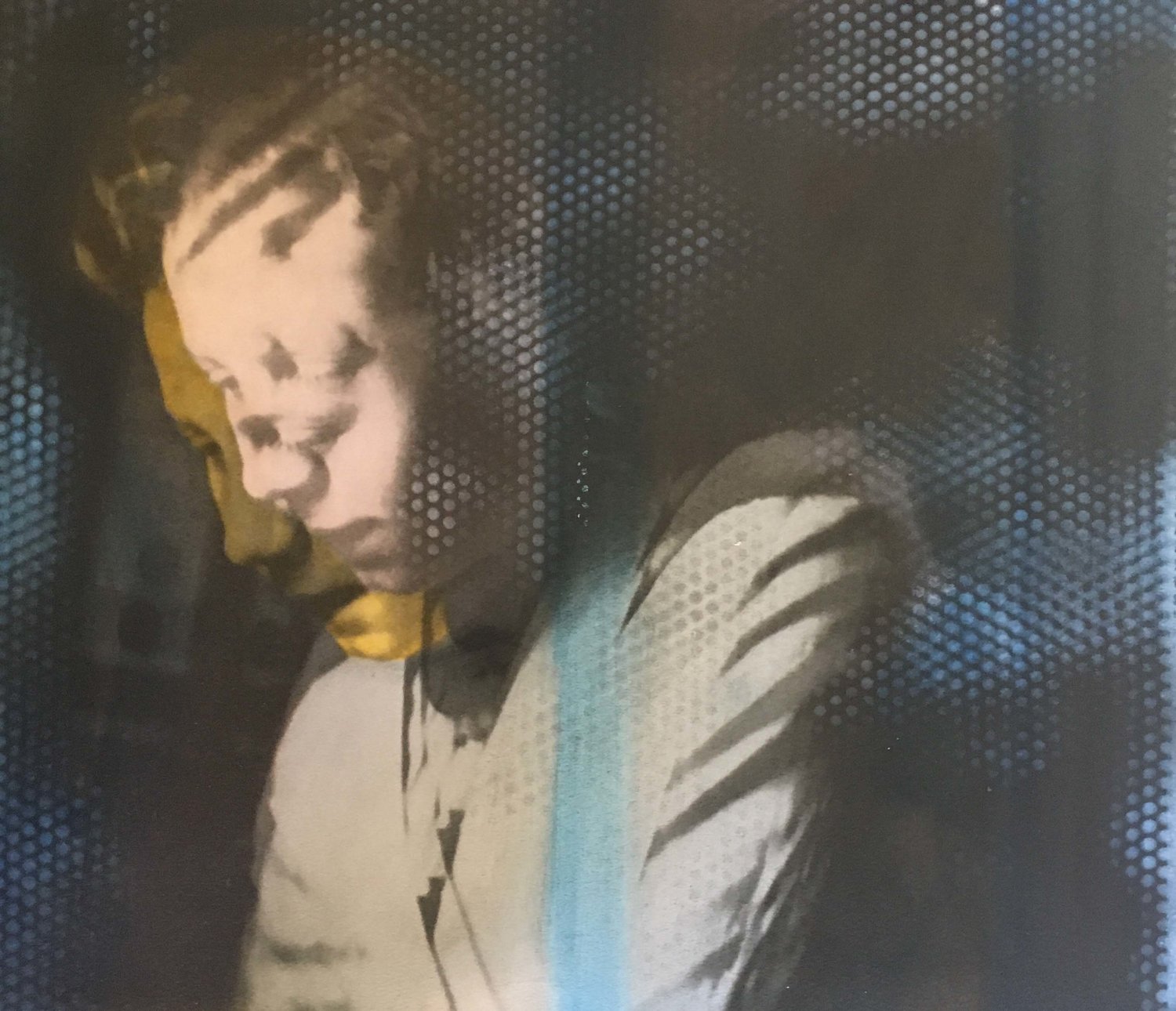 DNJ: What message do you intend to send out into the world with the work you make?
MM: Looking back on the series completed in the past decade, I see an evolution between the earlier imagery with its internal POV and later work that responded to external forces. It springs from my need to observe, understand, and transform, to make what is often invisible visible. I want to create something beautiful that shows my viewers the same curiosity, desire, and emotion that drives my artmaking practice, connecting with them and allowing them to share it.
Many people tell me that all my work makes them feel peaceful and calm. While not intentional, it speaks to the peace of mind that comes to me when I am creating work; making art dissolves me and allows me to become whatever I am creating. If I convey that dynamic in any way, that would also serve my intentions.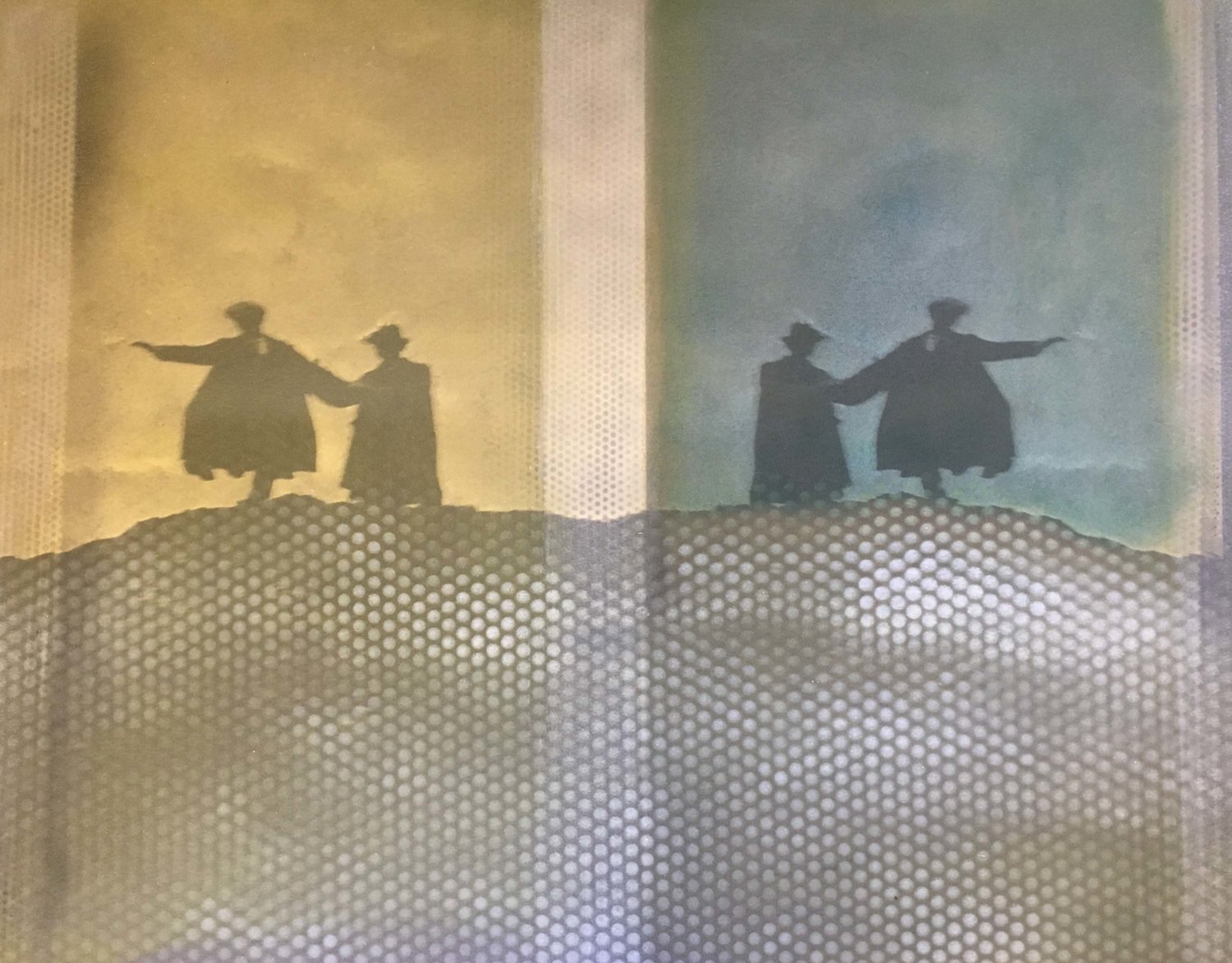 DNJ: What's on the horizon for you?
MM: I've been sketching a lot more, moving away from representational ideas, exploring spatial concepts, mark making, form, and relationships of color; the way color harmony and polarity can evoke memory. This direction has been pulling me for some time. I have been contemplating sea and sky relationships. That raises questions about how I might create a sensory effect, questions about memory and the present, and how those two opposing ideas work together or not, like the sky and the sea. I have been drawing, playing with paint, and working with collage to explore where these questions might take me; how creating an image using color and the photographic process can convey emotion and communicate on a sensory level. I can see this in my mind. I'm just working on how to transform and materialize it.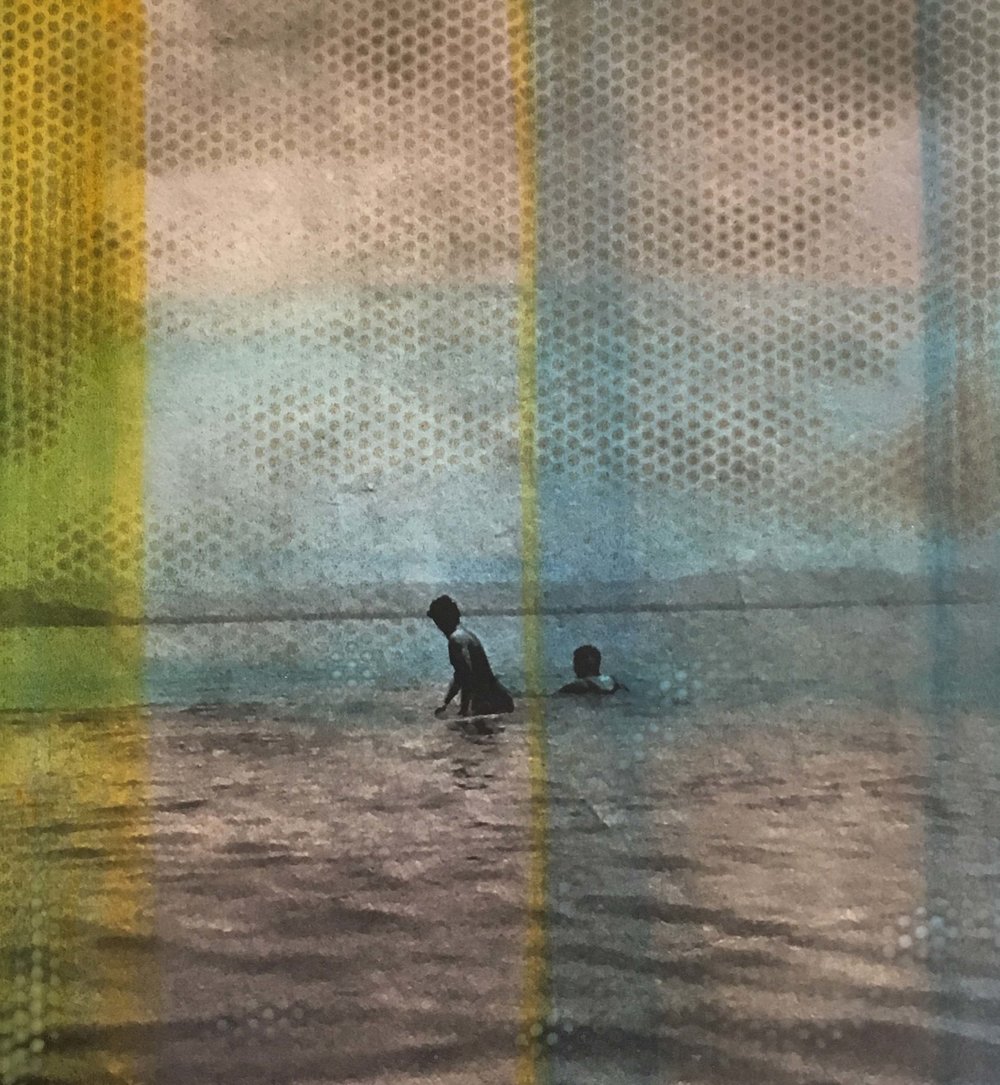 MOLLY McCALL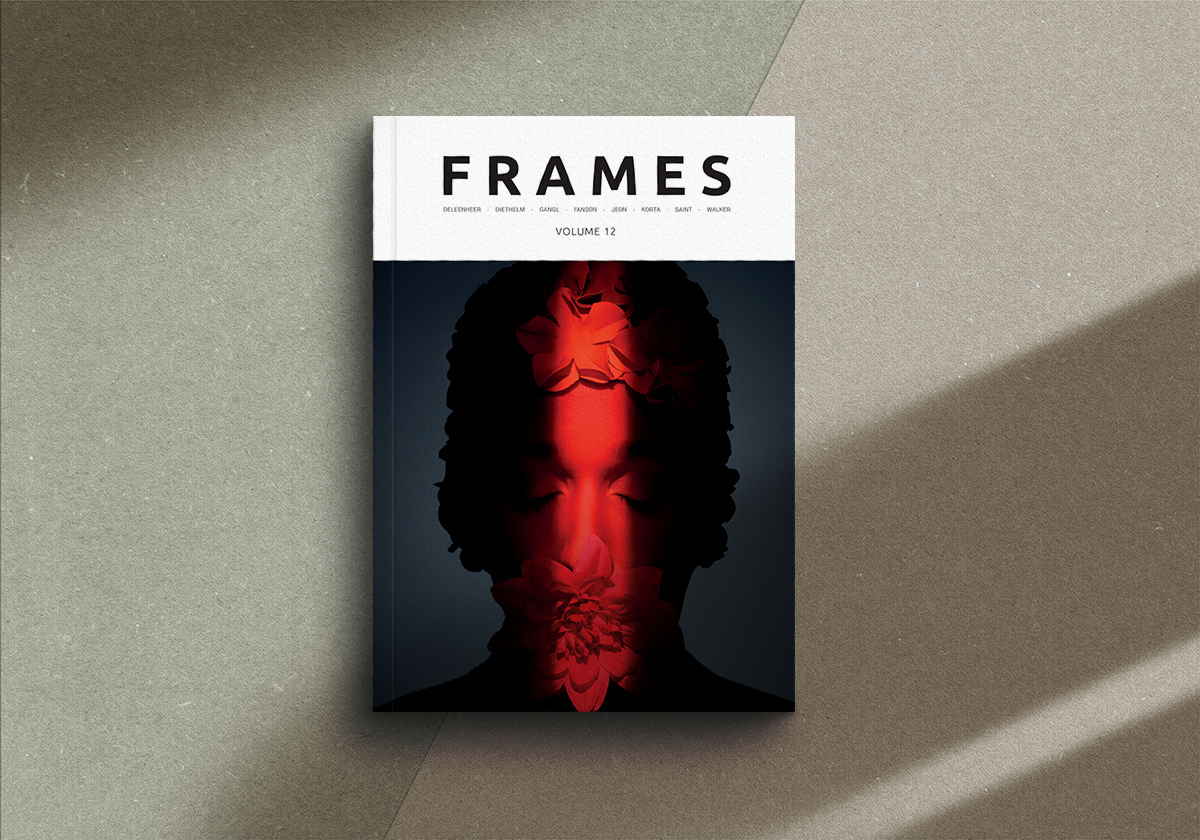 Every year we release four quarterly printed editions of FRAMES Magazine. Each issue contains 112 pages printed on the highest quality 140g uncoated paper. You receive the magazine delivered straight to your doorstep. We feature both established and emerging photographers of different genres. We pay very close attention to new, visually striking, thought-provoking imagery, while respecting the long-lasting tradition of photography in its purest incarnation. Learn more >>>
---