Sarah Hadley is a Los Angeles-based artist whose narrative work focuses on issues of female identity and memory. She was born in Boston and studied both art history and photography at Georgetown University and the Corcoran College of Art in Washington, DC. She received Illinois Arts Council and Chicago Artist Grants and several Fellowships to the Ragdale Foundation. She collaborated with Susan Tillett, then the Director of Ragdale, on a book called The Ragdale House Speaks, which was published in 2012.
She moved to Los Angeles in 2008 to photograph the Time Out Los Angeles Guidebook. Hadley's first monograph, Lost Venice, was published by Damiani Editore in 2020. Recently, Hadley's photographs have been exhibited at the Milan Photo Fair (Italy), Fotofever (Paris), the Porto Photo Festival (Portugal), the Lishui Photo Festival (China), PhotoLA, the Worldwide Photography Biennial (Buenos Aires) and the Ballarat Festival (Australia), as well in galleries and museums around the US – most recently in solo exhibitions at the Richard Levy Gallery (Albuquerque), Afterimage Gallery (Dallas), the Griffin Museum of Photography (Boston), the dnj Gallery (Santa Monica), and Fabrik Projects Gallery (LA), as well as in group exhibitions at the Florida Museum of Photographic Arts, Building Bridges Art Exchange (LA) and the Robin Rice Gallery (NY).
Her work is held in museums and corporate & private collections. It has been published in ELLE Italia, L'Oeil de la Photographie, Photo District News (PDN), The Oxford American, B&W Magazine, Harper's, SHOTS, Lenscratch, and The Sun.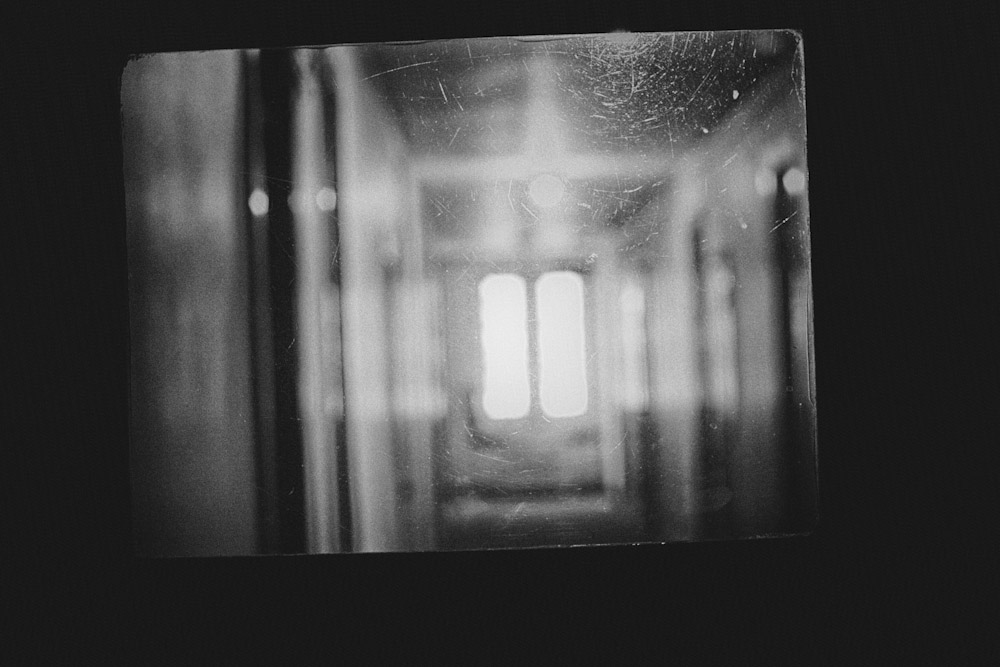 Sarah Hadley has had a unique life, beginning with her childhood. Not many of us can say we grew up in a museum. But Hadley did; the Isabella Stewart Gardner Museum in Boston. Her family moved to the top floor of the museum in 1970 (when her father became the Director.) Imagine being surrounded by a collection of more than 7500 art objects dating from the time of the ancient Romans through the 19th century in France and America. It's hard to imagine what that must be like, but Hadley spent 18 years surrounded by paintings by Rembrandt, Titian, Whistler, and Sargent.
Hadley told me, "Growing up in the museum was strange, magical, surreal, and utterly normal all at the same time. I lived there from age four until I was 23, so it is the only childhood home I ever knew. Living there meant that my life and home were filled with extraordinary architecture and priceless works of art. The museum was my playground and teacher; I absorbed so much about art, mythology, culture, and religion from the tangible artifacts around me. When I return, it seems almost unfathomable that I ever lived in such a splendid and strange place. It shaped my life and fueled my passion for art, history, and travel. I am also in awe of what an extraordinary woman Mrs. Gardner was and how incredible it is that she created and curated a world-class museum in an era when women didn't even have the right to vote."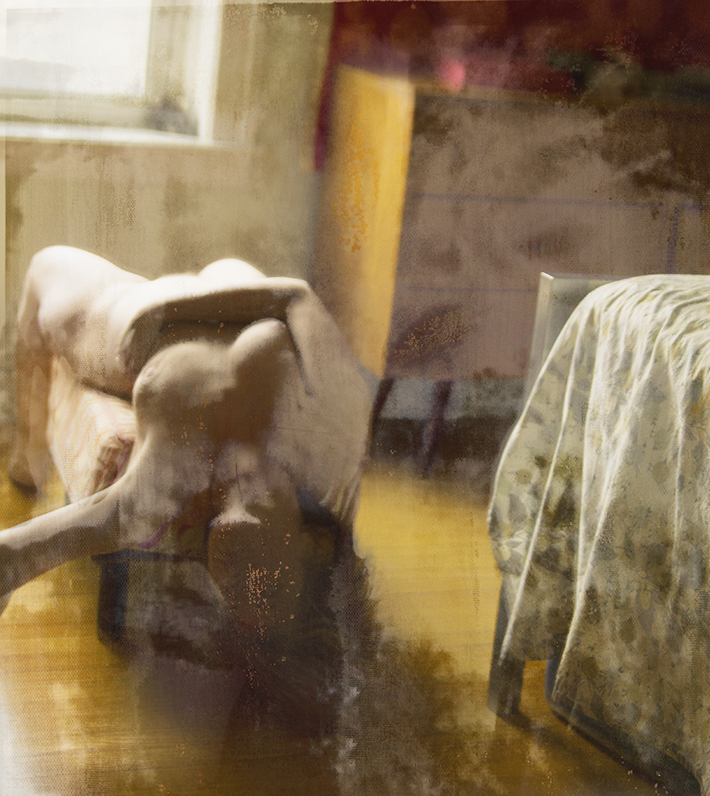 As a young adult in her 20s, Hadley studied and worked at the Peggy Guggenheim Collection and then the Biennale in Venice, Italy, which is where she began photographing seriously.
Later on, she worked at the National Gallery of Art and the Library of Congress, then as a photojournalist for a newspaper in Virginia. In 1996, she moved to Chicago and founded the Filter Photo Festival. More recently, Hadley worked as the Marketing Director at the Los Angeles Center of Photography, where some readers likely have interacted with her in her role producing Exposure, their Annual Portfolio Review weekend; that is where I first became acquainted with her myself.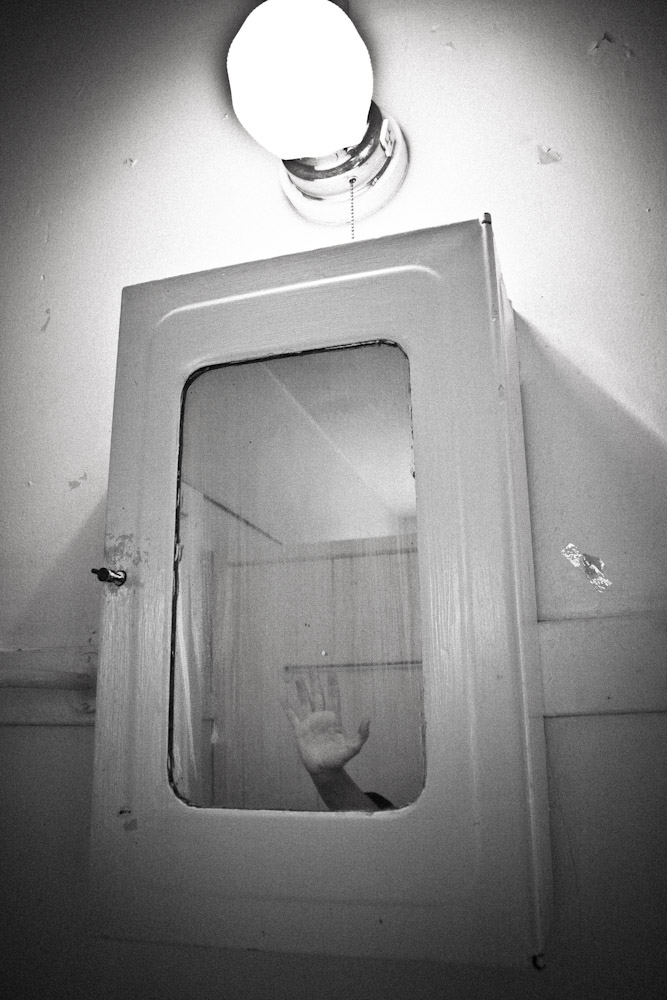 Hadley's extensive resume also includes curating exhibitions in the US, France and China, as well as jurying in many photo competitions, including Photolucida's Critical Mass. She's served as a portfolio reviewer at SPE National and at the Lishui Photo Festival in China. In the publishing area, she has written for Lenscratch and Don't Take Pictures magazine, as well as writing book reviews and interviews for Publisher's Weekly and F-Stop Magazine. She also mentors individual artists on career and marketing strategies and works with photography centers, fairs, and institutions on strategic planning, fundraising, marketing, and social media.
I am thrilled to be able to present FRAMES readers with an interview with a practicing photographer who brings such an extensive and well-rounded art world background.
I asked Hadley to briefly describe some of her projects, and I am leading with that before the interview questions so you have some idea of what her work is about.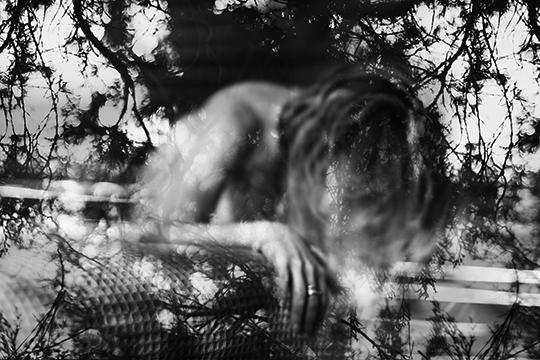 Lost Venice The photographs represent a real and imaginary journey through the maze of streets and canals of Venice on foggy days and mysterious nights. It is a meditation on that opulent and mythic Italian city; the work reminds us of how fragility and impermanence force us to contemplate our uncertain future.
Story Lines was inspired by European cinema of the 60s. It explores the female psyche and the tension between exterior beauty and internal complexity. In these surreal narratives, I reassemble my photographs to create intimate cinematic scenes that blur the boundaries between reality and fiction.
Untethered Histories is a physical manifestation of the imperfection of relationships. I build narratives from torn, ripped, and flawed images, piecing together fragmented memories of small wounds and broken hearts, blissful beginnings, and ill-fated endings.
In Between Days During the pandemic, that time of deep uncertainty, I created collaged stories from boxes of family photographs and letters that had been in storage for over ten years. As I attempted to make sense of my past through the family mementos, my ripped and torn collages served as markers for what I remembered and what was lost, exposing the fragility of life and the impermanence of memory.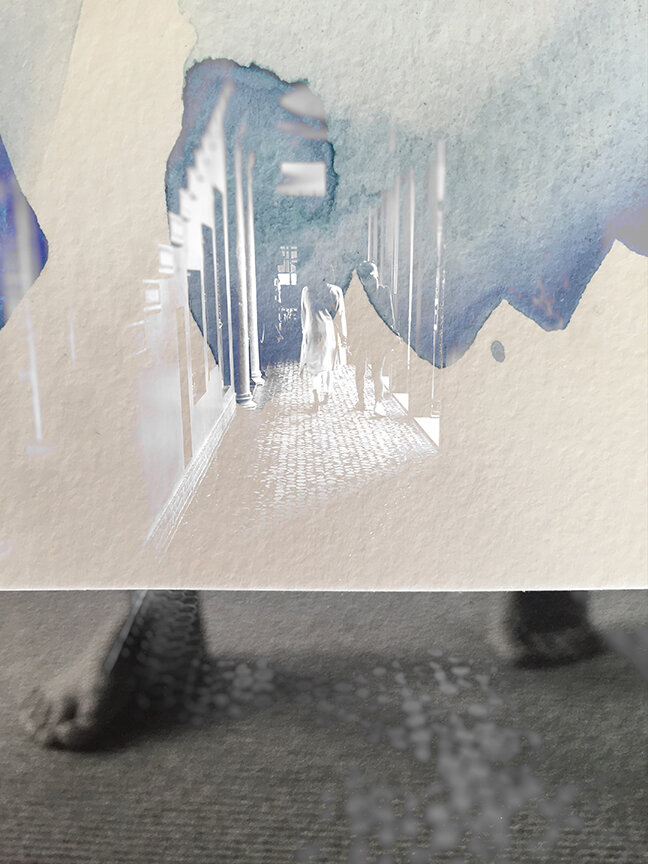 DNJ: What were you like as a child?
SH: I was an outgoing and curious child. I loved school, friends, and sports. I was fortunate to attend a liberal grade school that valued and integrated art, music, dance, and creative writing into its standard curriculum. This environment nurtured my creativity and appreciation for the arts. As a child, I thought I would be a writer, as I loved books and was a voracious reader. Becoming an artist took hold when I was in my twenties.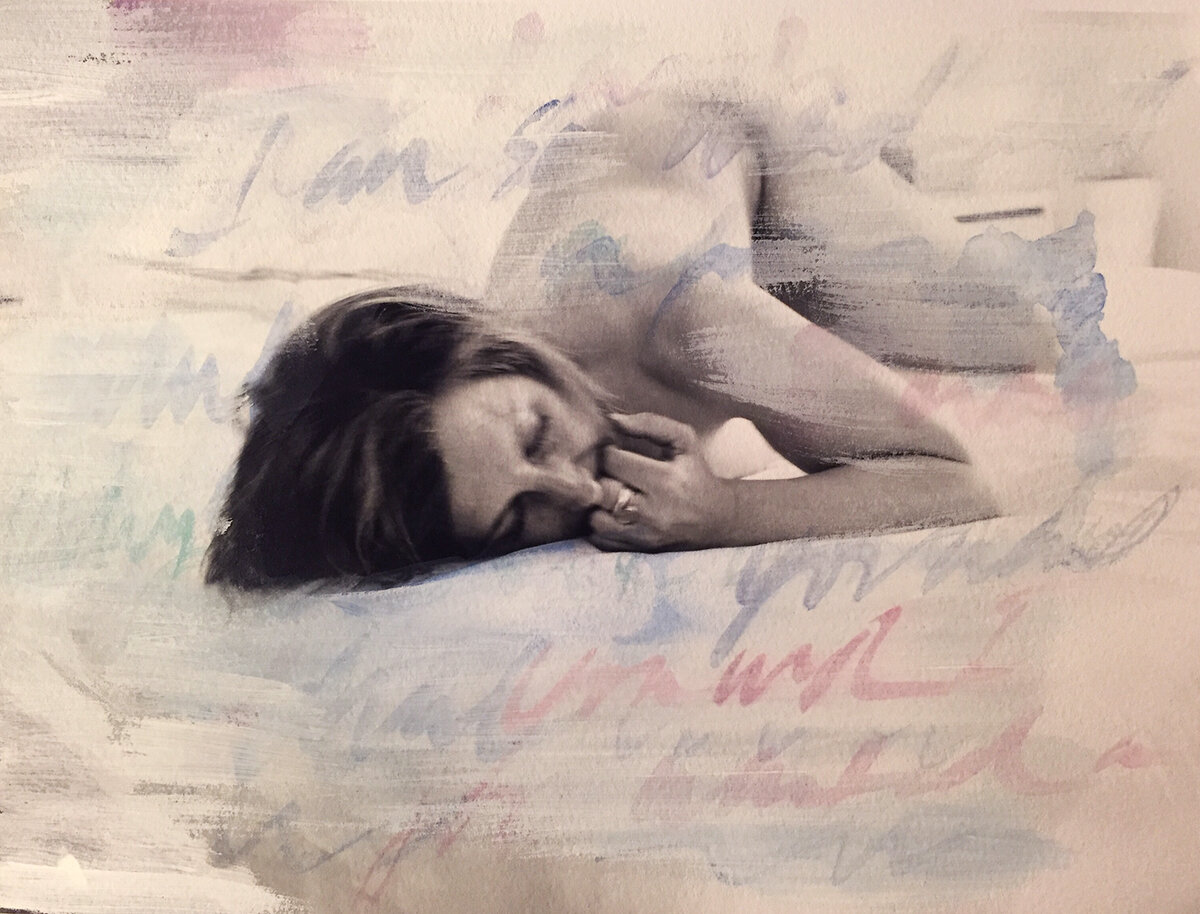 DNJ: Do you have siblings? Was anyone else in your family an artist or photographer?
SH: My father painted watercolors when he retired, and I have a half-sister who paints and used to sculpt a bit, but neither pursued it as a passion.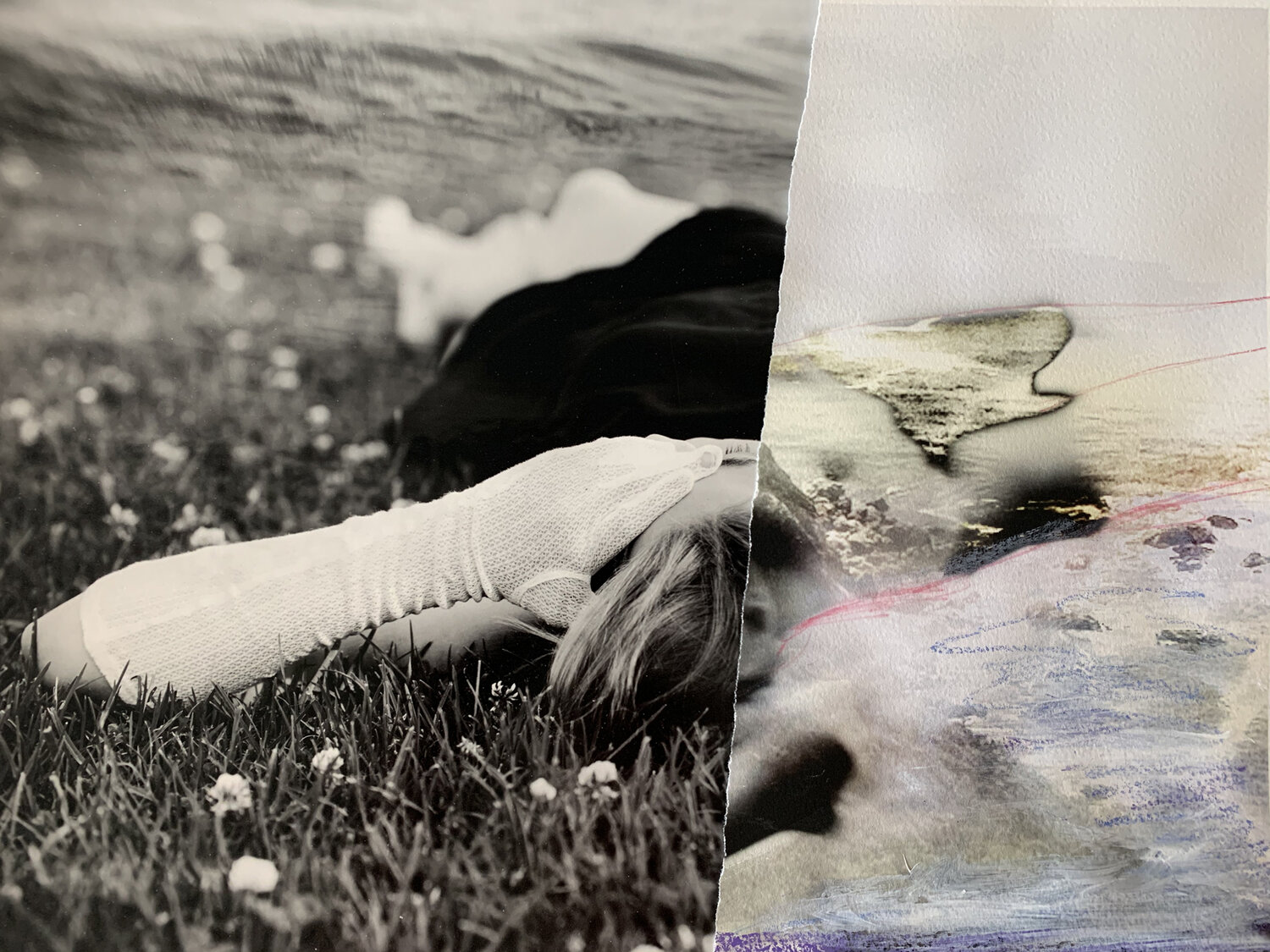 DNJ: When did you take your first photograph? What was it of, if you remember?
SH: A friend gave me a toy plastic camera as a birthday present when I was 8 or 9, and I took my first photos with it. The images were of my brother and our family dog in the garden at the museum. They were black-and-white photos and a bit blurry, like Holga images. I remember being really excited about the results! Shortly after that, I got a 110 camera as a gift and also borrowed my father's Olympus Pen F. In 7th grade, I took a darkroom class—seeing that first image emerge in the developer hooked me.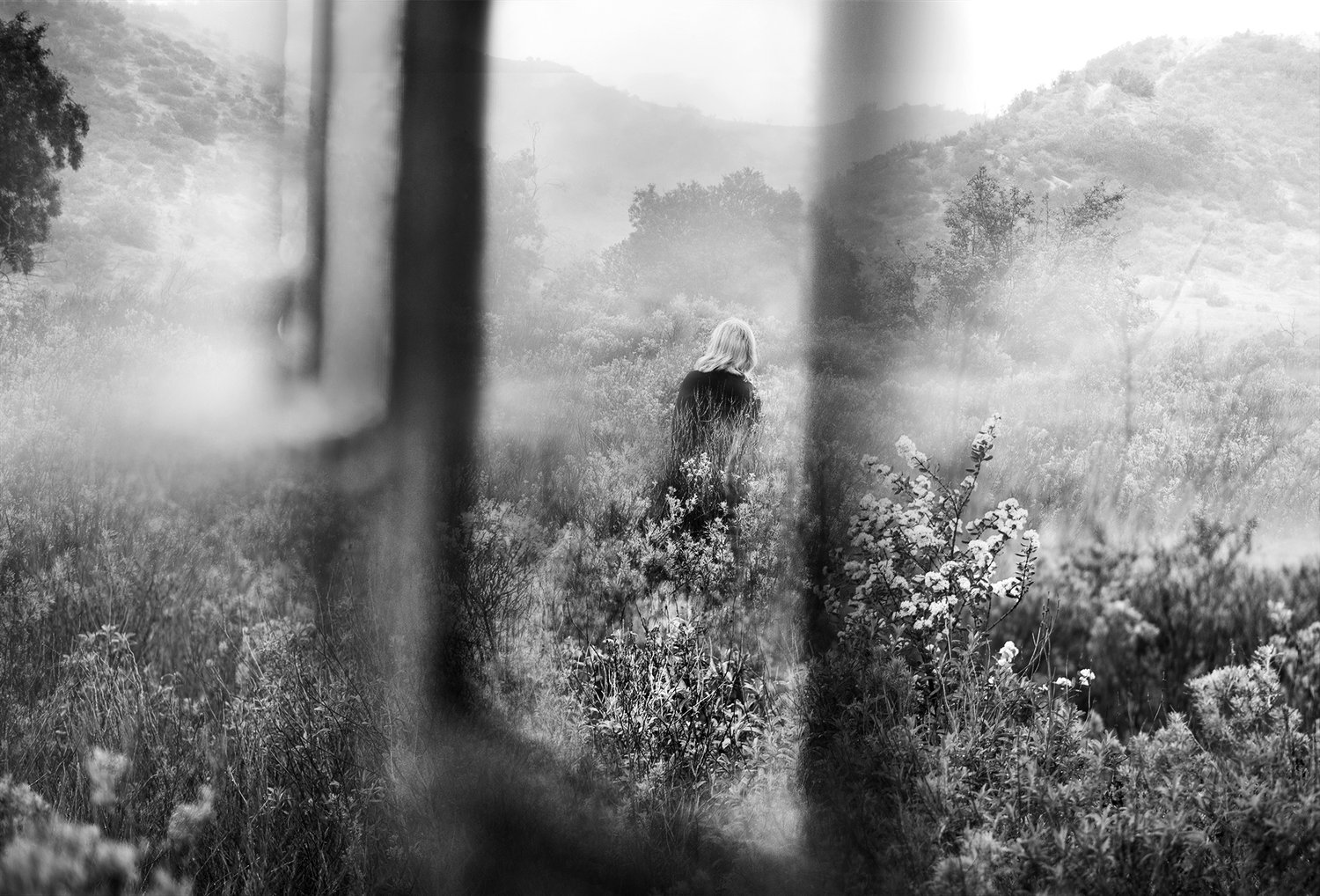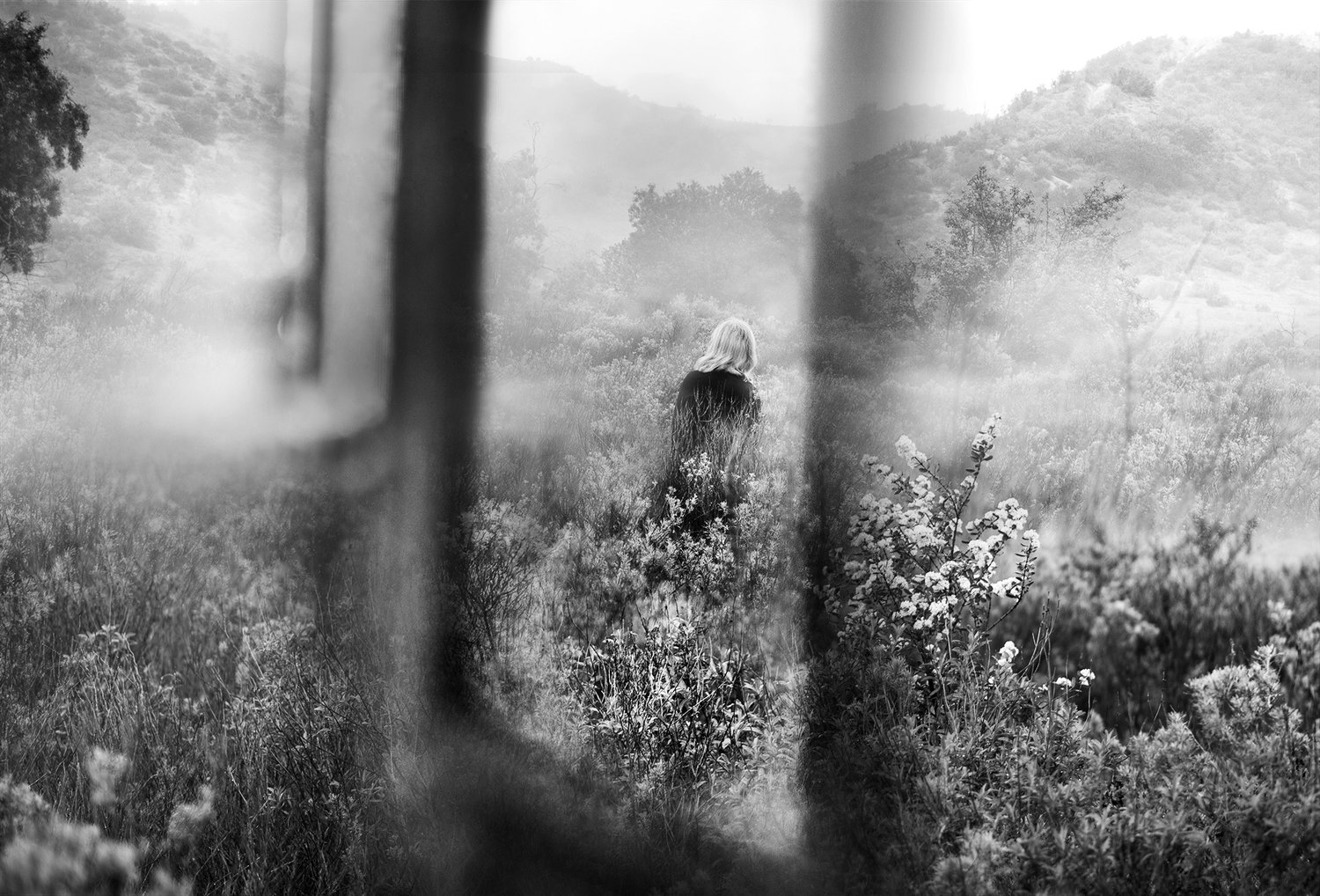 DNJ: Sometimes, one project leads naturally to another; other times, there is nothing left to say with a sister series. Where do the ideas you work with come from? How do they influence each other (if they do?)
SH: Each project definitely informs the next. I am constantly circling the themes of loss, impermanence, memory, and female identity; each project allows me to go deeper in one direction or another. I am also always interested in photography's ethereal, timeless quality and ability to transport us elsewhere. Influences include poems, books, movies, and art, but most often, it is a place that speaks to me and resonates with my past that sparks the idea for a project.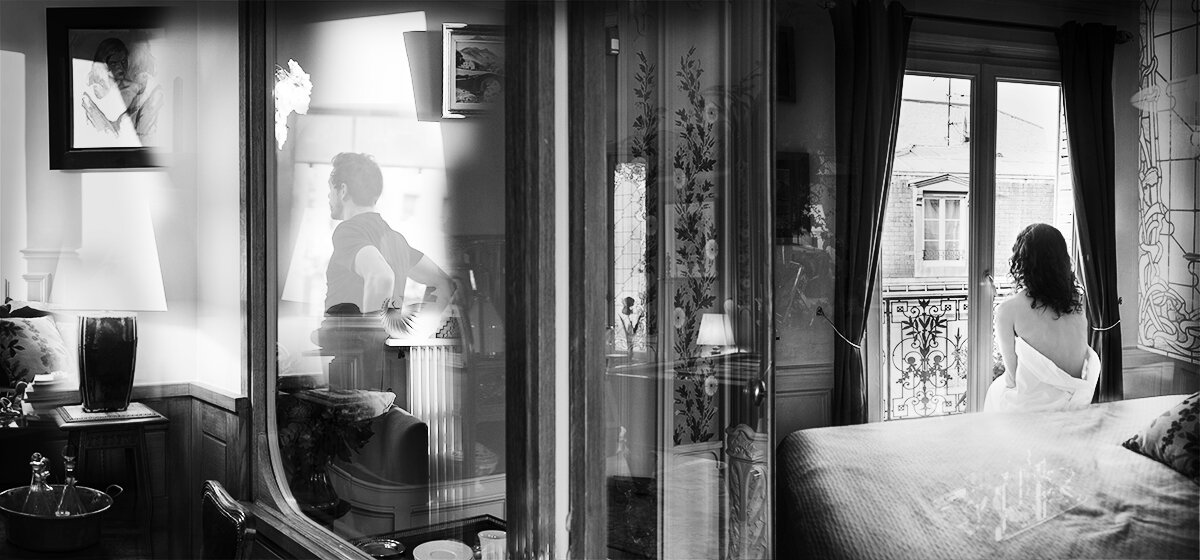 DNJ: What prompted you to turn the camera on yourself, and what has kept you doing that?
SH: I went through a colossal break-up about 13 years ago, which was very freeing. I was living alone for the first time and felt a massive shift in my identity that I wanted to capture with my camera, so it seemed natural to create self-portraits. Around the same time, I saw an incredible exhibition of Francesca Woodman. The work was beautiful yet raw and ethereal, and she inspired me greatly. Nowadays, I shoot other people much more, but sometimes there is only me, so I use myself.
DNJ: We have all had images that somehow we can't make work though the germ of something we love is in there. What do you do when you encounter this?
SH: I have projects I have never exhibited, but I never destroy work I've made or delete it from my hard drives. I revisit my old work reasonably often and consider whether there is a way to use some of the images in another project. In my recent project, "In Between Days," I used old photos and letters and integrated them into collages. However, my style and viewpoint usually shift with each project, so it is hard to incorporate old work. I rely on the muse, but depending on her means I have to show up daily and shoot, edit, and think about my work and what it says. I also read, write and pay attention to my dreams, coincidences, and what shows up in my life. It can be as small as noticing how the light falls in a room or as big as the feeling I get in a particular city. For example, Venice was a mystery and a puzzle I wanted to solve.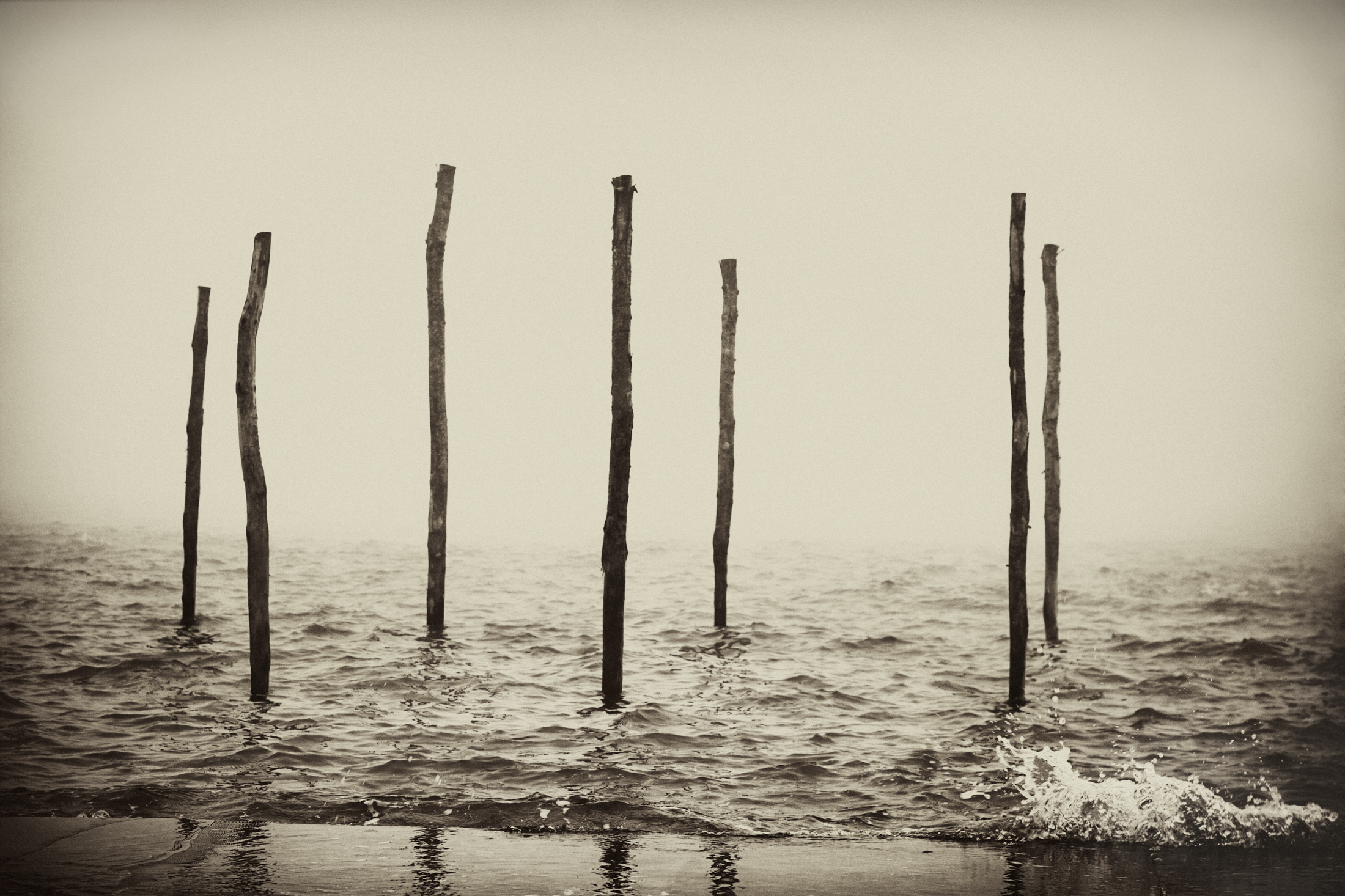 DNJ: What do you do when you encounter a period of creative block?
SH: I don't have creative blocks, but I am sometimes frustrated by a project and my inability to figure out how to proceed. The first images of any project seem exciting and fresh, and then it takes hard work to create the rest. But it takes a lot of effort to shape any project, and it can take years to flesh out an idea fully.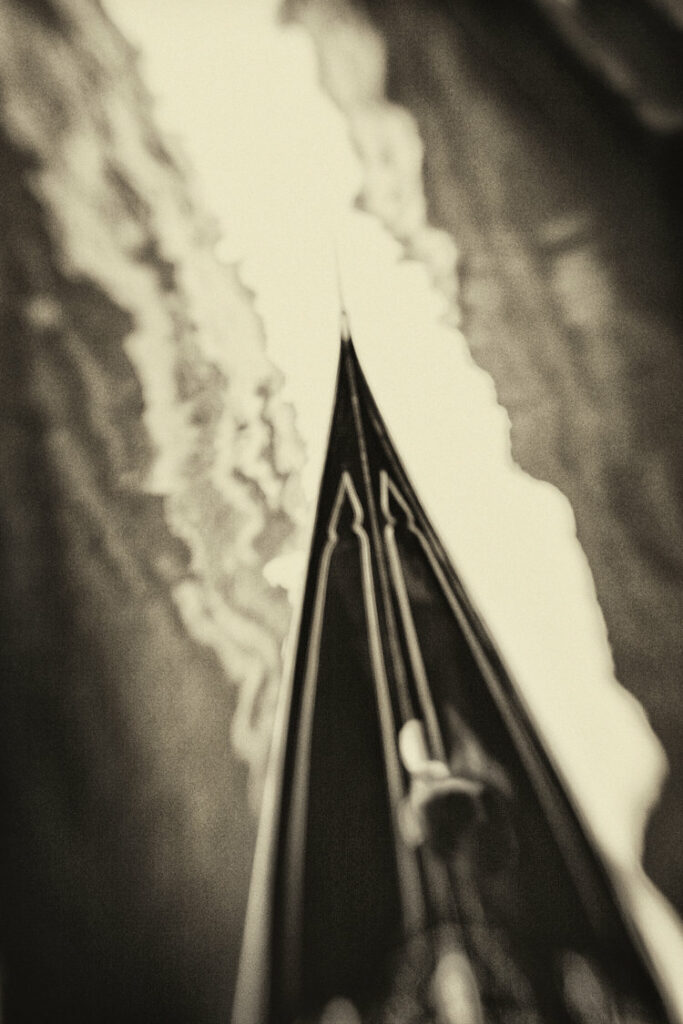 DNJ: You are a noted photographer with your own art practice, you teach, you do workshops, you're a frequent portfolio reviewer, you mentor people, and like the rest of us, you have family obligations. How do you make the time for all of this? Are there times you wish you "just said no," and why, if so?
SH: It is always a juggling act. I ensure I have time in the studio to edit and create work at least several days each week. I am getting to the point where I need to say no more often as I know my time is not infinite, and there are many projects to finish and new ones I'd like to begin.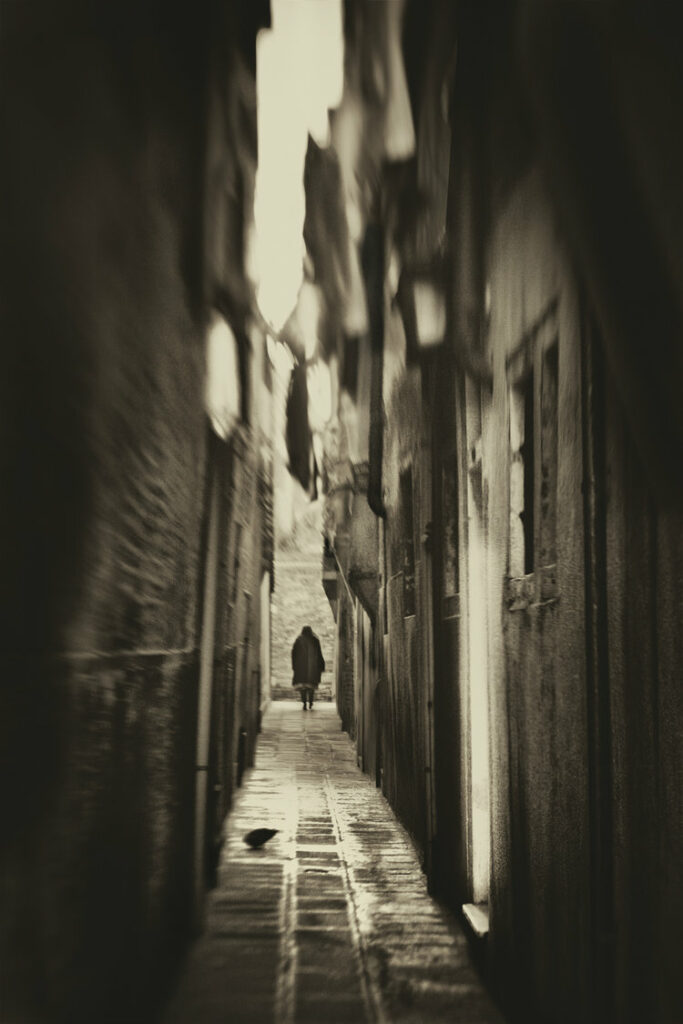 DNJ: Sitting on "all sides of that table" gives you unique perspectives of the photo world. Does this impact your thoughts when jurying? What are essential considerations for you when jurying an exhibition for any gallery?
SH: Originality and impact are the main factors I weigh when jurying. The work must be fresh, and it must also feel personal. I am looking for the artist's soul in the work and something that excites me and makes me engage with it for longer than a few seconds.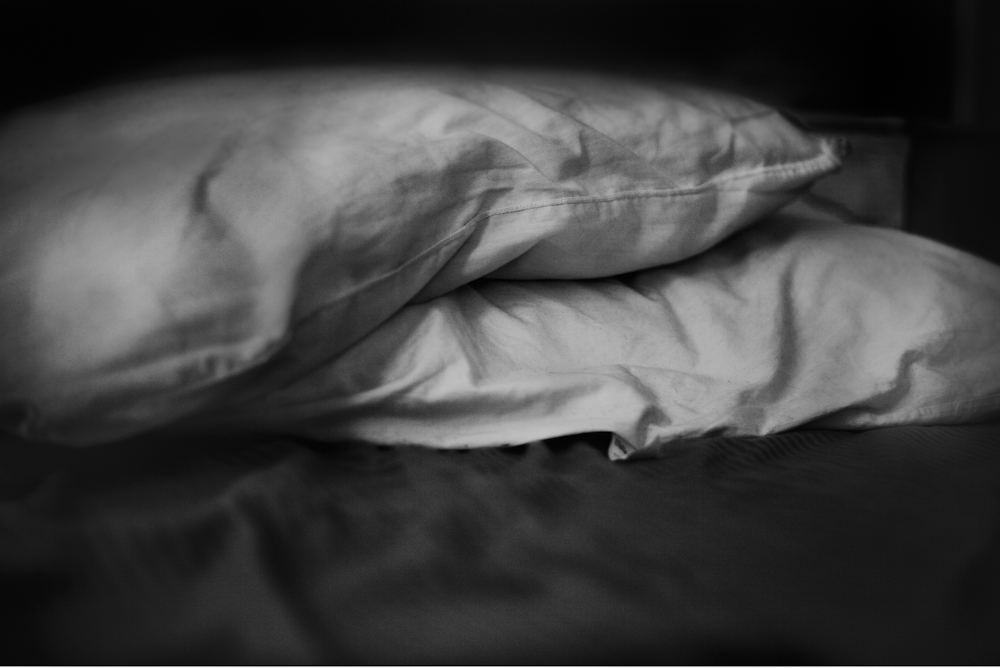 DNJ: Putting on that juror hat, what advice do you have for our readers to consider when submitting work to a juried competition such as Critical Mass or working on a book proposal?
SH: It's critical to take the time to consider where your work falls in the current discourse and where it fits in the world. For juried competitions, you need to research who is jurying the work, where it will be shown, who will see it, and then weigh all those factors. My most remarkable advice from my time at Filter Photo and Los Angeles Center for Photography is that first impressions are crucial. Always send work that looks professionally produced and framed, as it won't matter how beautiful an image is if the print or the framing is of poor quality. A good PDF of your work is essential when submitting a book proposal. Hiring a photobook designer to create a mockup of your book or a terrific book proposal is also highly worth considering.
DNJ: The battle for women photographers and artists to have equal recognition is still ongoing in art. It's improving, but very slowly. Museums still hold more works by men, and the more well-known galleries are still doing the same. Do you have any thoughts on this? Do you consider yourself a feminist? If so, does it show up in your work, and what form, if it does?
SH: I absolutely consider myself a feminist. Whenever I visit a museum or gallery, I look at how many women artists they have on display. I recently went to a small museum outside of Boston. While they had several exhibitions of contemporary women artists on view, their permanent collection room consisted entirely of works by famous men. I was disappointed. My commitment to feminism shows up in my work because of my focus on female identity and the inner lives of women. And my interest in photographing women's stories has only increased as I get older. I see how much of our cultural history derives from a male point of view and how women artists are still marginalized.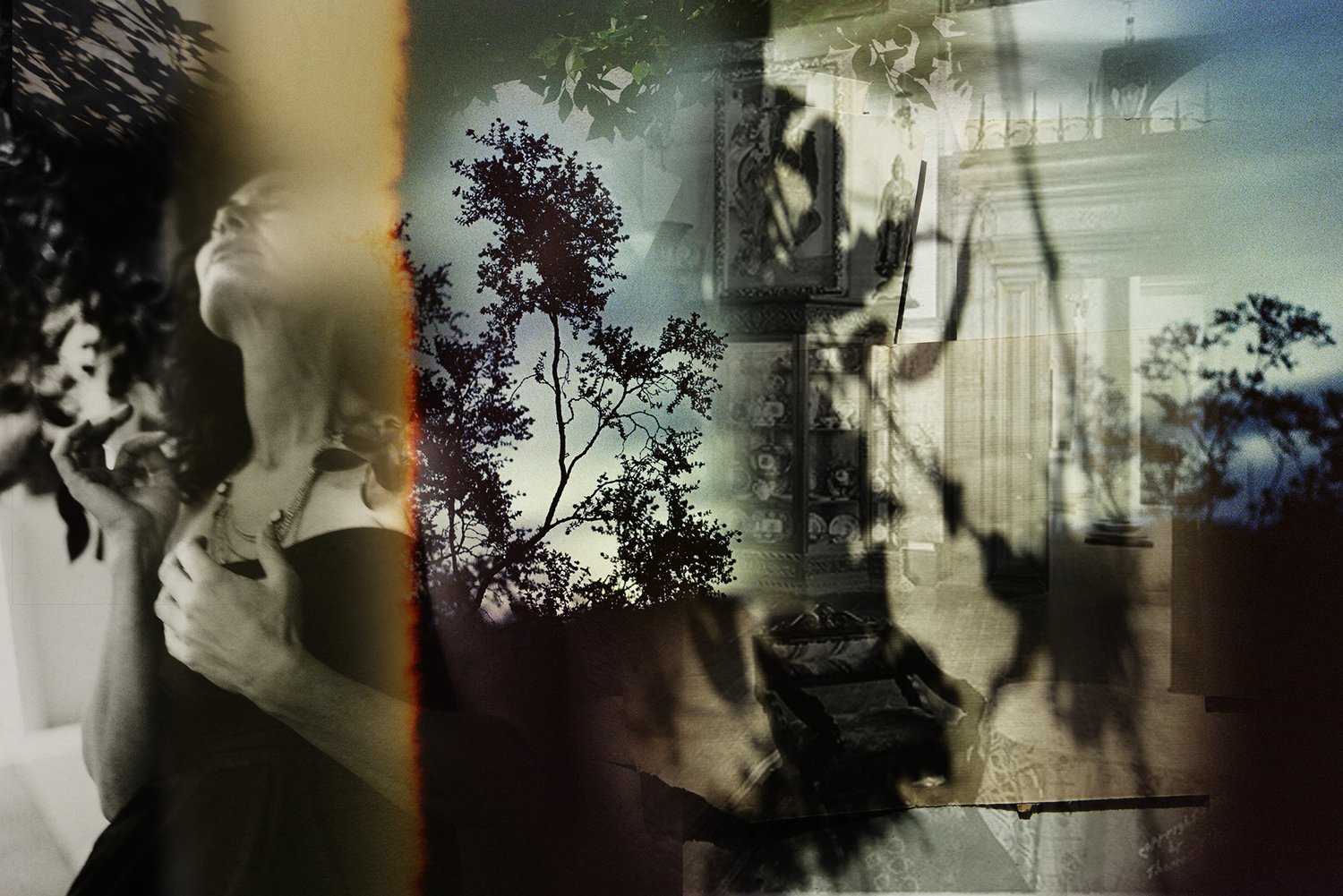 DNJ: What do you hope the viewer takes from your work? Does it vary by series?
SH: A good photograph asks more questions than it gives answers. I aim to take the viewer to a place without time, where they experience something magical, mysterious, and possibly transformative. I strive to achieve that when I make art, and I hope the viewer has such an experience when seeing it.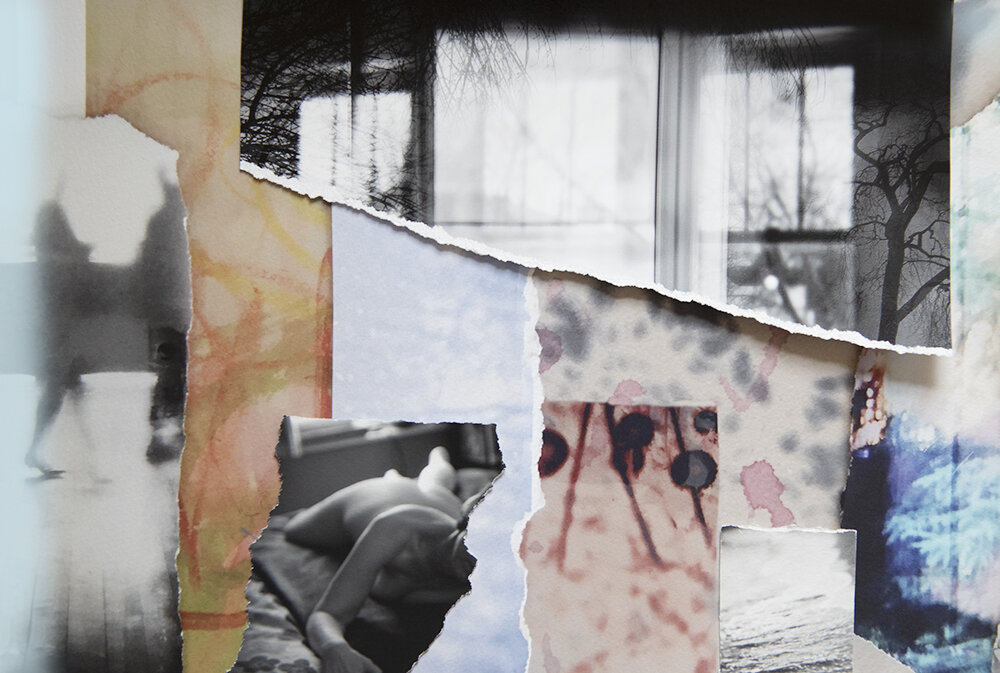 DNJ: What's next on the horizon for you?
SH: I am in several exhibitions this fall – "Memory is a Verb" is showing in St. Louis, and I have work in the Louisville Photo Biennial at the University of Louisville. I'm also exhibiting in Paris at a gallery during Paris Photo in November and here in Los Angeles at the Brand Gallery in December. At present, I am working on editing a lot of images I shot this summer. I was photographing both in Europe and at the Gardner Museum, where I have been revisiting and working on a project for the past five years.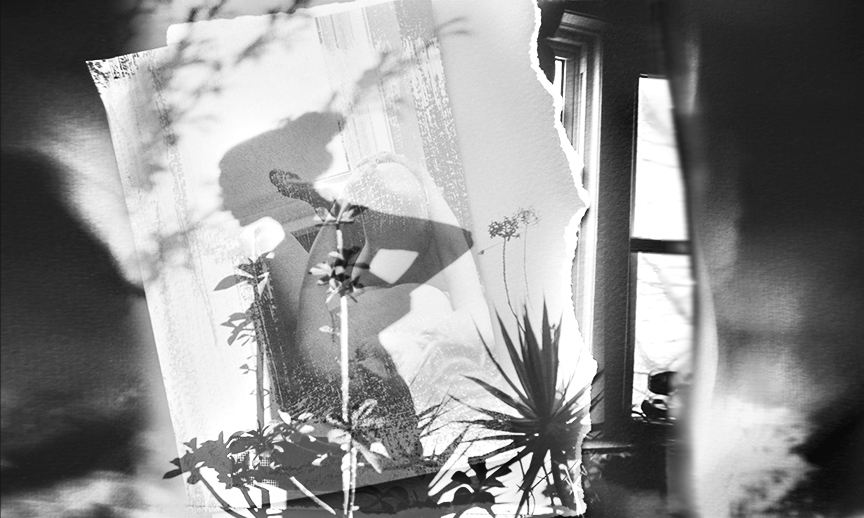 DNJ: Thank you ever so much, Sarah, for this glimpse into your work and your life.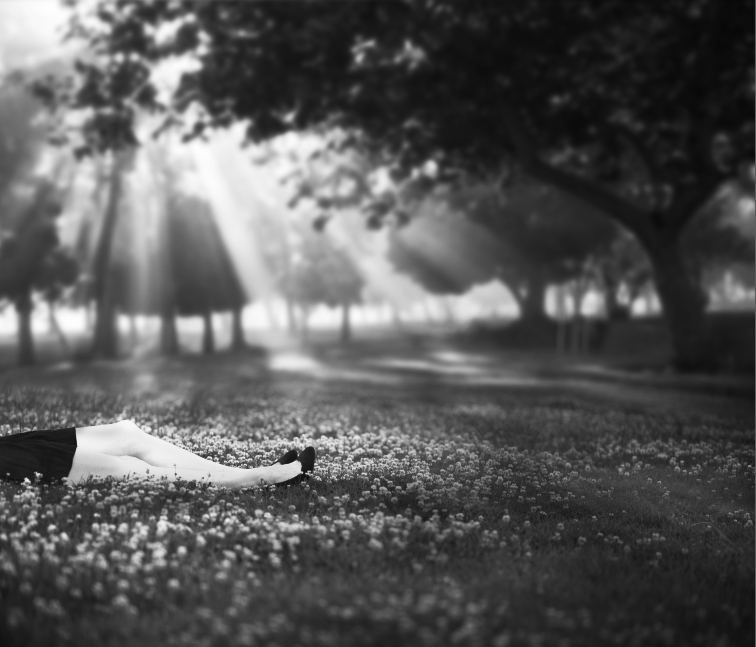 SARAH HADLEY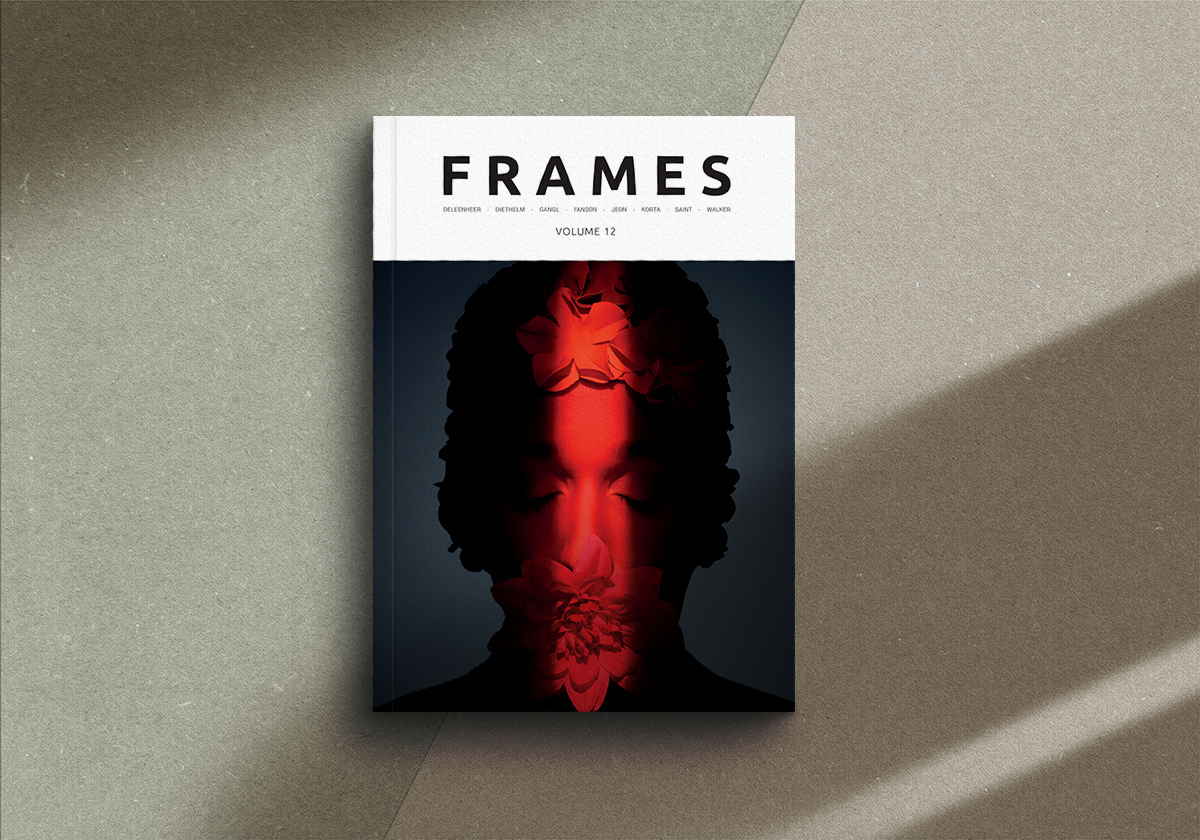 Every year we release four quarterly printed editions of FRAMES Magazine. Each issue contains 112 pages printed on the highest quality 140g uncoated paper. You receive the magazine delivered straight to your doorstep. We feature both established and emerging photographers of different genres. We pay very close attention to new, visually striking, thought-provoking imagery, while respecting the long-lasting tradition of photography in its purest incarnation. Learn more >>>
---