It's always one of the early questions. What is your name? What do you do? Where are you from?
Think about that for a moment. Where are you from.
---
"The Avenue of Roses" by Kevin Fletcher
review by W. Scott Olsen
---
Place is part of our personal and cultural identity. Place is part of how we define ourselves and our relationship to the universe. While there is nothing new about a photographer trying to uncover something gut-true about their home-places, every version of the uncovering reveals a new way of understanding both crisis and grace. The work can be macro-lens examinations of a backyard hedge or flowerbed. The work can be documentaries of congregations or gangs or little league teams. The work can be architectural, portraiture, street, landscape – every genre counts. 
What matters is we are chasing something that helps explain who we are, what we love and hate, how the convenience store down the street is a part of our soul.
Kevin Fletcher's book, The Avenue of Roses, is an eloquent contribution to this quest.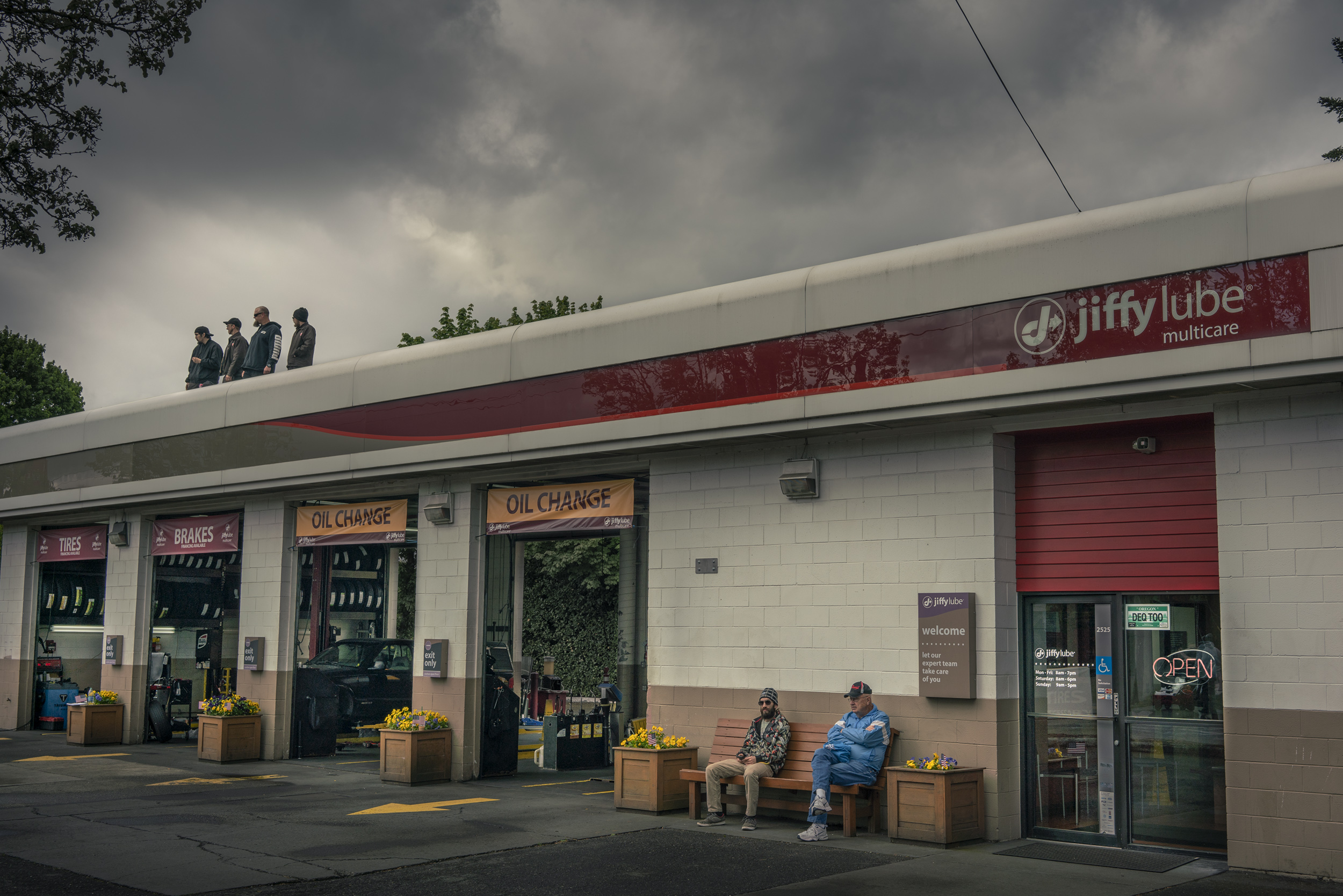 In what Fletcher calls a Project Statement, he writes:
All of these photographs were taken on a single street in Portland, Oregon—a heavily travelled route that thousands of people navigate every day. Often derided and by some even considered ugly, it is not known for its ease or hospitality, but nonetheless, it is a necessary and functional part of the city. Like many photographers before me, I am drawn to the sublime beauty of stories that exist in places like this; places so normal, so daily, and so banal that we tend to overlook them.
This project is a look into my backyard – a look at my city… Every city in the world has an "avenue of roses"… a place that speaks not only to isolation and disenfranchisement, but also speaks to how communities come together within these complex spaces.
The Avenue of Roses contains images taken from January 2019 until January 2020. A selection of 10 images won the international 2020 LensCulture Street Photography Award. (Fletcher was a finalist in the 2019 competition, too.) Images from this project have been published by the BBC, The Guardian, Photoworld Magazine, Don't Take Pictures, Beware Mag, and others.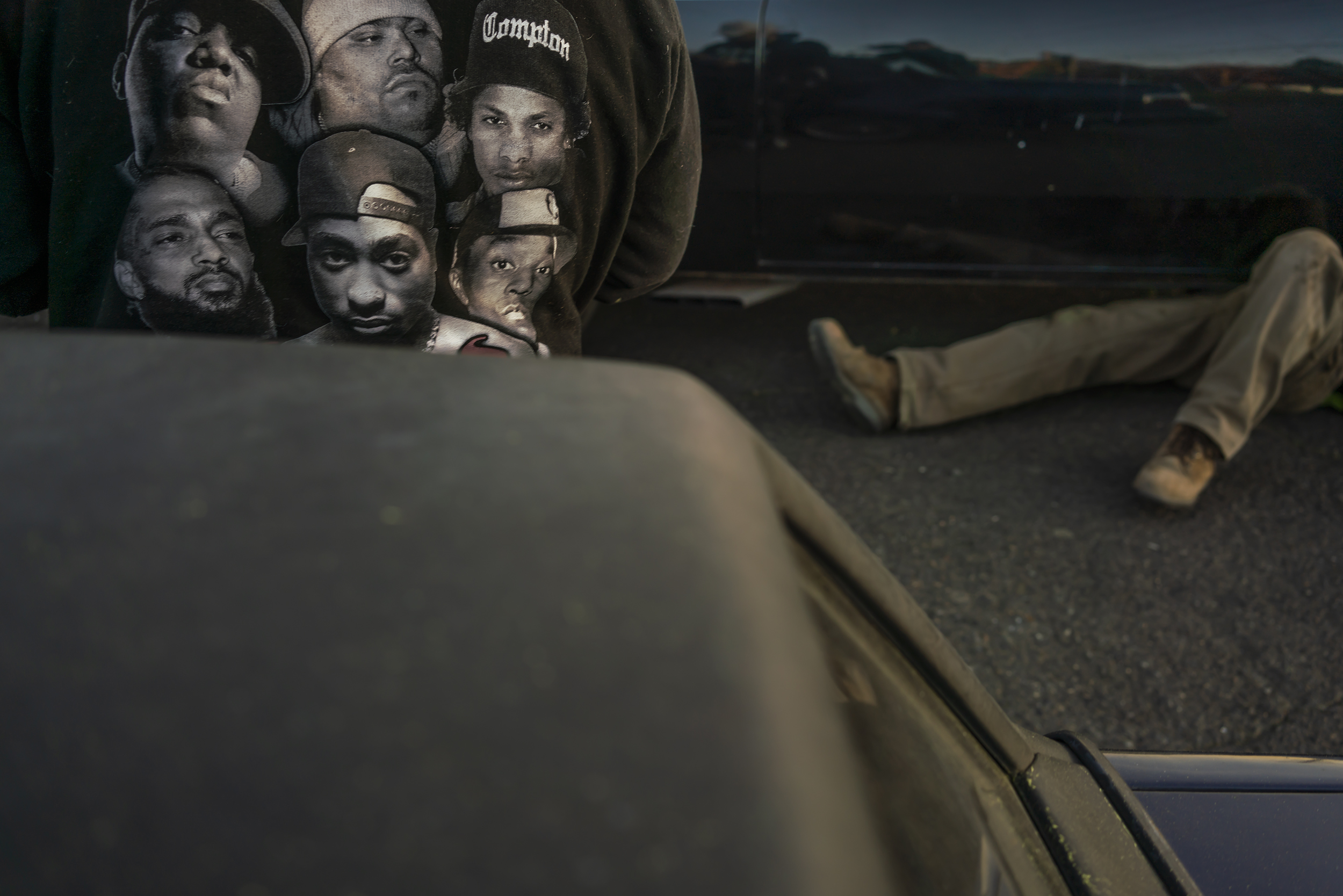 Fletcher's images are dark. Many of them are taken at night, twilight or dawn, but even the daytime shots have a shadow feeling. They are quiet, too. The type of quiet where you can hear the buzz of a neon sign. If there is such a thing as an electric quiet dark, then this book is filled with moving examples.
The images portray a lot of loneliness, feelings of isolation and being left behind. There is fresh snow on real-estate as well as old tires. It's not glittering. It's covering, perhaps burying. The men and women in the images are often alone. And even when there are several, there is usually a feeling of disconnect.  A middle-school drill team, cheerleaders, stand in the rain. A family crosses a street, wary.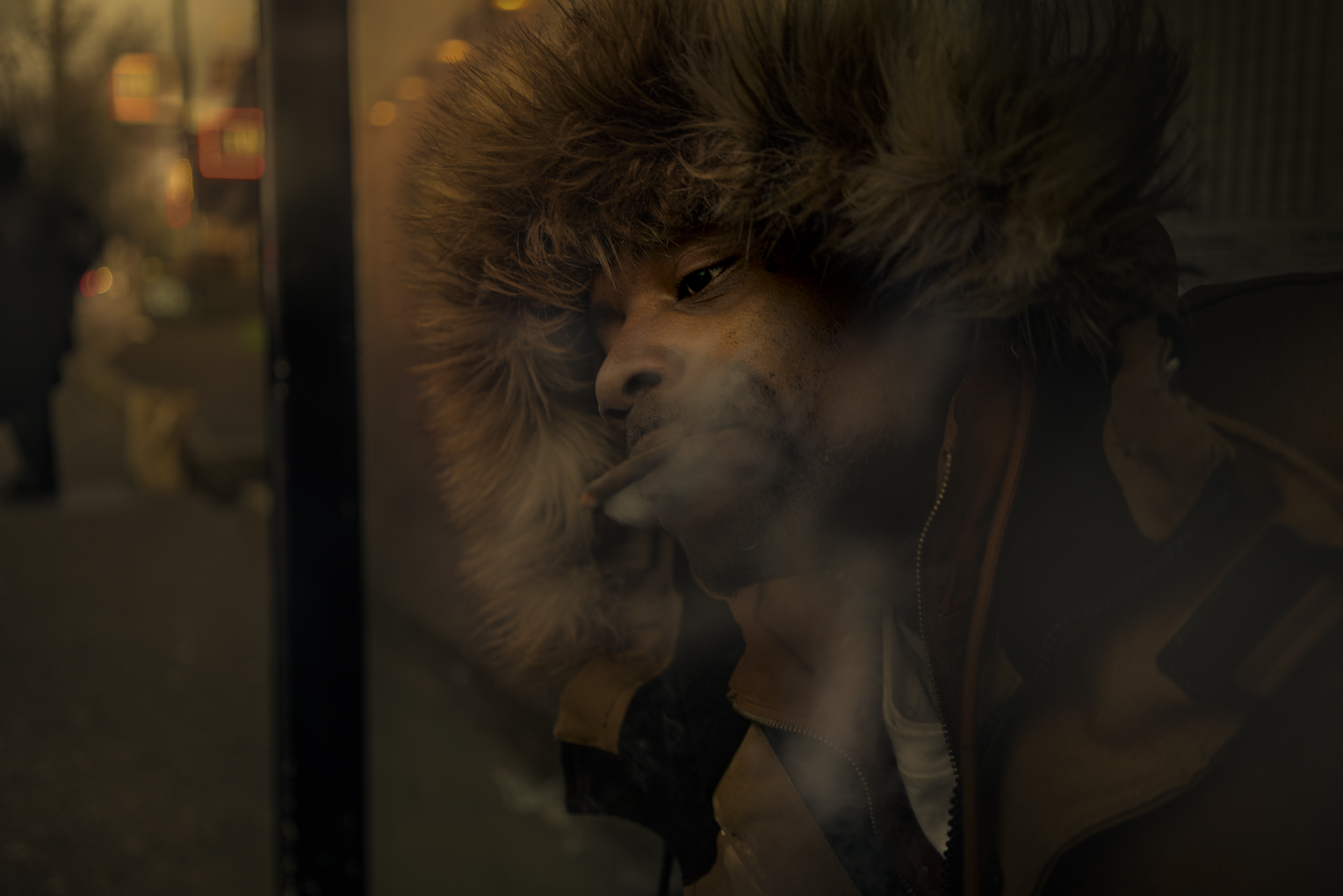 The sadness of irony is powerful here. In one image, a blury shot of Sunny Market at night, there is no one in sight. In another, a billboard for a women's Dress for Success charity is in front of a lingerie store and strip club.
Every image in this book is an emotional punch. From the guy who's just crashed his car into a telephone pole (a "Wash Man Auto Spa" right behind him), to a portrait of an old lady and her small dog, to what might be a father and son near a sign that reads "I Have a Father's Broken Heart", to a woman in mismatched clothes at a bus stop, a roller suitcase tipped over behind her, the images each ask that we consider the lives of these people both individually and as part of the community defined by this street. These are Fletcher's neighbors, and thus ours as well.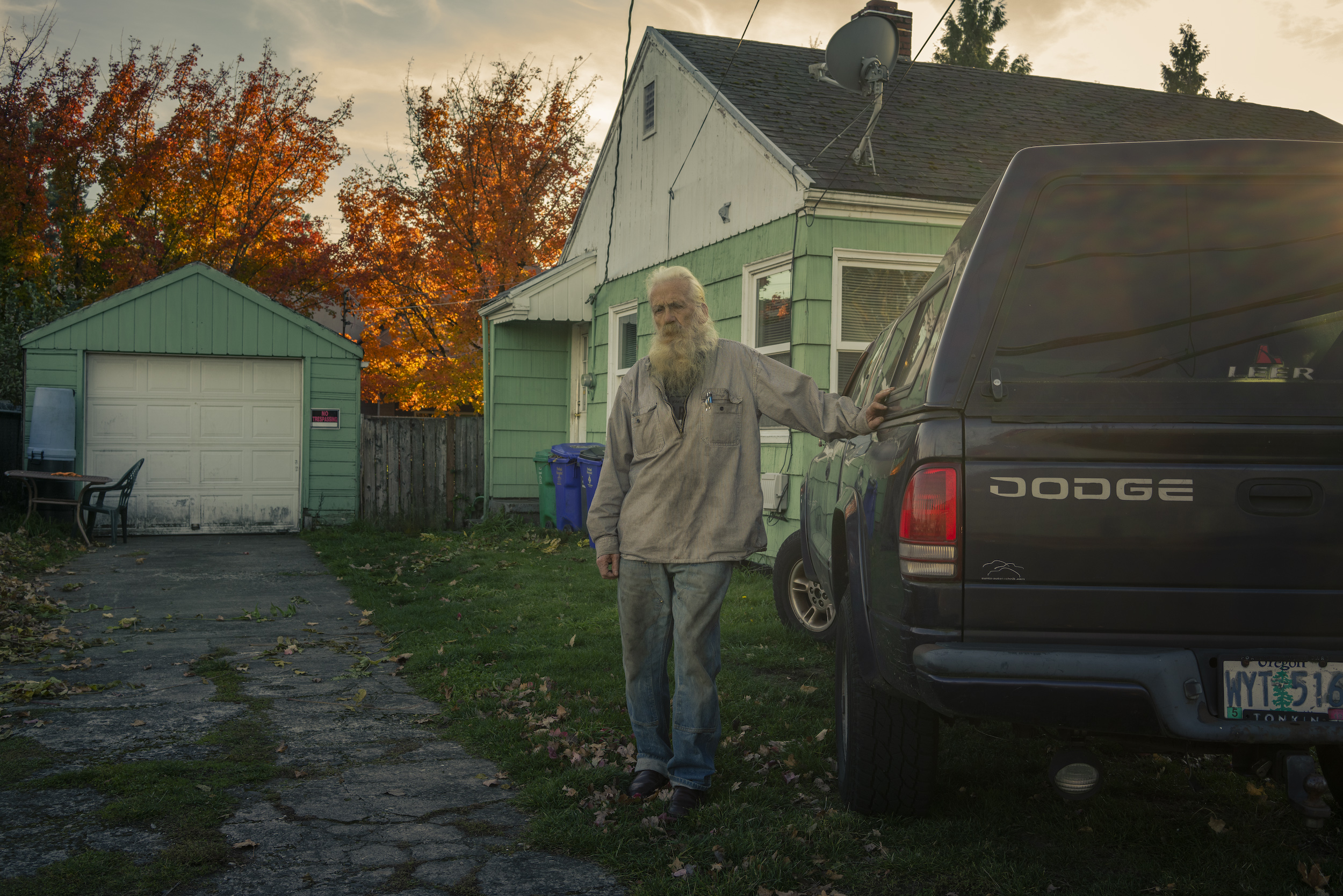 Fletcher made a point of meeting these people. His street work is not the anonymous, stealthy approach. All of these people know they are being photographed and what they express is humility. This is a sad book but not an angry one. That's where the love comes in. 
Perhaps the best thing about Fletcher's images is his deep understanding of evocation in storytelling. Plot is one thing. Mood and character move a narrative, too. In terms of composition, Fletcher is a master at where to locate the narrative focus in a frame.
Not surprisingly, Fletcher is no stranger to visual narrative. His bio reads: Kevin Fletcher is an internationally recognized cinematographer and photographer. His motion narrative projects include the independent feature "Selfless" and the short films "Autopsy" and "The Manual", which have played in numerous film festivals garnering multiple awards, including Best Cinematography. His award-winning commercial projects include work for clients such as Netflix, Audi, Stella Artois, Nike, Old Spice and Adidas, to name just a few.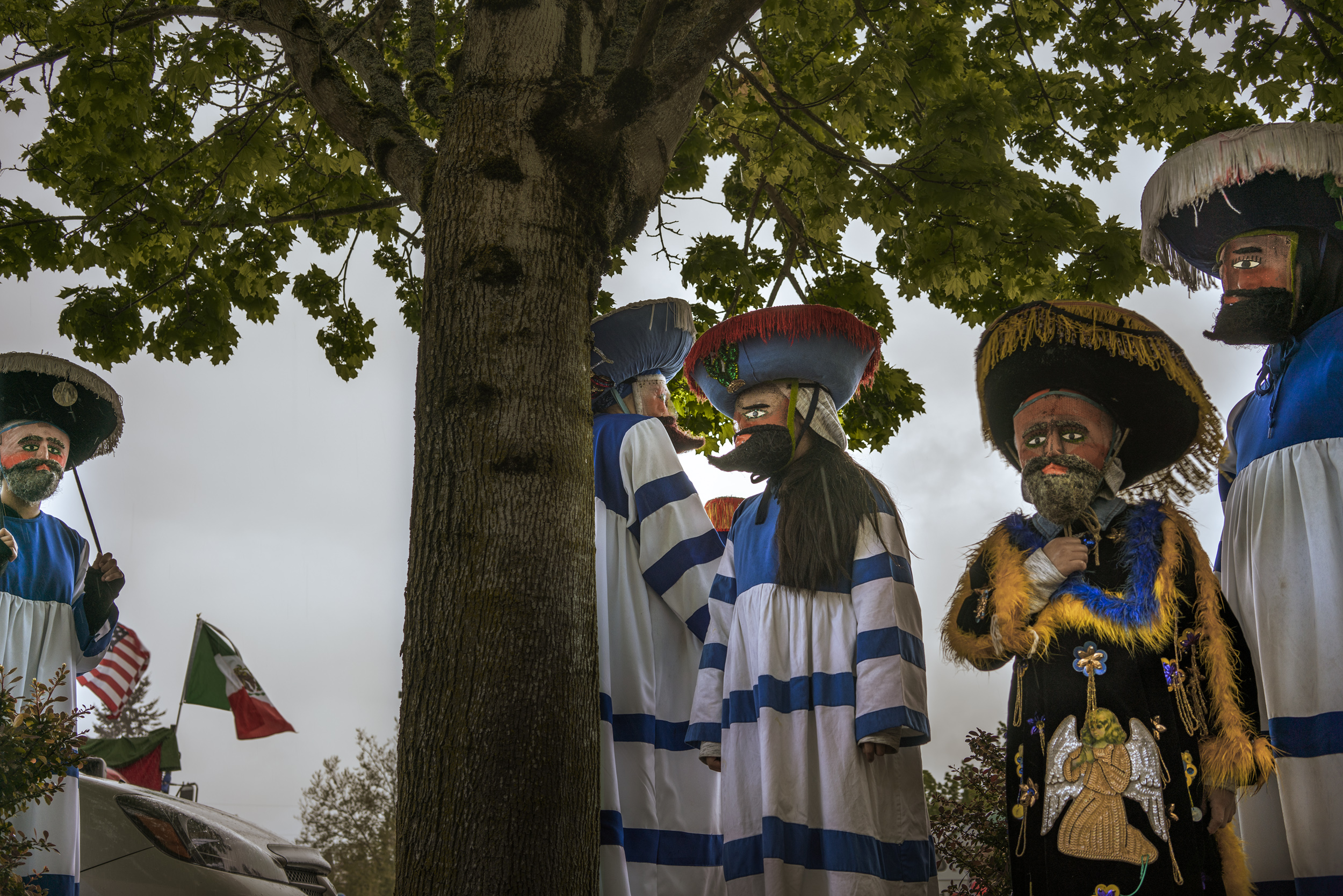 The Avenue of Roses is one of those rare and wonderful books that elevates the particular to the universal. On his 82nd Avenue we can see the places of our own histories and travels. I've never been on this road, but through Fletcher's eye I can see it and my own home town more clearly.
At the end of the book, Fletcher tells a story that describes the tone of the project as well as any of the images. He writes,
It is twilight. The Portland sky lacks nuance. It's painted the same gray as the sidewalk, but without the texture. The 7-Eleven sign to my right is so bright I can hear it. A man walks toward me carrying two buckets, both of them white. Encounters on the sidewalk are few and far between, but a bus-stop sits nearby so this corner has more foot traffic than most. He approaches directly but walks wobbly.
"The buckets are heavy," is the first thing he says. I can see the stress in his jaws. He asks if he can borrow my phone to call Joe. I tell him I'll dial the number. "Life has been tough lately," he tells me, but he also says he is trying to do right. The number I dialed is ringing—Joe answers. I hand my phone to the man with the buckets. He tells Joe he's on his way, but he doesn't have enough for the bus. He'll be late. When the call is done, the man quotes Shakespeare, "A rose by any other name…"
I'm not sure what he's trying to tell me. Maybe he wants to let me know that I shouldn't count him out. Maybe he's talking about the street. I ask to take his photo. He says yes and is comfortable but doesn't look at the camera—it's a profile shot. I don't know what was in the buckets, but I wish I had looked. I give the man money for the bus and walk away down the Avenue of the Roses.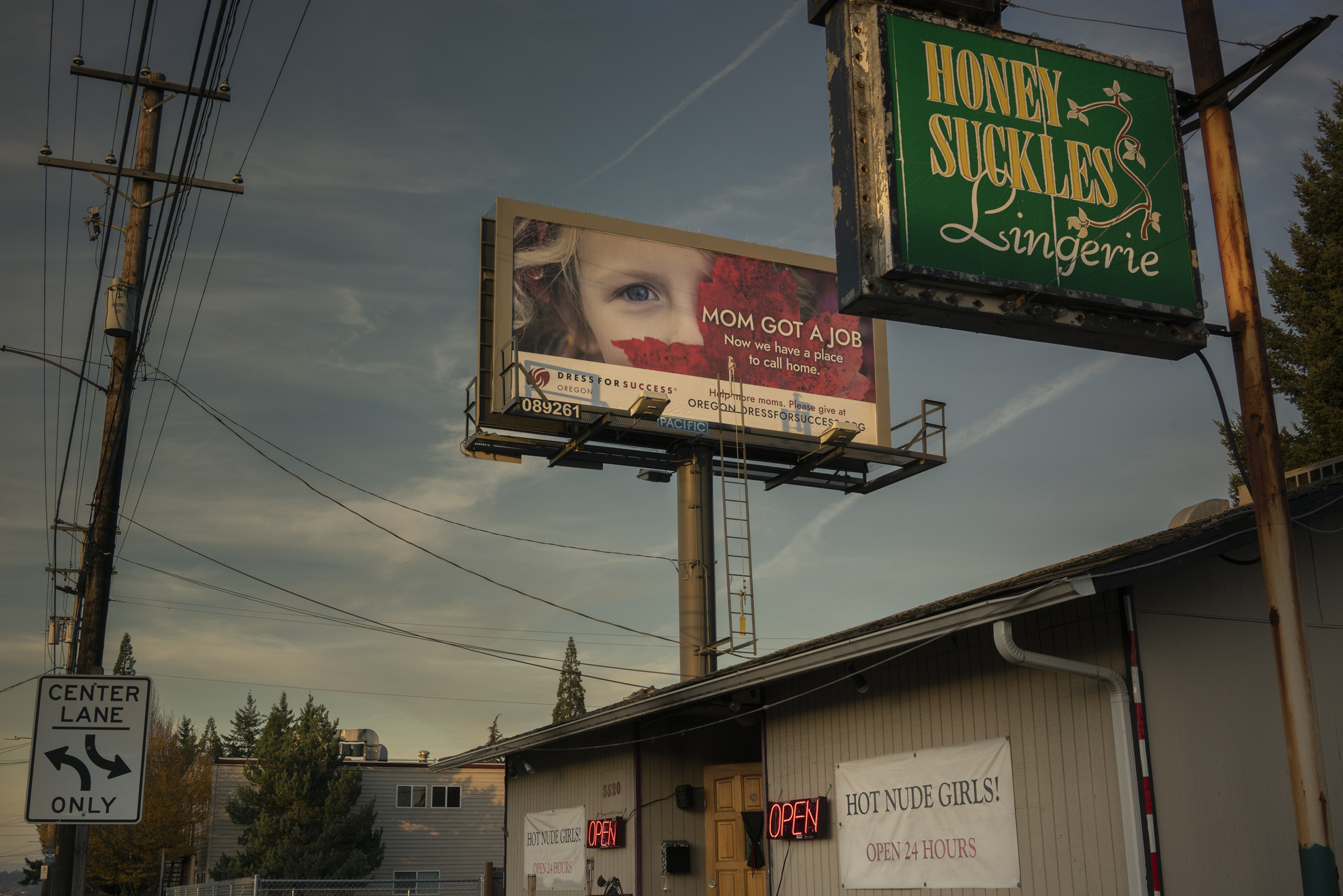 Americans have a deep, complex, often contradictory relationship to the places we find ourselves and whether or not we call those places home. We can love the places we call home, even if they are not beautiful.
Kevin Fletcher's book, The Avenue of Roses, is a love song for a difficult place.
More information can be found at www.kevinfletcher.net. The book can be ordered from there as well.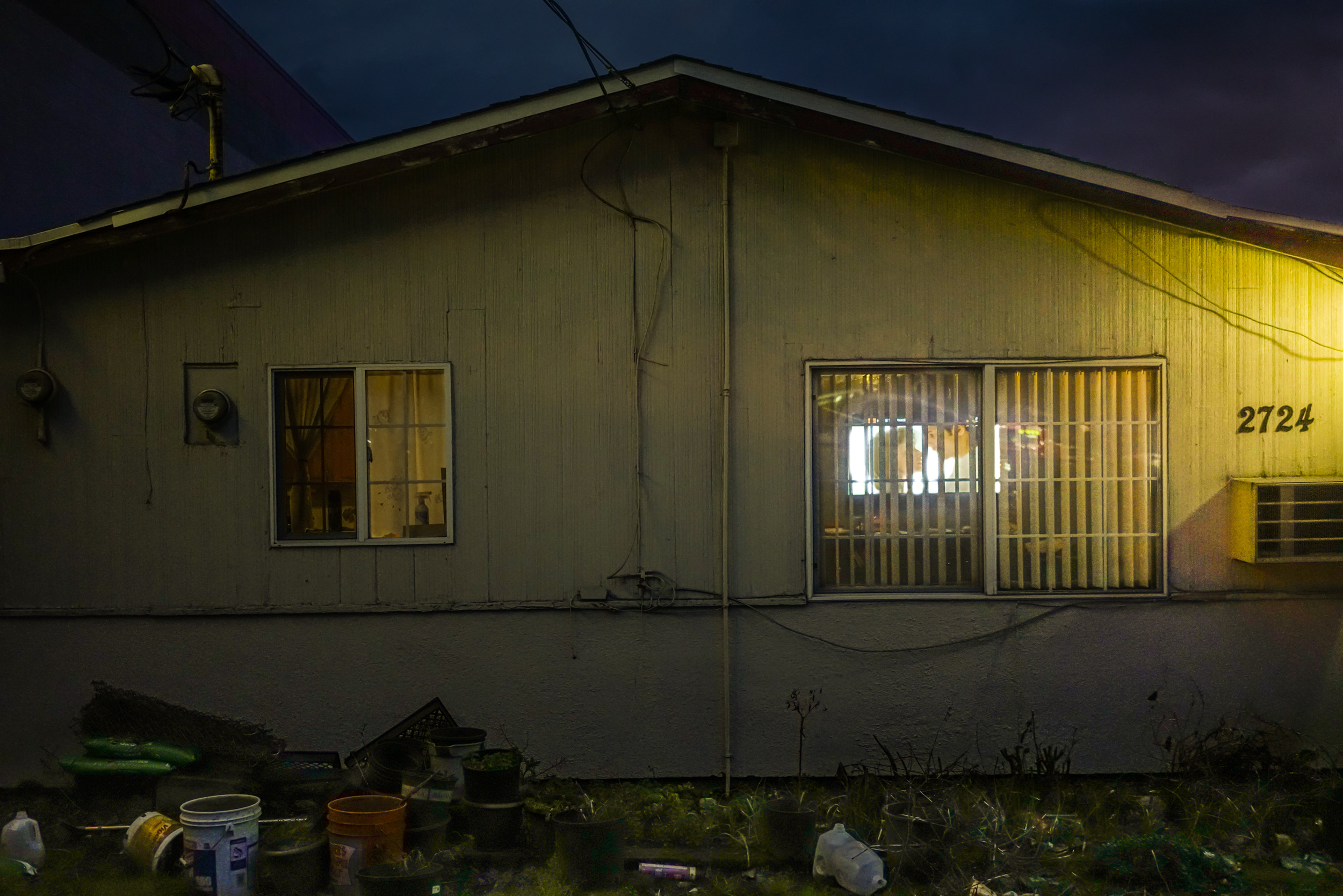 A note from FRAMES: if you have a forthcoming or recently published book of photography, please let us know.
---
FRAMES Magazine
Every year we release four quarterly printed editions of FRAMES Magazine. Each issue contains 112 pages printed on the highest quality 140g uncoated paper. You receive the magazine delivered straight to your doorstep. We feature both established and emerging photographers of different genres. We pay very close attention to new, visually striking, thought-provoking imagery, while respecting the long-lasting tradition of photography in its purest incarnation.
Learn more >>>
---