In the UK from the 90s to the mid-2000s, there was a somewhat lowbrow 'talent' show called Stars in Their Eyes. In it, the host would interview contestants who would declare, "Tonight Matthew, I'm going to be…". They then would dress up as the famous singer and attempt to belt out, or more likely slaughter, their favourite song. One celebrity edition was particularly memorable as Brian Blessed attempted to sing Nessun Dorma as Pavarotti. It was as appalling as it was surreal. At the end of each show, the audience would vote for a winner who would progress on towards an end of season grand finale. To me, it resembled a bad cross between karaoke and the FA cup.
Just for fun, why don't we play a photography version? Close your eyes and think of which photographer you would most like to be. Would it be Ansel Adams with his grand landscapes? Do you feel like being Don McCullin or Larry Burrows making astonishing compositions in terrifying warzones? How about Gordon Parks and the extraordinary power of his portrait of Ella Watson? Perhaps, you want to be Eugene Atget photographing a disappearing old Paris whilst surrounded by La Belle Époque. For me, the choice is an easy one. Tonight readers, I want to be Saul Leiter.
Why Leiter when there are so many fantastic choices? From the first moment I laid eyes on his colour photographs, I was hooked. His pictures take me to worlds that stopped existing long ago or perhaps never existed at all. Attempting to unpack one of his colour photographs is extremely difficult. There is no easy way to explain what makes them so special. Is it the slightly muted colours that come from the out-of-date film he used? Is it the close attention he paid to the weather and environment around him? It is both and more. Descriptions of photography as 'lyrical' and 'poetic' are annoying overused clichés, but here they seem perfect.
Convention tells us that William Eggleston and Stephen Shore were the pioneers of modern colour art photography, but as brilliant as Eggleston and Shore are, this is a nonsense. Leiter along with Ernst Haas, Inge Morath, and others were working beautifully in colour many years earlier. Leiter also produced a considerable body of monochrome work, but whilst this is still photography of the highest standard, it does not sing like his colour work. Does this really matter? Not at all. If at the end of my days, I had a body of colour photography that is a fraction as good as Leiter's, I would be a very contented man indeed.
As a teenager, Leiter originally had planned to follow in his father's footsteps and become a rabbi, but his creative leanings got the better of him and, much to his father's disappointment, he left religious study to pursue his art. He moved to New York City and began making colour images as early as 1948. He is identified as a member of the 'New York School of Photography' along with Diane Arbus, Richard Avedon, Robert Frank, and William Klein among numerous other luminaries. The existence of this rather nebulously defined group is disputed, but what it does show is that Leiter was working in the city at an extraordinary time for photography. It must have been incredibly inspiring and exciting for the young Leiter.
One of the great joys of writing this column is that it has given me the opportunity to work with some wonderful contemporary photographers. It is a shame that the opportunity could not be repeated with Leiter as he died in 2013 at the age of 89. However, the Saul Leiter Foundation were generous enough to allow us to use some of his magnificent images in this article.
I believe that there are several consistent elements within the best of Leiter's colour images. You inevitably find one, some, or all of these in each picture. These are deliberate isolation of a small part of the photograph, glass often with reflections, attention paid to the weather, and a thorough understanding of how colours fit together. Our banner image, Snow, is a perfect example of all these elements coming together in one photograph. The image, originally thought to have been taken in 1960 has recently been re-dated to around 1970, is a favourite of mine. The world outside the steamed-up window comes alive. It conjures visions of a grim grey day broken by flashes of colour. It is a gem of a photograph.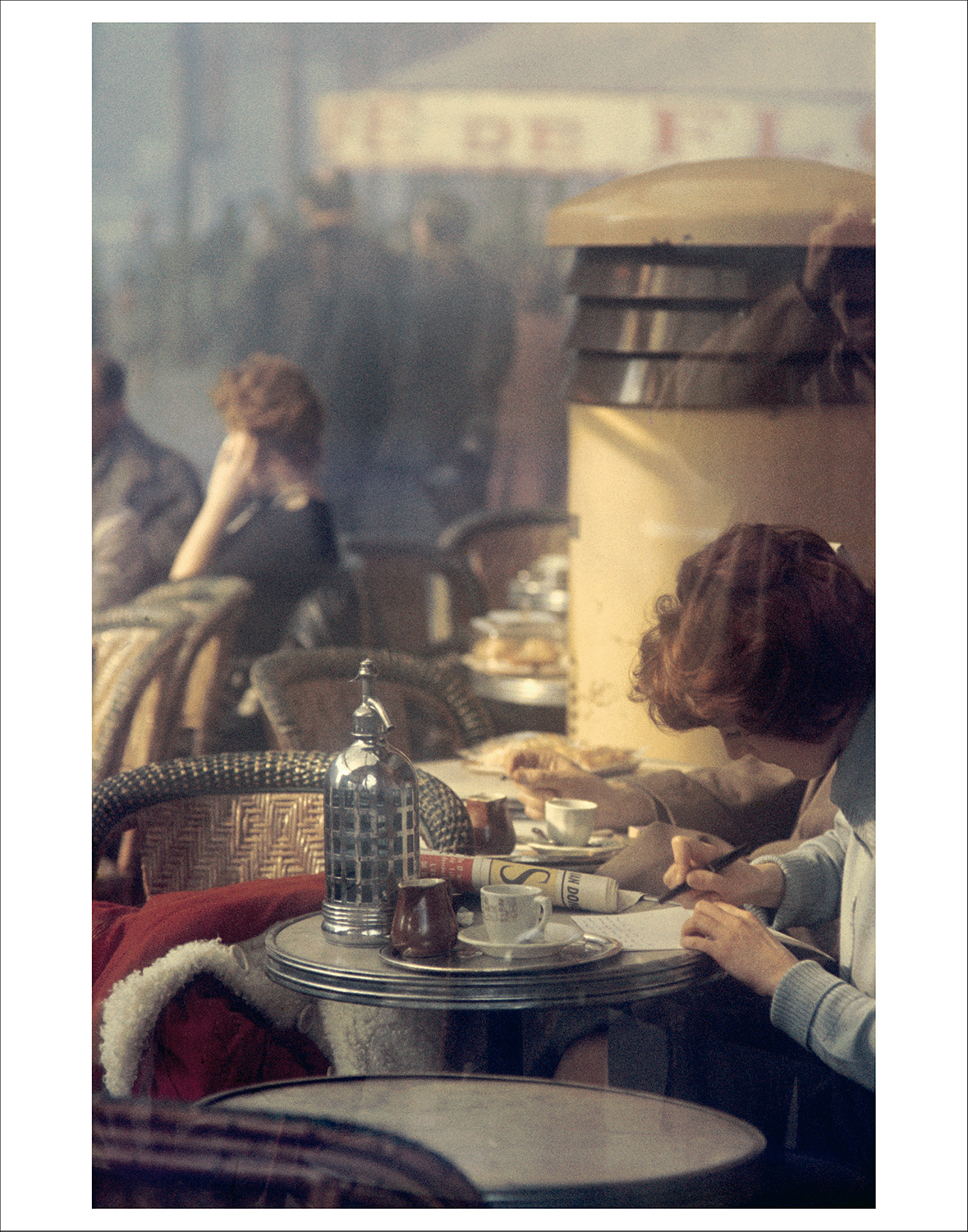 Our second picture, Paris, again contains multiple elements, but it had me puzzled, so I spent time with it and tried to notice everything in the picture. During this process, I realised that it contains a self-portrait. Initially, all my attention had been on the woman sitting at the table. I have no idea if the arrangement were a set up, but if it is, it could not have been done better. The reds on the coat and newspaper are perfectly placed as is the leading line of tables and chairs through the middle of the image. The overall composition is so good that it took me some time to realise that just above the woman on the right, reflected in a window, is Leiter himself. Of course, the image is much more than just its colours and composition. It is a story of place and time. It takes us to Paris in the 1950s. We could almost be patrons at the café, sitting at an outside table, and watching on as Leiter makes his photograph.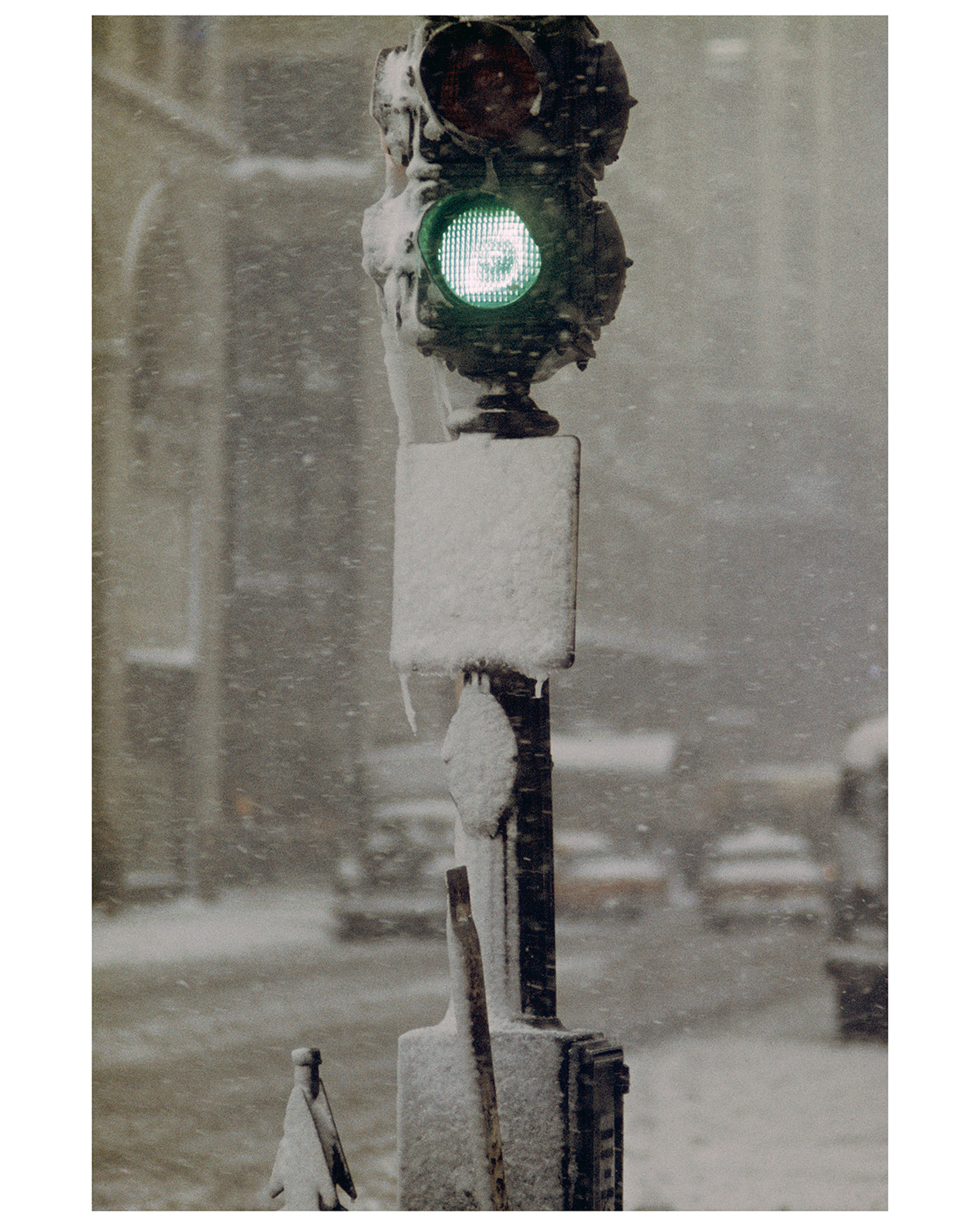 Our third photograph, Green Light against Grey, dates to Leiter's earliest colour work, but still contains the elements consistent with his later images. Here he makes a traffic signal into something beautiful. The isolated green light works so very well against its black housing and the snow filled background. It is a simple, but wonderful photograph. Just like Snow, it takes you to the city on a foul day, but despite the weather, you experience something magical.
Saul Leiter was one of those rare photographers who we can happily describe as a genius. For too long, his place as a pioneer in colour photography was left out of the narrative. It is time for that to change. His work is a constant source of inspiration and should be required viewing for any aspiring photographer looking to make colour work. Since I first discovered his work, I have been trying to recreate his aesthetic in my own photographs and if I am honest, I have failed dismally, but it has been, and continues to be, an awful lot of fun trying.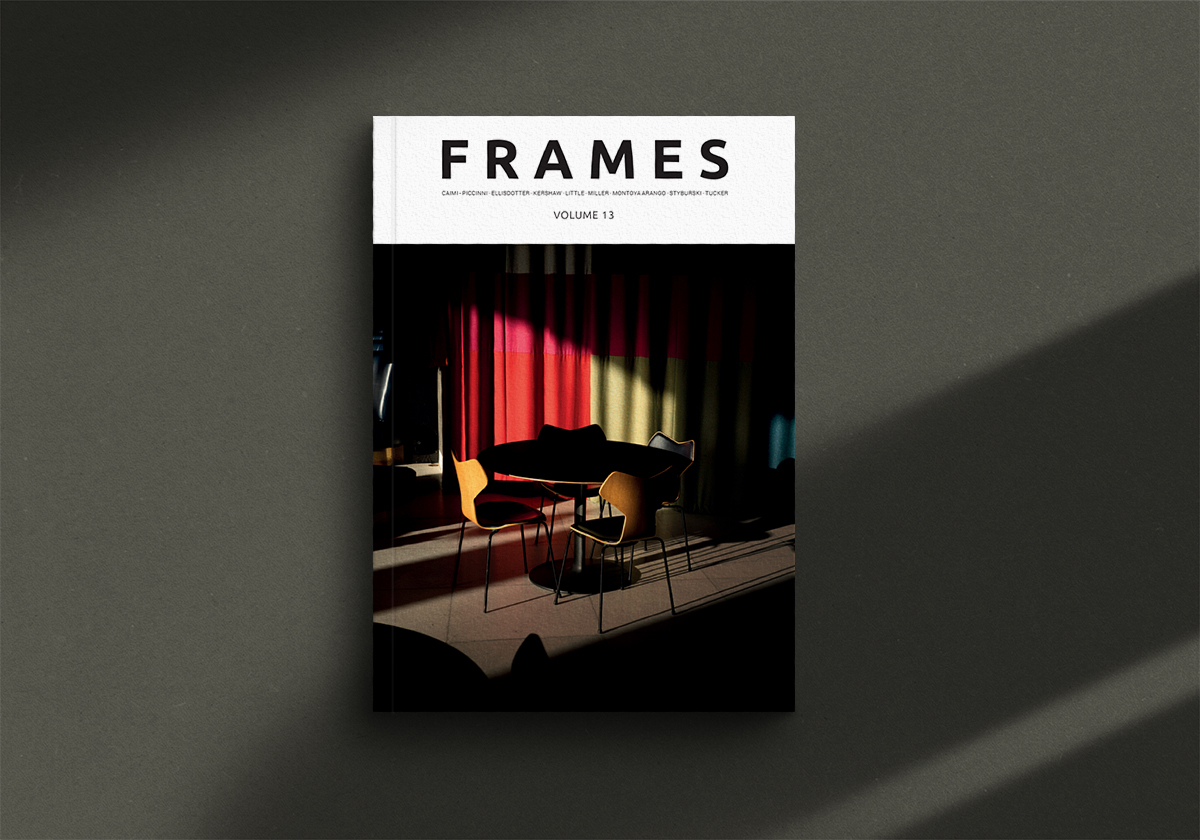 Every year we release four quarterly printed editions of FRAMES Magazine. Each issue contains 112 pages printed on the highest quality 140g uncoated paper. You receive the magazine delivered straight to your doorstep. We feature both established and emerging photographers of different genres. We pay very close attention to new, visually striking, thought-provoking imagery, while respecting the long-lasting tradition of photography in its purest incarnation. Learn more >>>
---