I am often wary of sequels. Sometimes success breeds repetition but the first outing contains all the good stuff. All that's left is outtakes or B-role material, interesting as context but not as sharp or fresh as the original. Expanded versions of this, or unabridged versions of that, often seem more like marketing efforts than art.
---
"The Day May Break, Chapter Two" by Nick Brandt
Published by Hatje Cantz, 2023
review by W. Scott Olsen
---
But sometimes a sequel is way to make the story more present, more deep-core a part of our days, more persuasive in the way it might change our behavior – which is a way to say more able to change the world.
The Day May Break, Chapter Two, is out to change the world. The book is an emotional, empathetic statement about the shared fate of living beings on our planet as we face climate change and could be one of those perception reorienting moments which changes everything.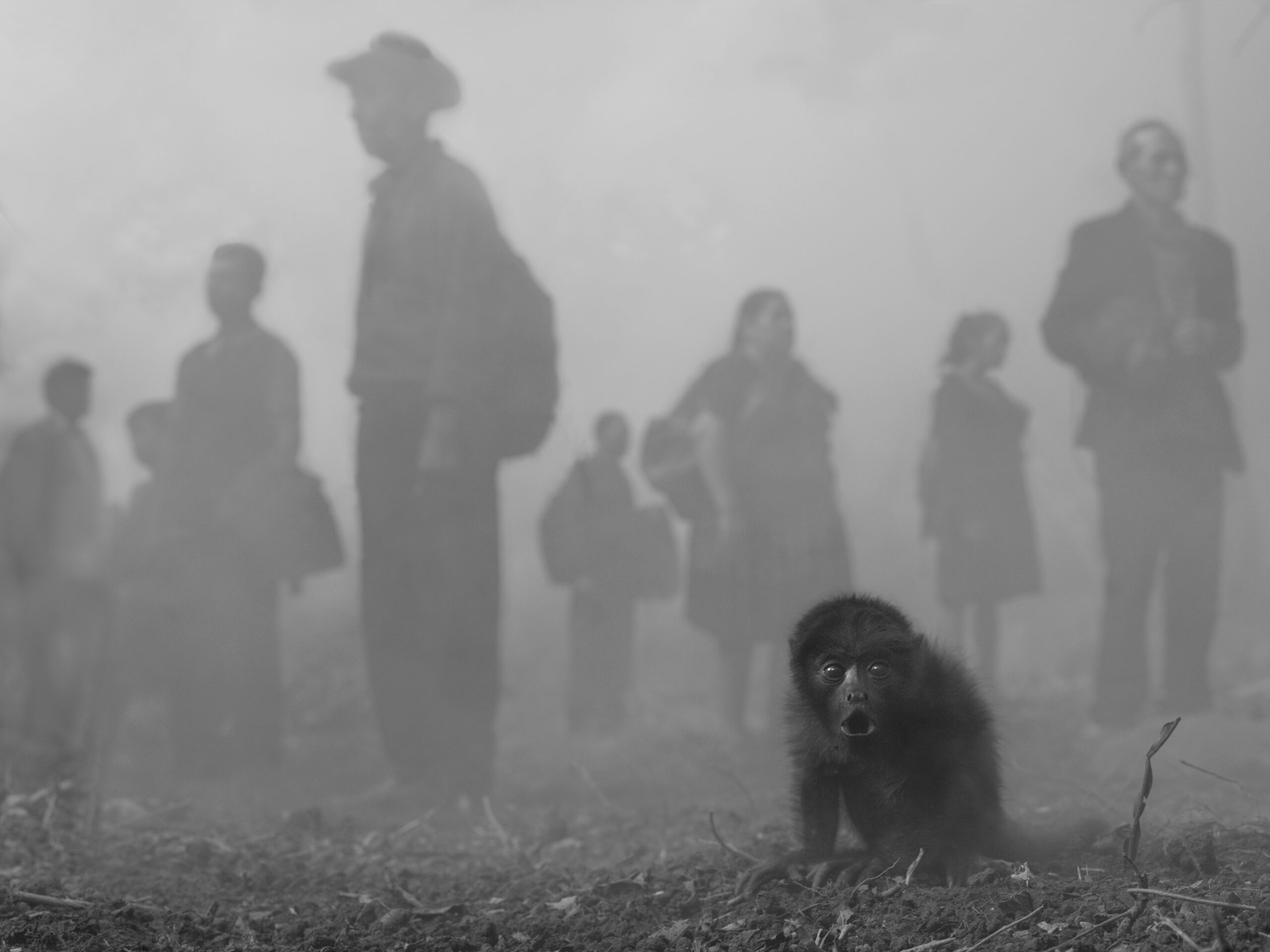 A little more than a year ago, in a review of the first volume of The Day May Break, I said, "I don't think I've ever held a more troubling book. I mean that in the best possible way. To trouble is a verb. We can trouble the calm surface of a pond, for example. And we can trouble the complacent soul."
Chapter One, an articulation of the global climate change crisis and how it damages every living being on the planet, remains one of the most important books in my library.  And nearly everything I said about that volume applies to Chapter Two.  (I'll not repeat all that here.  Instead, I encourage you to look at that review).
Let me emphasize here, though, The Day May Break, Chapter Two, is equally troubling and challenging. It is equally a call to action.
Actually – that's not right.
Chapter Two is a step up, a more immediate warning. Chapter Two is evidence the climate problem is more insidious than we hoped.  It's a reminder that the problem is global, has not gone away, and we are all involved.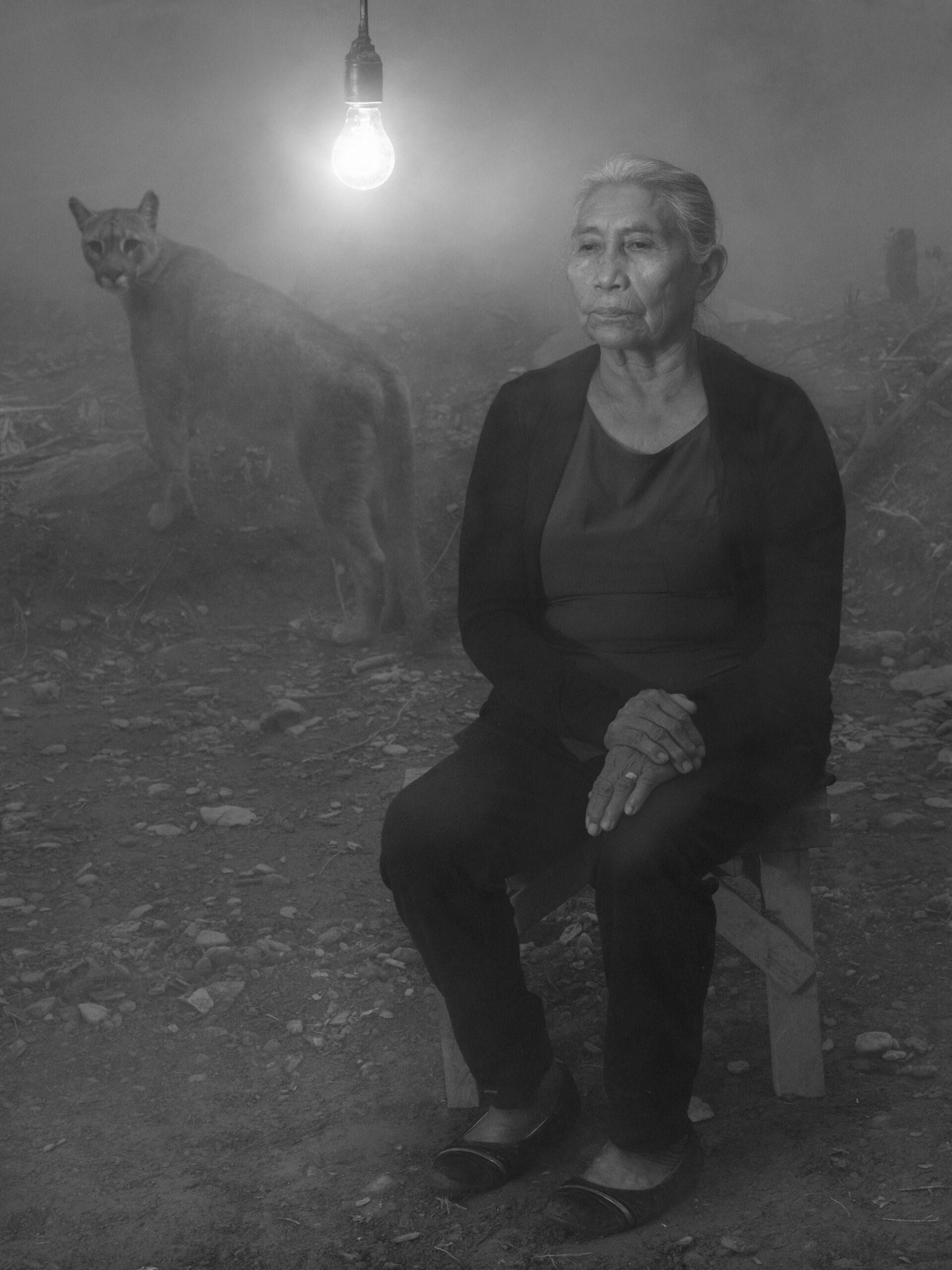 The book begins with an introduction titled "Sanctuary." In it, Brandt writes, "Humans have been here before – before media existed to spread the word. Over the centuries, entire civilizations have collapsed due to the environmental degradation, civilizations that imposed too much burden on their surrounding natural world. But in those times, centuries ago, the societal collapse was localized. But now, with so vastly many more of us, it's not just a region that is destroyed. If there is not a dramatic shift in our relationship with the earth, destruction will mushroom an ecological – and civilizational – collapse of our entire planet."
As with Chapter One, Chapter Two is primarily a collection of portraits, of set pieces, of tableaus. The images are monochrome.  The setting is dirt ground, sometimes a bare tree in the background, and there is a heavy fog. A human and an animal, sometimes just one or the other, pose in aspects of contemplation. They look to the future with a sadness about the past, a past we should have known better than to create. Every image is sad. Sometimes that sadness is regret. Sometimes that sadness is loneliness. Sometimes that sadness is nostalgia or wisdom. Every image is strong.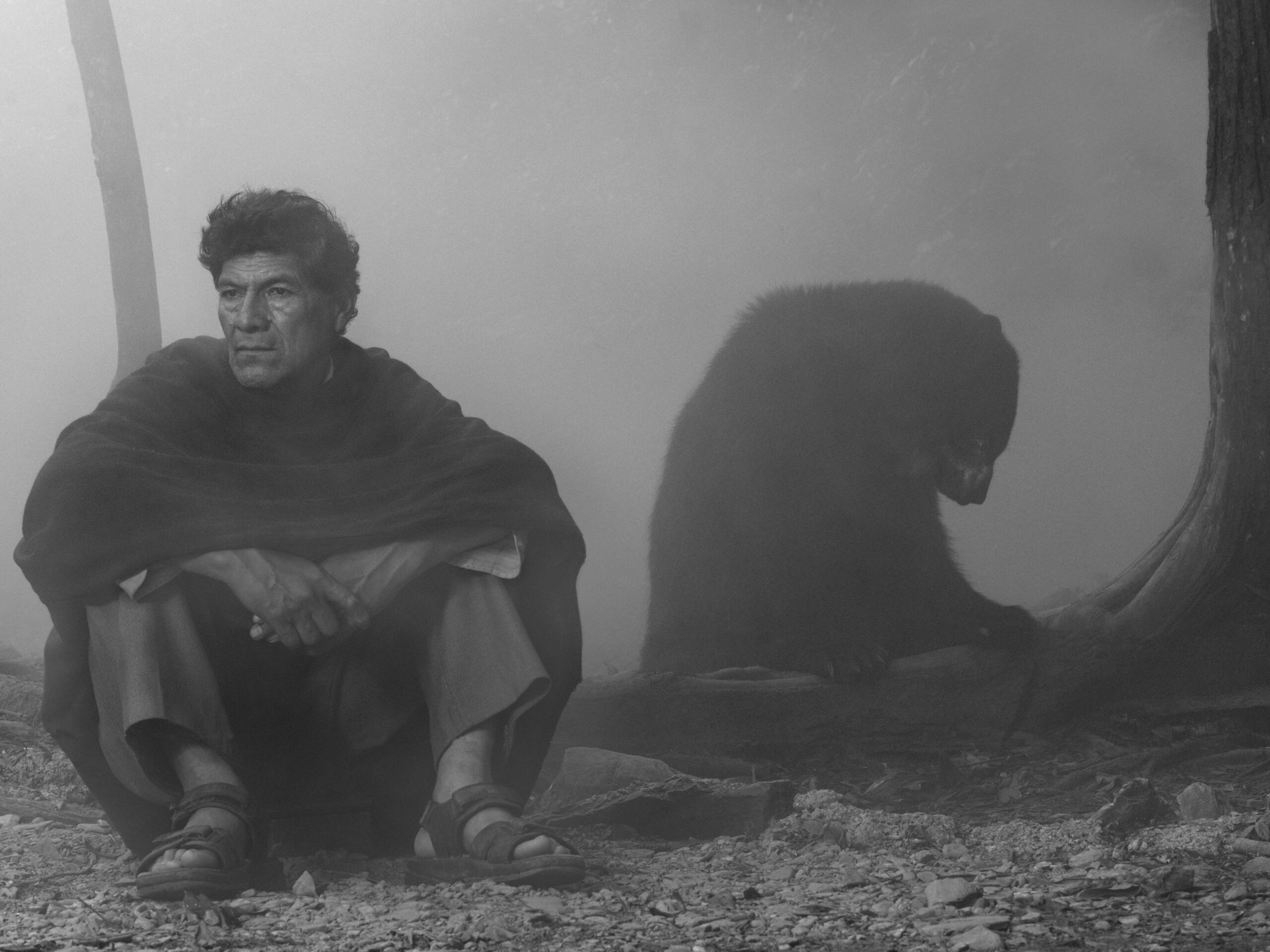 The photographs in The Day May Break, Chapter Two were taken at an animal sanctuary in Bolivia called Senda Verde. The animals in the portraits are rescues who cannot be released back to wild. Brandt writes, "The fog, created by fog machines on location, is the unifying visual, symbolic of a once-recognizable natural world rapidly fading from view. It is also, of course, an echo of the smoke from the wildfires, intensified by climate change, devastating so much of the planet. The humans and animals in the fog are both together – in the same frame – and yet disconnected, never making physical or eye contact. But they are there together. In this series, I've tried to show that for me, humans and animals exist on an equal footing – that animals are just as worthy and deserving of life as us."
A bit later Brandt continues, "These last few these last few years, when I look at imagery of many places of natural beauty on the planet, it's with a bittersweet feeling. I find myself wondering, how long will those places remain unspoiled, given the speed of environmental degradation…? As the natural world we knew rapidly disappears before our eyes, we yearn, we ache, for what was. I'm stating the obvious, but, apparently it needs to be repeated: in destroying nature we will also destroy ourselves… So, the day may break, and the world may shatter. Or perhaps, the day may break, and the dawn still come. Humanities choice. Our choice."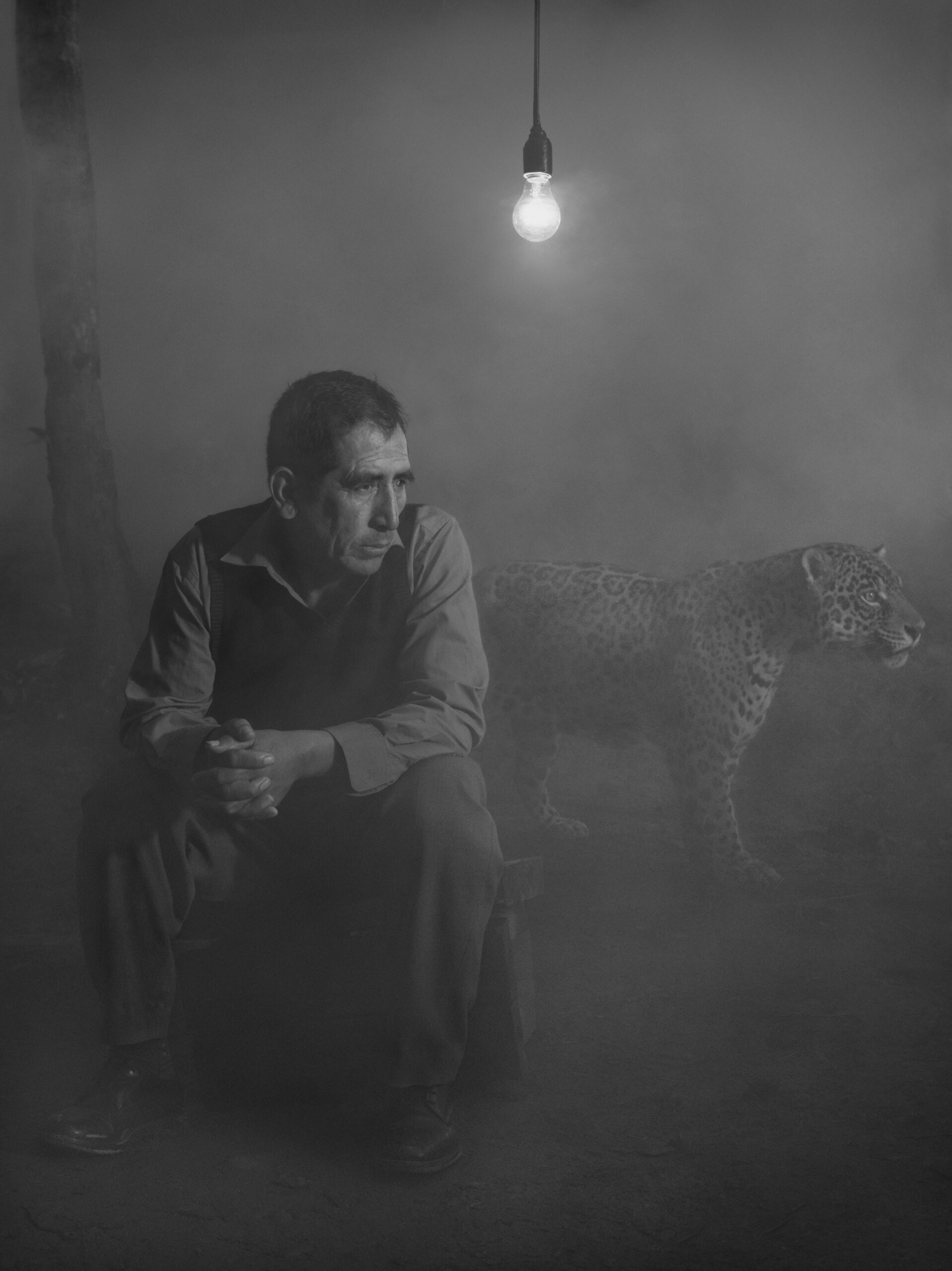 The book also contains an introduction by Daniel Sherrell. Entitled "Learning Again How to Live," Sherrell points out that the individuals in the book are exactly that – individuals. They have names. They have histories and contexts. And that information is in the book, too. He writes, "These are not mere symbols, deployed to drive a point. They are people. They have histories, shaped by but not reducible to the crisis they have survived. They have stepped out from behind the veil of suffering, that vague, enormous, regrettable thing that is happening elsewhere, all the time, to people you don't know. The Day May Break asks you to know them. These specific people. Say their names one by one. Try in vain to meet their gaze… To imagine these as images of a vanishing world misses the point entirely. It is our world that is vanishing, while theirs comes more fully into view. The terrain is bleak, but Nick Brandt's subjects are pioneers, and we will follow them into the dust, learning once again how to live."
One of the books many acts of genius is what comes after the plates. There is a chapter called "The House That Broke in Half – Survivors: Their Past and Present." In this chapter, every person and every animal is given a written history and biography, placed under a smaller repeat of the large image in the main section. They become individuals and not vague archetypes. The fact that they are individuals makes this book forcefully real. This is not a book of abstractions. This is a book of evidence.
The book also includes a chapter about how the images were made, and then concludes with information about Senda Verde. Both emphasize the real-world, right-now, do something call.
Evidence is always evidence of something. Evidence is always placed a narrative and a context. Evidence leads to consequences.  With luck, The Day May Break, both chapters now, will lead quickly to empathy and action.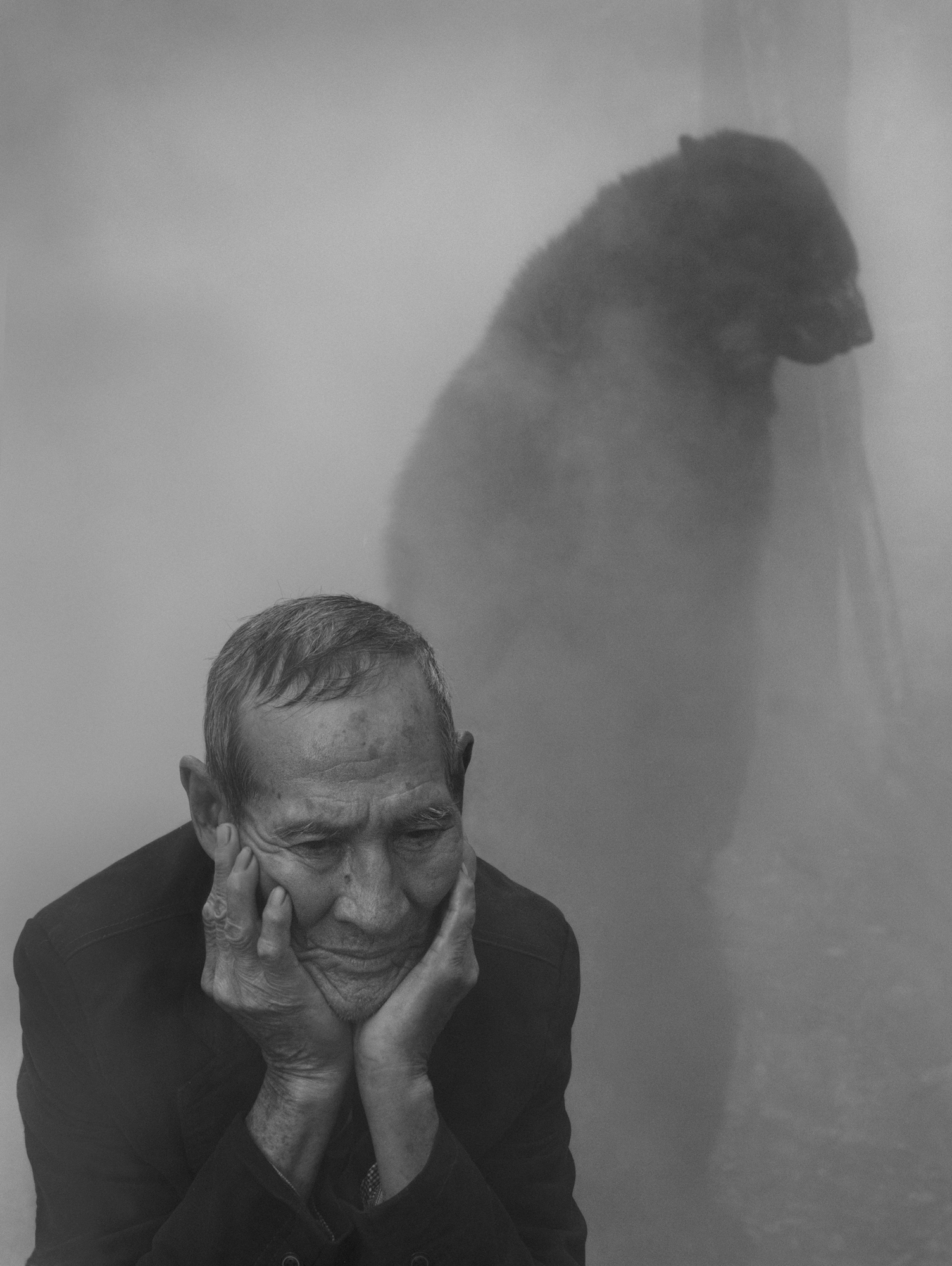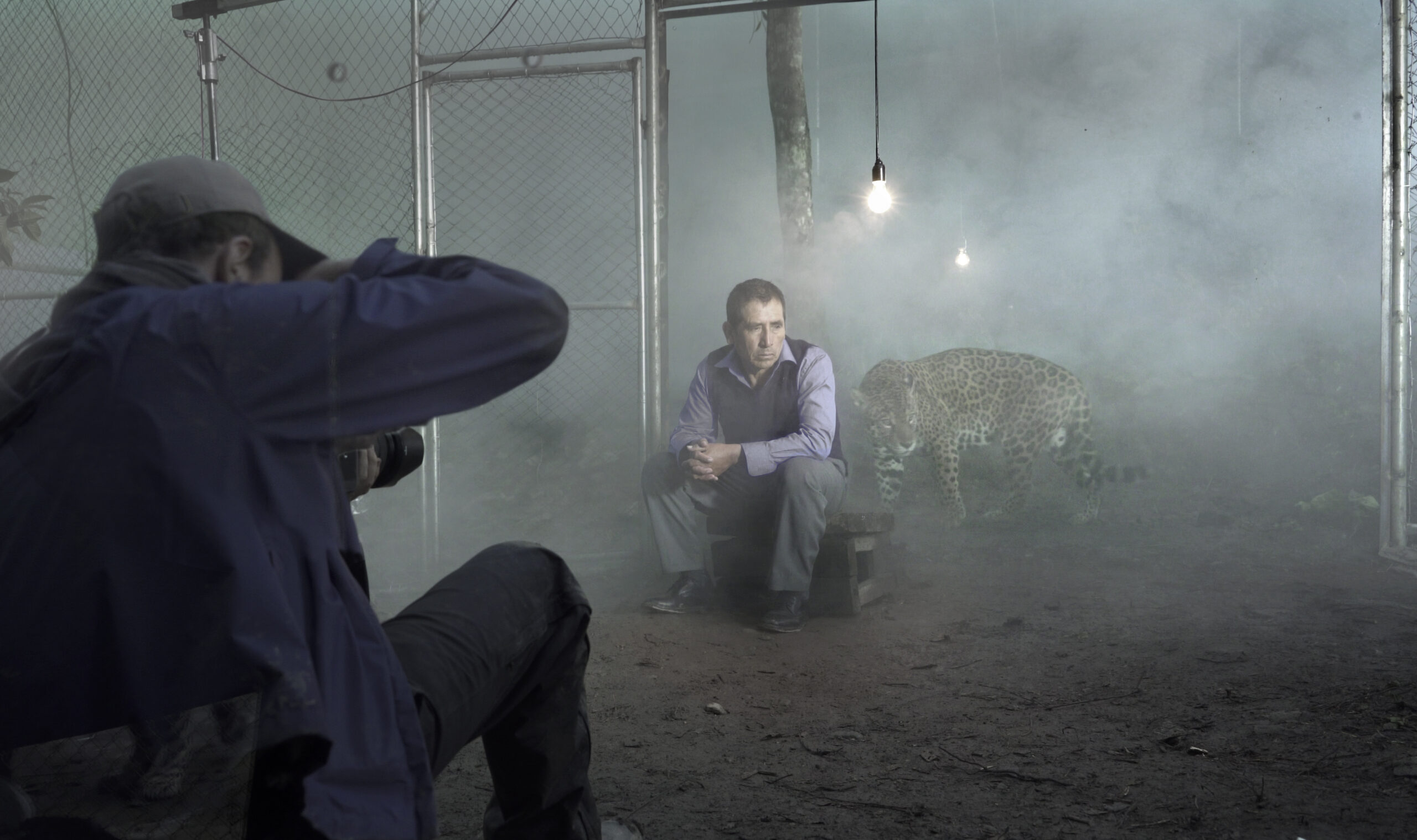 A note from FRAMES: if you have a forthcoming or recently published book of photography, please let us know.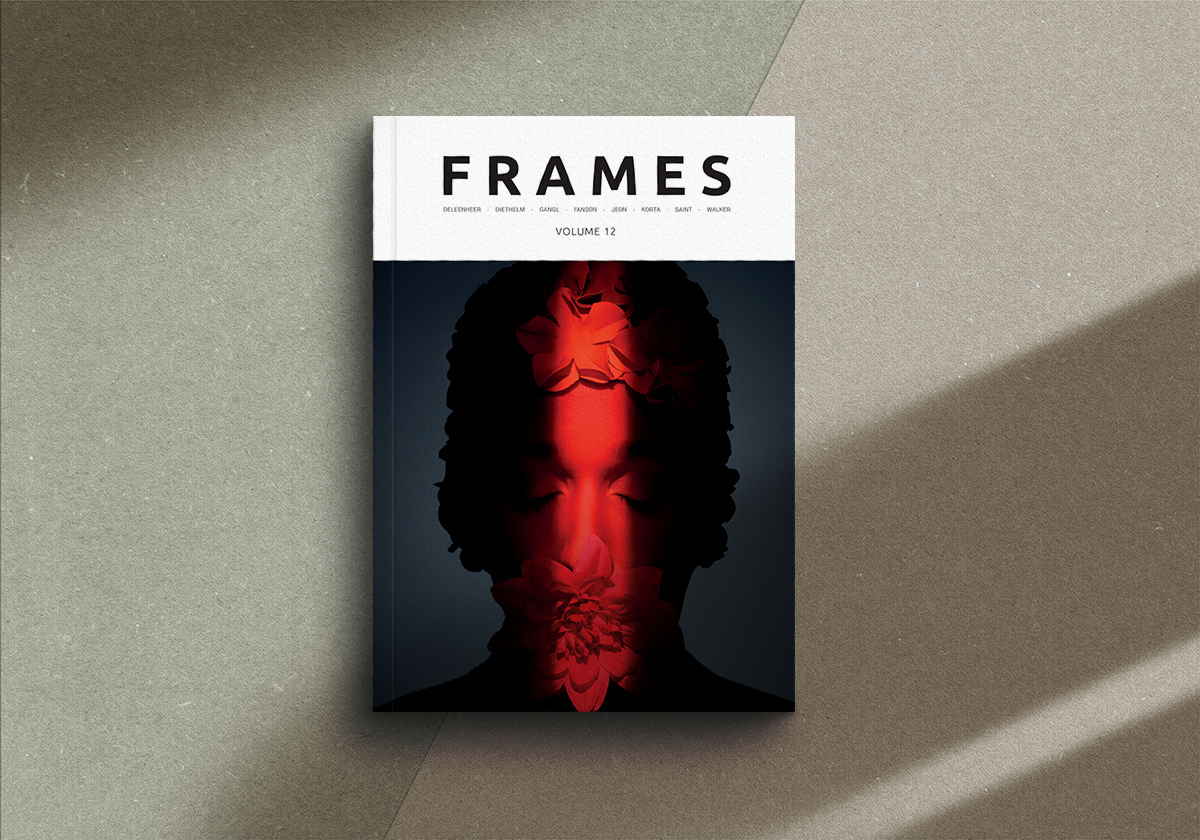 Every year we release four quarterly printed editions of FRAMES Magazine. Each issue contains 112 pages printed on the highest quality 140g uncoated paper. You receive the magazine delivered straight to your doorstep. We feature both established and emerging photographers of different genres. We pay very close attention to new, visually striking, thought-provoking imagery, while respecting the long-lasting tradition of photography in its purest incarnation. Learn more >>>
---