Let's call it reader, or viewer, error.
I picked up Scarti di Tempo, the new book by Sandra Cattaneo Adorno, and I thought I was holding an overly complicated, overthought, difficult to view, mistake. Every page is folded over, as if it were intended to be a fold out of a full spread. Yet every page is bound into the spine. The dustjacket is a transparent plastic containing an image, set over another image on the cover which is itself either a reflection or a double exposure.
---
"Scarti di Tempo" by Sandra Cattaneo Adorno
Published by Radius Books, 2022
review by W. Scott Olsen
---
My first thought was that some demon from the world of book arts said let's do everything, and then did. My first impression was that this book would be too complicated to enjoy, a defeat to any attempt to actually look at it, through awkwardness and sheer difficulty. It was a bit like walking up to a table and seeing a formal setting for a ten course meal. Way too many forks for the evening to be any fun.
This impression, of course, was completely wrong. This impression says much more about my expectations than the thesis of this book. With just a couple paragraphs of reading, I realized I was holding something thrilling and fresh.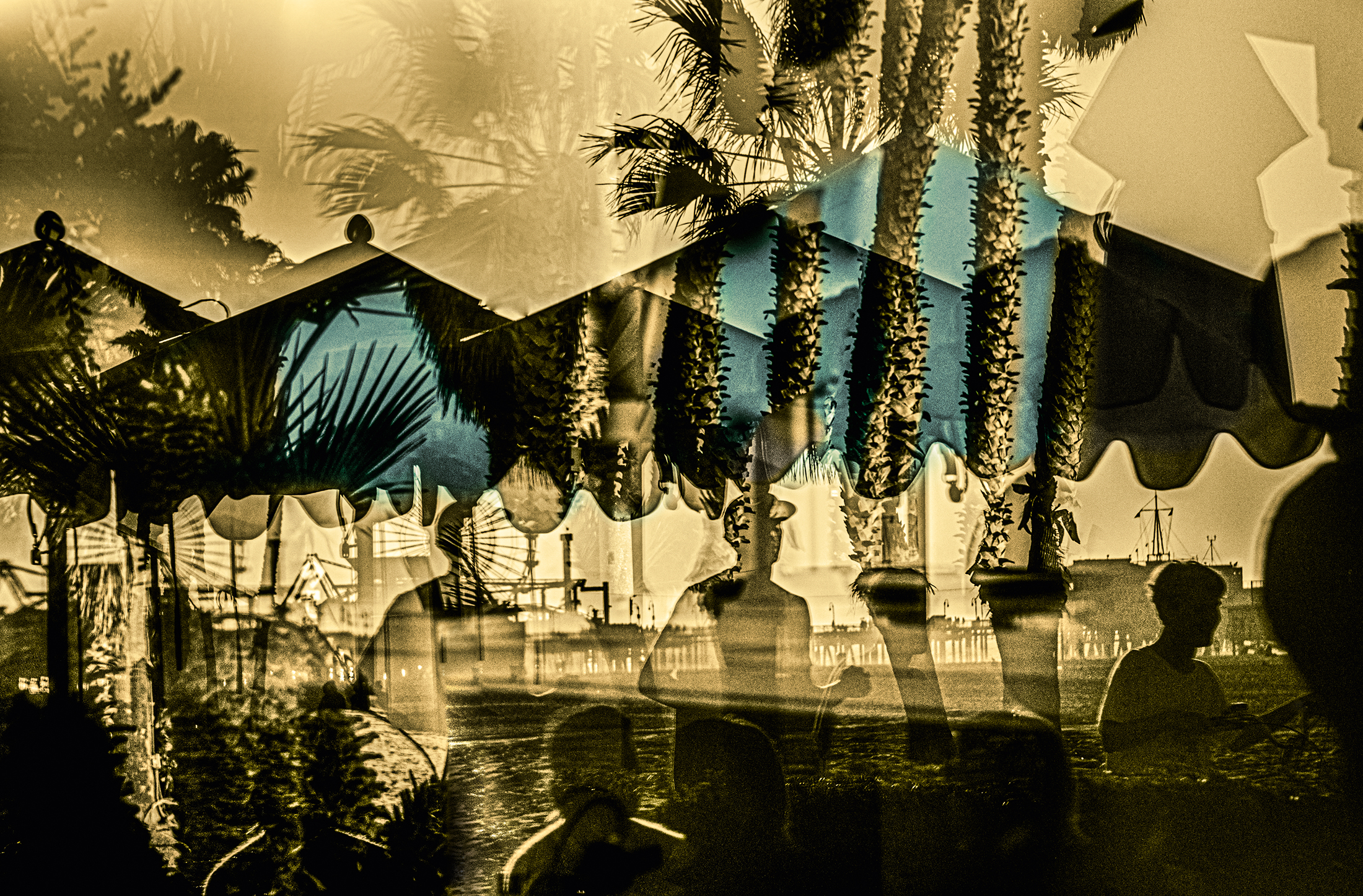 Having thrown out my expectations, I settled in for an exciting new way of encountering photography. The physical design of this book is part of an overall effort to get me to consider the whole work, the art and its presentation, differently than before.
A side note: When I edited a literary magazine, my largest fear was not that I would publish something of limited merit.  It was that something of tremendous merit would cross my desk and I would not be up to the reading. T.S. Eliot? E.E. Cummings? Bah. Too overwrought and precious, right? We are often not up to the task of seeing fresh vision.
In a Foreword by Gueorgui Pinkhassov, Adorno's former teacher, he writes, "Working with reflections and image overlays, Sandra transforms the field of street photography. Undoubtedly, her works lose their documentary status but her сэндвичи [sandwiches or collages] do not become sugary, overly "beautiful pictures," a frequent occurrence with photo collages. On the contrary, they acquire a new quality: one that is filled with patterns resulting from the strategic combination of two precisely captured moments, the true essence of street photography, to create additional tension in the image and intensify the situation almost to the cosmic level, elevating the everyday into the celestial plane."
While a bit overstated, the point is true. Not only are the images fluid in terms of their content, the process of holding the book reorients where the photograph actually is.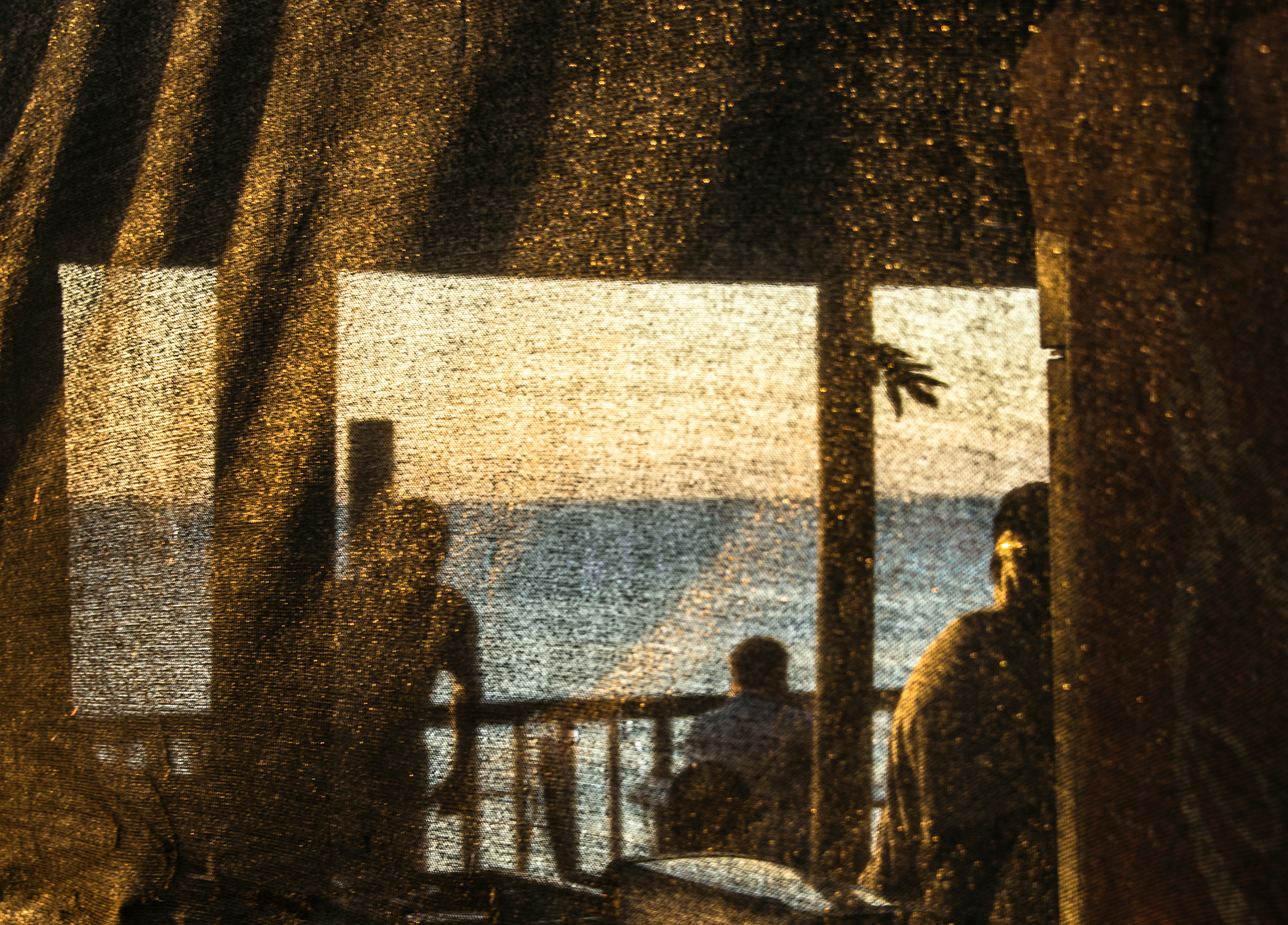 In her own Photographer's Note, an introduction to the book, she writes about seeing the press plates for her second book and the individual bright colors. These plates, which in Italian are called Scarti, which means scraps, caught her attention. She writes about the COVID lockdown and how it forced her to re-examine her own body of work, her archive. She says, "As I went through my archive, I began to notice a pattern emerge. Since taking up photography at age 60, I have been drawn to reflections. I love the way multiple, disperate scenes can occur in the same image, overlaid so as to read as a poem. Like a dream, they exist in a world of symbols mapped out in the collective unconscious. They are not fact or fiction, but something that lies deeper beneath. Their meaning is not straightforward or readily accessible, but they invite us to play with our intuitive and interpretive skills."
"As I looked at the reflections," she continues, "I recognized the sensation of scarti, of scraps layered to make new forms, and became inspired to create some of my very own. I began merging two distinct photos together as one, layering them up on each other the same way that the reflections would occur. As the images became less representational, they seemed to dissolve and become abstract, entering into a world of imagination and yet still real. It reminded me of the way music can transport us into other worlds."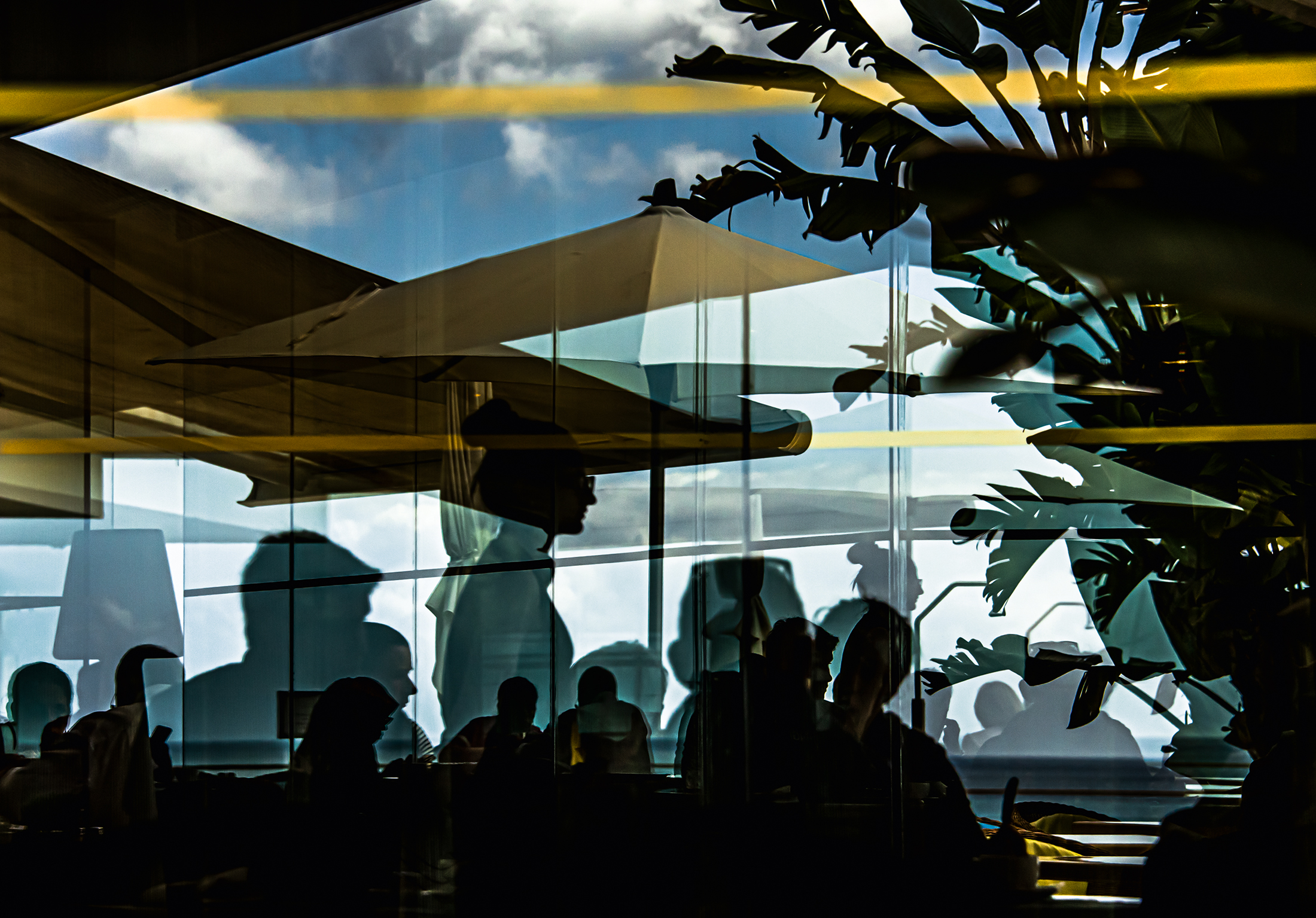 Holding the book, turning the pages and examining the images, is an active and intriguing experience. I found myself peering inside the fold-overs to make sure I wasn't missing anything. Not many of the images are contained by simply one page. They fold over the fold or travel across the gutter. Some bleed off into nowhere. Some of the images are just fragments of larger pieces. Most of them are dark, with lots of blur and soft focus. They are all just a little bit other, asking more than the static appreciation of a well-framed image. And in that sense, viewing this book is a more active and engaging experience.
I found myself less likely to linger over any one image as I was to turn a page back and forth and wonder how this image sat in relation to the others before and after, and how it sat in relation to the physicality of the book.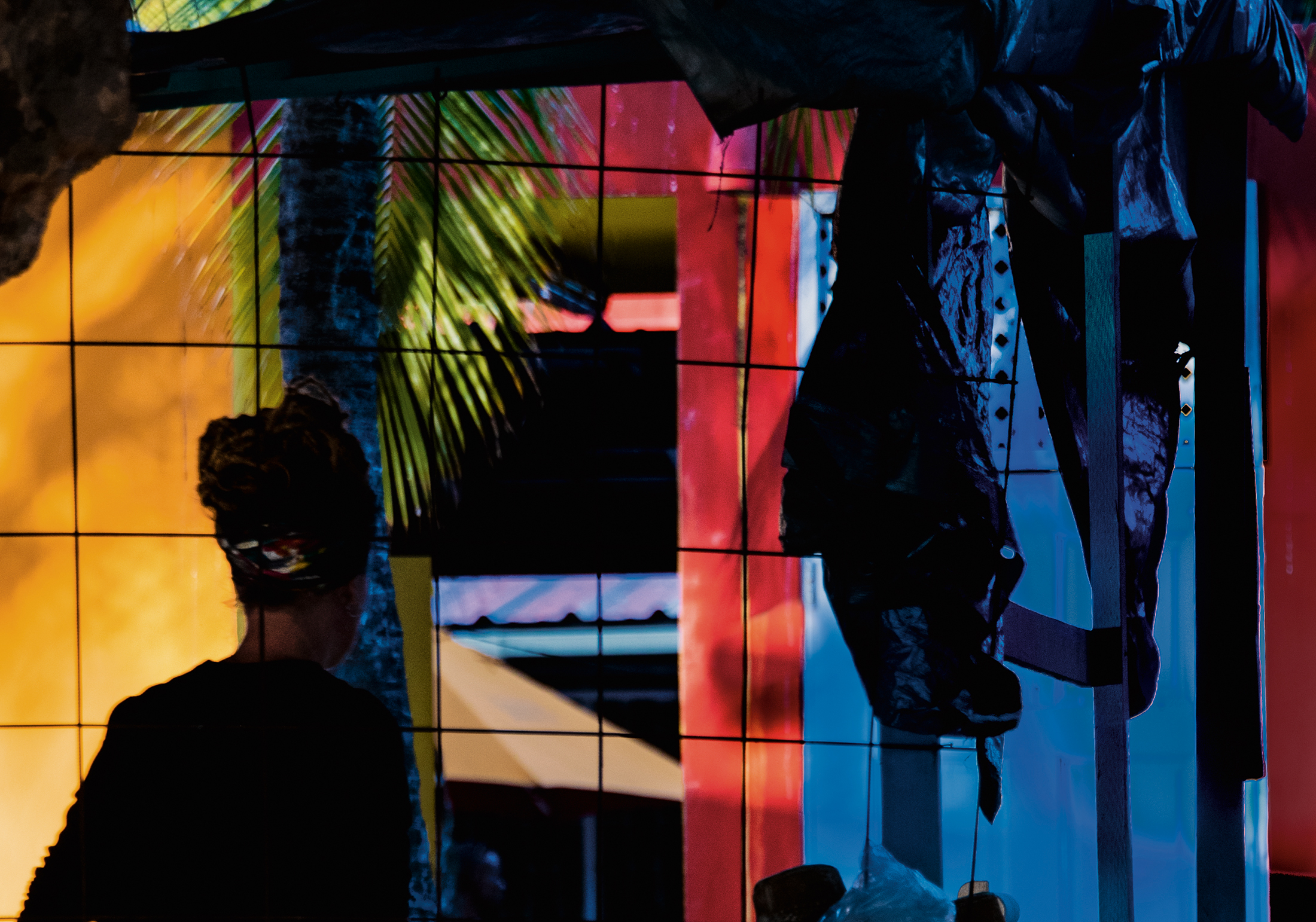 We have become complacent, perhaps, in our expectations for presentation. I am reminded of the Chicago chef, Grant Achatz at Alinea restaurant, who wondered why all the expectations for the presentation of food were determined by plate manufacturers. Why not eat off something else? Extraordinary food deserves an extraordinary way of dining. Something similar is going on here.
These images in Scarti di Tempo are not documentary. These are mood pieces. These are emotional pieces. And while they obviously begin with street photography, that veracity or verisimilitude is just the raw material which is then shaped and put into a new form. There are vibrant colors as well as muted tones. There are closeups and wide shots. There are café shots and landscapes. But no image is just one thing. If I say one image is a gathering of people on a beach, I've not said a lot. That layering is the real power of the images. It's not accidental. Nor is it clear to explain.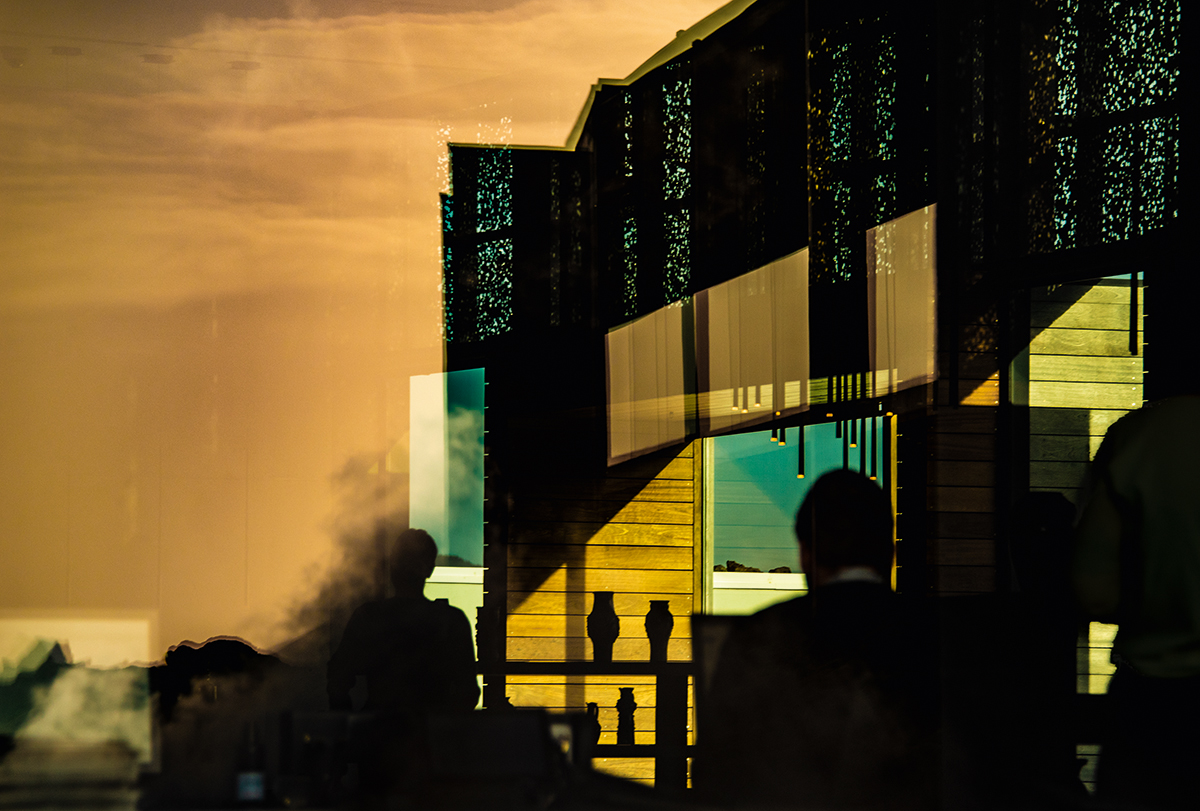 There are bits of text throughout the book, printed on an ivory paper of a different size than the photo paper the images are on. These pages are not folded over like the images, but they do provide the occasional interlude for contemplation. Sometimes they're just a single line in both English and Portuguese. But they are not explanatory notes and certainly not captions. They are small moments of philosophy or poetry or idea. For example, roughly halfway through the book there is a page that reads, "The luminosity was smiling in the air at: exactly that. It was a sigh of the world." Or, "A luminosidade estava sorrindo no ar: exatamente isso. Foi um suspiro do mundo."
This text has nothing to do with the image. It actually interrupts in the center of the spread, yet it's an engaging idea to ponder simultaneously with the image.
Another page reads, "Mirror is like… remove its frame… and it grows like spilling water."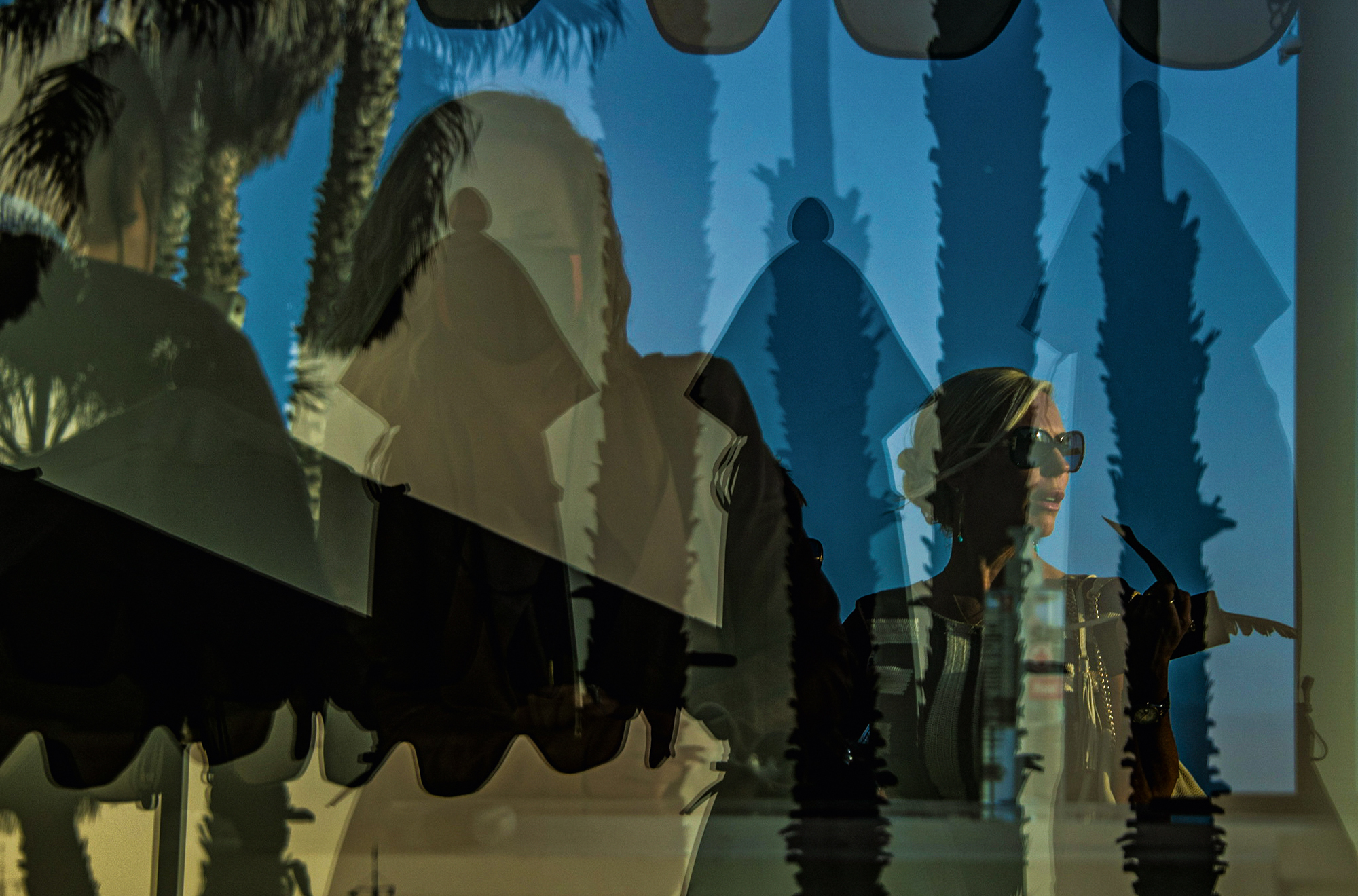 The images in this book are landscape and city scenes, people in silhouette or shadow. And instead of trying to figure out the multiple layers, the book asks a reader to consider them all as one evocative visual tone poem.
A small part of the book, which is indicative of the larger aesthetic, is a simple bookmark included at the end. The bookmark includes a QR code which will lead to two minutes and 32 seconds of music by Adorno's husband. The text on the bookmark reads, "The images in Scarti di Tempo came together for me like a symphony, each scrap a fragment that resonated in harmony. Below is a QR code and I invite you to use this to connect the photographs in the book to a piece of music composed and played by my husband, so that the images and sound can accompany each other in an elegant dance."
A short while ago, here at FRAMES, I had the good fortune to review Adorno's earlier book, Aguas de Ouro. In that review, I said: "There is something special about reorientation. You think you know something – at least its boundaries if not its core – and then you discover you do not. There is another voice in the choir and it's heading off in a fresh direction. It's not harmony. This is a whole new melody and tone. Sometimes it takes a moment, but then the new idea sets in and all you can do is smile."
And, now, I fear I will repeat myself. This book asks to be encountered in a completely new way.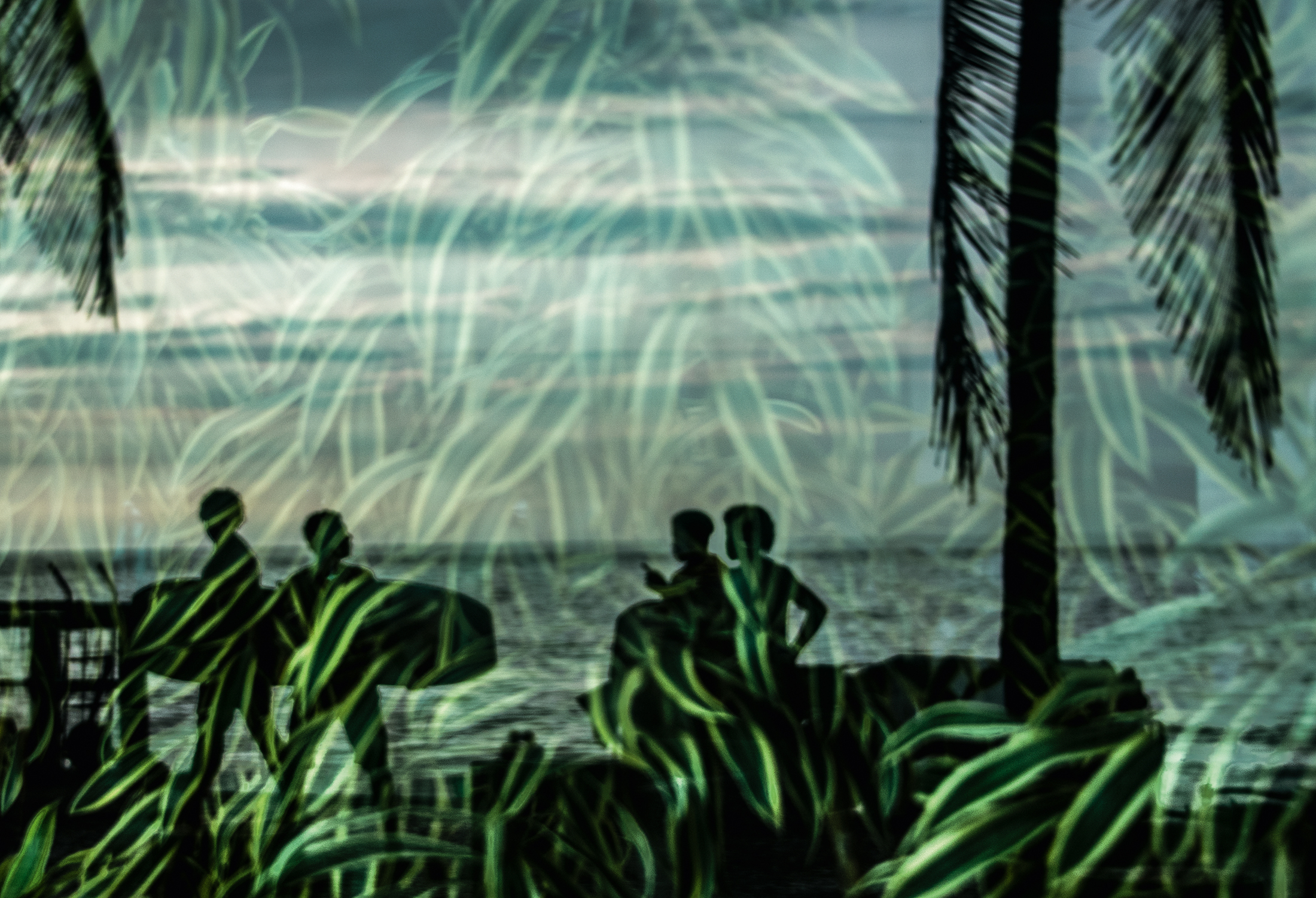 Multilayered. Complex and rewarding. This is a collection of images amplified by book arts and music into a fresh approach to photography. Do not sit down and expect to turn pages and see images as if they were on a gallery wall. This is a book that asks a question: How does one encounter a photograph and how does the presentation in book form both limit and provide potential for that experience?
In English the title of this book would be Scraps of Time. And that would be a good way to imagine each of these images. Each scrap is deep, multi contextualized, evocative and wonderful.
SANDRA CATTANEO ADORNO
A note from FRAMES: if you have a forthcoming or recently published book of photography, please let us know.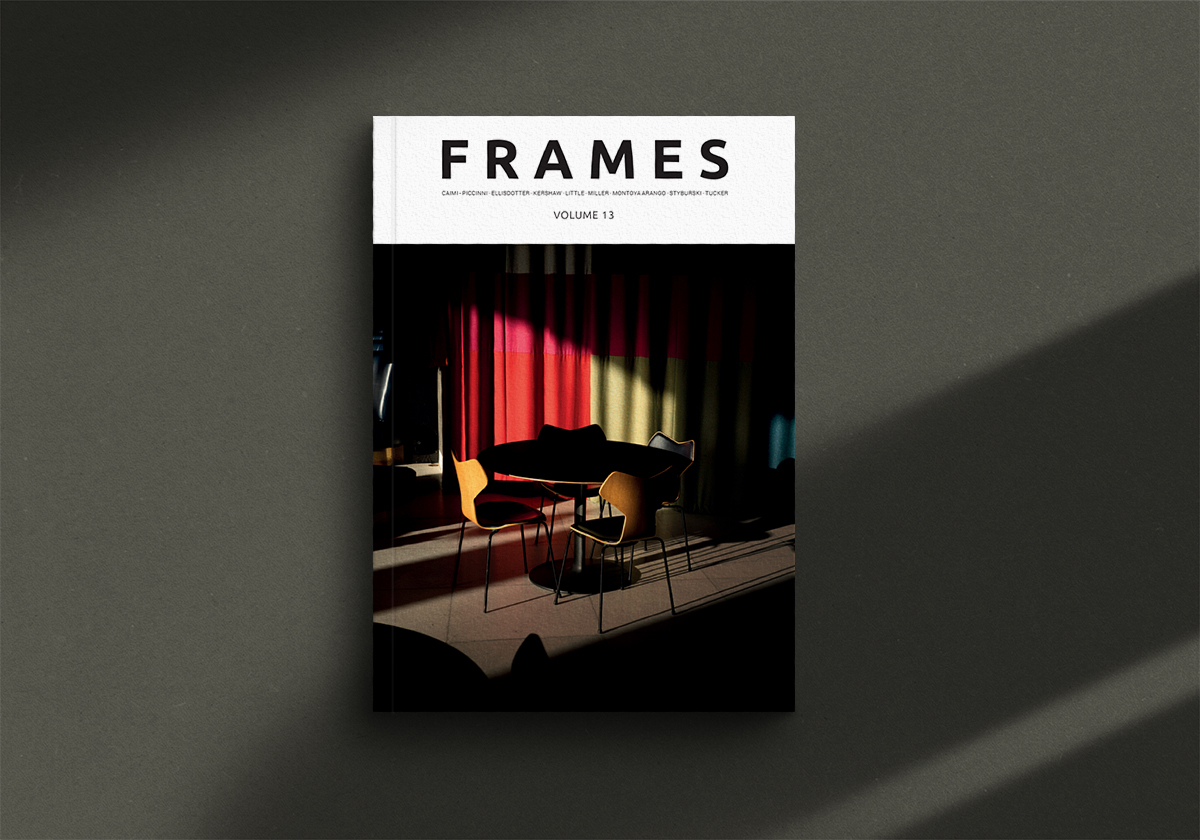 Every year we release four quarterly printed editions of FRAMES Magazine. Each issue contains 112 pages printed on the highest quality 140g uncoated paper. You receive the magazine delivered straight to your doorstep. We feature both established and emerging photographers of different genres. We pay very close attention to new, visually striking, thought-provoking imagery, while respecting the long-lasting tradition of photography in its purest incarnation. Learn more >>>
---